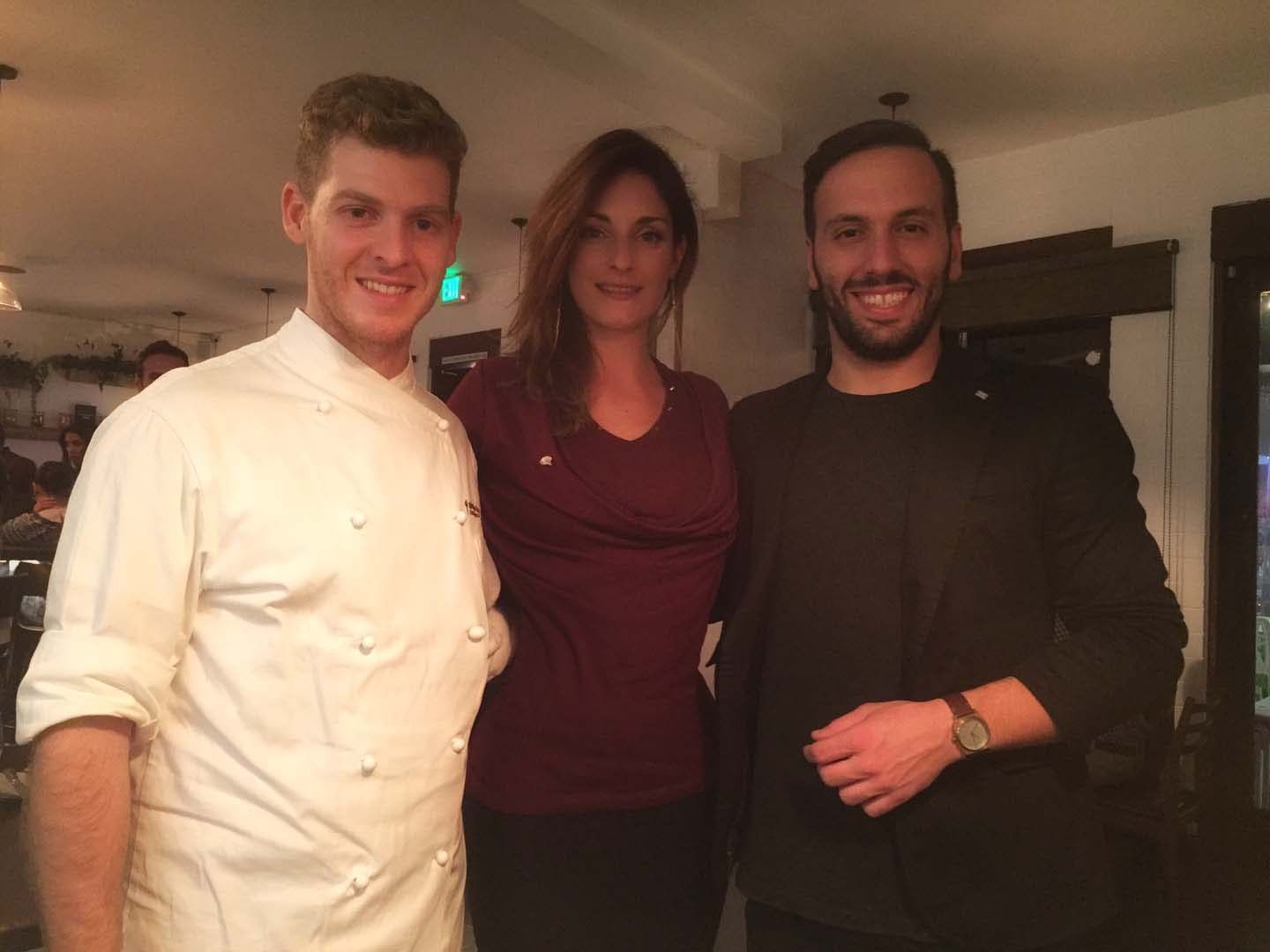 Italian haute cuisine trip to San Diego: Michelin star Abbruzzino at Civico 1845
Luca Abbruzzino is among the most promising young talent of Italy, according to 2016 Espresso restaurant guide, his and his father Antonio cuisine was worthy a Michelin star in 2014. They own a family restaurant in Catanzaro, Calabria and they just opened a new one in Milan, Lombardy. The New York Times listed Calabria and specifically their 'Antonio Abbruzzino Alta Cucina Locale' restaurant in Catanzaro among the 52 best travel destination in the world.
After Massimo Bottura (Osteria Francescana, Modena) being awarded as best chef in the world, all international critics and foodies eyes (and palates) are on the rising chef stars in Italy to understand if this trend of the modern Italian cuisine it's a new style, a new wave or it ends with Bottura himself. I think that the magic moment for the Italian talented chefs has come: it' s time to forget about Italy just as the Country of red and white table cloths, pizza, mandolino and Chianti in the wicker wine bottle. Italy is no longer that since years. Italy is the land of fine wines, excellent products and haute cuisine. Bottura is just one example among many extraordinary food visionaries.
Especially the new, young generation of chefs from Italy can take Italian cuisine to new frontiers: they are used to travel, they let their art and technique being contaminated by other styles, they are curious, open to the world and they come back to Italy ready to reinvent our huge heritage of food tradition, with respect, but with a new, modern, international twist.
San Diegans had the chance to taste what I am talking about yesterday night. Thanks to Dario Gallo, owner and manager of Civico 1845 on India Street, Little Italy, we had the chance to taste a 8 courses menu designed by Luca and Antonio Abbruzzino, who cooked as guest stars together with Alfonso Pisacane, Executive chef of Civico, and Pietro Gallo, co-owner and vegan chef of the same restaurant.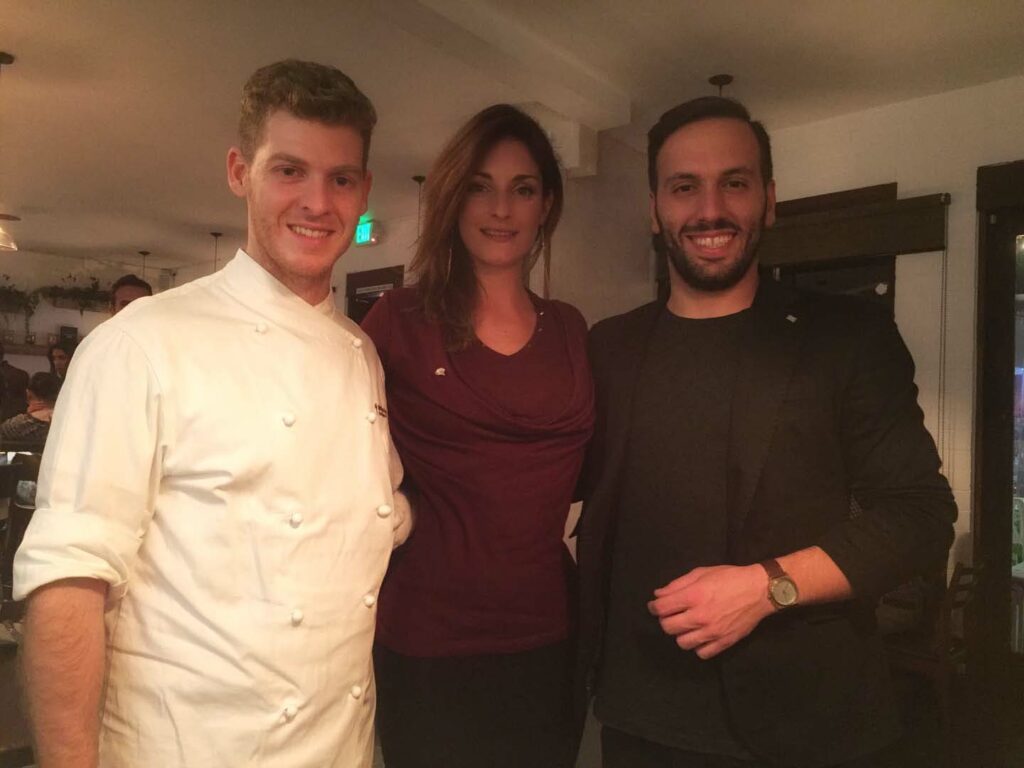 Gallo family (Dario, Pietro and their father) opened Civico 1845 less than 2 years ago. They are from Calabria, the same southern Italian region the Abbruzzino are from, and they brought to San Diego authentic cuisine and this is not so obvious. Unfortunately the Italian cuisine is one of the most imitated and mistificate cuisine in the world: restaurants, products, wines with Italian sounding names which have nothing to do with Italian culture, but the 'tricolore' Italian flag on it. How many times I run into recipes, cooking books or blogs or even tv shows, which name as 'Italian' shameful and disrespectful (and sometimes disgusting) dishes! So, when it happen that we (Italians) find a place which is really authentic we spread the news, we stick with it and we rejoice!! Civico 1845 is one of these rare places.
If Abbruzzino is among the new Italian talented chefs and may represent a new wave of Italian cuisine, Dario Gallo and its family represent the new Italian cuisine abroad, they are the latest generation of Italian emigrants, who lived in Italy for most of their lives and moved abroad to export the Italian culture. They are not the second or third generation of 'Italians' born and raised in U.S. And the question is:  how much authenticity can you expect from a place managed by somebody who can't even understand Italian, who  have never been to Italy, who never had the chance to smell or taste the real Italian flavours in their entire lives? I say none. But, let's put this aside for now, I will talk about this more deeply very soon in a dedicated post, cause this issue really matters to me.
Let's go back to the Michelin star dinner I had last night at Civico 1845. Everything was executed perfectly and it has been a gourmet experience I really appreciated.
Two courses though amazed me more than others: the Antipasto, a tuna carpaccio with Tropea red onion's gelato which I paired with a glass of Franciacorta, Ca' del Bosco. The balance and the harmony of the flavours were simply excellent. The delicate taste of the raw tuna was twisted up by the more strong and loud flavour of the red onions, whose 'insolence' was mitigated by the cold sensation given by the preparation (gelato). The other course that surprised me was the Lasagna in a Raviolo. All the ingredients of a traditional lasagna were given a new form and role in the dish, through the technique of deconstruction, which is used by Massimo Bottura in some of its signature dishes, such as 'Ricordo di un panino alla mortadella' (Memories of a Mortadella Panino), or 'Cesar salad in Emilia'.
And what about wines? What did I have with this super gourmet dinner? I started with Franciacorta, Ca' del Bosco, then I had a beautiful Sylvaner from Alto Adige (Pacherhof, pleasant floral bouquet, delicate mineral note), a glass of Occhipinti SP86 Frappato (paired with the lasagna in a raviolo was perfect) and a glass of the powerful Marisa Cuomo Furore Riserva 2012 (a blend of Aglianico and Piedirosso, spicy, balsamic, persistent, paired well with the braised beef cheek). Full menu and pictures following… Cin cin to REAL Italian cuisine in the world!