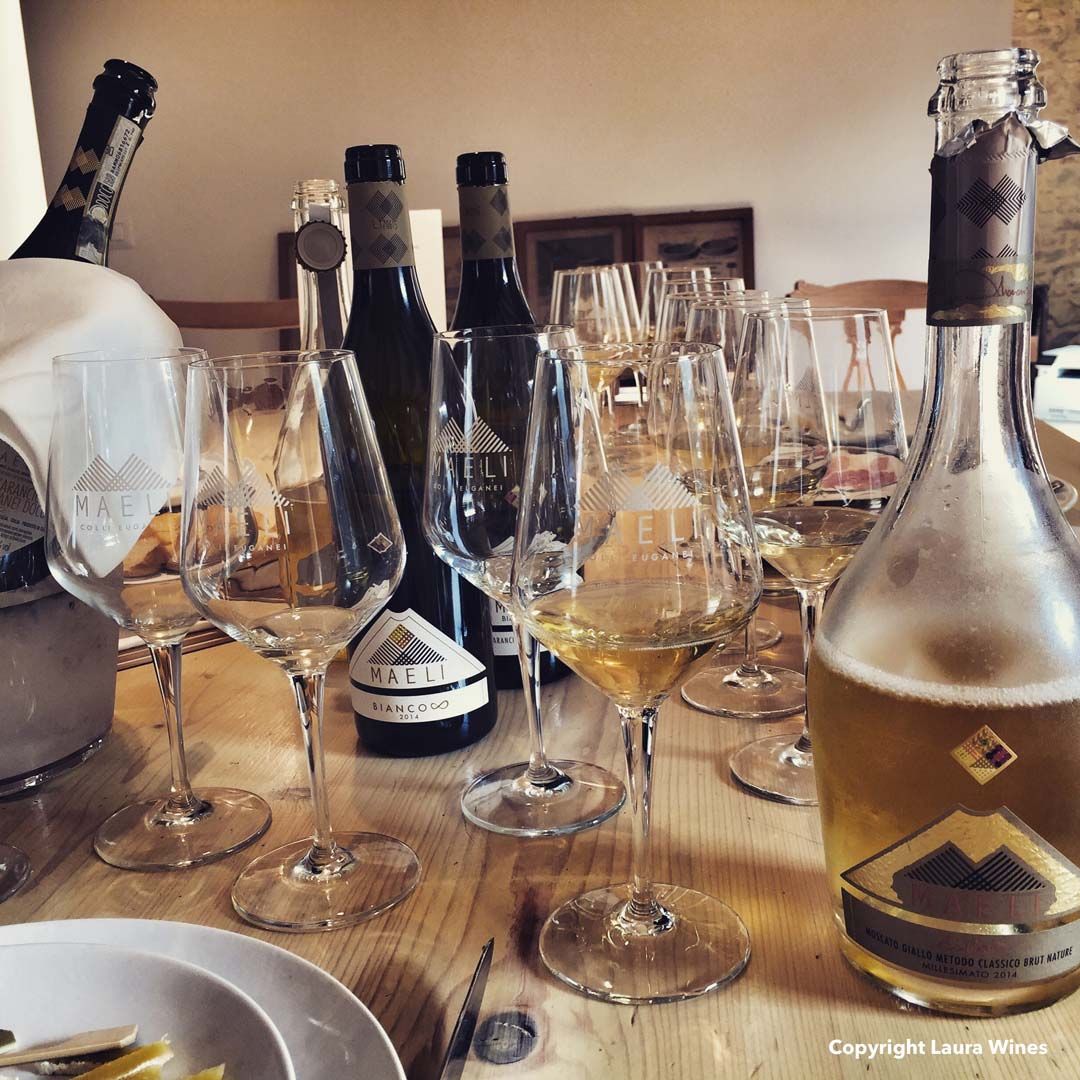 The other side of Moscato Fior d'Arancio
The classic Fior d'Arancio is sweet and sparkling (charmat method), but what if somebody tried to produce a Metodo Classico Brut Nature version? And an ancestral frizzante? A journey in Colli Euganei tradition and innovation with Maeli winery.
Simply saying the word Moscato to an Italian wine lover can literally open up a Pandora's box. There are so many indigenous and non-indigenous varieties of Moscato spread all over Italy that it really takes some digging to better understand their peculiarities.
Moscato is an ancient grape, probably original from Syria: another name of Moscato was Sirio in the ancient times. Then, the Romans, who really spread the art of producing wine all over Europe, called it Muscus (meaning "perfumed") and today is known as Moscato, an aromatic and floral variety with a myriad of clones and variations.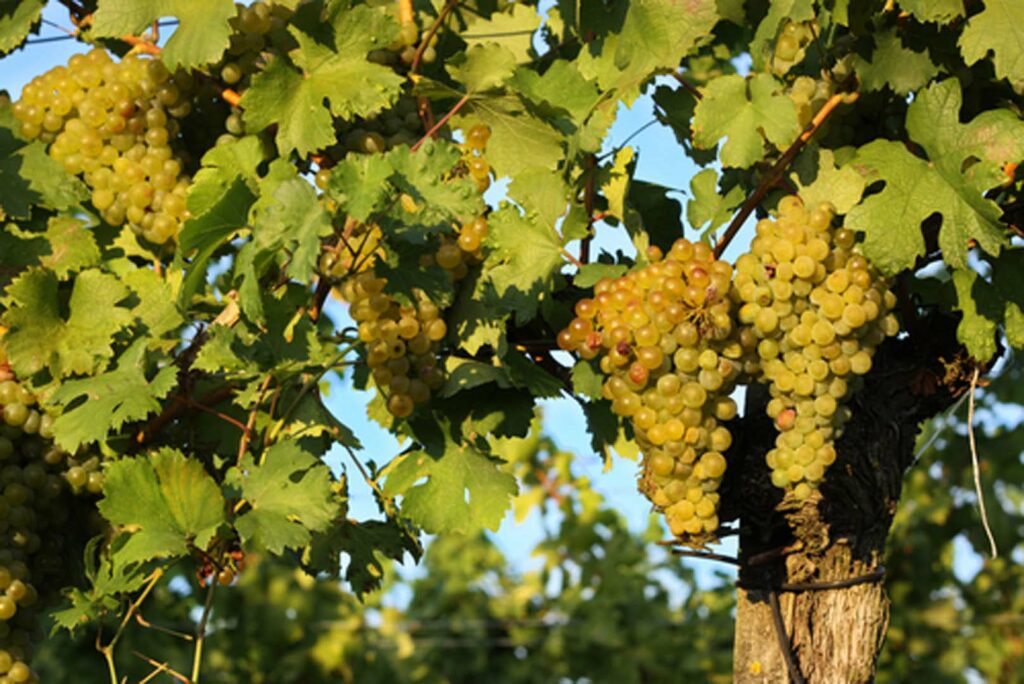 The first main distinction to be made is about the color: Moscato Bianco (white Moscato), Moscato a bacca scura (dark berries Moscato) and Moscato Giallo (yellow Moscato). I will dedicate some future posts to the different kind of Moscato in Italy, choosing for you the less popular, of course, as really geek wine people like me, usually do.
Are you wondering which color are we talking about today? Orange. Yes, I know it's confusing, it wasn't in the list, because it is so rare and uncommon that it doesn't represent a category of Moscato itself, but a variation of the Moscato Giallo (yellow) which is grown in Veneto, in the Euganei hills area.. In fact its name is not just a color, it is much more poetic: Moscato Fior d'Arancio (literally orange blossom Moscato). How lovely, huh?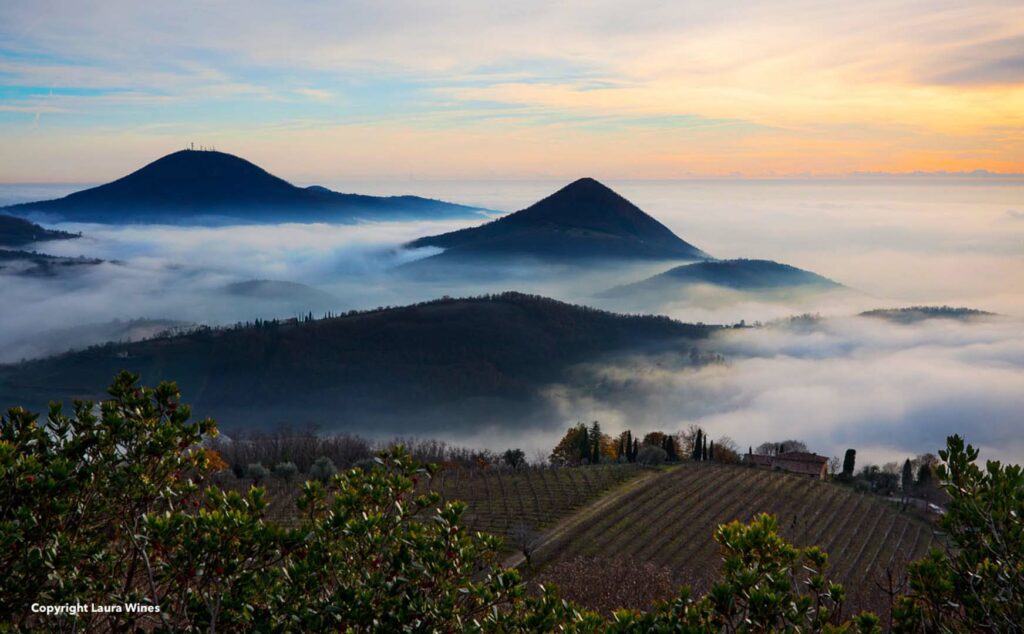 This particular kind of Moscato prefers cool climate and performs best on calcareous volcanic slopes. One of the few places in Italy where this combination of terroir exists is the Colli Euganei Hills, in the province of Padova, Veneto. In 2010 Colli Euganei Fior d'Arancio became a DOCG, high quality certified appellation: from then you can find Colli Euganei Fior d'Arancio dry, spumante (sparkling) or passito DOCG made by 95 per cent minimum Moscato giallo Fior d'Arancio, grown only in a few villages on the Euganei hills. The soil is what really makes the difference in these wines: layers and layers of marl, limestone and volcanic rocks give to this aromatic and perfume wines the minerality and the backbone to age beautifully and to be paired with a huge selection of food (not only desserts, as we are used to think about Moscato).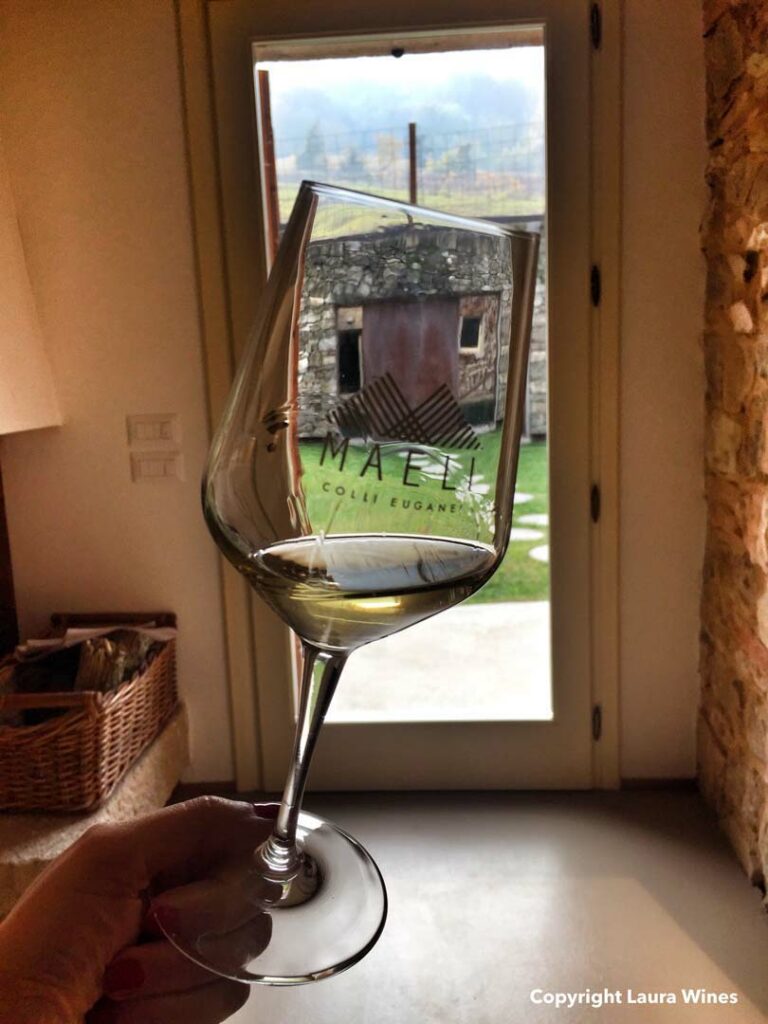 You don't believe me? I have proof of that! You know I care a lot about wine and food pairing, it's part of the fun job of being a taster and a sommelier, it's what can drastically change the overall experience of a dinner from good to excellent. When in Italy I was challenged by this beautiful winery I am gonna to talk about in a bit (Maeli): they wanted me to taste a whole lunch paired with Moscato Fior d'Arancio, which in my mind was perfect only with some desserts, like zabaione, cantucci or panettone. I accepted their kind invitation and here what happened.
First, some information about Maeli. Elisa Dilavanzo, a young and passionate wine woman, is the producer. The vineyards, 10 to 28 years old, are located in Terra del Pirio, the most northerly face of the Euganei hills. Maeli name comes from the soil: Ma = marl , e = and , Li = limestone on stratified volcanic rocks, layered up to 35 feet under the ground. The micro – climate of the area is unique: even if they are located in Northern Italy and in the North part of Colli Euganei (cold continental climate), all around the vineyards olive and fruit trees are cultivated in a kind of warm and ventilated oasis.
Maeli mission is to prove that Moscato Fior d'Arancio is able to preserve its aromatic qualities and its identity even undergoing complex productive methode, such as the Medoto Classico, or champenoise method, which is usually preferred for non aromatic varieties. During my visit I had the whole Moscato experience in the beautiful tasting room close to Arqua' Petrarca, the ancient village where the famous poet spent his last years: I tasted a Metodo Classico, a metodo ancestrale (vino frizzante naturale), a Metodo Martinotti (Charmat) and a white dry. All from the same variety of Moscato.
MAELI FIOR D'ARANCIO DOCG 2014
Food pairing: Mortadella and home made focaccia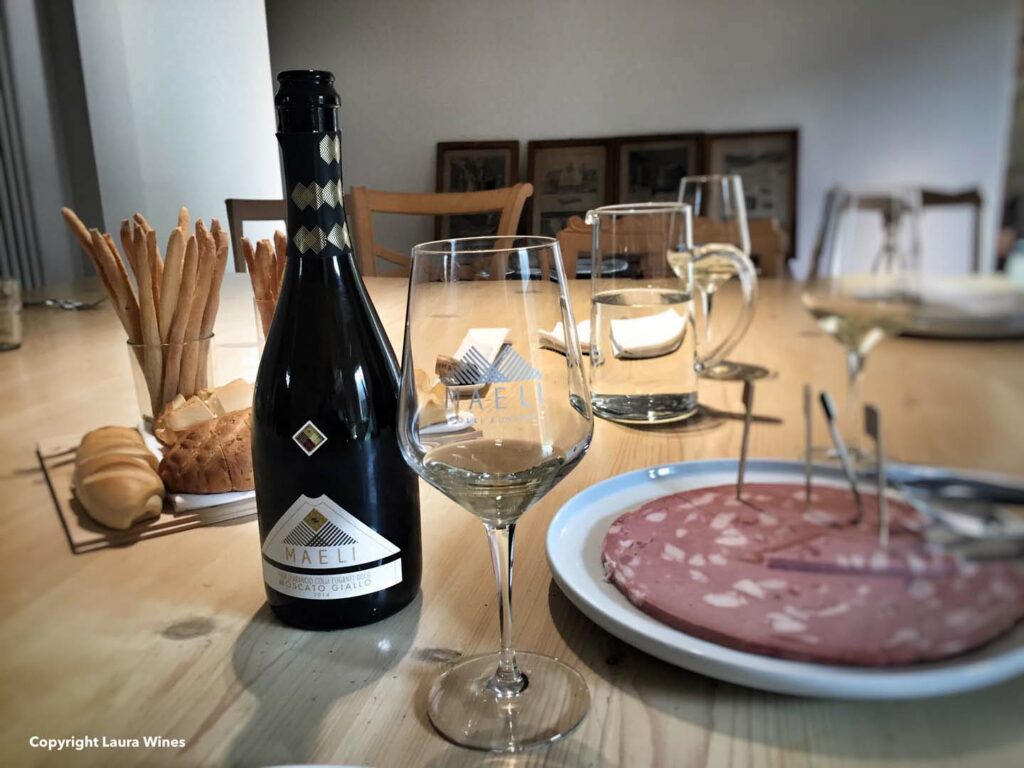 This is the classic version of Moscato Fiori d'Arancio: a sweet sparkling wine, produced with the Martinotti or Charmat method (stainless steel tank double fermentation). Low alcol (6%), golden color, high aromaticness of magnolia, acacia, jasmine and tangerine. Dominant mineral note at the taste which is really uncommon in sweet sparkling Moscato. The finish is persistent and balsamic. The pairing with Mortadella and focaccia was really pleasant and interesting. Mortadella has a sweet greasy note which was perfectly balanced by the lively minerality of the wine.
2. MOSCATO GIALLO IGT VENETO – VINO FRIZZANTE
Food Pairing: local cheeses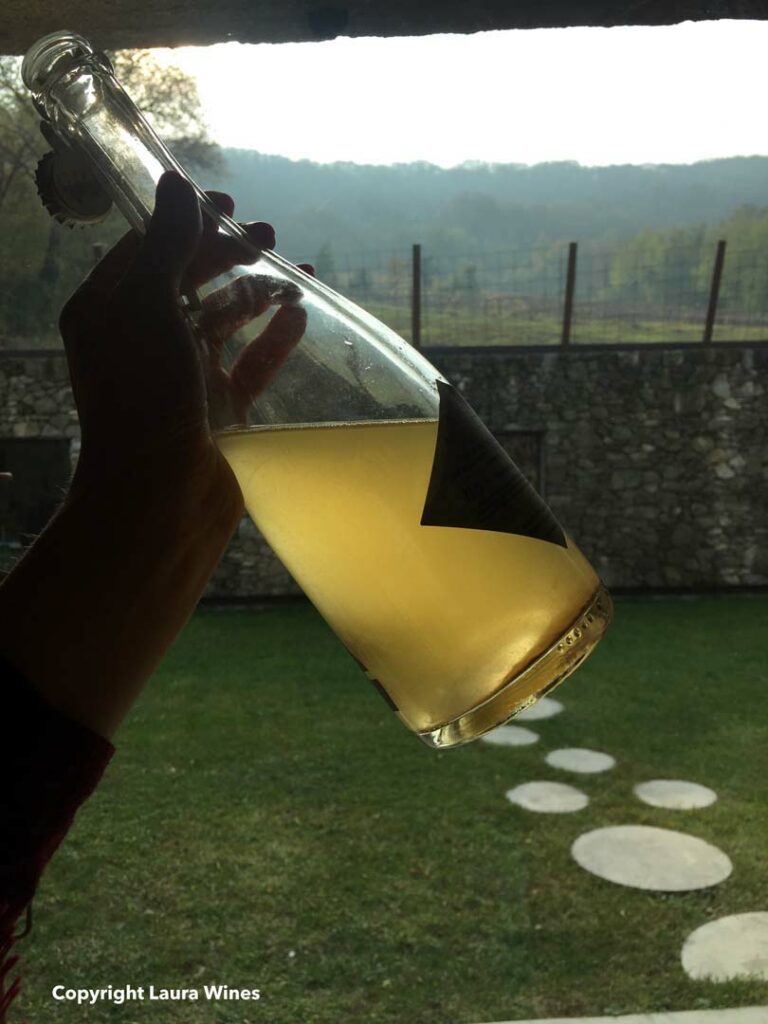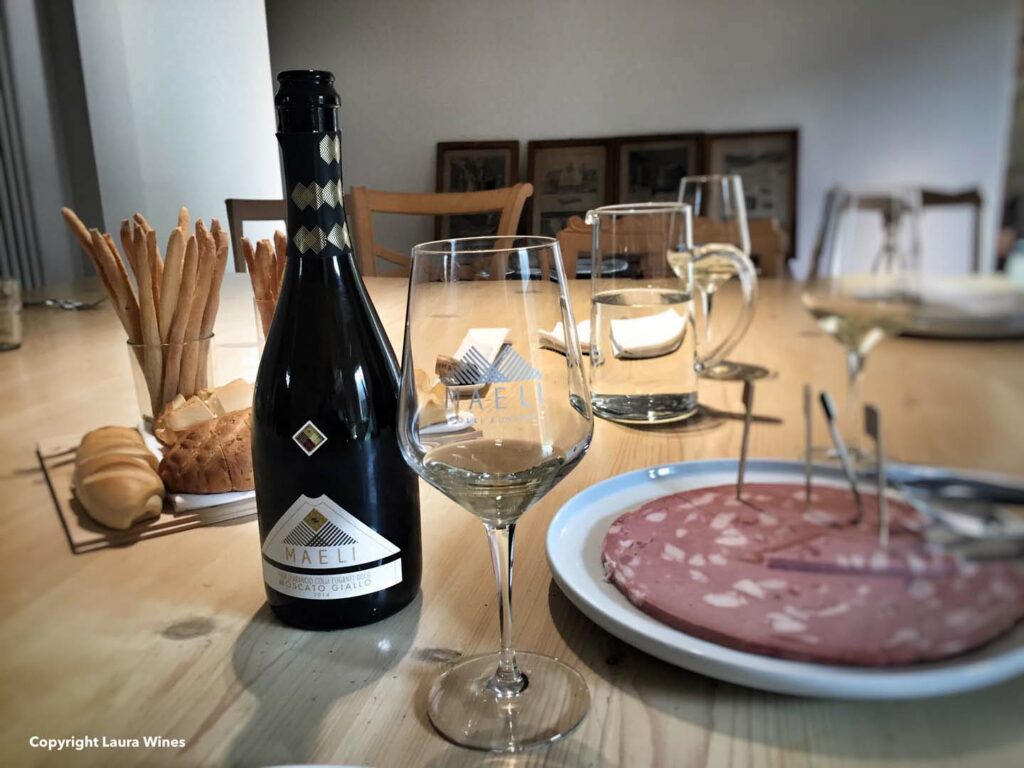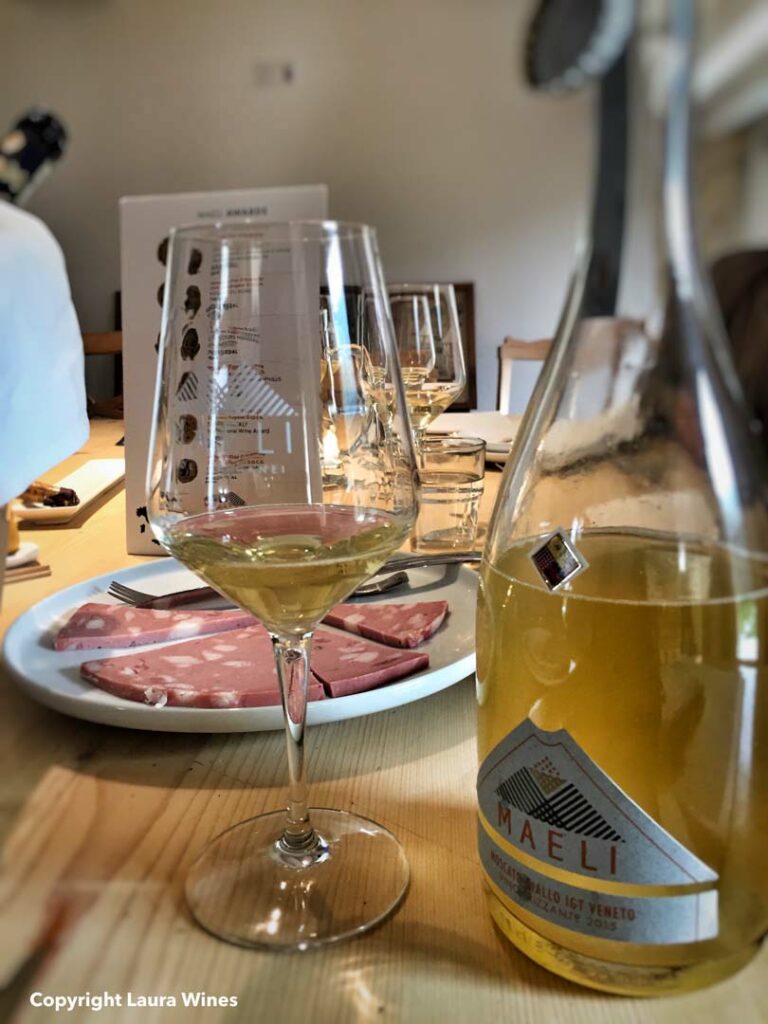 This is the wine that amazed me the most. Metodo ancestrale, ancestral method: maceration on the skin for 3 days, the wine is bottled with its own natural yeasts and the second fermentation takes place in the bottle, injecting the original must. It's a dry lightly sparkling wine, vino frizzante. Golden, orange color, cloudy (since it is unfiltered), so unbelievably intense at the nose! Golden apples, peaches, a hint of exotic fruit (litchi) , mixed with the nutty flavours of the yeasts (walnuts, almonds). At the taste there is a pleasant sensation of tannins (given from the maceration on the skin), powerful mineral note and persistent taste. The pairing with medium aged 'cheddar style' local cheeses was really delightful and unconventional. Worth to try!!
3. DILA' QUALITY CLASSIC METHOD BRUT NATURE 2014
Food Pairing: Prosciutto crudo di montagna (local 'crudo' ham).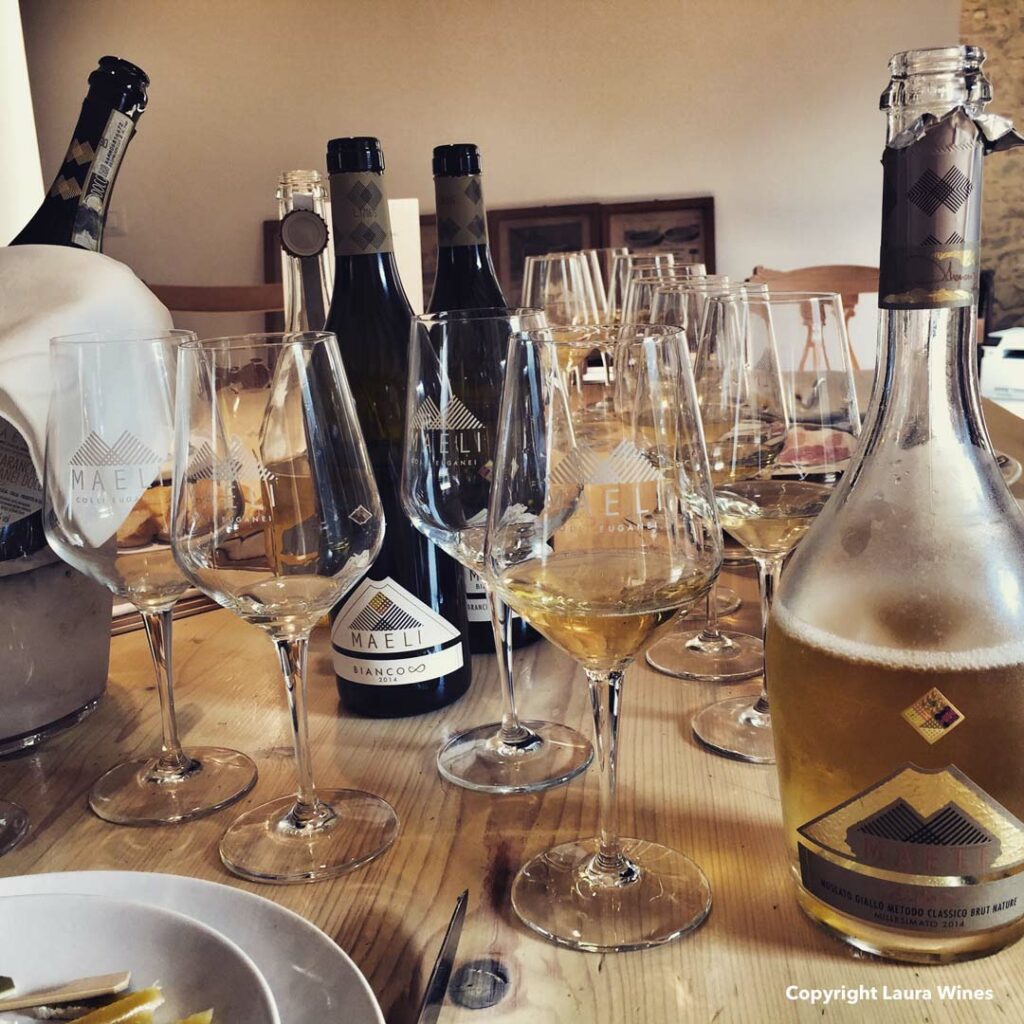 This is the unique Metodo Classico (Champenoise) Moscato Fior d'Arancio produced in the area. They can't label it Fior d'Arancio DOCG, since the appellation rules only admit Charmat method sparkling moscato. It's a dosage zero, or pas dose', manual remouage, 12 months on the yeasts. The nose is intense and the variety is really recognisable, even after one year of bottle ageing on the yeast. The delicate bread crust aromas is not overwhelming. At the taste: the prix de mousse is velvety, soft and very elegant, the mineral note is still evident, slight bitterness in the aftertaste. The ham paired perfectly!
4. BIANCO INFINITO VENETO IGT 2014 (70% Moscato, 30% Chardonnay).
Food pairing: pasta e fagioli (pasta and beans soup).
Dry still white wine. The grape varieties are fermented separately and blended together before bottling. The aromatic personality comes out lively: magnolia, orange blossom, meyer lemons. Soft and rich at the palate, with a pleasant acidity which cleans up your mount from the richness and thickness of the pasta and beans soup.