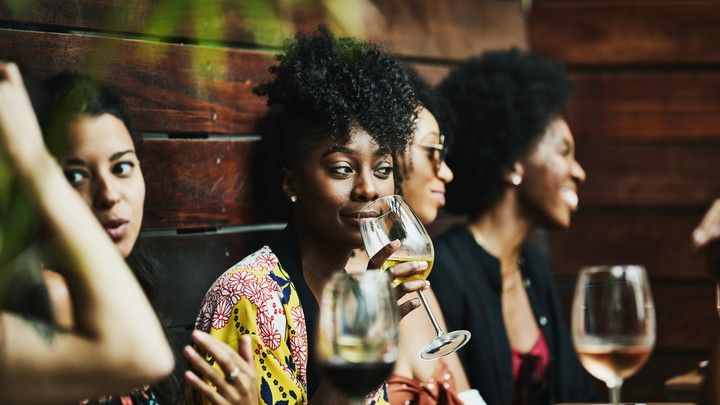 Diversity in the wine world: is Italian Wine inclusive?
In the US, only 2% of professionals are black and mentorship programs flourish.
In Italy? The question is not being asked.
The word "diversity" in wine in Italy is widely used, but almost always referring to grape varieties or appellations: we are a bio-diverse country, we know, but are we also an inclusive country? What do we mean by inclusivity? The fact that there is not even the specific word in Italian tells us a lot about the question.
As an American and an Italian citizen, I observe these two worlds carefully: on the one hand, there are many things I would import from Italy to the U.S., but on the other hand, I recognize that, on certain issues, overseas changes happen a few years in advance.
The Black Owned Wineries list: Italy has only 4
A few days ago one of the most respected and followed blogs in the U.S. published the updated list of Black owned wineries (wineries run by Black people) in the world. You can find it here.
I scroll down the list to check Italy and find that there are only 4 wineries mentioned, theoretically based in Italy. I say theoretically because, quickly investigating the web in search of the stories of these ethnic African owners with the intent to tell them, I discover that they are in fact commercial operations: wines not better located if not "Made in Italy", packaged for foreign markets, very little information about men, women, places. For details I refer you to a video I posted on Instagram.
I was struck by the fact that a country that despite itself welcomes many migrants especially from the African continent who arrive through desperate journeys in the Mediterranean and that-let's not forget-it is the world's leading wine producer , does not register any winery or wine business carried out by black or other ethnic people. I have asked the wine enthusiasts and professionals who follow me on social media to point out such cases so that I can tell them and be able to show models of leadership that are different in the true sense of the word: I believe that immigration, although in Italy it is unfortunately still seen as a problem, is actually a great resource, a way to be contaminated with new ideas, new perspectives. I say this as an immigrant. I ask myself, could an African have the same opportunities in Italy that I had in the U.S.? Are there people of different ethnicities who can bring new visions and different approaches to Italian wine?
I am still researching, so far no significant results.
USA points on mentorship
While we wonder about whether these stories even exist, in the U.S. for the past few years the wine industry has been noticing with great intellectual honesty that there was an inclusivity problem and mobilized to cultivate diverse talent and give equal opportunity to every ethnicity to access the wine business.
They realized this especially after the events surrounding the killing of George Floyd in 2020 that shook the States and following a late 2019 industry study commissioned by SevenFiftyDaily.
The research determined that only 16 percent of the 3,100 wine and spirits industry professionals surveyed were people of color, and only 2 percent of respondents identified themselves as black.
Shortly before the pandemic, industry associations then mobilized to reverse this figure. Here I would like to point out that it was private citizens (fellow sommeliers or educators) and not the state or some government agency that posed the problem and tried to solve it. This is a commendable attitude that I wish we would import in Italy, where instead we tend to wait for someone to solve social injustices from above, and with this excuse no one invests their time to try to change things, from gender discrimination to inclusiveness that are often not even perceived as problems.
Going back to the U.S. before the pandemic, there were many local initiatives in different cities aimed at providing access to education to people who were "different" in ethnicity. I will tell you one example out of all of them.
SommCon, the national sommelier conference, which I have been attending for 6 years now, together with many leading industry professionals, started Wine Unify, a California-based nonprofit organization to provide resources and mentoring activities to BIPOC (an acronym that stands for "Black, Indigenous, and People Of Color") wine professionals. The organization is funded by donations from sources ranging from the private sector to wineries and magazines. So the whole sector has mobilized, privately.
Their mission is clear:
While we have come a long way over the years promoting a more ethnically and racially diverse profession, there is much work to be done in terms of welcoming, elevating, and amplifying the voices of underrepresented minorities.
Nearly 100 BIPOC people have participated in the Wine Unify program so far, ranging from restaurant workers who want to deepen their wine knowledge to seniors who have discovered a passion for wine in later life. Luminaries of the BIPOC wine world-including André Hueston Mack of Maison Noir Wines, Julia Coney, founder of Black Wine Professionals, and Tonya Pitts, director of One Market restaurant in San Francisco-have committed to providing one-on-one mentoring, embracing a holistic approach to training that goes beyond classroom theory.
In addition to providing financial assistance for sommelier accreditation, Wine Unify also offers support for accessories that can be prohibitively expensive, including appropriate stemware, industry periodicals, and wine gift cards that encourage tasting together at a distance. Graduate students often require a multi-year commitment, and the foundation's financial support can be as high as $15,000 per person.
Despite the forced pandemic stop, this program and others across the U.S. seem to be bearing fruit: the 2022 class of the Court of Master Sommeliers, an international organization dedicated to wine service standards, has been the most diverse in the Court's more than 40-year history. Which by the way came out in tatters from other gender discrimination issues in 2021. But that's another story.