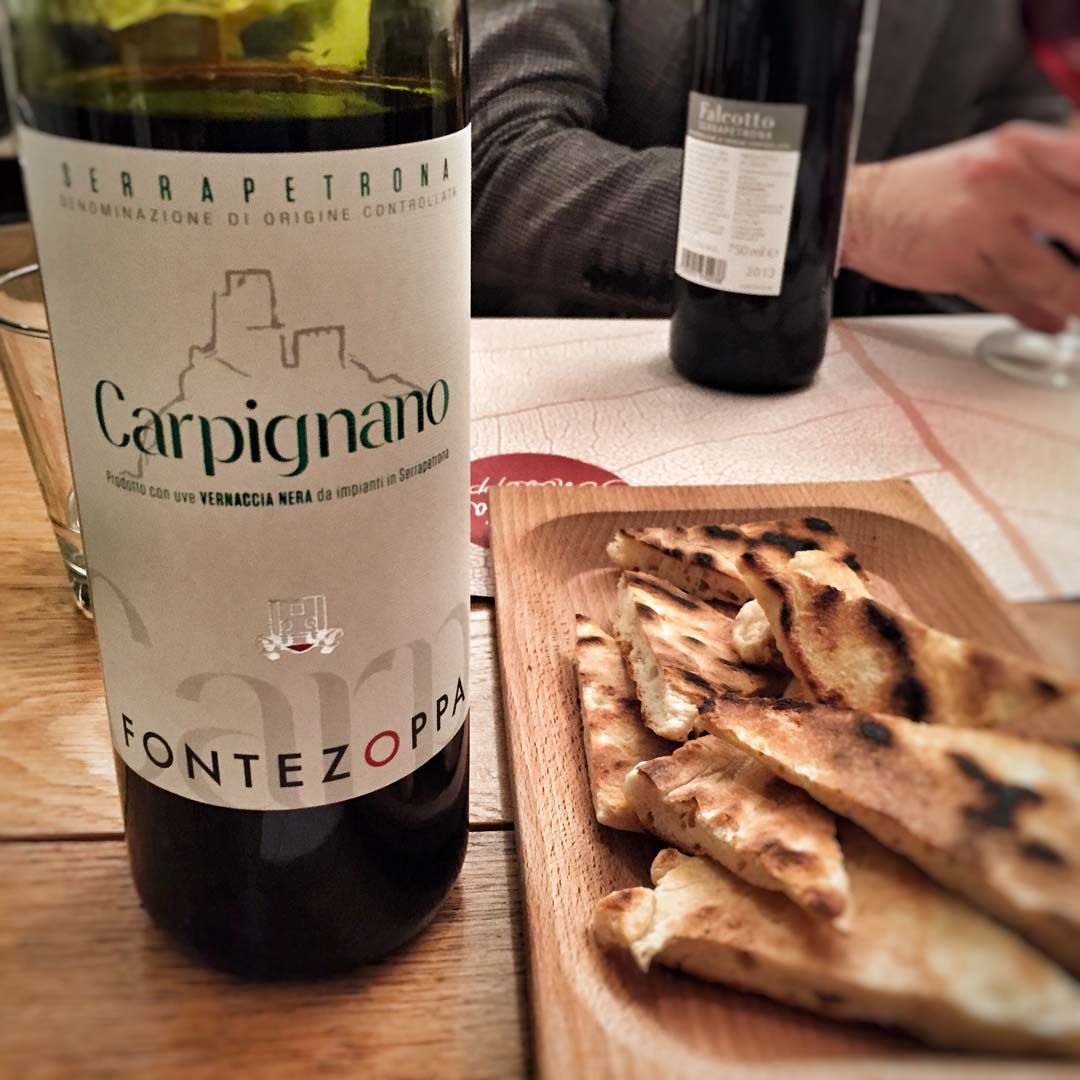 Ribona and Vernaccia di Serrapetrona, Marche hidden gems
If you read my blog you know I like to tell you about less known Italian grapes and wines…I won't disappoint you with this new post!
During my last visit to Italy I traveled through the central regions: Tuscany, Umbria and Marche. In the latter I got in touch with two hidden gems, Ribona (known also as Maceratino) and Vernaccia nera di Serrapetrona. Both are indigenous from Marche, both were about to disappear in the last century and even today the production is limited to a few wineries in Ancona and Marcerata areas. Marche is really a region worthy to visit if you would like to scout for hidden treasures, authentic people, unknown but paradisiac food and places.
RIBONA (Maceratino) – This variety may be related to Verdicchio (more popular grape from Marche, which can be di Jesi or di Matelica), but it shows some remarkable differences. Ribona prefers well sun exposed windy sites and infertile soils for its best results. The DOC that includes this variety is Colli Maceratesi, you con find Ribona blended in the Colli Maceratesi Bianco or the monovarietal version: Colli Maceratesi Ribona DOC, that can be still or sparkling (spumante). It seems to have a good ageing potential, I personally tasted a 2007 (9 years old) Ribona and it was really interesting to follow its evolution (see my tasting notes below at Fontezoppa winery).
VERNACCIA DI SERRAPETRONA – On the hills around the little Serrapetrona village you can find one of the best expression of Vernaccia Nera grape, indigenous from Marche. At the beginning of the 20th century there were less than fifty hectares planted to Vernaccia Nera, today they are about 90, all over Marche and some vineyards in Umbria as well. The one in Serrapetrona gives the best wines, the DOCG is a sparkling re-fermented wine made by 40 per cent of dried out grapes. The DOC is a full body still red wine with at least 85 per cent of Vernaccia Nera grapes. Among the less known Italian wines but one of the more special I ever tasted.
FONTEZOPPA WINERY – Mose' Ambrosi, who is running the family vineyards estate, decided to bet on the local varieties: Ribona, Vernaccia, Passerina, Pecorino and Incrocio Bruni. Fontezoppa (it takes its name from an ancient spring which flowed where the vineyards are located today) owns some of the best vineyards around Civitanova Alta and Serrapetrona hills, nestled between the Adriatic Sea and the Azzurri Mountains, with the right combination of sun exposure, mountains and sea breeze.
The estate is beautiful, with a gourmet restaurant (Locanda Fontezoppa) and some really nice rooms for hospitality. It's literally in front of Civitanova Alta, you can sit in the patio and look at this stunning medieval village surrounded by ancient walls while sipping delicious wines and have some traditional charcuterie with homemade bread. "Leave me here" is exactly what you'll think in that very moment!
I had a wonderful wine tasting (they produce 18 different wines) and I was really impressed by the quality and the potential of Ribona and Vernaccia. Here some of my wine thoughts:
2013, RIBONA, Fontezoppa. The intensity at the nose is really outstanding: a mix of aromatic herbs (rosemary, thyme and oregano) with a hint of almond milk and wild white flowers. There is a scent of flint and linoleum that is actually pleasant in the ensemble. It's a full body white, no oak, stainless steal tanks, 12 months ageing in the bottle, delightful minerality at the taste.
2007, RIBONA, Fontezoppa. Interesting to see how the flavours evolved with ageing. A little bit of oxidation made this wine excellent with mature cheeses. Nuts, dried apricots and still a vibrant acidity. The revelation of the wine trip!
2013, CARPIGNANO, Fontezoppa. Vernaccia di Serrapetrona still and dry. If you like spicy wines (and I do!) you can't miss this one. Together with wild berries and plums you can detect at the nose a charming spicy mix of pink pepper and mountain herbs (I wrote Ricola candies in my tasting notes, this may give you the right idea of what I wanted to say). It can be served a little bit chilled and it's perfect on a Caciucco (or Brodetto di Pesce, as they call it in Marche region), a tomato base fish soup. 
2013 MORO', Fontezoppa. This is the third version of Vernaccia di Serrapetrona still, dry, that Fontezoppa produces. Carpignano is the youngest one, lighter body, no oak, stainless steal tanks fermentation, all primary aromas. FALCOTTO, which I tasted but I wasn't impressed by, is refined in barriques for 12 months. MORO', which I appreciated more, is aged in barriques for 18 months. It's a full body spicy wine (if you want me to look for a similar international variety wine, I would pick Syrah). At the nose you can smell black cherries, black plums jam and a pleasant note of toasted oak, which is not overwhelming, but it's part of the charme and the elegance of this wine.
I hope to have encouraged my readers to think out of the box also this time and look for anything but the usual Chardonnay or Cabernet Sauvignon (which I really enjoy once in a while, actually, but which unfortunately sometimes stop people to try something new). Cheers to diversity, cheers to my beloved Italy!