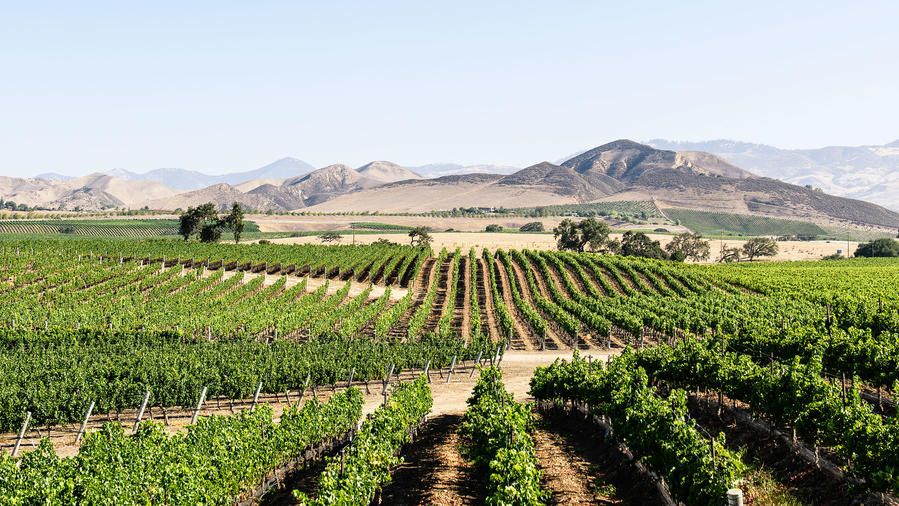 Santa Barbara wine county: the fervent "cool" side of Californian viticulture
The pearl of  the Central Coast, Santa  Barbara County is one of my favorites viticultural areas of California. Its unique climatic and geological conditions make it the ideal place to grow cooler climate grape varieties with a Californian twist. And I am definitely a cool climate wines lover.
I had the pleasure to experience the warming hospitality and the improved winemaking techniques and facilities during a three days press trip, kindly offered by a group of local wineries and the agency Muse Wine Management.
Here a reportage about the sub-regions  and the wineries I visited. I focused on the wines and the areas I particularly enjoyed, but, trust me, there is much more to discover in Santa Barbara County. I can't wait to plan another trip.
At the end of the article I post also my Youtube Vlog for you to see with your eyes these incredible places.
I stayed at the Ballard Inn hotel, which is a charming, elegant property in Ballard: truly well decorated in a shabby chic country style it was the perfect place to relax after an intense day of wine tastings and vineyards tour.
But let's dig in the wines of Santa Barbara.
Santa Barbara County
This viticultural area is one of the few in the world with a east-west orientation coastal mountains' range, which forms several valleys opening directly to the Pacific Ocean. The flow of fog and ocean breezes makes the region one of the coolest AVA in California with many distinct micro-climates. Cool and moderate temperatures toward the West changes to warm daytimes and cold nights to the East. This means that the fruit has an unusually long "hang time" on the vine, allowing it to fully develop the acids, flavors and tannins needed to produce wines of distinctive character.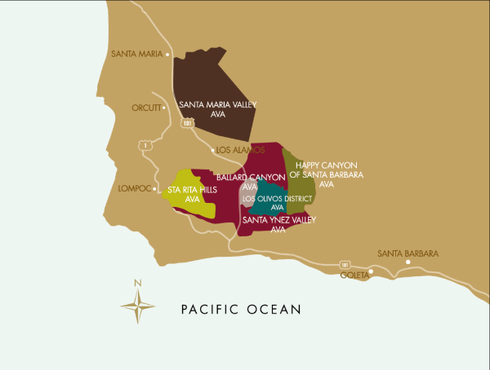 There are six official appellations: Happy Canyon of Santa Barbara, Santa Maria Valley, Santa Ynez Valley, Ballard Canyon. Los Olivos District, and the Sta. Rita Hills. Within the broad Santa Barbara County designation are several other micro-regions – these include the Los Alamos Valley region and the Santa Maria Bench. Slightly less than half of the grapes grown in Santa Barbara County are used by local vintners, with the balance exported to wineries outside the area.
I focus today on the AVAs I visited during my last wine trip to Santa Barbara County and the wineries I had the pleasure to experience in person.
Happy Canyon AVA
Located in the far eastern edge of the Santa Ynez Valley AVA, Happy Canyon of Santa Barbara delves into the San Rafael Mountains just northwest of Lake Cachuma. Its inland position means a significantly warmer climate that ensures complete maturation for later ripening varieties. The rolling terrain, high slopes and varied soils of this region are best suited for growing Bordeaux varieties like Cabernet Franc, Cabernet Sauvignon, Merlot, Petit Verdot and Sauvignon Blanc, creating rich, concentrated wines. Syrah and other Rhône varieties also flourish here.
During Prohibition a simple alcohol was produced in Happy Canyon. Legend has it that folks would "take a trip up Happy Canyon" to purchase the beverage and the name stuck.
CROWN POINTS VINEYARDS
Nestled in the eastern-most foothills of the east-to-west transverse valley of the Happy Canyon of Santa Barbara AVA (American Viticultural Area), Crown Point is blessed with distinct warmer climatic conditions, coupled with the vineyard's south-facing orientation and its gravely loam soil studded with mineral-laden rocks rich in Magnesium, that make it an ideal place to grow Bordeaux grape varieties.
At Crown Point the first plantings began in 2001.
It wasn't until November 2009 that the Happy Canyon of Santa Barbara AVA (American Viticultural Area) designation was achieved and in 2012 the area was acquired by Roger Bower, the owner and visionary behind Crown Point. He purchased the property after recognizing its potential to produce world-class Cabernet Sauvignon.
Winemaker Adam Henkel joined Roger in 2013. Adam, who spent 10 years in the Napa Valley, including eight years at Harlan Estate in Oakville, had long been fascinated by the viticultural diversity and geographical grandeur of Santa Barbara County. "The most challenging aspect of these vineyards is the soil – he said – the high magnesium content is something to constantly keep in mind during the growing season, to manage concentrations and flavours".
Crown Point is a 104 acre ranch, 50 acres of which are planted to vines, exclusively Bordeaux varieties. At 740-930 feet elevation, Crown Point's hillside location allows for a longer growing season because of the fifty-degree swing between daytime high and nighttime low temperatures.
Wines tasted:
The 2014 Crown Point Estate Selection
73% Cabernet Sauvignon/16% Malbec/11% Merlot
15.5% Alcohol

The first vintage of the Bower's estate is luscious, rich in flavours (black-fruit , cassis, baking spices, rhubarb, gentian) with silky tannins and bright acidity. Can beautifully age for another 8-9 years.
The 2015 Crown Point Estate Selection
71% Cabernet Sauvignon, 9% Cabernet Franc, 9% Petit Verdot, 9% Malbec, 2% Merlot
More austere than the 2014, this wine reflects the unique nature of the vintage. Together with the ripe blackberries, you can detect aromatic herbs like oregano and bay leaf. Pink pepper and liquorice at the palate which is structured and lean at the same time, indicative of a wine with a long life ahead of it in the cellar (at least another 15 years).
2017 Cronw Point Vineyards Cabernet Sauvignon Barrel selection
SINGLE BLOCK/SINGLE CLONE/SINGLE BARREL
Block 1 was the first block at Crown Point. It consistently produces wines with great tension and structure, with silky textures and savory notes. This barrel of 2017 Block 1 in particular captures the essence of Crown Point Cabernet Sauvignon: power & purity. Still adjusting but with great ageing potential.
Sta. Rita Hills AVA
A typical day in Sta. Rita Hills starts with marine layer clouds and fog, which burn off by 10am; there are then two or three hours of calm sunshine until the on-shore winds pick up, cooling things down again. This maritime influence, combined with the sedimentary soils with patches of limestone is the perfect place to grow the appellation's hallmark Chardonnay and Pinot Noir.
Hands on, to me this is one of the best area in California for Pinot Noir and lean, cool climate Chardonnays.
ALMA ROSA
Nearly half a century ago, Alma Rosa founder Richard Sanford arrived in the Sta. Rita Hills in search of a special place to grow Pinot Noir and Chardonnay, the exalted grapes of Burgundy.
In 1971, after locating acreage with well-drained soils, Richard organized a partnership with a group of investors to establish a pioneering vineyard, Sanford & Benedict. Five years later, Richard released his first wine to great acclaim, and in 1981 he started Sanford Winery.
In 1983 Sanford planted the first 100% organic vineyard of the county, named El Jabali, at the Alma Rosa Ranch, and in 2005 he founded Alma Rosa Winery & Vineyards, his third winery venture.
In 2013, Bob and Barb Zorich purchased Alma Rosa, keeping Richard on board to take the winery and its wines to new levels.
Today the winemaker is Nick de Luca. He became the Alma Rosa winemaker in 2014, after spending seven vintages as Director of Vineyards and Winemaking at Dierberg & Star Lane Vineyards in the Santa Ynez Valley. He is a viticulturist with a strong commitment to sustainable vineyard and cellar practices. And he is half Italian, we had a lot to talk about (Italian food and wine mainly)…
Wines I tasted and particularly enjoyed
2018 VIN GRIS, STA. RITA HILLS
PINOT NOIR ROSE'
The mineral character is predominant: wet rocks and wild strawberries in the aftertaste. it is clear and vibrant, a food wine.
2016 Pinot Noir La Encantada
Single vineyard
From organic grapes, this is a feminine elegant Pinot Noir with a floral nose (roses and ibiscus). Bright red fruits at the palate, medium body, bright acidity. Good ageing potential.
2016 Pinot Noir, El Jabali
From the historic 35 years old vineyard we defined this wine a "gentleman farmer", rustic but elegant, powerful and refined at the same time. Black fruit, coffee and tea leaf at the nose with earthy notes of roots and leather. A real gem. Keep in the cellar for another 8-10 years.
PENCE VINEYARDS AND WINERY
Within the 200-acre working ranch and farm, Pence is farming organically over 38 acres of Chardonnay, Pinot Noir, Syrah and Gamay, with the first plantings initiated in 2005.
Pence Vineyard lies on an elevated plateau which has been slowly eroded over time on all sides, and is thus fully exposed to the cold ocean winds, morning fog and other Pacific Ocean influences. It is this combination of stressful conditions that provides the character considered essential to aromatic, balanced wines. Geologically, the land comprises a complex collection of several different virgin soil profiles, including Tierra, Linne and San Andreas Series, all of which are unusually dense and permeated with a variety of rock, calcareous (limestone) material and clay.
Because of the significant variations in elevations the vineyards are characterized by multiple sun aspects and varying slopes, making the soils all well-drained, but otherwise representing a quite varied terrain. This diversity was analysed scientifically in the last years. Pence could efficiently develop their vineyards to achieve the highest level of separation in terroir typical of Burgundy. The result is a patchwork of irregularly shaped sections of varying size and orientation. Each block was given a unique prescription for soil preparation (ripping and amendments), assigned a preferred rootstock (vigor and water tolerance), and received a suggestion of appropriate varietals and their respective selections that would be optimum for its distinct terroir.
All Pinot, Gamay and Chardonnay blocks are planted in a high-density configuration. Each vine has its own emitter and each block is irrigated by a separate zone that is controlled at the primary well.
Their Pinot Noir selections are grown in rich, clay-limestone soils. They currently produce three small terroir-driven bottlings that range in size from 100-400 cases. The Estate Pinot Noir comprises a selection of nine different blocks.
WINES
2016 ESTATE PINOT NOIR STA.RITA HILLS
Organic vineyards
Silky, rounded Pinot Noir with fresh notes of strawberries and pink pepper. The whole cluster fermentation adds the floral, herbaceous touch and contributes to the overall freshness. Oak is well integrated.
2016 SEBASTIANO SYRAH STA. RITA HILLS
Highest elevation 5 acres vineyard, west exposure, clay and limestone soil. Very aromatic and lean version of Syrah with black pepper and Mediterranean herbs hints. Concrete fermented it is a graceful example of cool climate Syrah.
Santa Ynez AVA
Santa Ynez Valley is a long, east-west corridor with very cool temperatures on the coast that become progressively warmer inland. Consequently, several varietals do well, from Pinot Noir in the west to Cabernet and Merlot in the east. Several Rhône and Italian grape varietals have also gained acclaim in this versatile Santa Barbara County AVA. The largest concentration of wineries is in the Santa Ynez Valley appellation.
BRAVE AND MAIDEN
Brave & Maiden is located on North Refugio Road in the heart of the Santa Ynez Valley.
Brave & Maiden Estate was established in 2011 and is the vision of owner Rizal Risjad, who purchased the property in 2010, and his business partner and Managing Director, Jason Djang. The 46-acre vineyard, planted in the mid-1990s, includes Cabernet Sauvignon, Cabernet Franc, Merlot, Syrah, Grenache, and Sauvignon Blanc. Brave & Maiden is a SIP certified sustainable vineyard.
Brave & Maiden's new world-class tasting room and 8,000-case production facility are really amazing and majestic. They were designed by the highly acclaimed wine country architect group, Backen & Gillam Architects. Known for such esteemed projects as Harlan Estate Winery, Larkmead Winery and Meadowood Napa Valley, Brave & Maiden is the first winery project for Backen, Gillam & Kroeger Architects on the Central Coast.
In the new production facilities fermentation and aging are carried out with minimal intervention and careful observation. Each vineyard is treated separately from the harvest to the bottling.
Whites are whole cluster pressed and then fermented and aged in a combination of stainless steel, new, and neutral French oak. Reds are destemmed and fermented in 3 ton closed top stainless fermentation tanks. Reds are pumped over 1-2 times daily until the end of fermentation and extended maceration. Reds are then basket pressed and, depending on block and variety, aged in varying percentages of new and neutral French oak barrels.
My favorite wine by Brave and Maiden
Graceful, delicate and floral this wine is a great expression of the primary aromas of Cabernet Franc. The vegetale note that Cab Franc often develops has been managed in a masterful way, resulting in a pleasant aromatic herbaceous aftertaste.
WATCH MY YOUTUBE VLOG AND SUBSCRIBE TO MY CHANNEL: