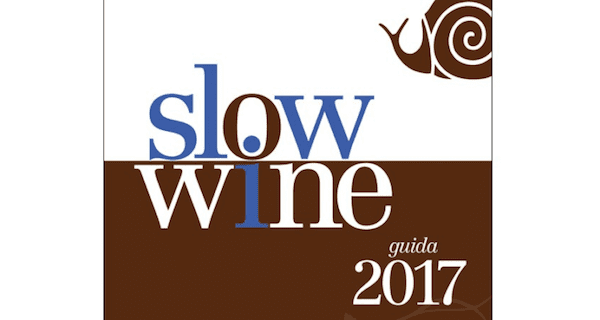 My top ten revelation wines of 2017 winter's California wine shows (Gambero, Slow Wine and Suckling)
Winter is gone and with it the main Italian wines tour visiting California this year: Slow Wine, Tre Bicchieri Gambero Rosso and James Suckling's Great Italian Wines.
I visited the 3 of them (I know, it's a though job, but somebody has to do it) to meet with friends producers and to look for the most hidden secrets in terms of indigenous varieties and specific terroirs. Far from me the intention to write about the "bigs" , (aka famous wineries which produce incredible, but hyper well known wines), I'd like to talk about the surprises: here the 10 revelation wines showcased in Californian winter Italian wines fairs!
GAMBERO ROSSO TRE BICCHIERI LOS ANGELES – FEB. 13TH 2017
CHIANTI CLASSICO LE VIGNE RISERVA 2013 ISTINE
How can a Chianti Classico be a revelation? This Riserva 2013 stood out as the cleanest Chianti I have ever tasted. I loved the style: stainless steel tanks, neat, minimal, direct. The vineyards are located in Radda in Chianti area, the higher altitude encourages Sangiovese to express at best its aromatic and floral side: violets, hints of lavender, small wild berries and a predominant mineral note of marl and limestone. Up and Coming Winery of the year 2017 – Gambero Rosso.
PRICE: 28,00 $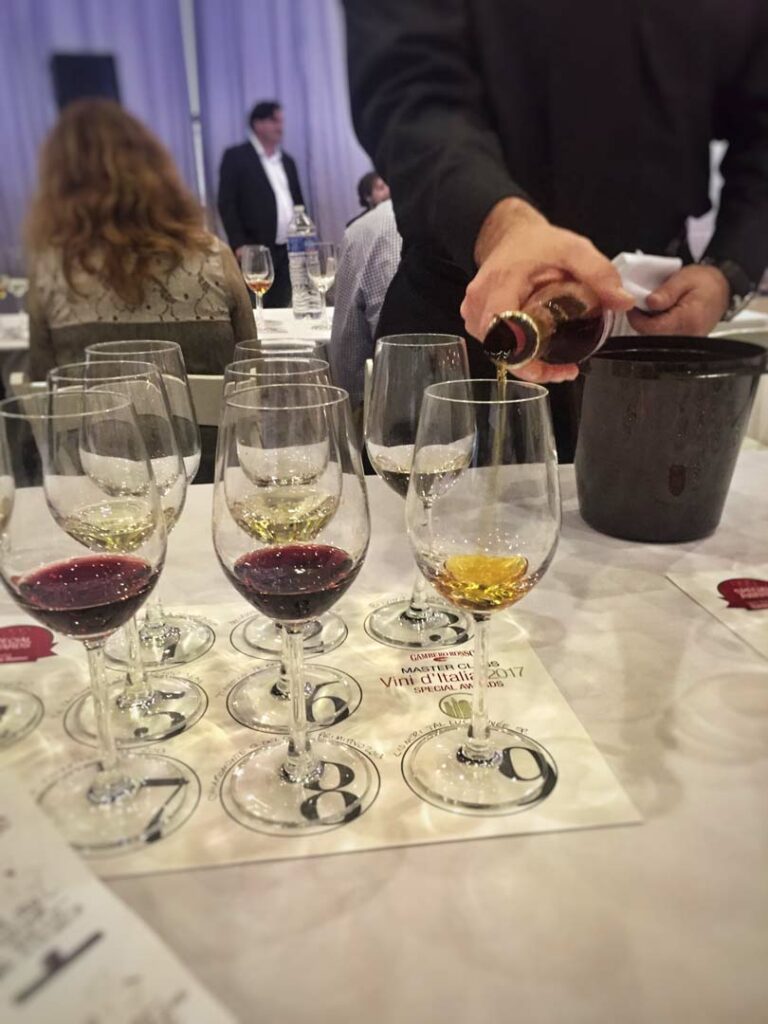 2. TAL LUC CUVEE SPECIALE LIS NERIS
This is a 'boutique wine', blend of 2 vintages (2006 and 2008) of Verduzzo (95%) and Riesling (5%), passito style. The aromatic grapes give us a complex, vibrant and sumptuous wine. The vineyards are located on the right side of Isonzo river in the Friuli Orientali appellation area. Fermentation and fining in french barriques for 36 months. A bon-bon! Sweet Wine of the Year 2017 – Gambero Rosso
PRICE: 100,00 $
3. REVE OFFIDA PECORINO 2014 VELENOSI
Pecorino is an indigenous variety, which was almost extinct till the 80's. when a local producer researching native varieties investigated a rumor of some forgotten vines in an overgrown vineyard. Cuttings were taken and propagated, and eventually grew enough grapes to make a very good wine in the early 1990s. Velenosi achieved the 3 Bicchieri Gambero Rosso award with this beautiful example of Pecorino: mineral, perfumed (jasmine and acacia) with hint of licorice. After the pressing and the cryomaceration of the Pecorino grapes 50 % fermented in barriques, 50 % in stainless steel tanks. It's a lovely food wine!
PRICE: 15,00$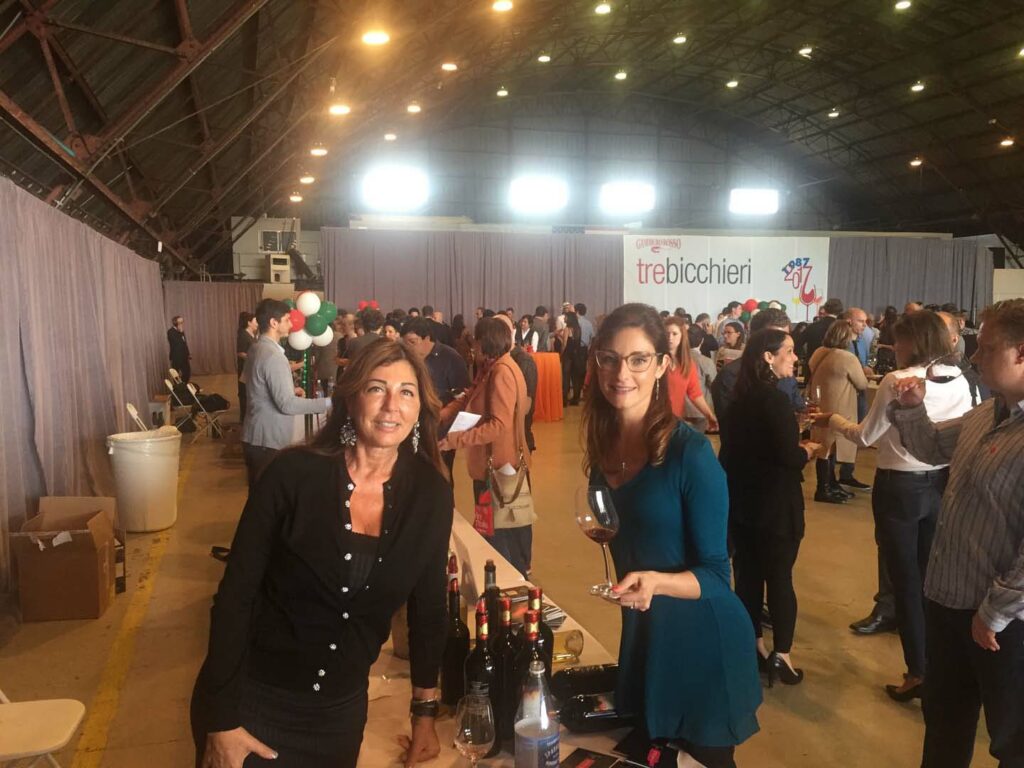 4. ALGHERO TORBATO TERRE BIANCHE CUVEE 161 2015 SELLA & MOSCA
Torbato (known also as Vitis Iberica) is a rare grape variety: it is grown exclusively on Sella&Mosca's Alghero estate (Sardinia), on limestone-rich soils derived from ancient marine sediment. This ancient grape variety was taken from the coasts of the Iberian Peninsula by the Phoenicians and introduced to Sardinia while the island was under Catalan rule. This wine, unique example of Torbato express all its mediterranean origins: rosemary, thyme, oregano and a hint of smokiness make it a perfect refreshing mediterranean aperitivo.
PRICE: 12,00 $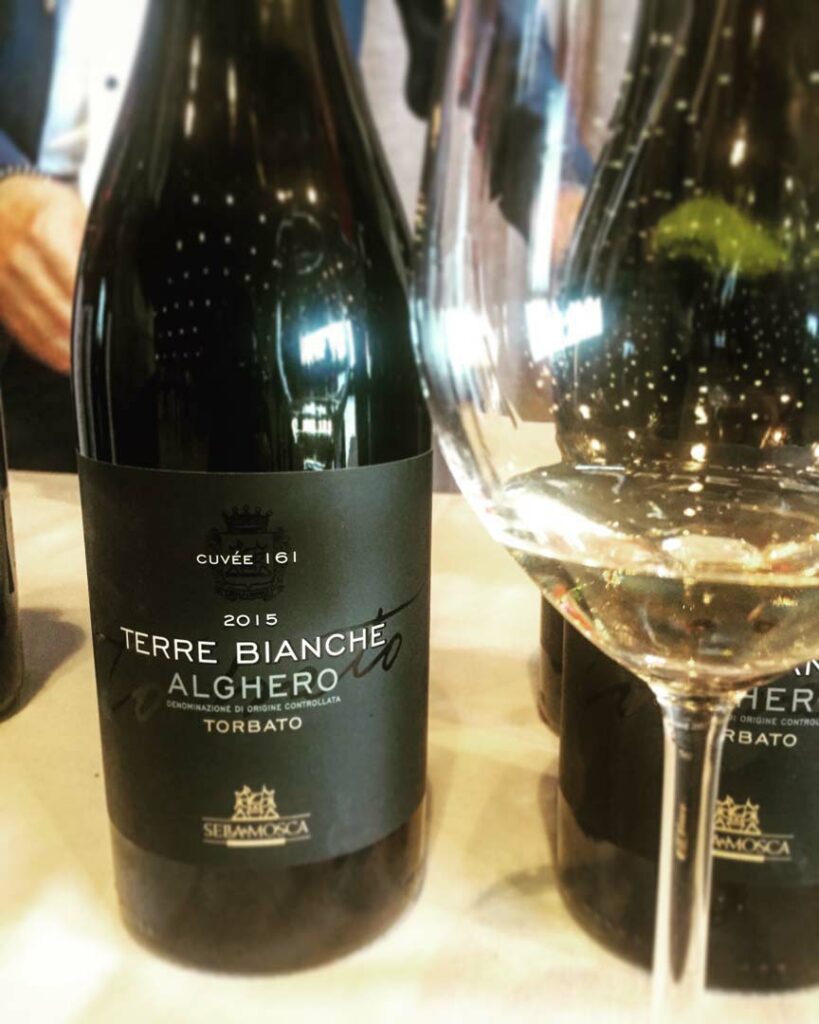 SLOW WINE SAN FRANCISCO – JAN. 24TH 2017
5. PODIUM VERDICCHIO DEI CASTELLI DI JESI CLASSICO SUPERIORE 2015
Freshness, structure, a masterpiece of Verdicchio dei Castelli di Jesi! Garofoli is a family owned winery which helped, for the last 40 years, to drive the growth of Verdicchio, step by step. They produce one of the finest and elegant version of this Marche classic. Super!
PRICE 25,00 $
6. BAROLO BUSSIA GIACOMO FENOCCHIO 2012
This is a hymn to Bussia terroir! Even if it's still young to be drunk, this wine reveals the perfect ripeness, elegance and feminine finesse of the sweet sun exposed rolling hills of the Cru area. Giacomo Fenocchio was one the of first winemakers of Barolo to advocate the separated vinification vineyard by vineyard, 60 years of experience and work on the field means something. If you are looking for a neat and sublime expression of Langhe to keep in your cellar and drink in 3-4 years, this is the wine for you!
PRICE: 40,00 $
JAMES SUCKLING'S GREAT ITALIAN WINES BEVERLY HILLS – MAR. 10TH 2017
7.PIEROPAN SOAVE CLASSICO CALVARINO 2014
This is my favorite Cru of the Pieropan estate, whose vineyards lay on the hillside on Soave Classico appellation area. The Garganega and Trebbiano di Soave blend reveals citrus, apricots and papaya notes. The minerality is what makes this wine stunning: limestone, rocks with a lively and vibrant finish. Gorgeous wine!
PRICE 26,00$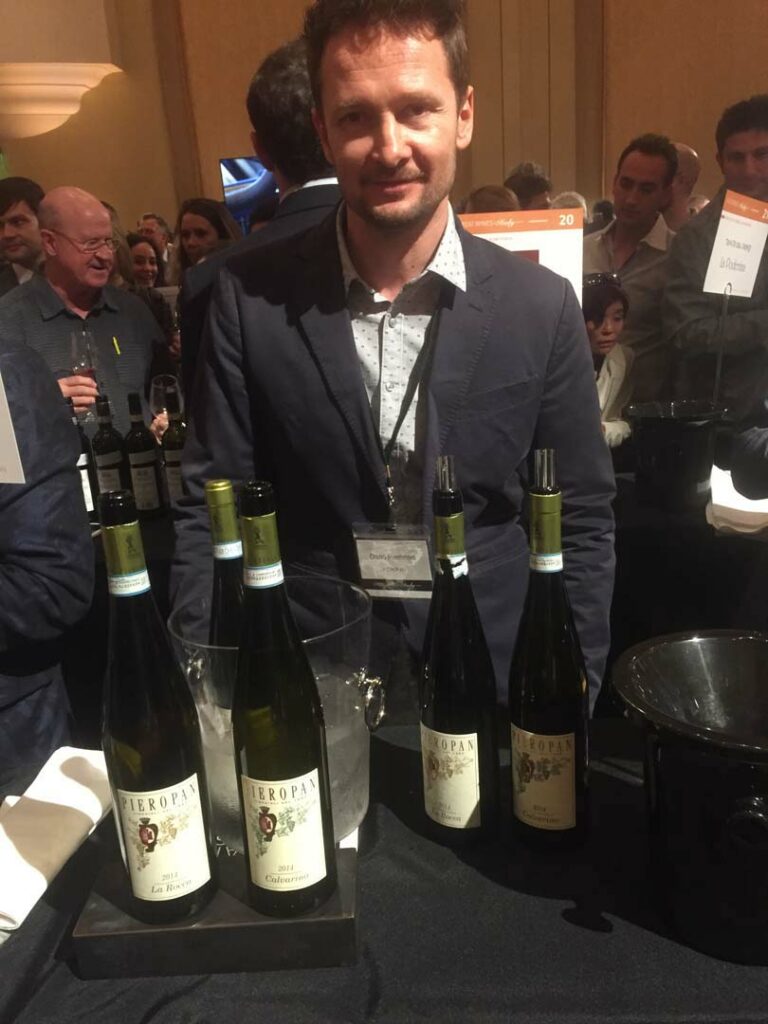 8.VINOSIA TAURASI SANTANDREA 2012
Vinosia is the new project of Luciano Ercolino who you may know as the owner of Feudi di San Gregorio estate: located in Luogosano (Campania) he produces amazing Greco di Tufo and this Taurasi I tasted at James Suckling's event. Nose of dark chocolate and hints of eucalyptus the 2012 needs a couple of more years to be ready to drink, but the alcohol and the tannins are already elegant and well integrated.
PRICE: 20,00 $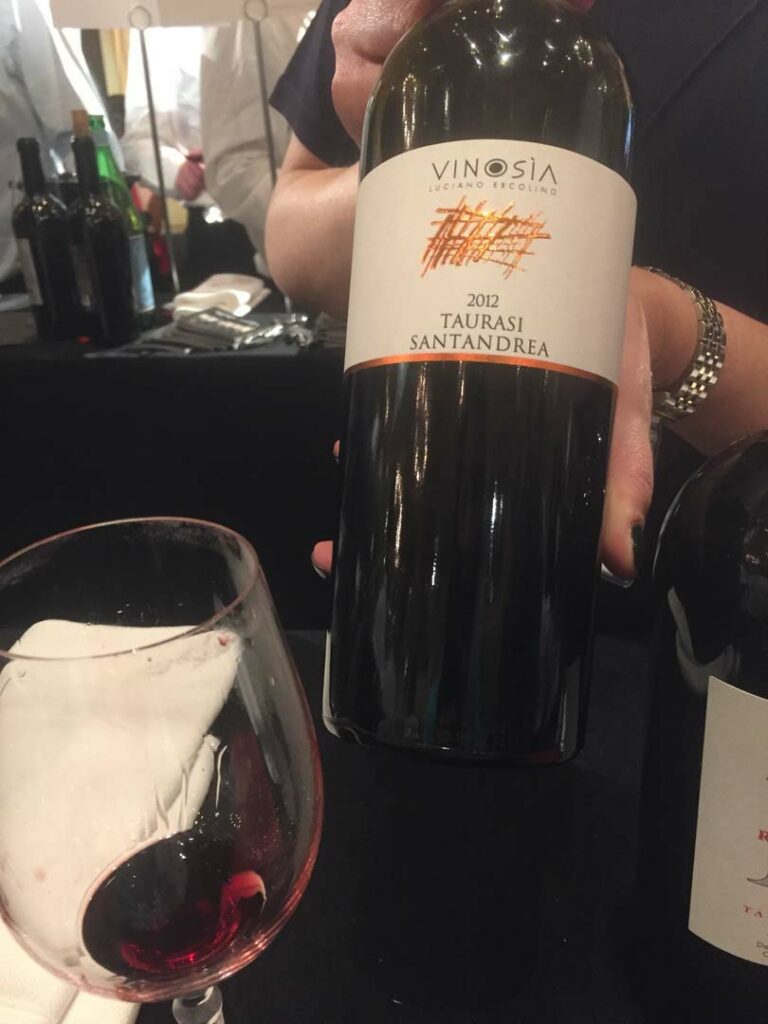 9.PARUSSO VINO SPUMANTE DI QUALITA' METODO CLASSICO BRUT 2012
First Nebbiolo metodo classico I have ever tried! This Parusso experiment is really successful: delicate, with hints of strawberries and lemon, nothing reminds you of the powerful expressions of Nebbiolo grapes in Barolo wines. Marco Parusso, the owner, changed over biodynamic growing a few years ago and produces wines with character and personality.
PRICE: 45,00 $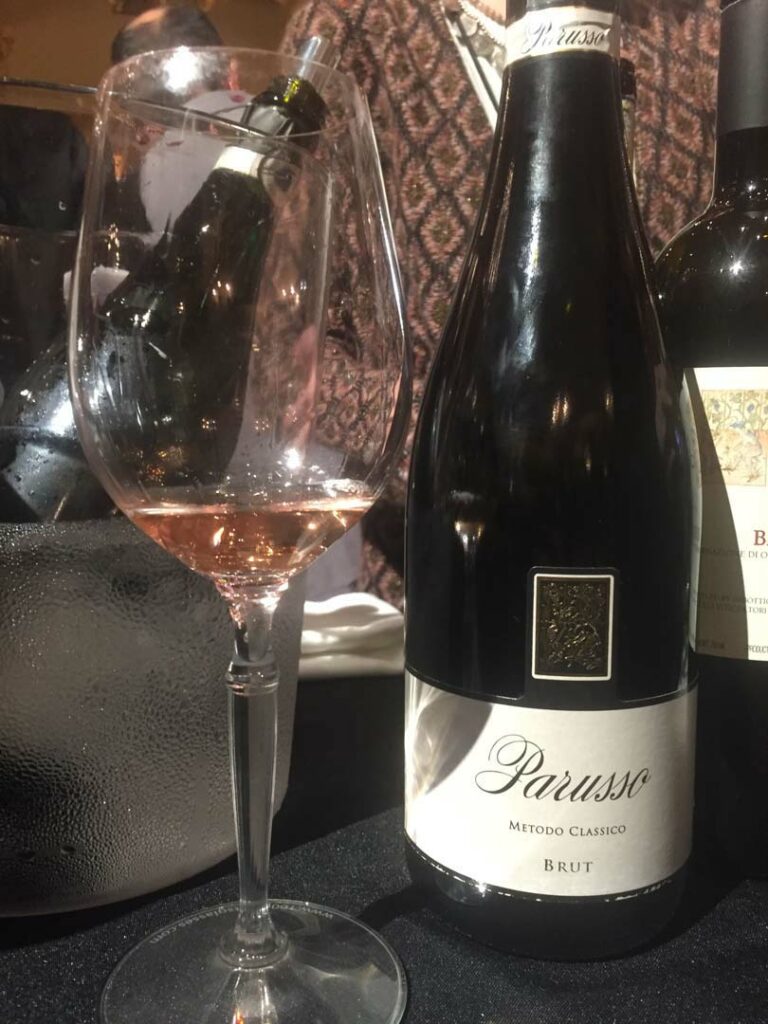 10. POGGIO ARGENTIERA MORELLINO DI SCANSANO CAPATOSTA RISERVA 2013
Cerified organic since 2009 this winery produces true expressions of the classic Morellino di Scansano DOCG. Their Capatosta riserva 2013 is earthy, yet elegant and with a soft texture. Plums, blackberries and a walnuts are the predominant aromas at the nose. Lovely.
PRICE: 27,00 $