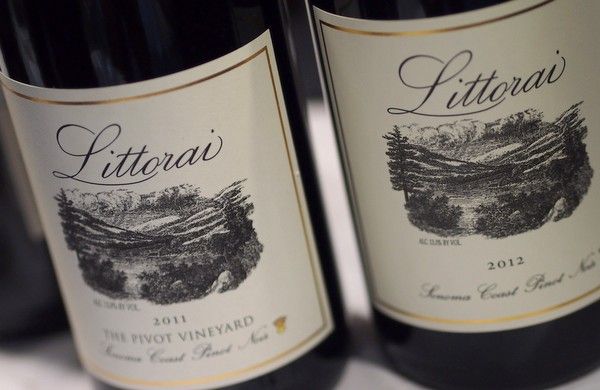 Littorai winery: where terroir is a religion and biodynamic a life philosophy
I drove to Pivot, Ted Lemon's newest vineyard and a laboratory for his beliefs about self-contained farming, on a rainy January afternoon.
I found myself on a 30 acres property, where sit just 3 acres of Pinot Noir, plus a long pile of compost, honeybees, 14 acres of open field that produce 400 bales of hay – and the Lemons' home (Ted and his wife Heidi and three children). Between every 10th row of vines lie wildflowers – California poppy and calendula – to draw insects. In an old barn sits the dried chamomile, the horsetail and nettles Lemon grows for soil preparations as the  biodynamic Steiner's method prescribes (see below  a whole paragraph about  the biodynamic method and watch my Youtube video with Ted Lemon's interview).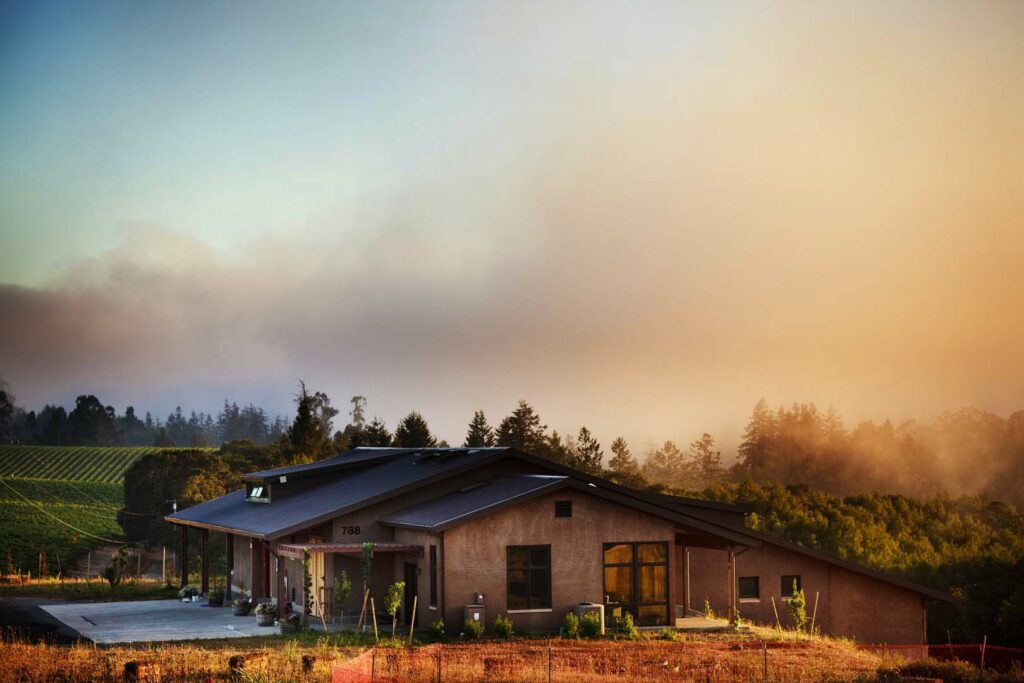 Ted Lemon has been a winemaker all his life, and his career began when he earned his enology degree from the Université de Dijon in 1981. From there, he worked at several different estates in Burgundy, France, where he became the first American selected as the winemaker and vineyard manager of an estate in Burgundy.
Today, he works as a consultant to many well-known wineries in the US and internationally. Heidi Lemon began her journey by living and working for a year in Germany before obtaining a master's degree in ESL (English as a Second Language) and going on to work at other renowned wineries. After some time spent traveling, they decided to focus on the land where their estate is now and develop uniquely biodynamic wines.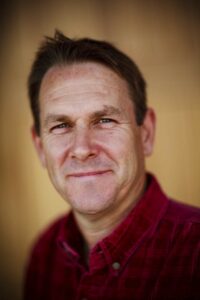 Littorai winery was founded in 1993 by Heidi and Ted Lemon, and the vineyards they own are all farmed using alternative methods. They state that their farming techniques are developed by sustainable methods, such as cross currents of permaculture, agro-ecology, and the biodynamic philosophies of Rudolf Steiner. Staying true to his philosophy, they avoid using fertilizers and use estate-produced compost instead.
Throughout their thirty acres of farmland in the Sonoma Coast AVA, the winery uses natural night air cooling to regulate temperatures, and they use the natural flow of gravity instead of using water pumps. Recognizing that committing to the betterment of the future of their farm is crucial to the winemakers and owners, Littorai winery is a self-sustaining, biodynamic property that is fully integrated for the production of quality wines that reflect the distinctive terroir of the land.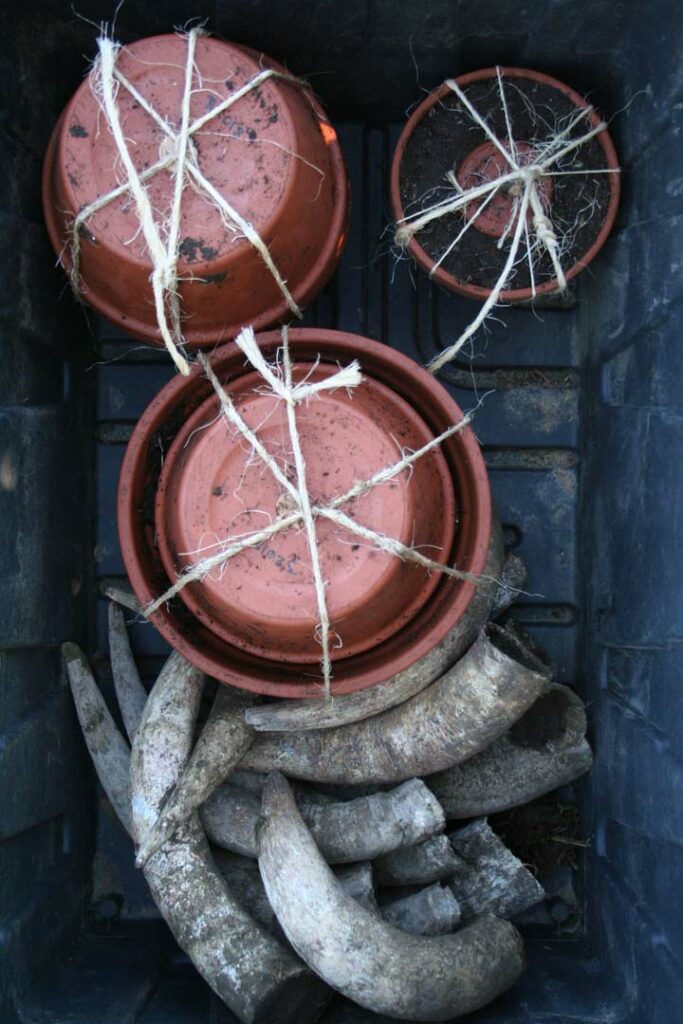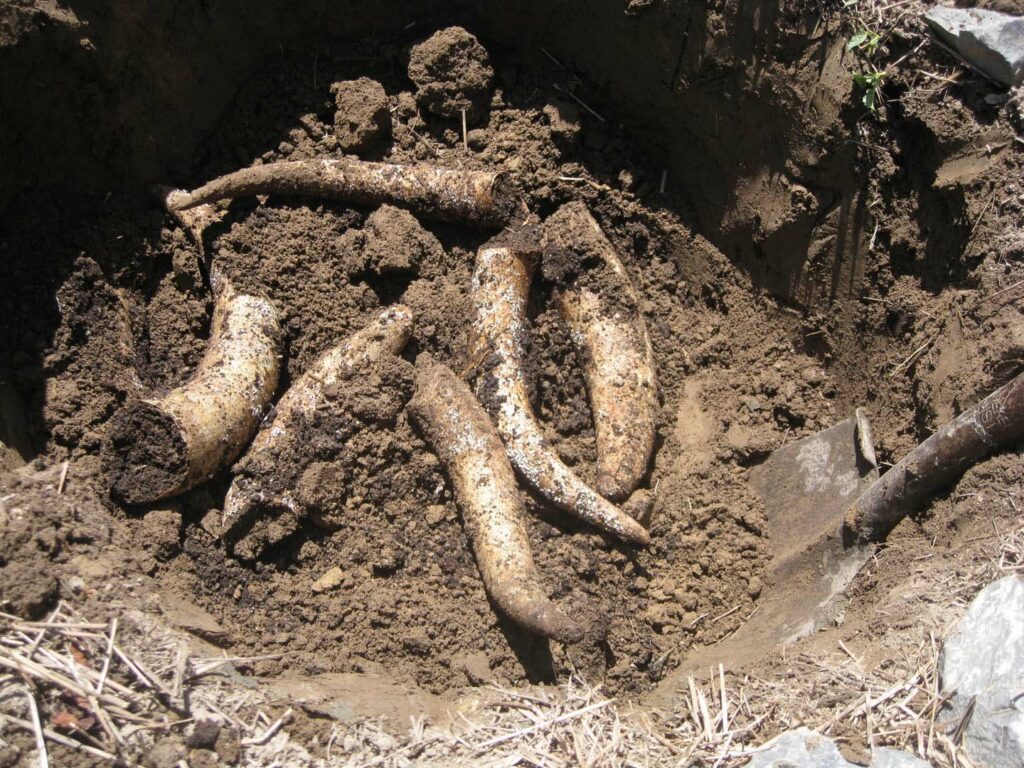 I have met very few winemakers as committed as Lemon to the sanctity of terroir. He is a true believer in the potential of California's terroir – specifically in the ability, along the coastal stretch of Sonoma and Mendocino counties, to find unique sites for exceptional grapes. From this concept comes also the name the 10,000-case winery he, Ted, and his wife, Heidi, founded: Littorai, a plural for the Latin of "coasts."
Littorai wines are among the purest, most age worthy expressions of Pinot Noir and Chardonnay I have tasted in California. They have earned Lemon a reputation not as a Burgundian interpreter of California, but as a true American master.
His winemaking is keen to highlight each vineyard's signature.
One of his few mandates is the use of only indigenous yeasts, and no enzymes or nutrients. His fermentations stretch on as much as possible. Lemon uses whole Pinot clusters at times, but never to excess. Chardonnay is fermented in an evolving mix of oak barrels, oak casks and metal barrels.
They produce four single vineyard Chardonnay wines, including Mays Canyon Chardonnay, Charles Heintz Chardonnay, B.A. Thieriot Chardonnay, and the Tributary Chardonnay. And five single  vineyard Pinot Noir wines, including Hirsch Vineyard Sonoma Coast Pinot Noir, B.A. Thieriot Vineyard Sonoma Coast Pinot Noir, The Haven Sonoma Coast Pinot Noir, The Pivot Sonoma Coast Pinot Noir, and Mays Canyon Russian River Valley Pinot Noir.
During my  tasting I had the chance to appreciate  the nuances of three of their 2014 Pinot Noirs in a vertical flight.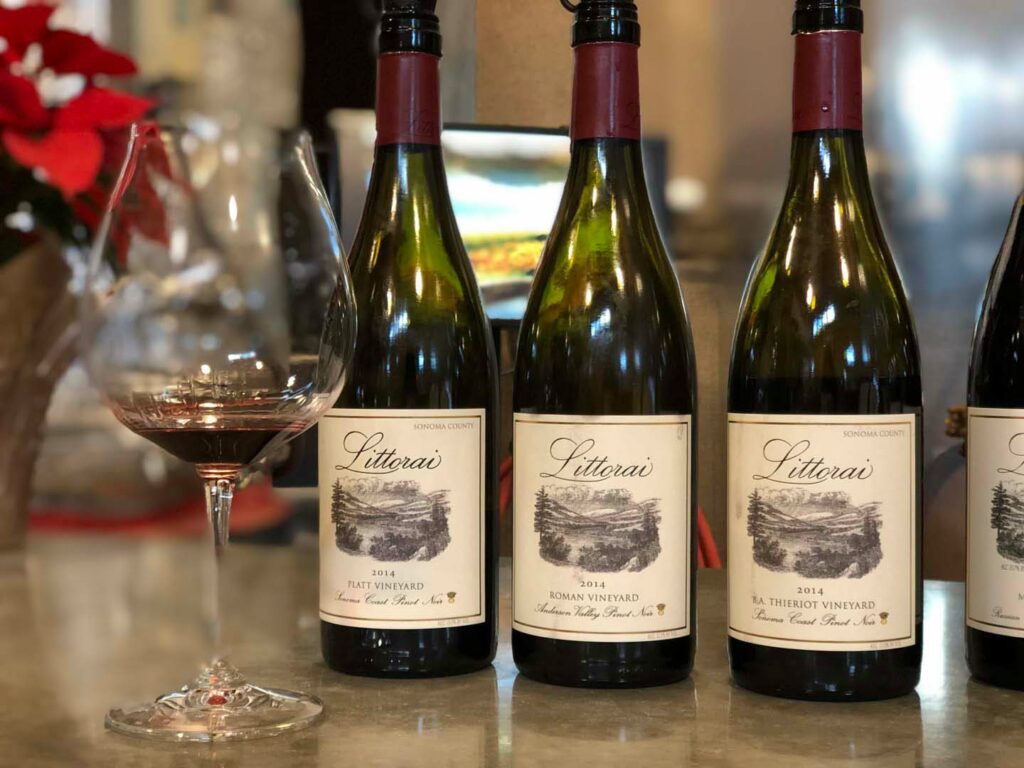 Sonoma Coast:
Thierot Vineyard Pinot Noir 2014
The vineyard is located southwest of the town of Occidental, overlooking Bodega at an elevation of 900 feet. Goldridge over sandstone soils. Farmed for over a decade using biodynamic methods. Yields 1.99 tons per acre. Vines planted in 1991 and 1994. Clones are Swan, Pommard, 114, 777, Calera and a proprietary clone. Aged 16 months in French oak barrels, 25% new
The wine is spicy, with hints of cumin and orange peel, rich,  more  structured and more tannic compared  to the others.
Platt vineyard Pinot Noir 2014
The Littorai section of Platt Vineyard consists of two blocks, planted in 2004. They are the highest elevation vineyards on the property, located at 750′. Both are south facing and both are planted to a rootstock and to pinot noir selections specifically chosen by us. Platt lies only six miles from the coast and overlooks the tiny town of Bodega. Given the location's ample rainfall and exceptionally mild climate, irrigation is a rarity at this site.
The wine shows delicious fruit hints of raspberry, strawberry and red cherry with delicate spices (pink peppercorns,  clove). Crisp and clean with elegant tannins and notable length and vibrancy. Still young and will surely gain more complexity with age.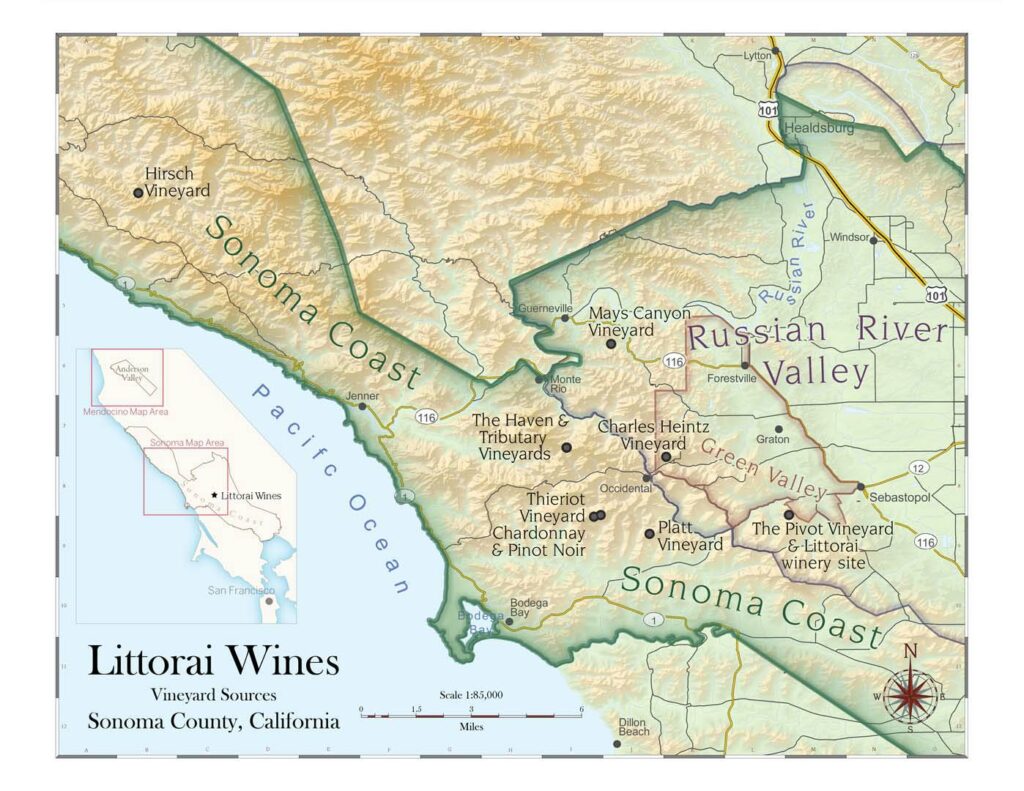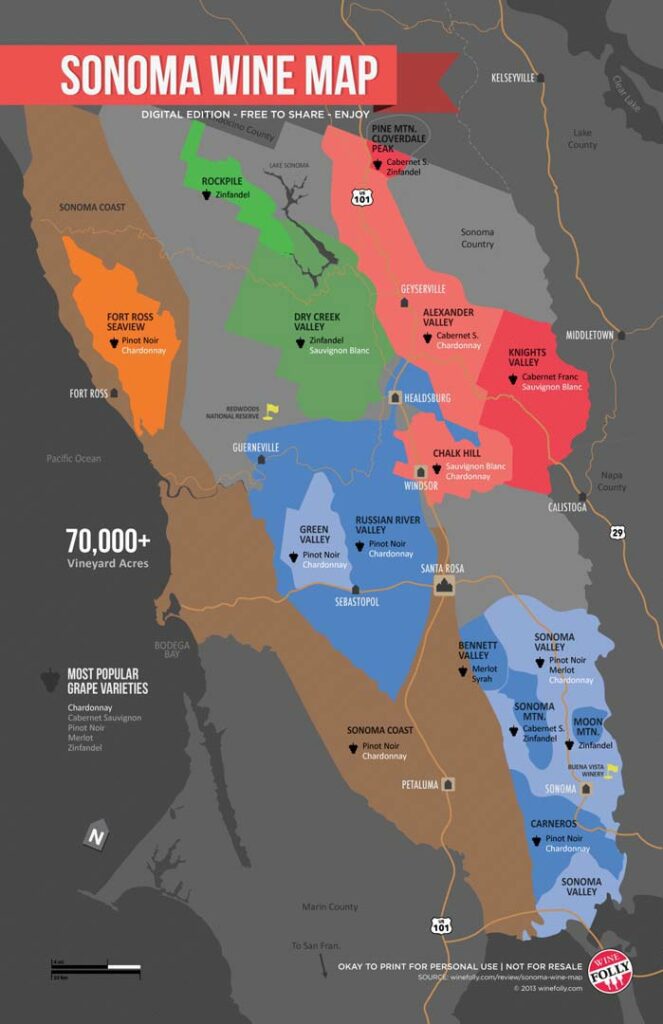 Anderson Valley:
Roman  Vineyard Pinot Noir 2014
The Roman is a hilltop vineyard situated at 1150 feet elevation northwest of the town of Philo. Soils are Boont loam over sandstone. Farmed using organic materials and biodynamic methods. Vines planted in 1999. Yields 2.48 tons per acre. Clones 114, 667 and a proprietary clone. Aged 16 months in French oak barrels, 25% new. The wine shows a wonderful tension between ripe and less ripe fruits: plum and rhubarb, blackberry and wintergreen. Fruitier than the Thierot vineyard's  ones, but well structured,  with a bright acidity and evident tannins.
Russian River Valley
Mays Canyon vineyard Pinot Noir 2009
At 200-400 feet elevation,  Mays Canyon's site is somewhat unique as it is surrounded by the Russian River on three sides. Skirted by redwood trees, they help keep to form a protective barrier that warms the climate of the vineyard. The Hugo gravelly loam soils also help to capture and retain the heat of the day, offering the vines additional warmth as the fog begins to roll in. Re-planted in 1999, this site has been a vineyard since the late 1800s.
I truly enjoyed  the 2009 Mays Canyon Pinot Noir, very expressive at the nose, constantly changing in the glass offering scents of spiced dark cherries, wild strawberries, rhubarb, coffee and cacao. Bright acidity on the palate featuring dark red cherries and raspberries. It displays the typically luscious Russian River fruit beautifully, but retaining acidity and a good structure.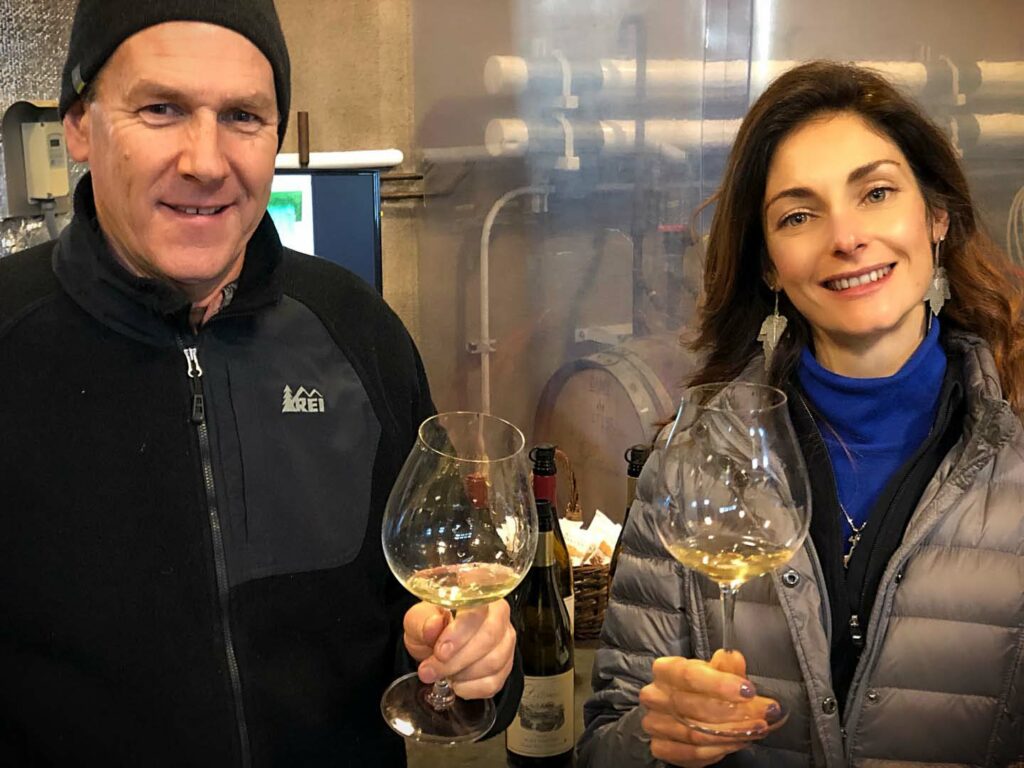 Nice surprise: the 2016 Chenin Blanc of Haven vineyard, Sonoma Coast
It is a rare pleasure as it is only produced in extremely limited quantities. One almost gets a sense of the Old World in this extraordinarily clean and neat wine, as notes of lime and asian pears and a bright acidity are completed by a pleasant minerality reminiscent of wet rocks and a briny sea breeze.
Planted in 2001, The Haven is a microcosm of the diversity of soils within the Sonoma Coast, containing uplifted undersea volcanics, sandstones, shales and loams. The Haven is located at 1200 feet elevation between the tiny town of Occidental and the Pacific Ocean. It lies on an east-west ridge and from its southfacing slope one can see the fog-enshrouded ocean in the distance. The Haven is late ripening and very cool. It is one of the last sites we harvest every year.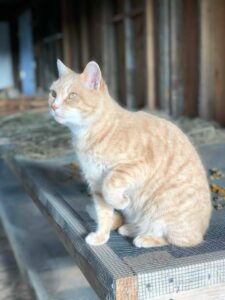 Biodynamic wines
Biodynamic farming, according to the Biodynamic Farming and Gardening Association is "a spiritual-ethical-ecological approach to agriculture, gardens, food production, and nutrition." Wines produced through biodynamic farming, aptly called biodynamic wines, are uniquely made through methods that incorporate a dependance on lunar and cosmic patterns and other homeopathic systems that claim to reflect the true terroir of the soil.
The set of farming practices that produces biodynamic wines treats the soil like a living organism as part of the entire ecosystem that encompasses the land. The system (i.e., the farmland or vineyard) aims to function as a self-sustaining unit that only utilizes natural materials and prohibits chemicals like fertilizers and pesticides. That being said, the wines produced by this approach are entirely organic products of a holistic view of farming.
Because these vineyards are so distinct in their methods of farming, biodynamic wines must be certified by one of the two following organizations: Demeter International or Biodyvin. Currently, as VinePair reports, there are more than 700 producers that craft biodynamic wines.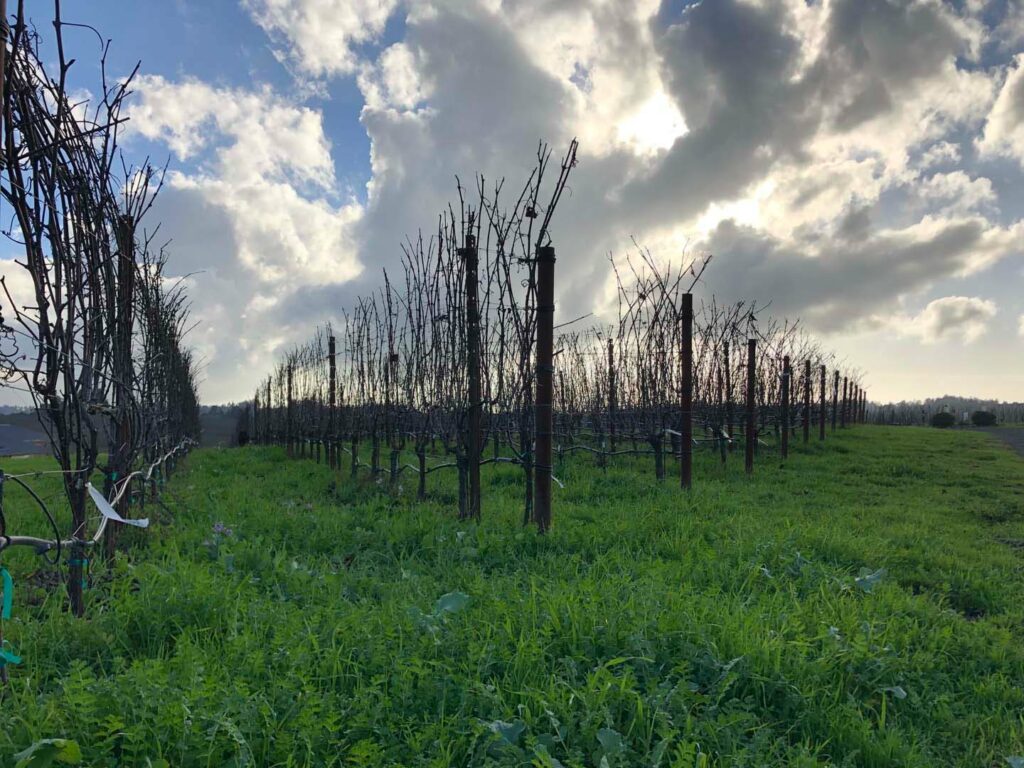 The Steiner method and biodynamic farming
Rudolf Steiner, an Austrian scientist known as the founder of the biodynamic approach to agriculture, created a philosophy in 1924 called anthroposophy, which further defined biodynamic farming. This "spiritual science" intends to better understand science through the spiritual world. Because the land is regarded as a living organism, it is nurtured and safeguarded from diseases by means of certain compost "preparations" that reinforce their vineyard soils.
Furthermore, biodynamic farming is regulated by a biodynamic lunar calendar, inspired by Steiner, which divides the days into four different categories: root, fruit, flower, and leaf days. These days of the biodynamic calendar correspond to the four elements—earth, fire, air, and water. As this philosophy states, root days are ideal days for pruning, fruit days are the best days for harvesting grapes, flower days are the best days to leave the vineyard alone, and leaf days are the best days to water the soil.
Another important element of biodynamic farming is the incorporation of further compost preparations that are stuffed into cow horns and buried in the soil during the winter. When the landowners recover these cow horns, they then distribute the compost around the vineyard.
Littorai winery
Youtube VLOG