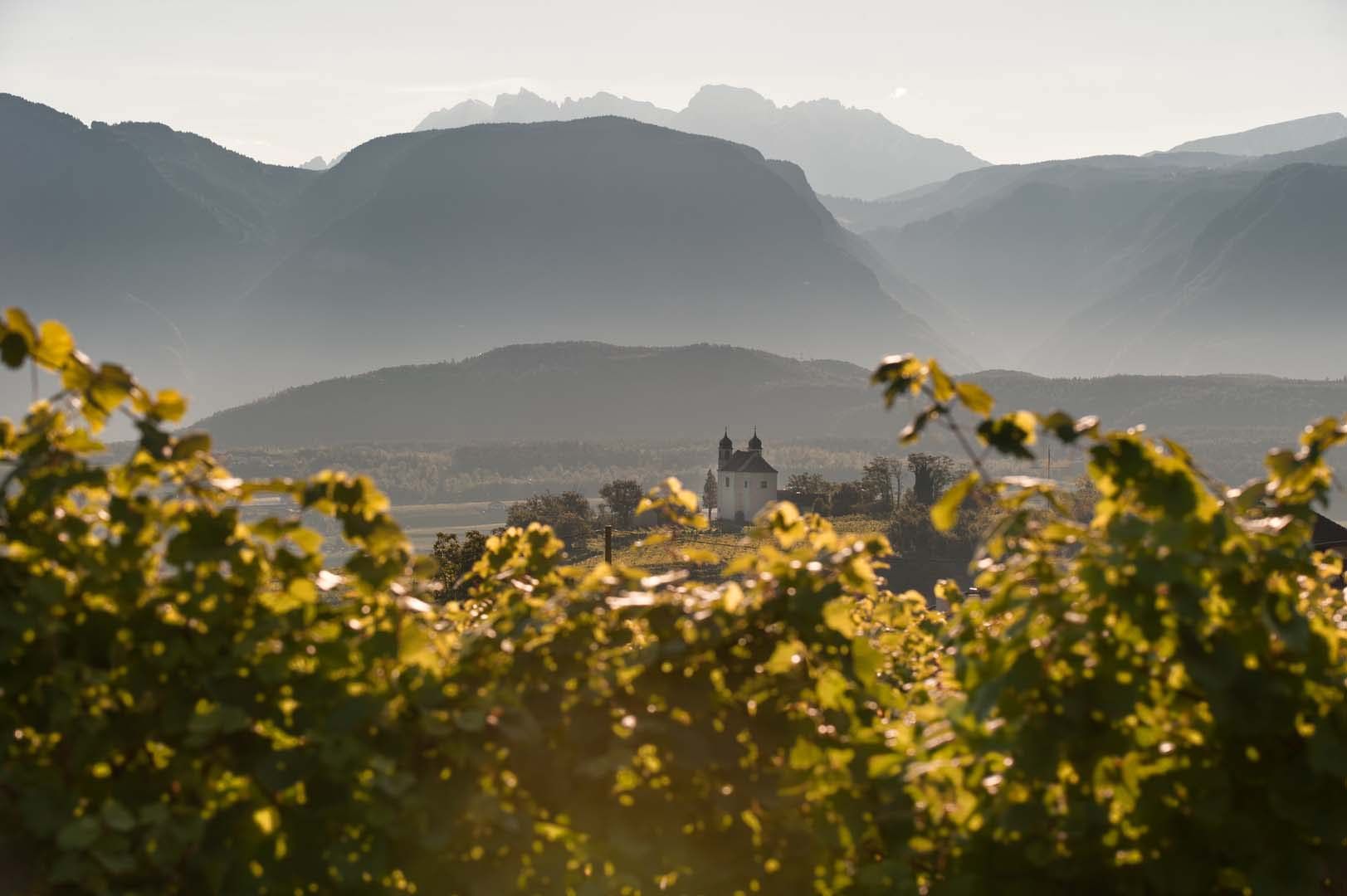 A peek into Alto Adige grape diversity and its terroir-driven Schiava and Pinot Bianco wines
Alto Adige: land of stunning mountains (the Dolomites) and alpine lakes, this area is a culinary and viticultural heaven for wine and food tourism.
I visited the region several times in the past years and each and every trip is a new surprise.
Alto Adige's winemaking has access to just 5,300 hectares (13,100 acres) of vineyard area, planted with more than twenty different indigenous grape varieties, making it one of the smallest but most  diverse wine-growing regions in Italy.
Due to  the extremely diverse and fragmented viticulture, cooperatives of farmers and growers are traditional in this area.  Cooperatives in Trentino-Alto Adige date as far back as the Hapsburg Empire and are very common, representing the lion's share of production. Their success stems from the need to create an effective economic system for the region's fragmented viticulture industry – the average grape grower here owns little more than 1ha, and most vines rise up the mountainsides in spectacular, steep-terraced vineyards, most of them still using the traditional pergola system.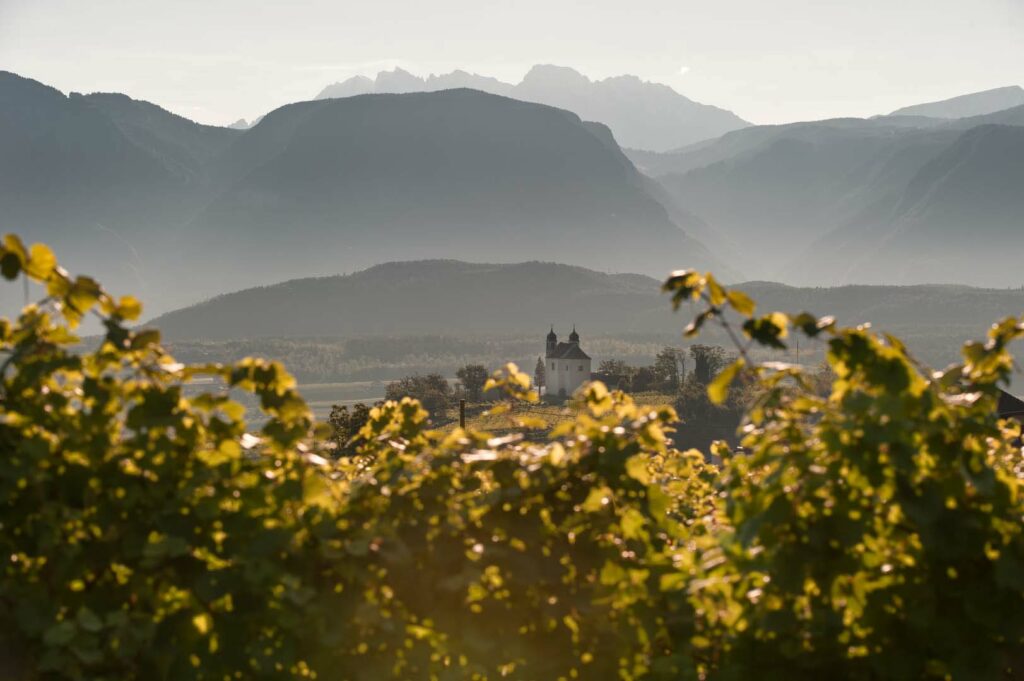 Even if the preconception about cooperatives (believed to produce only cheap, easy drinking wines) is still alive, in Alto Adige there are numerous examples that disprove it. I recently visited Cantina Girlan, founded in 1923 in an ancient farmstead from the XVI century, one of the best expressions of modern cooperative in Alto Adige, producing exquisite white wines (60% of the production), in particular Pinot Bianco and delightful light body red wines of Vernatsch (Schiava) and mineral Pinot Noirs.
200 winegrowers today farm an area of about 215 hectare of vineyards, under the supervision of the winemaker Gerhard Kofler who is focused on translating the unique terroir features into the wines: the key of this territory is the porphyria and calcareous soil, typical of this Dolomites' area. The vineyards lay on gently rolling slopes, between 1200 and 1500 feet altitude, on mineral rich soils, the temperature excursion between day and night is relevant and helps in retaining acidity and freshness in the wines.
The Girlan's cellar is worthy a visit: the ancient building hides a labyrinth of underground corridors, carved in the stone and crammed of old  casks  and barrels, with the perfect humidity and temperature to let the wines age, refine and mature.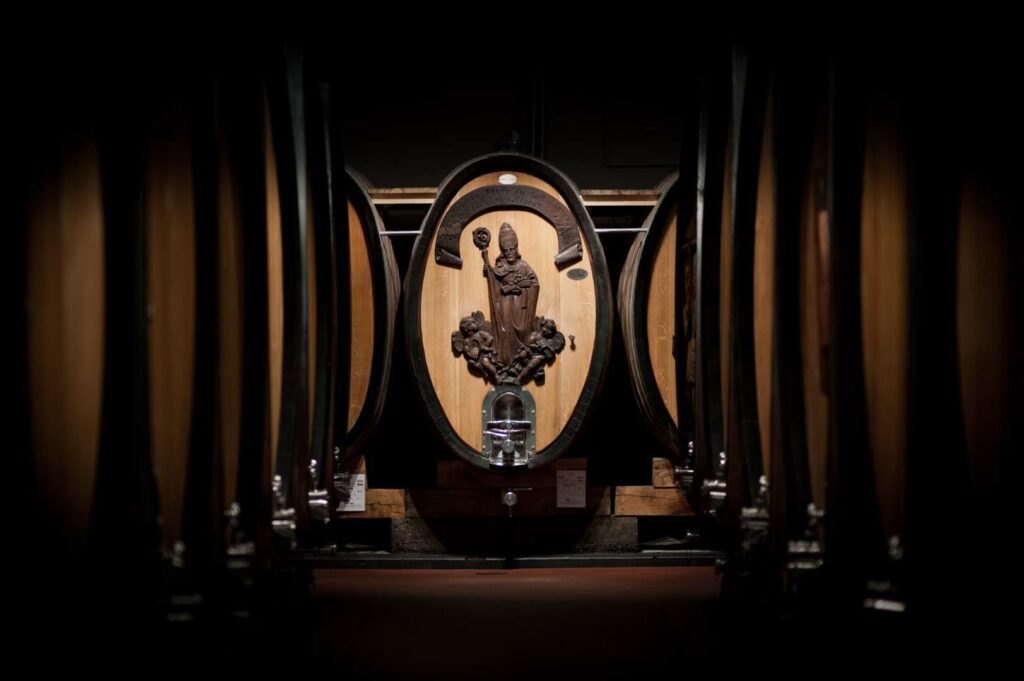 Cantina Girlan, was founded in 1923 on a typical wine-growing estate from the 16th century in the subregions of Oltradige and Bassa Atesina. When it was first founded, 23 winegrowers set the foundation for what would become the 200 committed winegrowers on its 215 hectares of vineyards today (almost 1 hectare per wine grower!). In 2010, the winery modernized and updated its equipment to reflect the evolution of the wine production standards.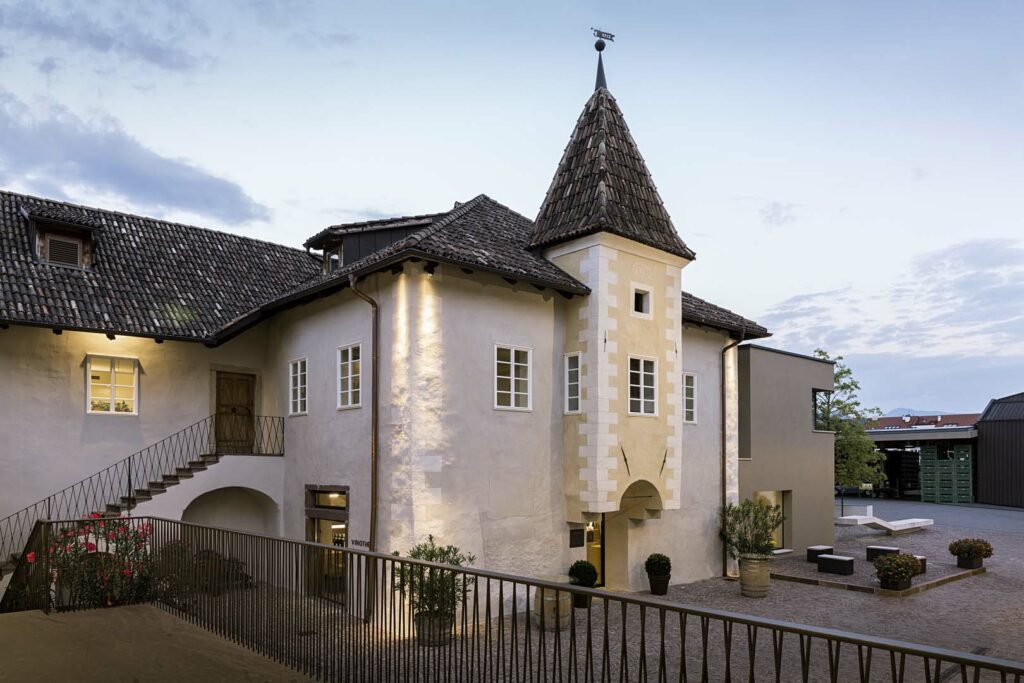 Along with this renovation came a new grape-receival station, an updated pressing room, and a new cellar for fermentation. This new cellar used for fermentation and storage has grown to better ensure the ideal aging conditions to produce quality wines. Since this modernization in 2010, the grapes have been processed by means of gravity which carefully moves the grapes along naturally without added assistance, reducing the risk of damaging the grapes. Also, Girlan winery owns an up to date system that utilizes energy from renewable resources, including solar power.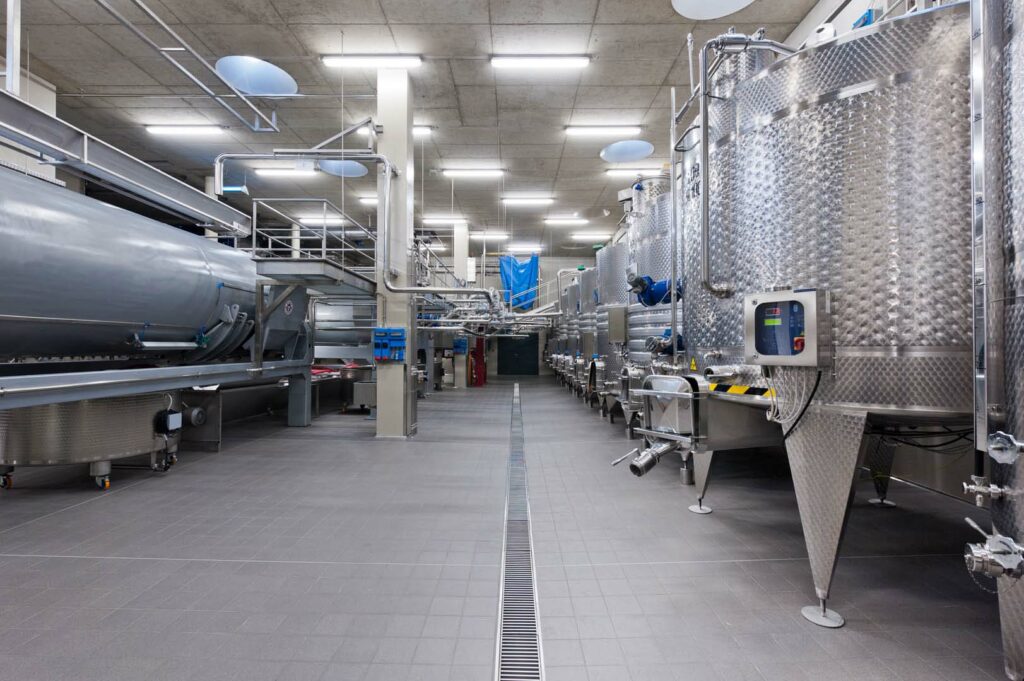 Terroir and vineyards of Girlan winery
Girlan winery comprises several different growing districts within Alto Adige, and each of these contribute its own nuance to the terroir of the wines. First, Mazzon (Egna) is recognized for being one of the best sites for Pinot Noir in all of Italy. This is because the soil is rich in limestone and the vineyards are on slopes that face toward the sun—both of which contribute to the elegance of their Pinot Noir wines.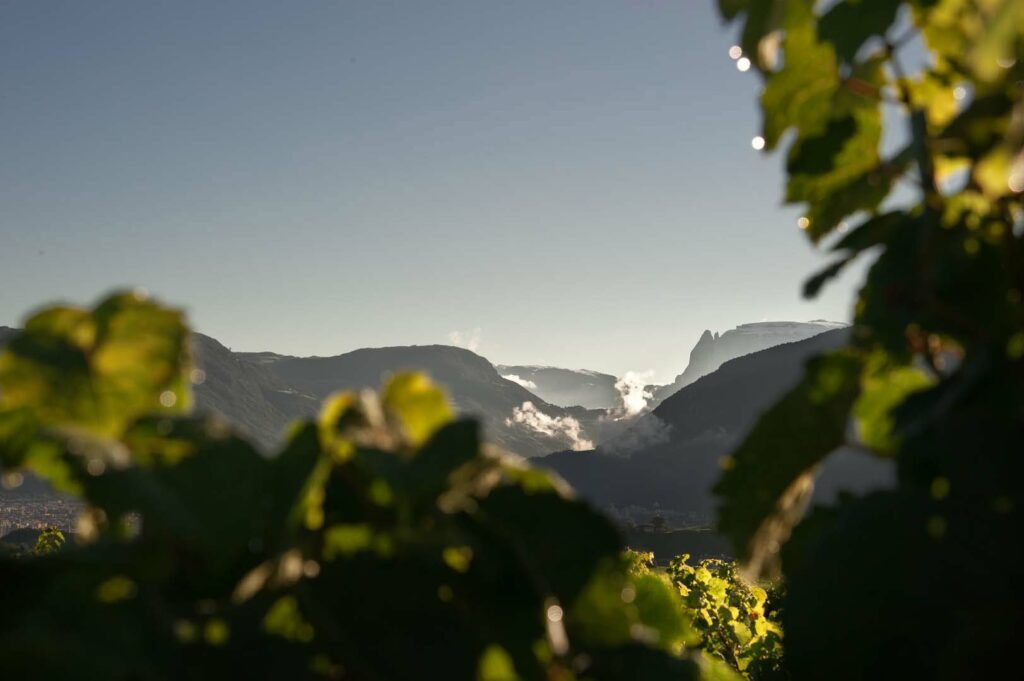 Next, Cornaiano (Girlan) is where most of the vineyards of Girlan winery are located. As it is situated 448 meters above sea level and surrounded by rolling hills, the vineyards here are influenced by the Alps to the North and the Mediterranean climate of the Valle dell'Adige to the South. The soil content here draws its roots to the mineral deposits dated back to the last Ice Age, which left behind dry, sandy, and stony debrises.
Also, the Gschleier district has produced distinctive, robust wines made from the Schiava/Vernatsch grapes that are native to this area and have been growing here since 1975. Low-yields and limestone, gravel, and clay soils complete the picture.
Furthermore, Appiano Monte is one of the best-known Pinot Bianco growing areas of Alto Adige, and its vineyards are at an elevation of 450 to 540 meters above sea level. The soils here abound with gravel and limestone from the mountains nearby, which further contributes to the rich flavors of the wines produced here.
Finally, the vineyards of Monticolo are situated near the lakes of this area at 500 meters above sea level. These vineyards are comprised of gravel and mineral-rich limestone soils, and they are known for their production of Gewürztraminer, Sauvignon, and Moscato Rosa.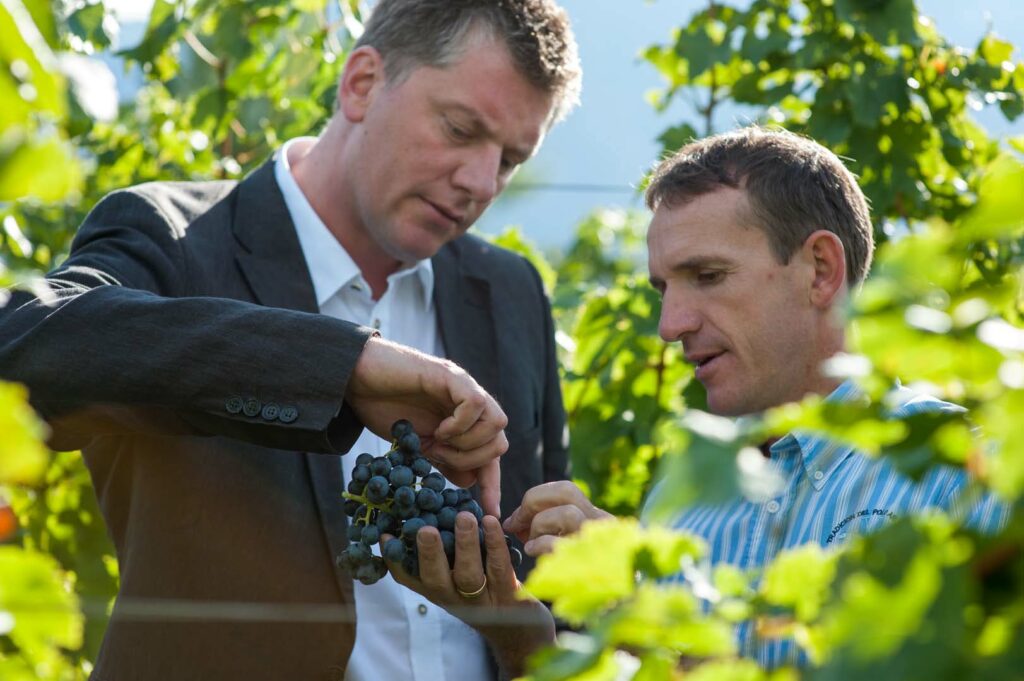 Wine Production
Cantina Girlan produces three lines of wines: Selezioni, Vigneti, and Classici wines. The Selezioni wines include Girlan's "pioneer wines", high quality wines that reflect the characteristics and terroir of each site and grape varietal. The Vigneti wines are made from grapes grown in only the best vineyards of the estate, and they have mostly fruity and fresh flavor profiles. The Classici wines comprise the dominant majority of the wines produced by the estate. These wines are palatable with a dynamic balance that emphasizes fruit flavors and minerality.
Girlan production includes Chardonnay, Pinot Bianco Riserva, Gewürztraminer, Vernatsch (also known as Schiava in Italian), Pinot Noir Riserva, and Moscato Rosa.
During my wine tasting we focused on these two native varieties (and Pinot Noir):
Pinot Bianco:
Though the white Pinot wines of Alto Adige make up more than 20 percent of the wines of this region, the Pinot Bianco quality is notably superior than Pinot Grigio. Also, Pinot Bianco is made in more limited quantities than Pinot Grigio, which adds to its reputation as fine wine. The style of Pinot Bianco produced in Alto Adige is known for its minerality and overall dryness, less fruitier than Trentino or Veneto versions.
Schiava:
The various Schiava vines, as they are known in Italian, are also known by their Germanic names, including Vernatsch (similar to Vernaccia), Grauvernatsch (Schiava Grigia), Kleinvernatsch (Schiava Gentile), and Grossvernatsch (Schiava Grossa). Schiava is a light-bodied wine comparable to Pinot Noir, it is often remembered for its cotton candy flavor profile. Schiava is a  semi-aromatic variety: wines tend to have an intense nose of wild berries and almons. It is commonly made in a dry style by winemakers.
Girlan wines I have  tasted:
Pinot Bianco Platt & Riegl 2017 (17.00 USD): smooth, full- bodied character and fruity freshness. Platt & Riegl is arguably one of the best spot in Alto Adige for Pinot Bianco.

Pinot Bianco Flora Riserva 2016 (23.00 USD)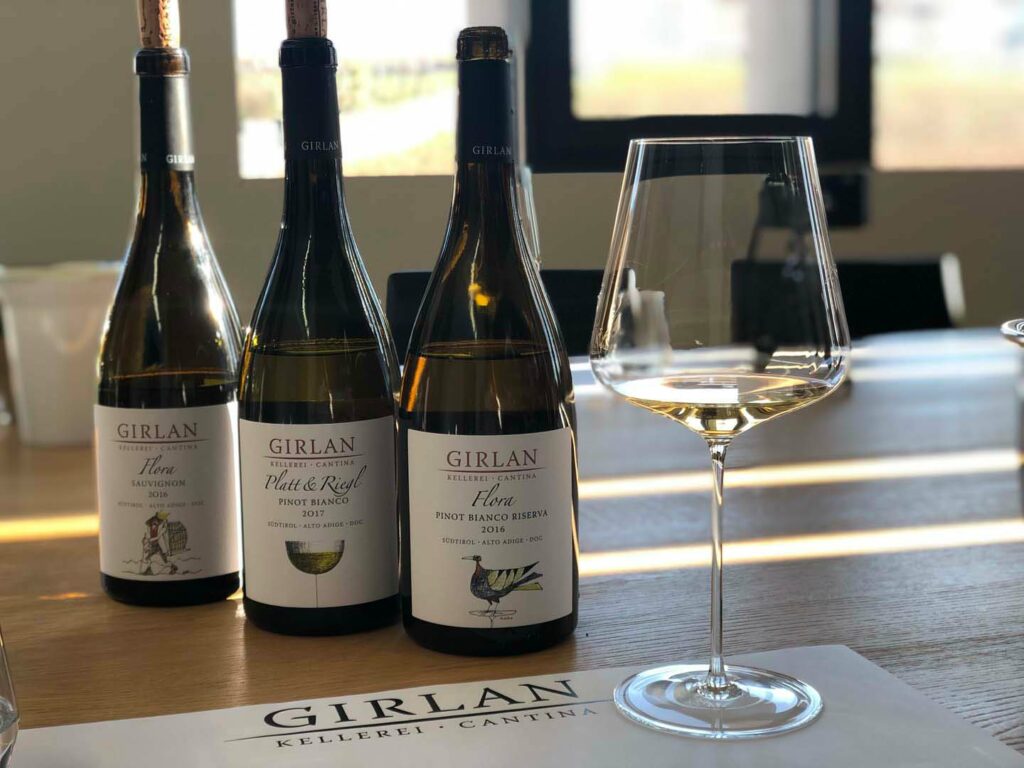 Vernatsch Fass Nr. 9 2017 (13.00 USD)

Vernatsch Gschleier Alte Reben 2016 (17.00 USD): an explosion of wild strawberries, red currant and ginger hints, bright acidity and soft tannins. Farmed without the use of mineral fertilizers or artificial irrigation systems from 80 -100-year-old Vernatsch vines, this wine can give you a true sense of place.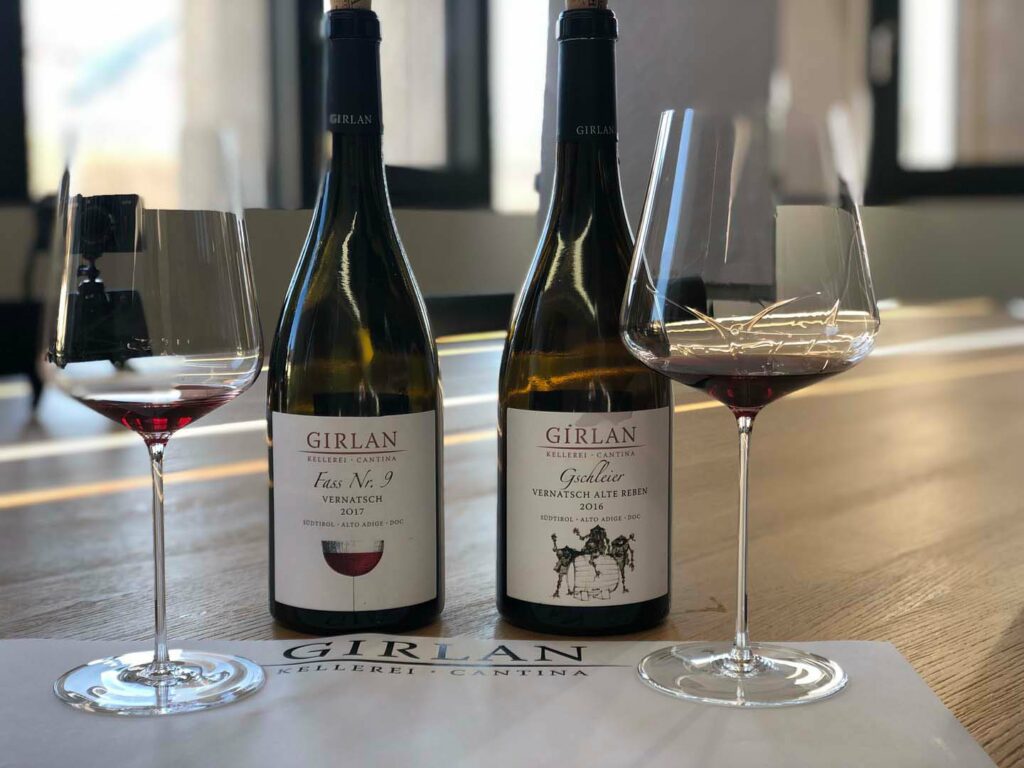 Pinot Noir Patricia 2016 (18.00 USD)

Pinot Noir Trattmann Riserva 2016 (36.00 USD)

Pinot Noir Vigna Ganger Riserva 2014 (150.00 USD) was an elegant surprise: it reminded me of a gentle Nebbiolo, like a Barbaresco, with mature, refined tannins, violets hints and a red fruits, spicy mouthfeel. Less than 2000 bottles of this incredible wine were produced in

 

2014, which is the best cru of

 

the whole Girlan production.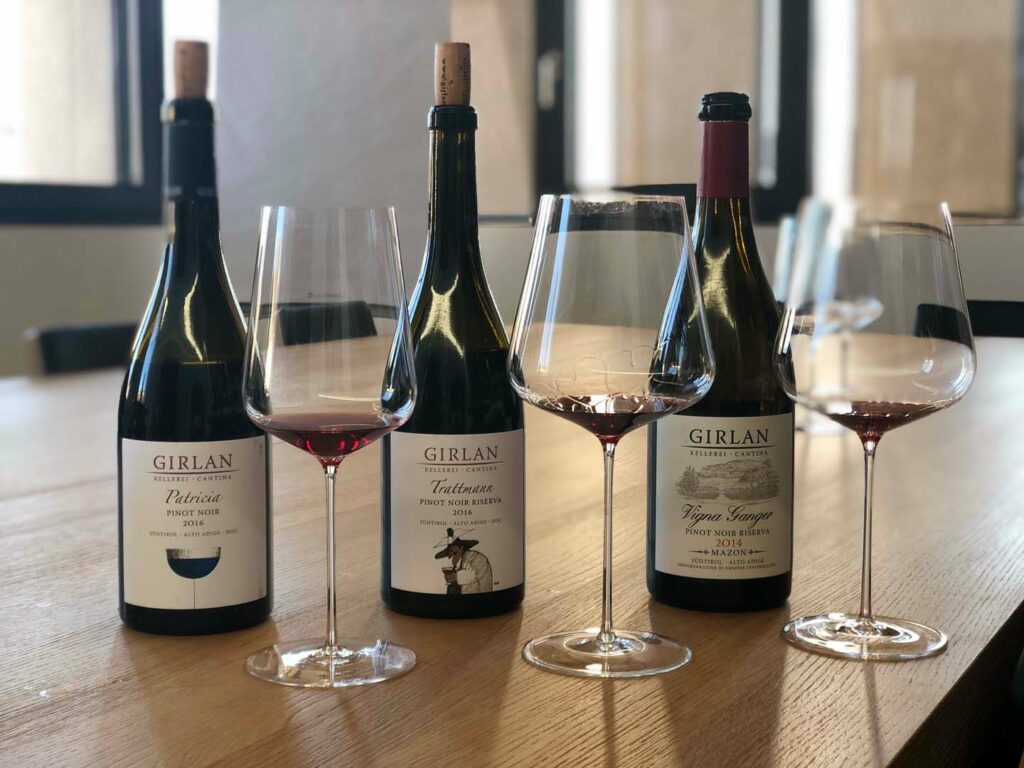 Watch my VLOG of Girlan visit here:
Dinner suggestion: you must try Culinaria im Farmkreuz, Michelin Star Restaurant in Tirolo di Merano. At the end of the video you can have a guess why I say so…
Here their website, check it out