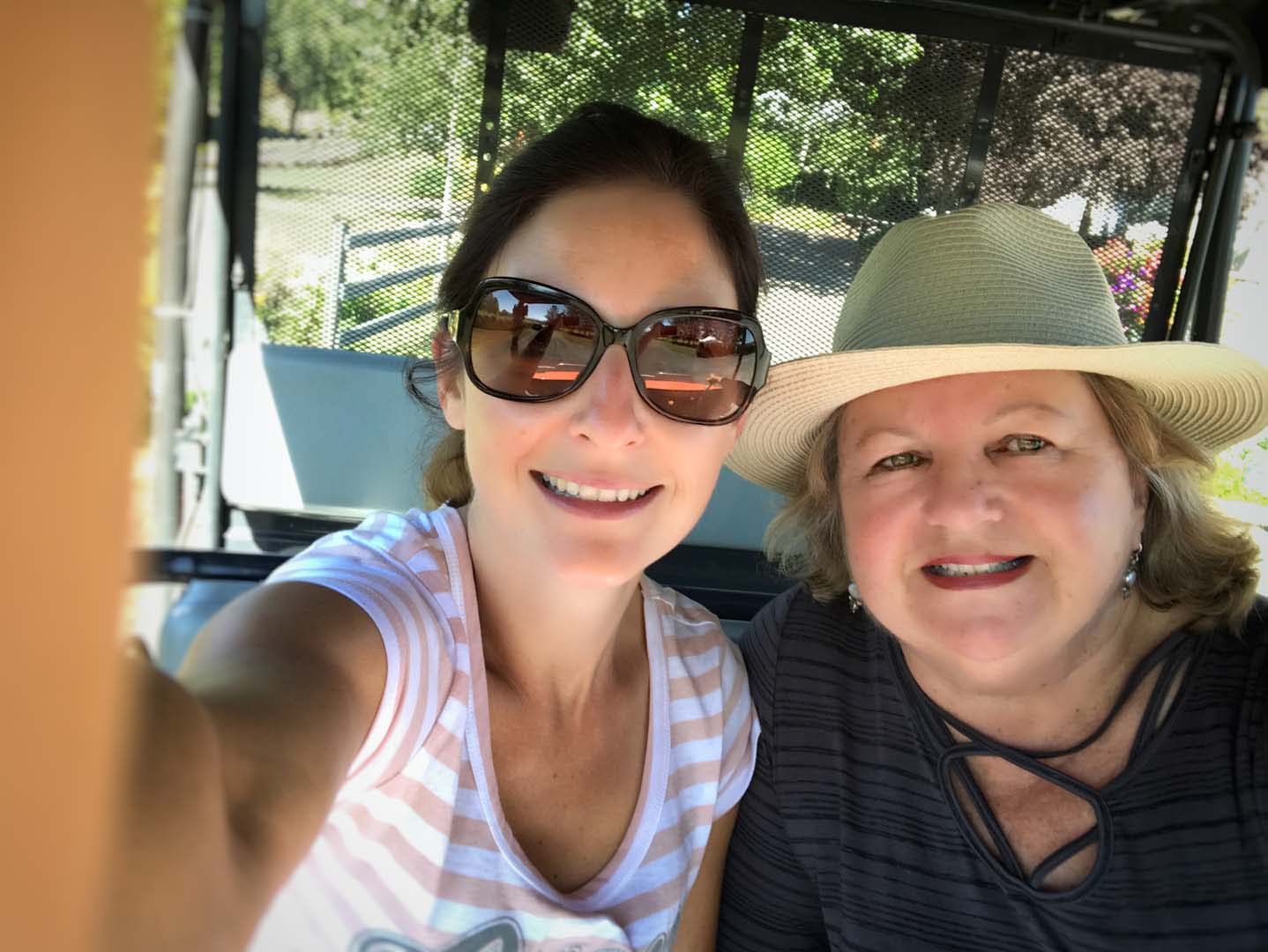 Latest from "Pinoregon": chasing U.S. best spots for Pinot Noir
I am a huge Pinot Noir lover: I think Pinot is one of the few grapes (together with Nebbiolo) which can maximise the concept of terroir, absorbing aromas from the soil, characteristics from the climate, hints of the winemaker personality and guard all of this as a treasure, to be revealed to sensitive buds and attentive tasters.
In my humble opinion, in the name of my European palate, the two U.S. best areas for Pinot Noir are Oregon and Santa Rita Hills in California. So here starts my journey on the tracks of New World Pinot Noir, with this first Oregon reportage, or wineportage, as I like to call it! I choose to start from less known wine path, thinking I could find something interesting and new to tell about. And it was a good catch! Visiting Eola- Amity area I finally found my pearl in the heart of "PINOREGON".

When you arrive to Keeler Estate Vineyard your first thought is "what a lovely, rural place to be!",  but it's just when you meet in person Gabriele Keeler, that you understand the soul of this winery and realize that everything you see has a precise reason to be where it is. No detail is left to chance: every single plant, tree, animal, path, has its role in the general ecosystem and contributes to the vineyards grow, to the fruit ripeness, protection or health.
If I would have to pick a word to describe Gabriele I would choose charisma: she is a strong, firm woman, full of energy, ideas, enthusiasm.
She guided me through her history, her vineyards, her winery with the gentleness, the care and the thoughtfulness that a mother can have for her child. Keeler estate is her and her husband, Craig, life project "child".
They both embody Oregon's commitment to maintaining a greener world and healthy farms.  The Keeler Estate Vineyard, located in the Eola-Amity Hills AVA, is organic and biodynamically operated.  In the 90's Gabriele and Craig decided to turn a land that was once overgrown blackeberry fields, rocky terrain, and old, dilapidated structures, into an estate vineyard. 
The 200-acre vineyard includes gardens, forest area, lakes, streams and acres of landscaping.  When I say that nothing is left to chance, I mean it:  Keeler Estate Vineyard employs a type of farming known as Polyculture farming.  In practice this includes development of a natural ecosystem within the vineyard by incorporating diverse plantings and using only environmentally sound farming techniques. "Mother Nature has already everything she needs to grow and protect plants, vines, animals – says Gabriele – while she is driving me with her ATV uphills on steep dirty roads with the natural attitude of a supercar professional pilot".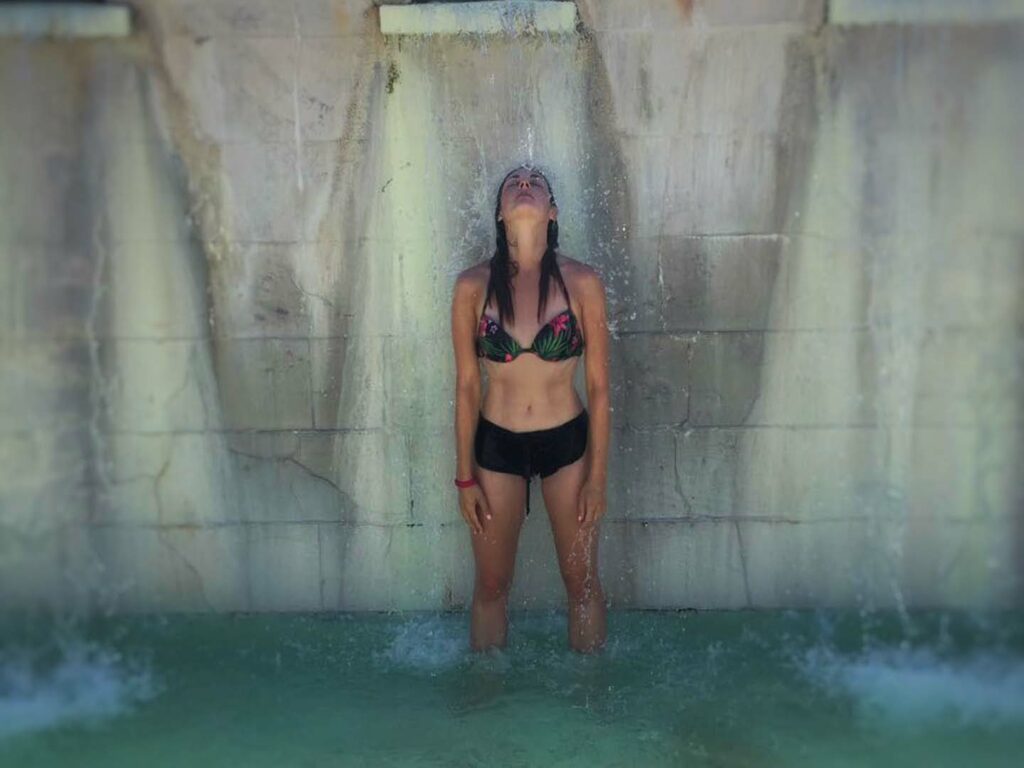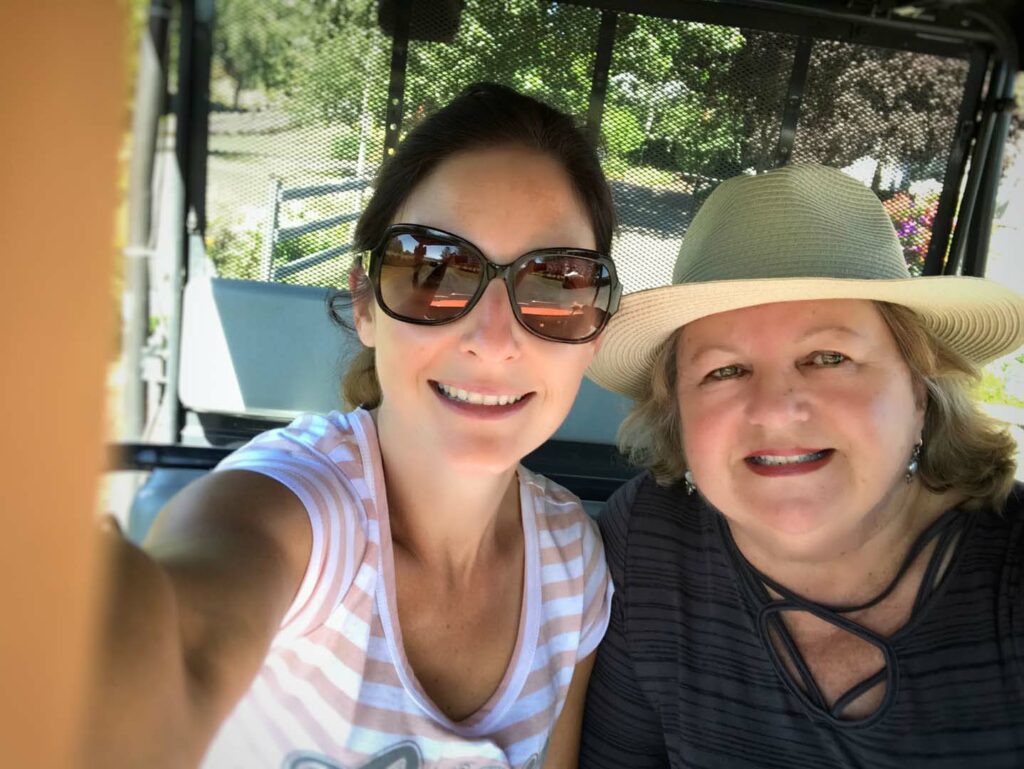 Keeler estate is not a fancy, sophisticated estate: no fake Italian villas, no fake castles, no strange scenography. You just see what nature gives and what is needed to grow healthy fruit. Keeler sells most of the biodynamic and organic grapes to other local producers and has the reputation of providing incredible products to the winemakers. They started crafting their own wines only in 2011: "We decided to produce our own wine only when we felt we could achieve high quality – says Gabriele -: you can't produce wine just for business matter, you have to feel it, to believe in it".
Keeler produces 1200 cases per year, all of them estate produced from the vineyard to the bottle. The wines are stunning,  a real concentrate of terroir: Keeler vineyard contains a combination of some of the most unique soils of the region, including Steiwer, Chehulpum, Hazelair and Shallow Sedimentary soils with underlying remnants of an ancient ocean bed.  Some blocks have virtually no topsoil and consist of sand stone full of fossilized sea creatures and mollusks.  In these soils the vines are required to engage in a struggle for growth, which produces extraordinary fruit. You can smell and taste a lot of primary aromas in Keeler wines, the respect for nature and what it gives, is the thread from the vineyard to the cellar.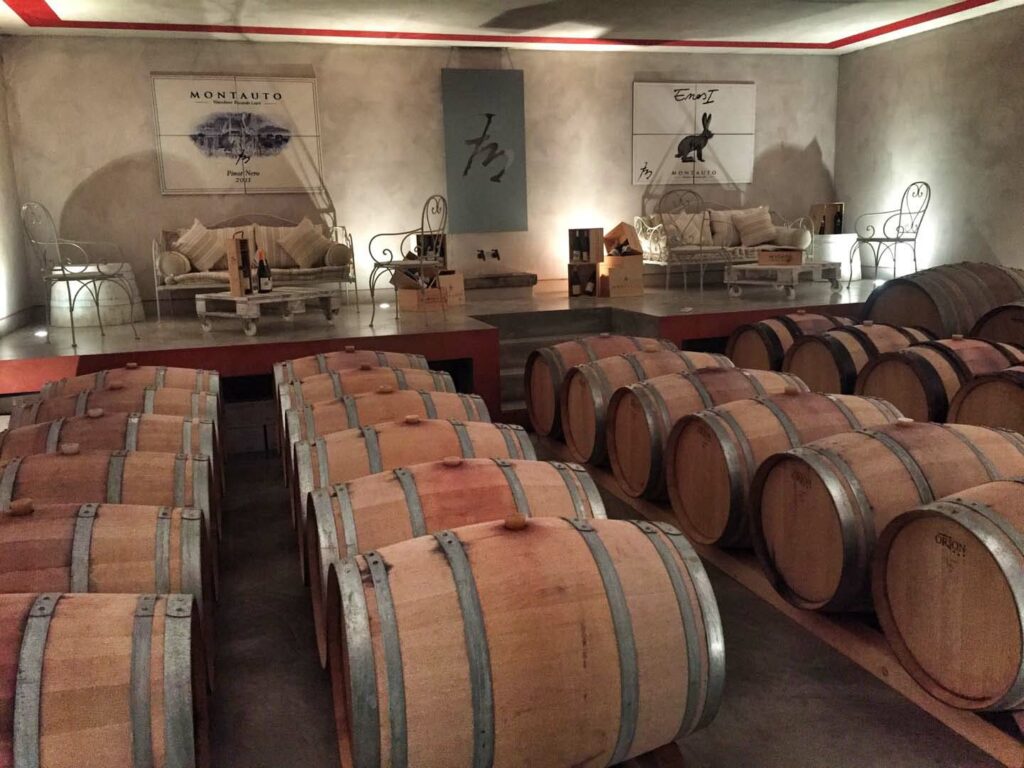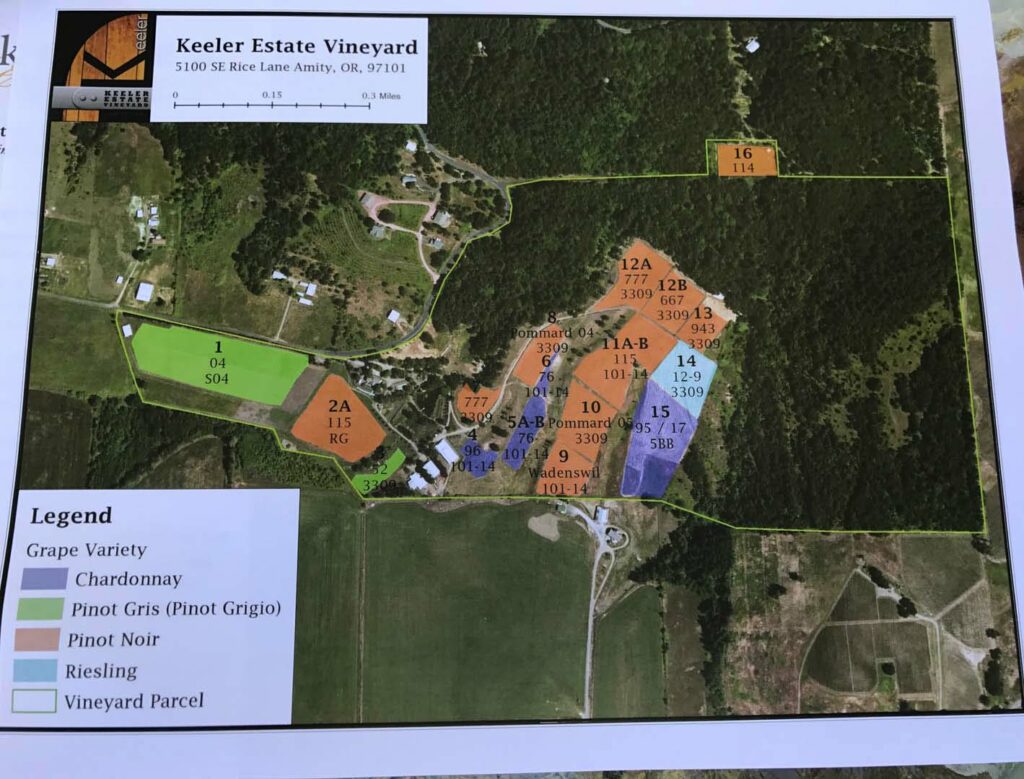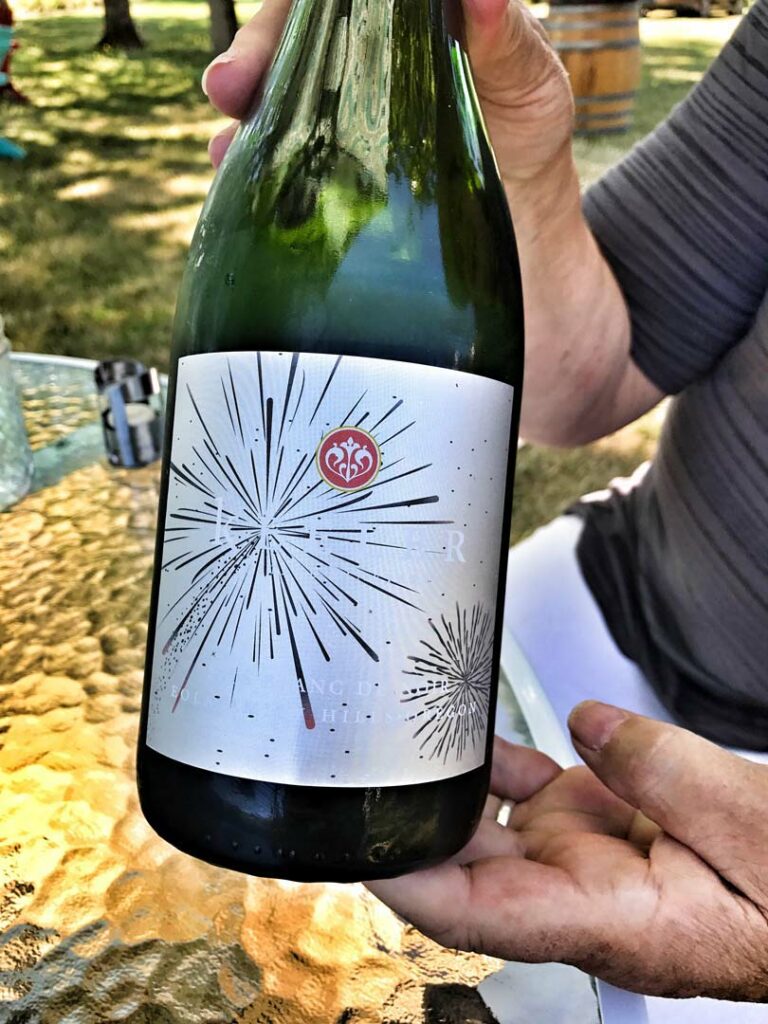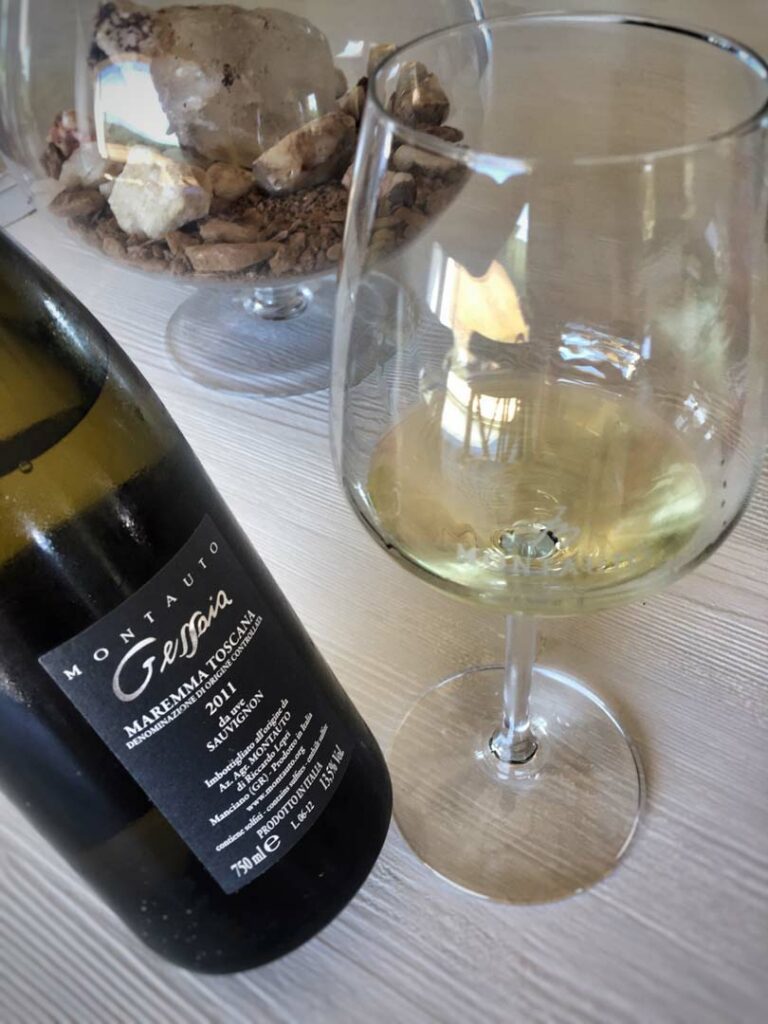 "There are 3 kinds of winemakers – whispers Gabriele, while we are sipping her amazing, lovely, spicy, fruity, mineral Pinot Noir -:there are the ones I don't even want to talk about, there are the chemistries and there are the artists, the ones who works their magic with respect".
Since 2016 Keeler's artist winemaker is Kelly Kidneigh: formed at Oregon State University, worked in Burgundy for several years. Her approach to winemaking includes small lot fermentation with cool temperatures and native yeast.  Although she keeps a keen watch over the fermenting fruit, she does not tamper with the process unless absolutely necessary. "Whole clusters natural fermentation and indigenous yeasts are the features of our wines – continues Gabriele – but we are trying something new, too, with Kelly: we released our first vintage of amphora fermented Riesling this year".
Keller Estate Vineyard produces Pinot Noir, Pinot Gris, Chardonnay, Riesling, Blanc de Noir sparkling, and Rose of Pinot Noir wines. The best clones selection (from Pommerol, France)  grows on the southwest slop of Eola-Amity Hills on a natural amphitheater.   The vineyard receives maximum sun exposure and are "blessed" with the cooling afternoon Van Duzer Winds from the ocean during the warm ripening season. From this wind comes the name of the AVA: Eola was the ancient goddess of winds in the Greek mythology. The cool breeze tighter with the perfect sun exposure gifts Keeler Estate with power fruit flavour and wonderful acidity in the finished products.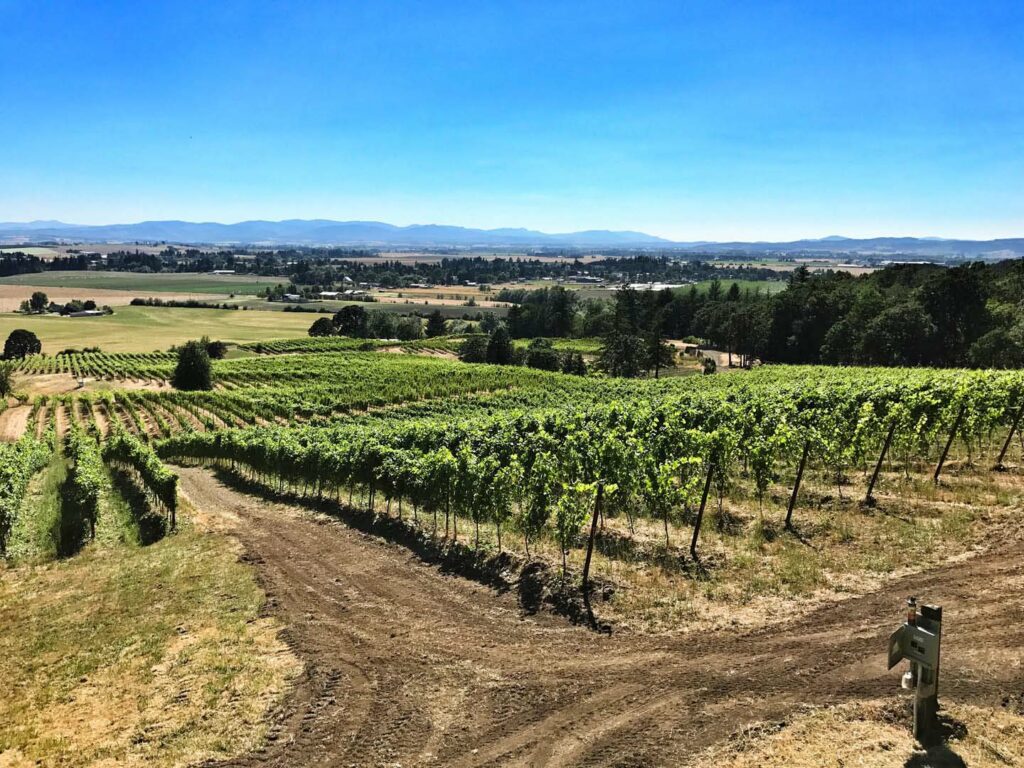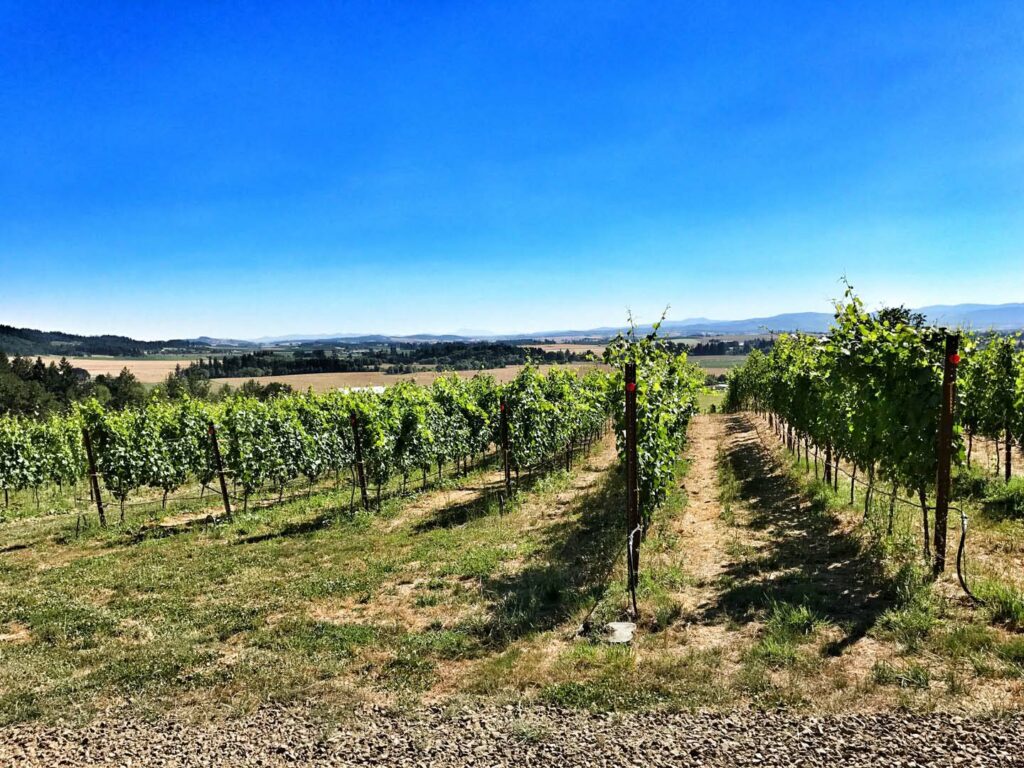 ABOUT OREGON VITICULTURE
Grapes have been planted in Oregon since the 1880s, when German immigrants working in Napa Valley, California came to the area and planted wine grapes. Despite the early plantings by the German immigrants, the Oregon wine industry was stalled the Prohibition Act of 1920, and did not become a significant presence in the American wine industry until the 1960s.  Today the state of Oregon is the 4th highest producer of wine in the United States behind California, Washington, and New York, and as of 2015, was 3rd in the count of bonded wineries with 599.  There are seventeen American Viticultural Area (AVA) designations within the state, three of which are shared across state boundaries with Washington, and one that is shared with Idaho.  The AVAs are:
Willamette Valley

Dundee Hills

Chehalem Mountains

Eola-Amity Hills

McMinnville

Yamhill-Carlton

Ribbon Ridge

Southern Oregon

Umpqua Valley

Red Hill Douglas County

Elkton Oregon

Rogue Valley

Columbia Gorge (shared with Washington)

Columbia Valley (shared with Washington)

Walla Walla Valley (shared with Washington)

Snake River Valley (shared with Idaho)
The most important grape varieties grown in Oregon are Pinot Noir, Chardonnay, Pinot Gris, Riesling and Pinot Blanc.  The commonality among the Oregon grape varieties is they are proven to provide their best expression in regions with cool temperatures. These varieties are Alsacian, German, or Burgundian signature grapes, and all produce high quality wines in Oregon.  But by far, the undisputed king of Oregon wine country is Pinot Noir.
Why Pinot?
Oregon's original pinot noir plantings are attributed to a couple of pioneering UC Davis students that ignored the advice of their university colleagues who believed it impossible to grow wine grapes in Oregon.  Richard Sommer was the first to plant pinot noir in Oregon in 1961.  Those first plantings were in what is now the Umpqua Valley AVA.  The next plantings were by David Lett in 1966 in the Dundee Hills sub-appellation of the Willamette Valley AVA.  These forward-thinking pioneers believed Oregon was an ideal place to grow cool climate grape varieties.  Although Oregonian grape growers knew little about growing grapes in the 1960s, they did know that the variety planted needed to match the climate of the place. They ordered the varieties they wanted, and planted them.  Unknowingly, they gathered some of the best Pinot Noir clones in the world.  In addition to pinot noir, they also planted small amounts of related varieties, including Pinot Gris, Chardonnay and Riesling.  
It did not take long for Oregon to gain international recognition as a region to be respected for quality winemaking.  David Lett's Eyrie Vineyards 1975 South Block Reserve Pinot Noir placed in the top ten for its category in a blind tasting at the 1979 Gault-Millau French Wine Olympiad.  The wine proved itself again in a rematch organized by Robert Drouhin of Maison Joseph Drouhin in Burgundy France.  Eyrie Vineyards placed second losing by two-tenths of a point to Drouhin's 1959 Chambolle-Musigny.  This showing put Oregon Pinot Noir and the Willamette Valley on the world wine map.
Willamette Valley
Willamette Valley, which contains six sub-appellations is the most significant of the Oregon AVAs.  The Willamette Valley is responsible for 82 percent of Oregon's Pinot Noir production, 73 percent of the state's overall wine production, and contains 71 percent of the total vineyard acreage. Willamette Valley has 72 percent of vineyard area planted with Pinot Noir.  The region has a reputation for producing pinots that are fresher with higher acidity and intense fruit notes.
The mild growing conditions of Willamette Valley are ideal for cool climate grapes like pinot noir.  The climate is moderate throughout the year, with coastal marine influences; cool, wet winters and dry, warm summers. While it is cold and wet during the winter, the all-important growing season is filled with warm days with long daylight hours and cool nights, providing the diurnal temperature swing that allows the grapes to have a balance of developed flavor, natural acidity, and complexity.  The valley is protected by the Cascade Mountains to the east, Coast Range mountains to the west and a series of lower hill chains to the extreme north of the valley.
Grapes are mostly planted on lower hillsides away from fertile soils at the top of the ranges to produce the best fruit.   The soils of the Dundee Hills sub-appellation AVA  are notable for containing  the volcanic red Jory soil.  The soil, which provides excellent drainage for superior quality wine grapes, originate volcanic heritage areas and flood deposits from the Columbia Basalt River millions of years ago.  The resulting pinot noir has characteristics of cherry pie.  It is fruity, sweet, and spicy.
Elsewhere in the valley, a quick-draining, coarse, ancient marine soil known as Willakenzie is found.  Willakenzie has a very shallow sedimentary topsoil that holds little water which stresses the vines.  This soil is a result of the Missoula Floods that occurred about 16,000 years ago.  The pinot noir grown in this soil is tannic and earthy, with notes of strawberry and cherry.  These pinots are comparable is character to those found in Burgundy.
The Winemakers
Oregon winemakers are leaders in the U.S. when it comes to sustainable growing practices and organic wine production.  More than half of all Oregon wineries are certified sustainable producers, whereas one percent of California winemakers have this distinction.  Some wineries practice a form of organic farming know as Biodynamic Farming.  Like other forms of organic farming, biodynmaic farming does not incorporate use of pesticides or fertilizers, but it also considers the ecological, energetic and spiritual aspects of farming. Decisions regarding harvest and pruning are based on cycles of the the planets and the moon.  The vineyard is seen as a living organinsm with it own cycles and life forces.