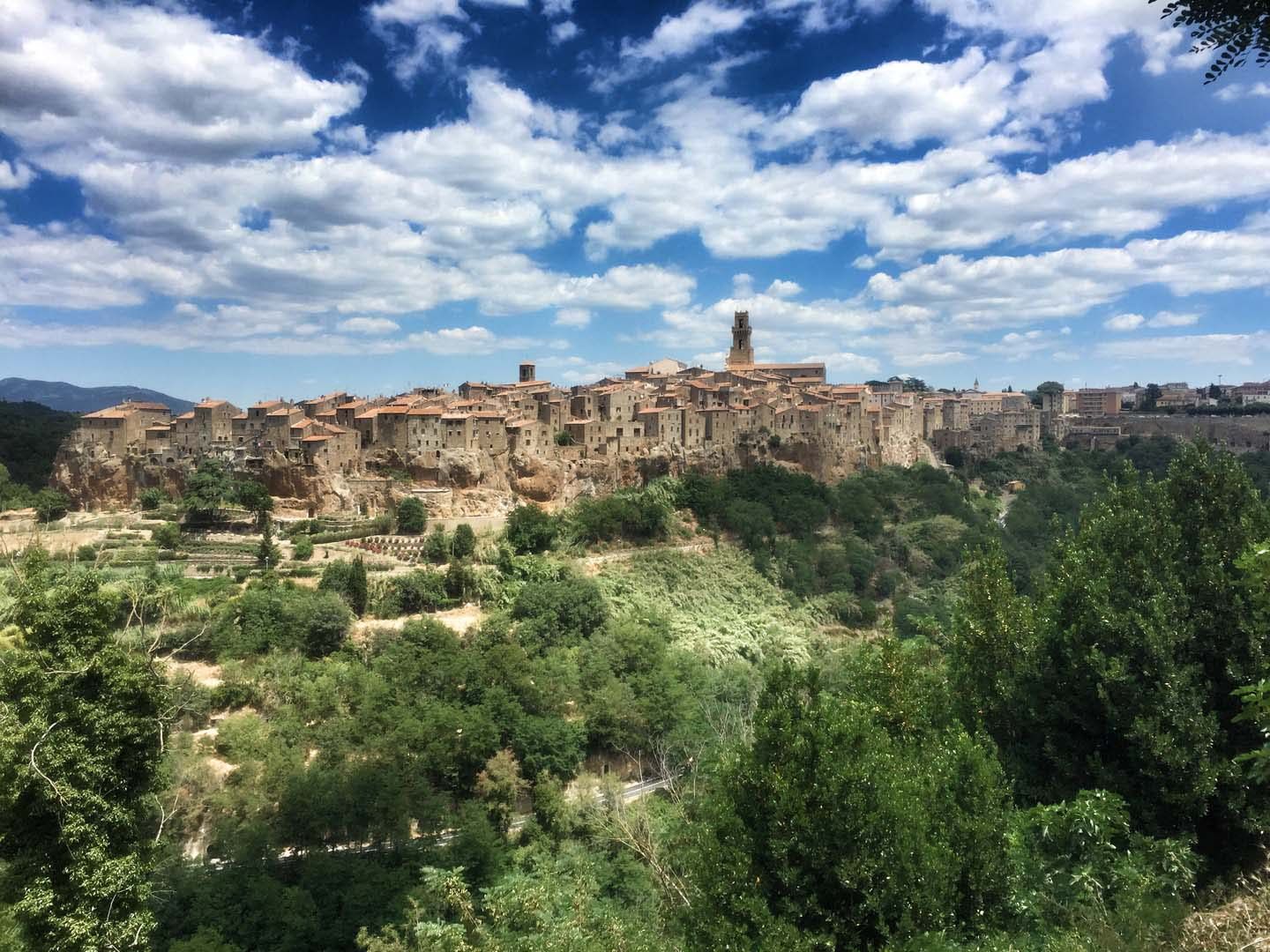 "Generazione Vulture": the new wave of Aglianico 2.0
My wine travel journal about Basilicata
and Aglianico del Vulture wine region
They are the new, young, enthusiastic faces of the Vulture wine region, appropriately named "Generazione Vulture" or the Vulture Generation. Eight wineries managed by eight young winemakers founded this association with a clear, specific goal: to promote Aglianico del Vulture wines in Italy and abroad.
For a long time, Aglianico del Vulture wines have been considered the "less prestigious" version of their neighbours from Campania — Taurasi wines use the same grape, Aglianico, but different terroir; the key to their success is more marketing — and were said to be too rustic, rough and lacking finesse. Forget about this!
Today the Vulture region is in the spotlight as one of the most interesting and promising wine areas of Italy. You can taste mind-blowing wines, feminine at the nose, powerful and masculine at the mouth, with a huge ageing potential. This new, young generation of winemakers is really blowing up, which is exactly why I visited them to see what's going on…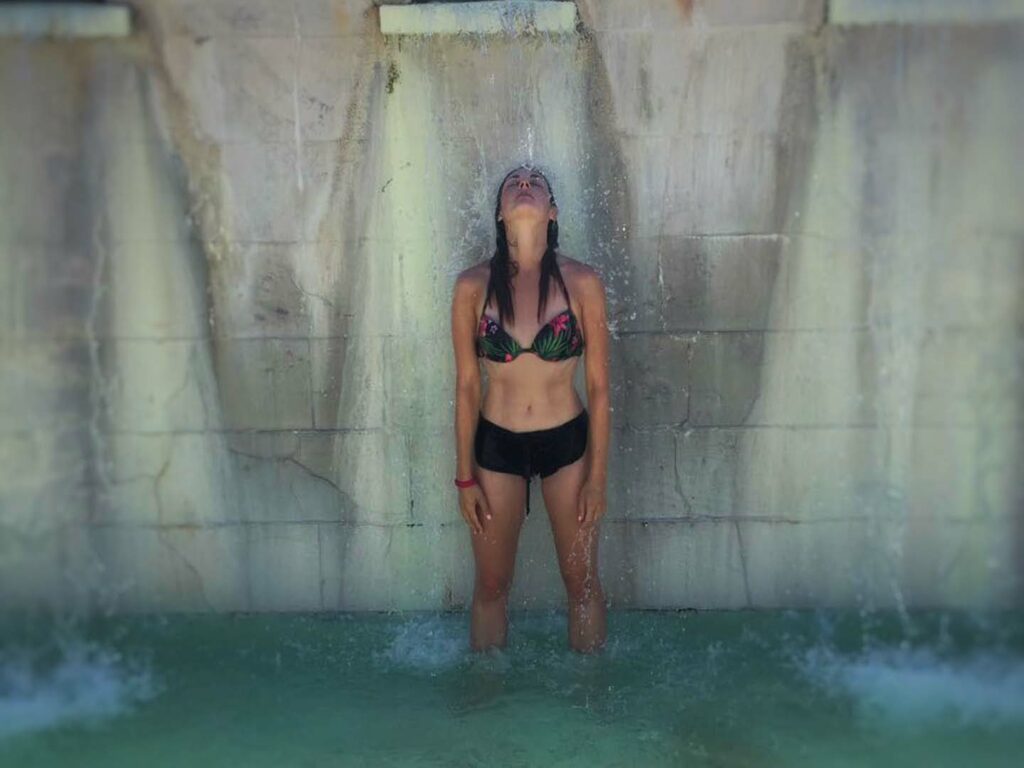 In the "Generazione Vulture" group, the most awarded winery is Elena Fucci's. I spent a couple days with Elena and her husband Andrea, discovering Basilicata, Potenza and Barile. 
Elena is a force of nature. A strong and determined young woman who believes in her land and in her ability as a self-made wine producer, she is quite impressive. Elena is living, breathing proof that hard work, commitment and a clear vision pay off in spades. She didn't inherit a family business, but rather, literally flipped her grandfather's farm into a high-end winery which today is fully committed to Aglianico del Vulture. It is the only wine produced at the winery under the label, the Titolo, named after arguably the best vineyard in the region, Contrada Solagna del Titolo, which sits at the highest part at the foot of Mount Vulture. The vineyard was purchased by Generoso Fucci in the 1960s and some of the vines are as old as 70 years.

Until 2000, the grapes were produced solely for sale.  At that time, Generoso's granddaughter, Elena, decided to produce wine with the family's grapes rather than proceed with a potential sale of the vineyard.
She made the choice to stake everything on a single label, the Titolo, envisioning it as a high quality, first class wine or "cru."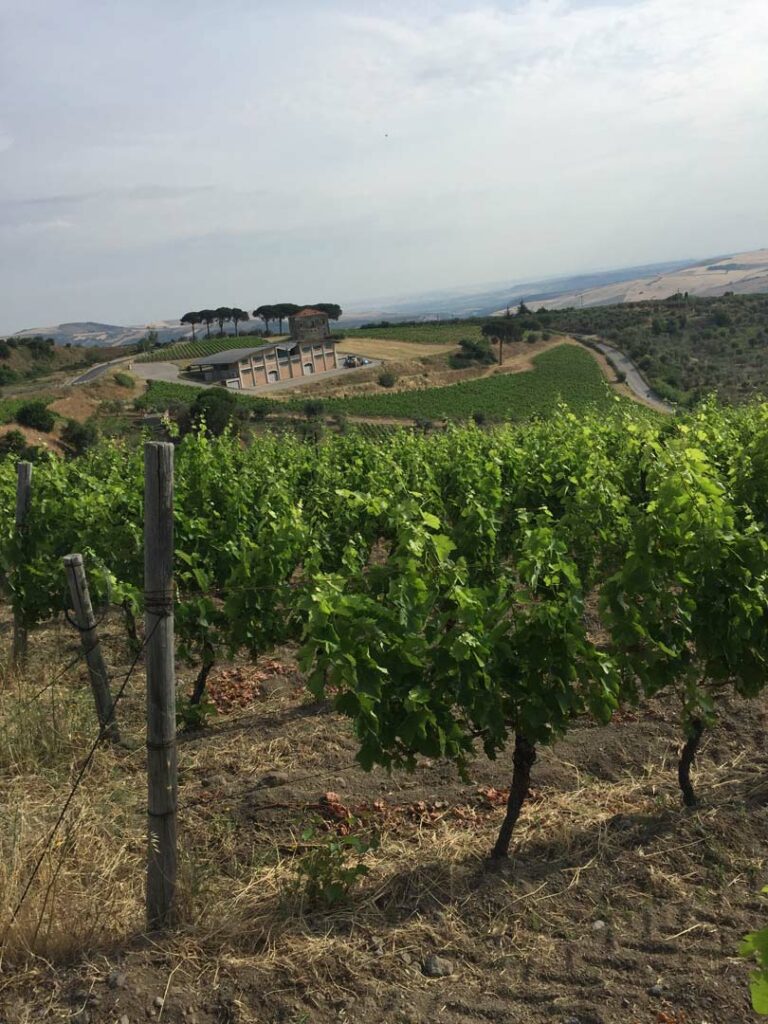 That decision and the excellent wines produced year by year brought her on the Olympus of Italian wines: Titolo wines have been awarded 11 times across the past 14 years with the TRE BICCHIERI Gambero Rosso prize, the highest achievement in terms of technical reviews in Italy. Only a few other wineries have reached this peak of excellence, such as famous estates like Ornellaia, with its iconic Masseto. 
Visiting Elena is quite a different story than visiting Ornellaia… No fancy villas, no ornately decorated receptions, no expensive smiles. Quite the opposite, Elena and her husband Andrea built a modern bio-architecture winery. The place is small — fermentation, storing, bottling and labelling of the 25,000-30,000 bottles all happens in the same open space — but every detail is strategically thoughtful in the name of energy efficiency. The overall impression I felt was that I was automatically part of a professional family business which is making history. Elena, this is for sure, has changed Aglianico del Vulture history by improving the reputation of a wine area that for years was considered too rough and not sophisticated. "Now there are people coming from all over the world to visit my winery," says Elena. "Sometimes I am having lunch, some foreign visitor rings the doorbell and I have to take care of them. Last year we had visitors on New Year's Eve! We live where we work so our house is the winery. We don't have days off, or lunch breaks."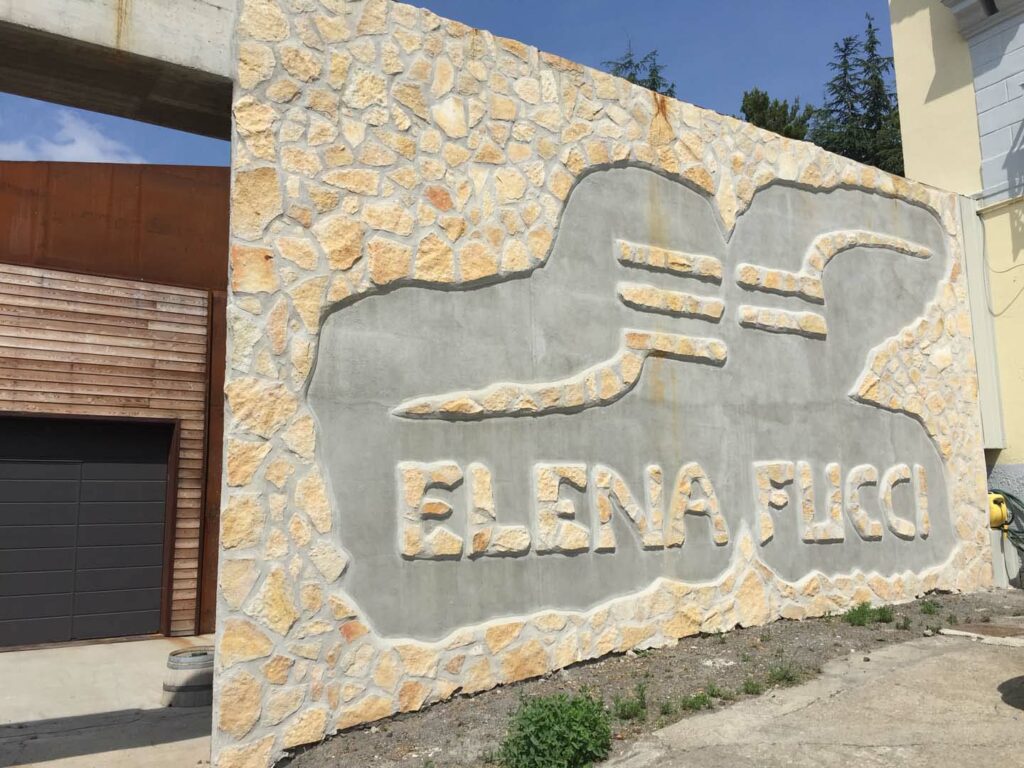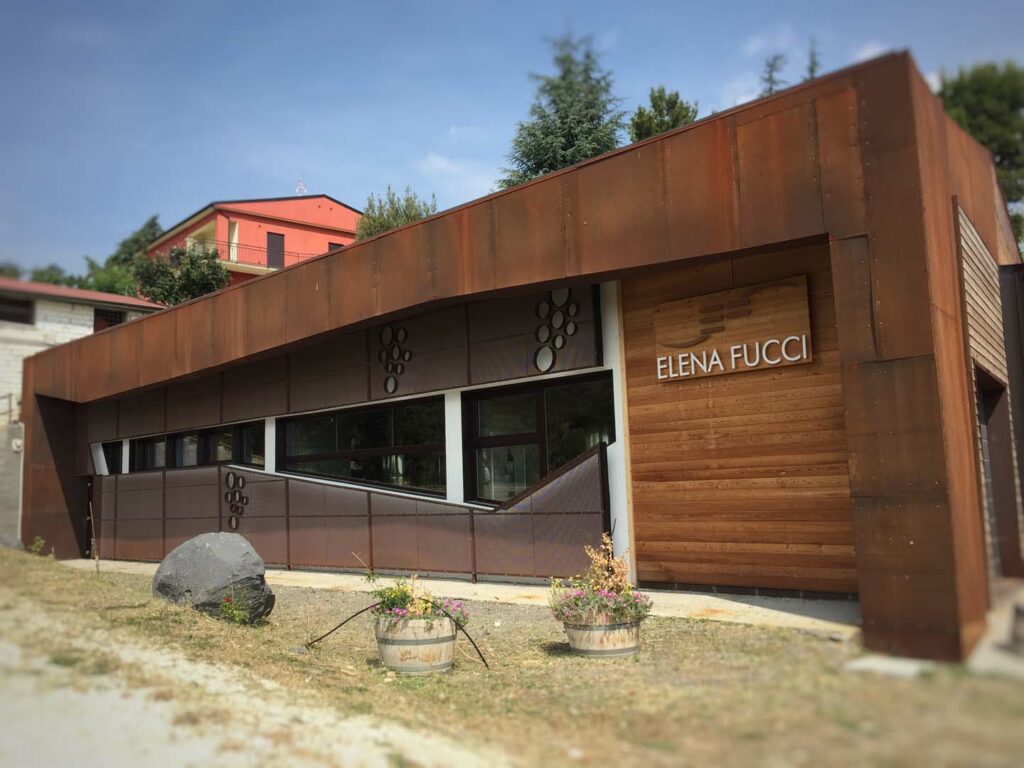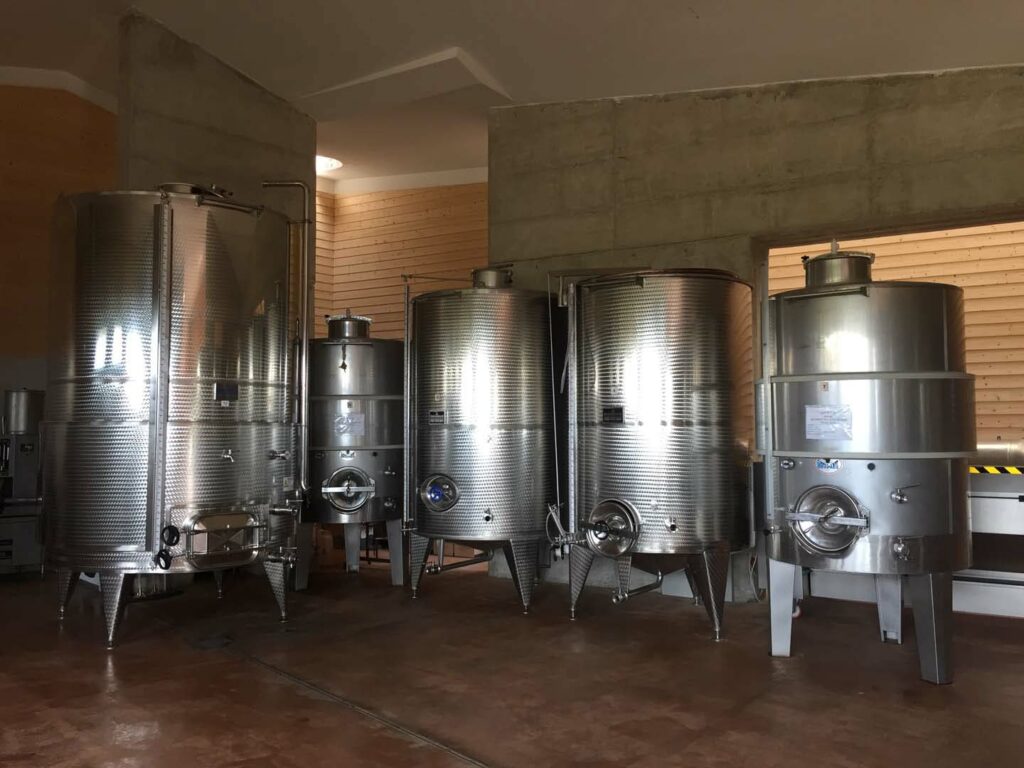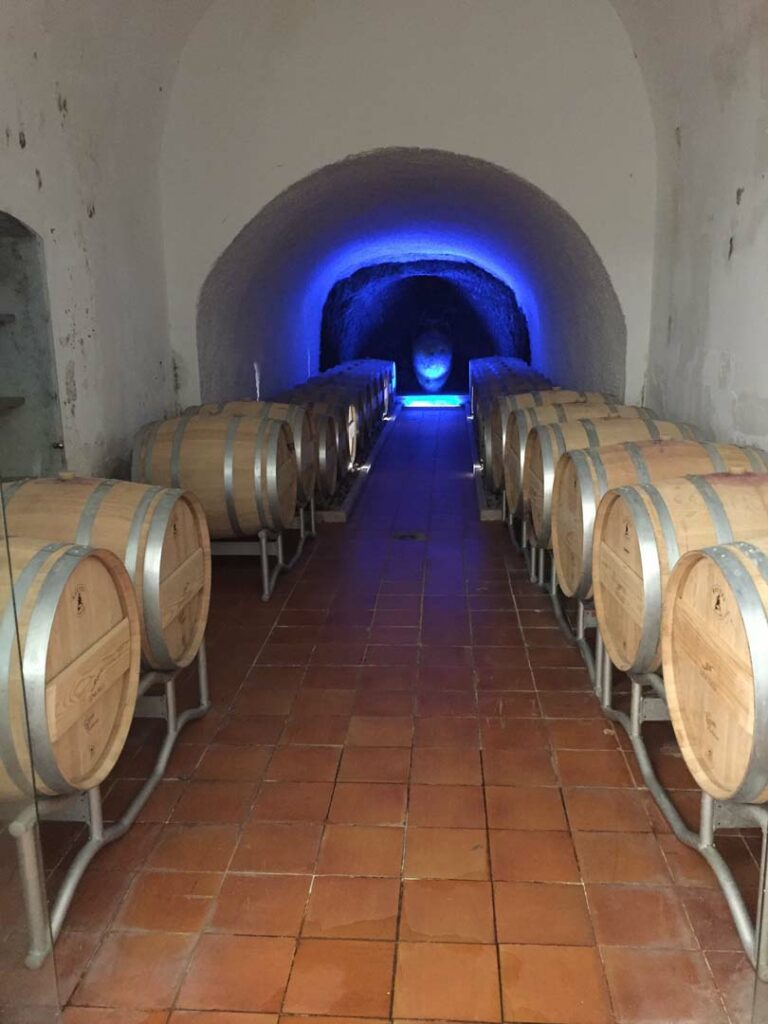 Elena is visibly strong and charismatic. But what really impressed me is the way she is taking care of the six hectares of vineyards. She is genuinely committed to the preservation of the old vines and the traditional way to grow Aglianico. No machines have access to the vineyards and everything is done by hand; Elena carefully chooses the right exposure for the new vines, the right disposition of the pillars, the density. She knows her stuff. She studied oenology and viticulture at Pisa University before taking the lead of the family vineyards. The old vines are only a little part of the estate now as she started her own new vineyards, but regardless she respectfully maintains the 'by hand' philosophy of her grandfather Generoso. 
As part of the new vineyards, Elena is producing a unique wine to best represent the characteristics of Aglianico — and I quote: "of the Aglianico grape and the territory of the Vulture, where the particular mix of microclimate and terroir transmits to our wine one of the best and most unique expressions of this fabulous area that is." And I totally agree on that. 
I was lucky enough to taste with Elena some of her best and most rare vintages. 
[wpvideo IlLIms89]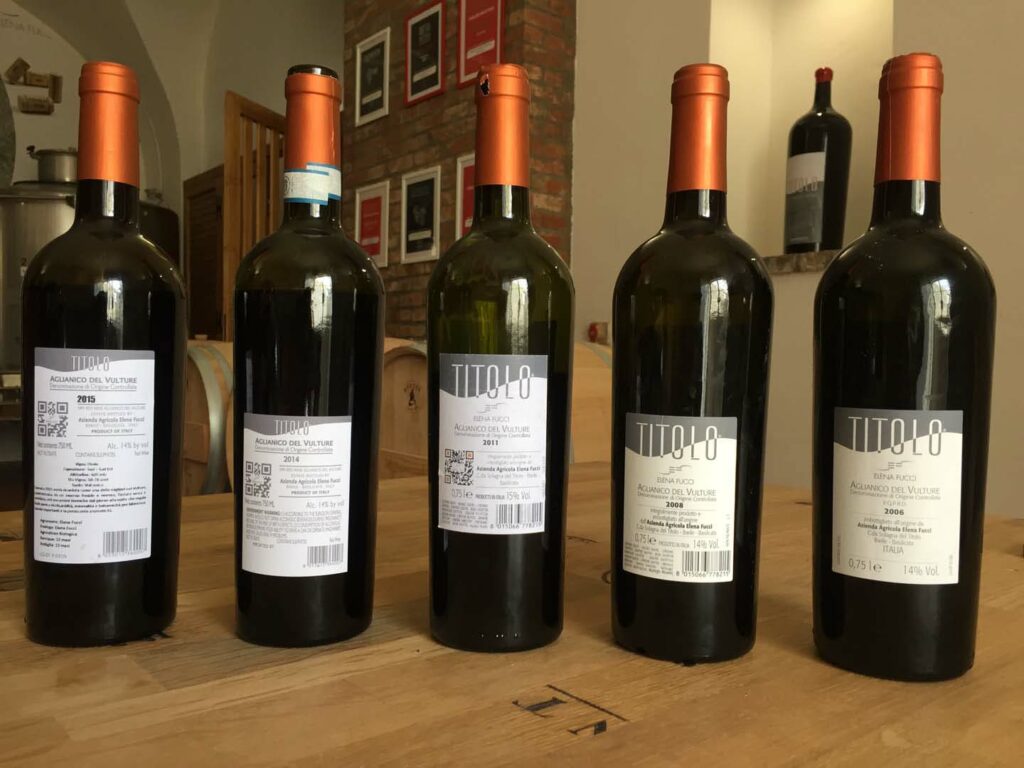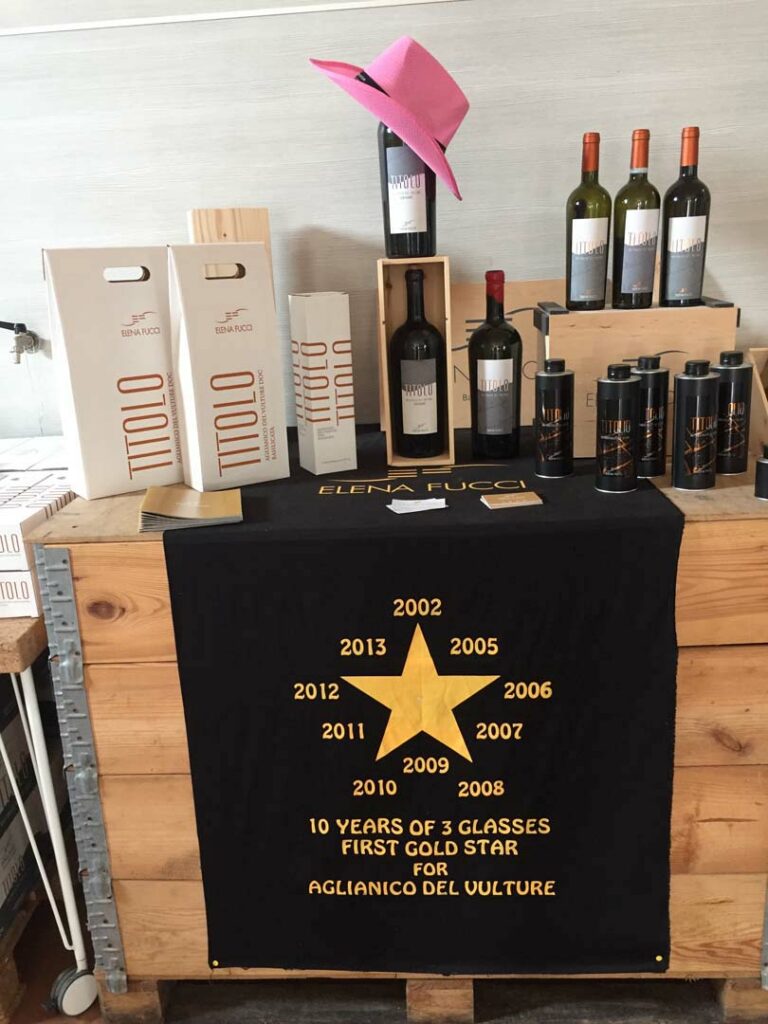 2006 – Beautiful acidity, fruit predominant at the nose, elegant tannins. Distinctive notes: tobacco, tea leaves, walnuts. 

2008 – Riper than 2006, this vintage was warmer. Distinctive notes: smoke, incense, dried flowers. "It smells like an old church" is the perfect definition but is not mine, unfortunately, as Elena's sister Sofia came up with that gem. 

2011 – Even warmer vintage, tannins are still working on the edges. Distinctive notes: fruit jam hints, wild roses, hibiscus. 

2014 – Extremely elegant and fine. Distinctive notes: apricot, ripe fruit, smoke, ash, sandalwood. 

2015 – New release in September, exceptional. Distinctive notes: spices, cardamom, balsamic note. This is a gem! Ready to get another top award! 
During my stay in Barile, I visited another talented female wine producer named Carolin Martino. She is brilliantly taking care of the family business, Martino Vini, and bringing it to new levels of quality and elegance. Her approach to the production of Aglianico del Vulture is nothing short of meticulous. Martino Vini employs environmentally-friendly techniques, fruit of ancient wisdom and modern agronomic research. Their wine collection is the result of patient and accurate selection. Carolin's aim is to respect what she inherited, but twist tradition through her personality. 
Among the wines I tasted during my visit, I was really impressed by their Riserva 2011. Released next November, it is a tridimensional wine; very very balanced, with hibiscus hints, plums, cherries and medical herbs flavours. Lovely!
Note: Carolin even produces a cosmetic line of face and body moisturizers infused with Aglianico grapes. You know, if Aglianico wine ages that beautifully, those antioxidants will work on our damn wrinkles, too, won't they!?
I couldn't forget to mention another great discovery of my two-day Basilicata tour: Massimo Carleo's home restaurant in Potenza. I had the chance to have a gourmet dinner in this hidden piece of heaven, and to meet the chef Massimo Carleo. He works incredibly hard to scout local, organic and fresh ingredients, transforming them into delightful dishes. My favourite of the whole dinner: tagliatelle with summer truffle (scorzone). Secrets of the recipe were revealed to me, but I promised to keep my mouth shut. 
And, last but not least… If you plan a trip to Basilicata you can't miss the breathtaking Matera! You can thank me later.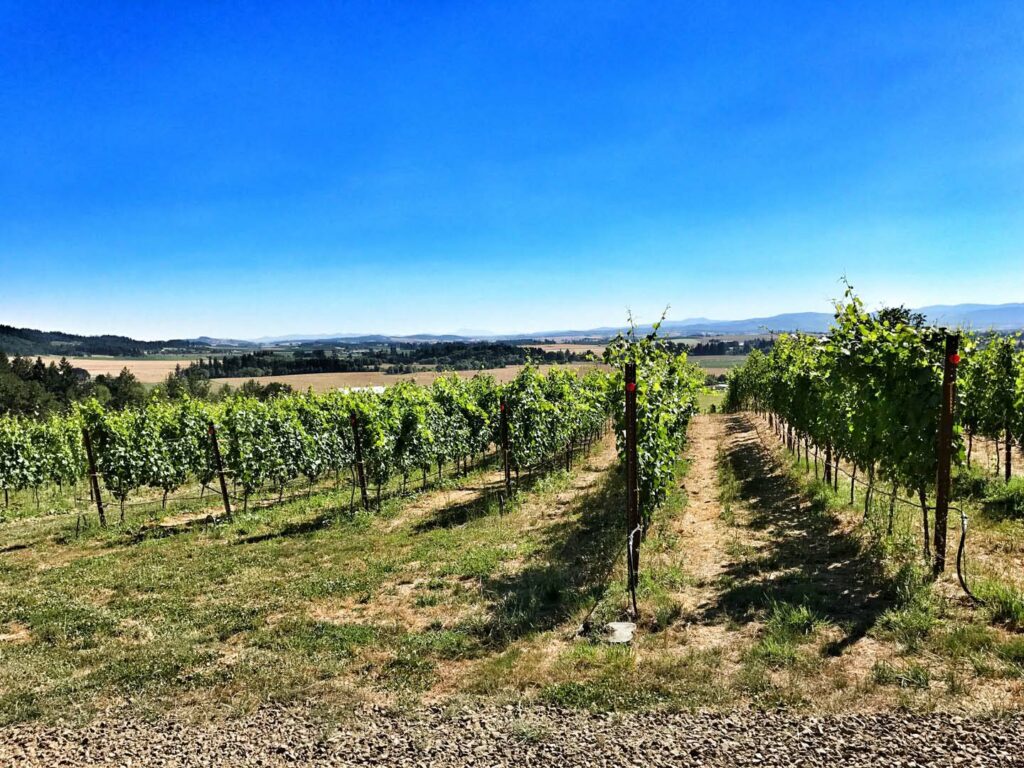 INFO ABOUT THE AREA:
Aglianico del Vulture is an Italian DOCG red wine produced in the Vulture area of the Southern Italian region of Basilicata. The wine is made with 100% Aglianico grapes, grown on volcanic soils derived from the nearby extinct volcano, Mount Vulture. Aglianico del Vulture is the only DOCG in Basilicata. Most of the vineyards are located on higher altitudes in the region, typically between 450 to 600 meters.
Aglianico del Vulture is widely known as the "Barolo of the South," due to similar production requirements and flavour characteristics, and presents concentrated notes of dark fruit on the nose, but will reveal more complex notes of earth, tar, spice and dark chocolate with maturity. The wine is ruby and garnet red in color, acidic, tannic, and full-bodied. Due to the high tannin presence, the wine requires several years of ageing before revealing its most complex characteristics. The best Aglianico del Vulture will improve for more than a decade in the bottle.
The basic Aglianico del Vulture wines must be aged for at least a year before commercial release, and an increasing number spend some portion of this time in oak barrels for added complexity. Other styles that are produced include spumante, vecchio, and riserva. The vecchio style requires three years ageing and the riserva which requires five years ageing (with two of those being in wood) and is considered to be the best expression of this grape.