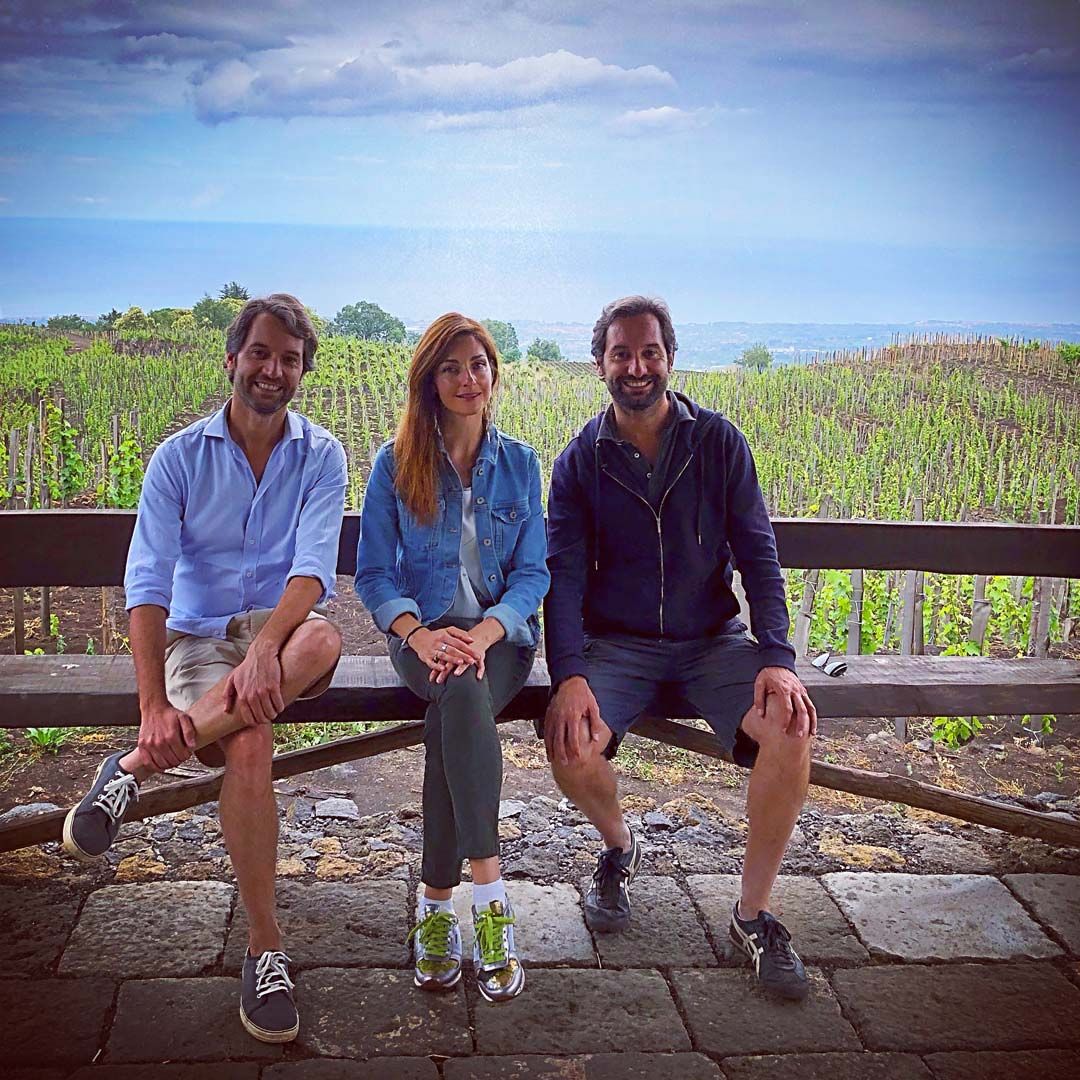 Intricate, contradictory, diverse: Sicily can't be described, must be experienced
The most difficult part is when you come home and are called to find the words to describe the most complex, multicultural, contradictory region of Italy. And you spend hours staring at the monitor, but those words just don't want to come out. Then you close your eyes and you can see again the chaotic dedalo of streets in Palermo, you can smell the sardines being grilled in Vucciria market, you can detect the acre odor of the "meusa" (chopped veal lung and spleen) being fried and laid on a soft sesame brioche bun to be eaten in the middle of the street (the famous Pa ca' Meusa), you can see the mesmerising golden, colourful mosaics of Monreale Cathedral, the majestic ancient Greek and Roman temples in Agrigento, the Barocco architecture of Ragusa and Noto, the heavenly shoreline of Cefalu, the decadent Marsala; your tasting buds still crave the unique texture of Modica chocolate, the crunch and soft signature cannolo by Maria Grammatico, the spotless and surprising haute cuisine of Michelin star chef Pino Cuttaia, the seafood (omg… the seafood): raw, briny, juicy sea urchins, the freshest tuna crudo, the local red shrimps, the sardines, I think I had seafood every single day of my trip in every single meal (except breakfast, well, some breakfasts to be precise). And then the figs, the Pachino tomatoes, the capers, the Sicilian lemons, the granita, the brioche with gelato, the Bronte's pistachios, the almonds…The eggplants! Pasta alla Norma should be declared World Heritage Food by Unesco. 
How could I describe all of it (and more) with just a few words? That's the burden of being a journalist: trying to enclose the immeasurable  beauty in the box of worldly words. Mission impossible. Sicily must be experienced. 
And the wine? About the wine I will talk thoroughly in the next lines, being me the Italian Wine Girl, that's my focus. I add some highlights of this beautiful region below, stolen moments of my wonderful tour, and some of my favorite places, hotels and restaurants. But, as a disclaimer: no picture, no word, no description would ever be enough to make justice to the thousand faces of Sicily.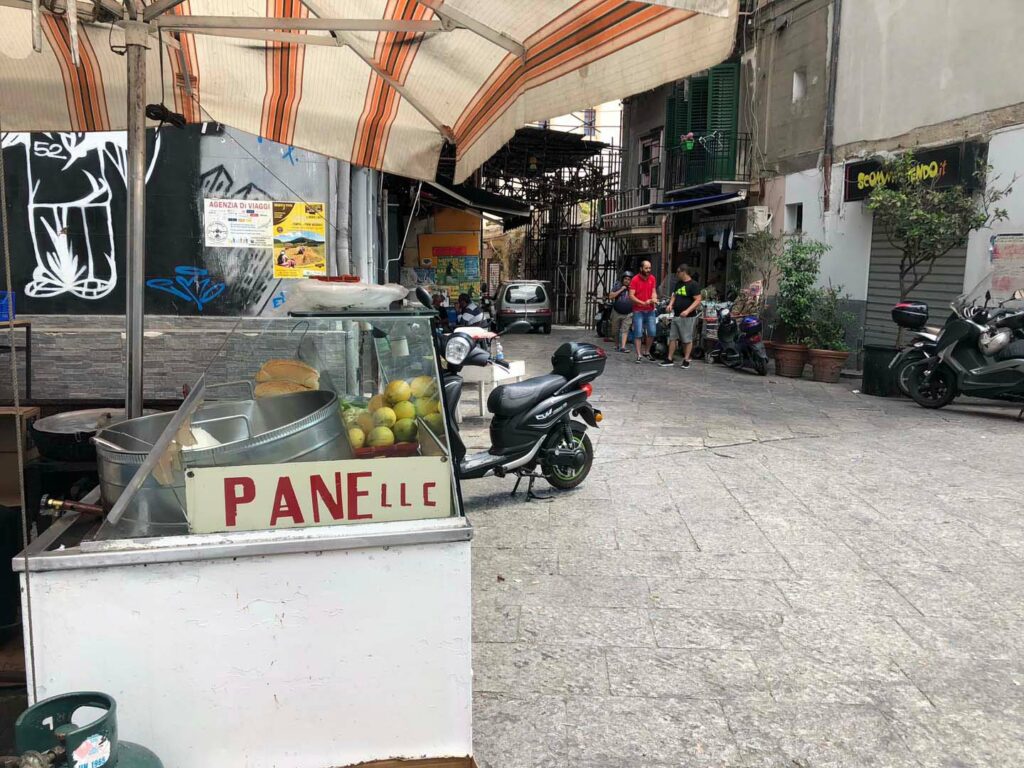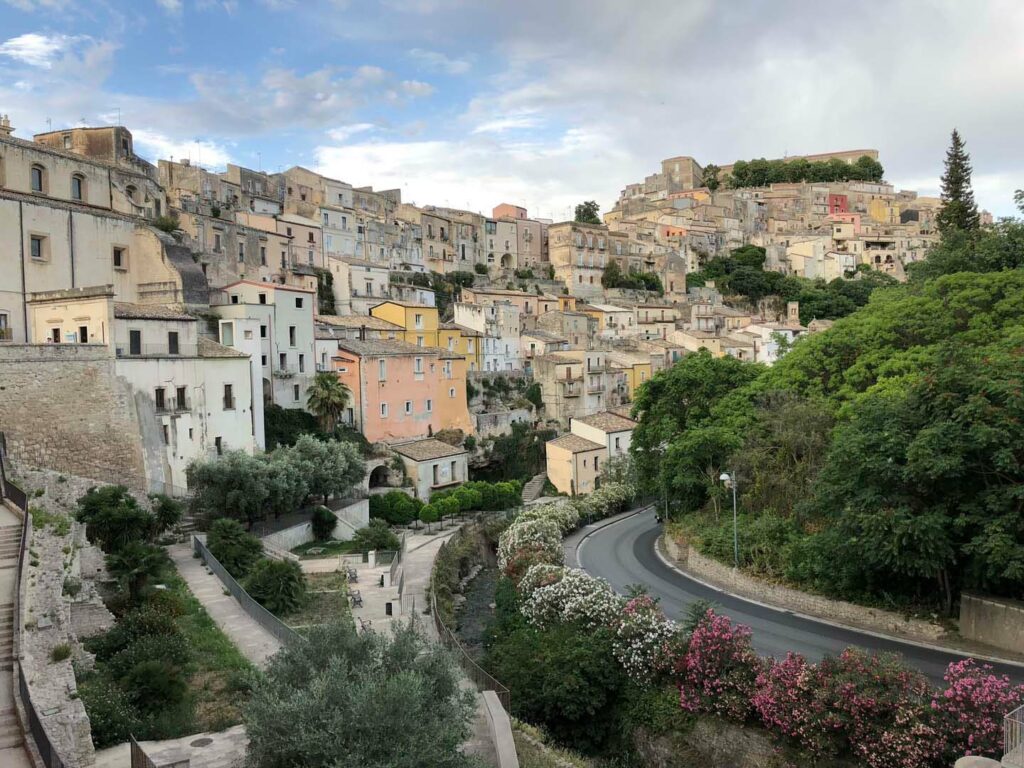 The grandeur of Sicilian viticulture
The island of Sicily—separated from Italy's mainland only by the two-mile wide Strait of Messina—serves as a quintessential wine region known for its incorporation of even the most subtle of terroirs. Sicily, now a beacon of innovative grape growing methods, has elevated its wine status and established a distinct name for its wholly unique Etna grape varieties. The rich, volcanic soils of Mount Etna have endowed the region's wines with a terroir unsurpassed by any other region in Italy—thus, enticing us to ponder what makes Sicilian wines so diverse and unlike anything found in any other wine region.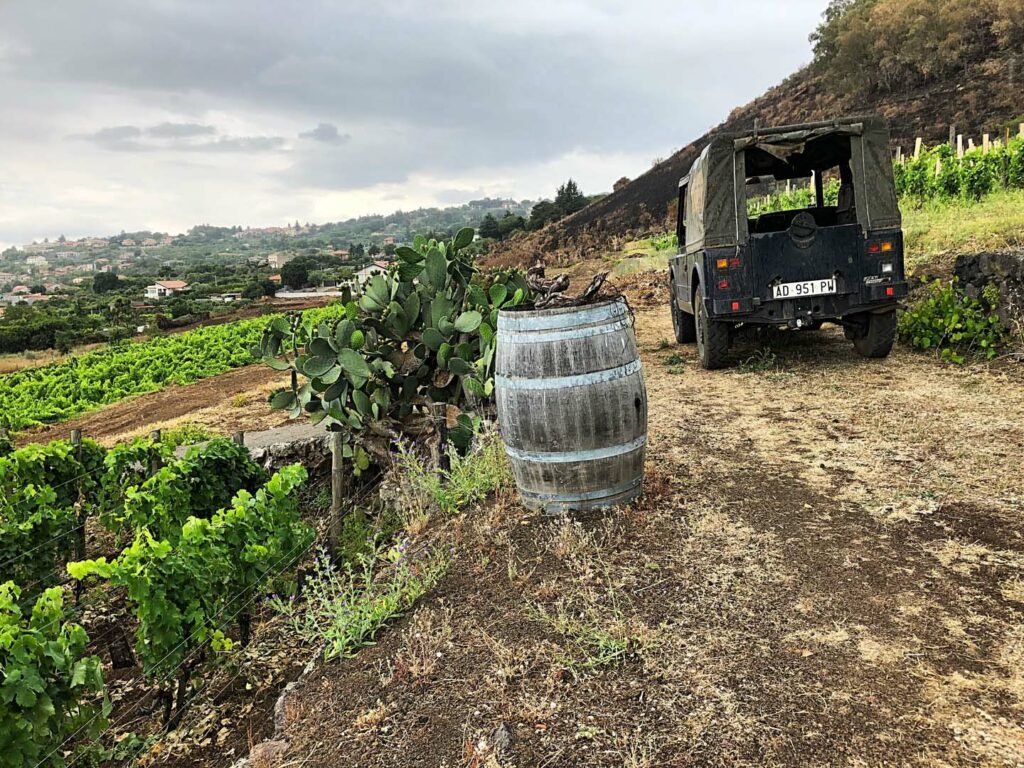 Main appellations and grape varieties
Sicily's only DOCG status wine, Cerasuolo di Vittoria DOCG, is produced with Nero d'Avola and Frappato grapes; however, there are several other Sicilian wines that have obtained DOC status, including Etna Rosso, Etna Rosso Riserva, Etna Bianco, Etna Bianco Superiore, Etna Rosato, and Etna Spumante, to name a few. This is simply another identifying characteristic that makes the wines made from grapes grown with the volcanic soil of Mount Etna even more distinguished in Sicily. Let's take a look at some of the other important appellations and grape varieties in Sicily:
Marsala DOC:
As one of the first wines to ever obtain DOC status, Marsala DOC holds an important place in the wine history of Italy. Marsala DOC can be made from white grape varieties such as Catarratto and Grillo and red grape varieties such as Nerello Mascalese and Nero d'Avola, depending on what type of wine. For the Rubino Marsala wines, it must contain 70% of these varieties.
Etna Rosso DOC:
This is a type of blended wine, and is required to contain a minimum of 80% Nerello Mascalese grapes, one of the grape varieties indigenous to the Etna wine region, which I will discuss more later on. Nerello Cappuccio is also present in a quantity of at least 10% but no more than 20%.
Etna Bianco DOC:
Etna Bianco DOC wines must have a minimum of 60% Carricante grapes, another indigenous grape to the Etna wine region.  The remaining 40% can be comprised of other acceptable local white grapes or comprised entirely of Carricante grapes. 
Nero d'Avola:
Nero d'Avola is the most important and ubiquitous red wine grape variety in Sicily. Until recently, it was used mostly as a blending grape for other wines, but wineries have begun producing Nero d'Avola wine varietals, as well. These grapes are known for their high tannins, medium acidity, and overall full body.
Catarratto:
Catarratto is one of Italy's most-planted grape varieties, and it can be found as either Catarratto Bianco Comune or Catarratto Bianco Lucido, but these two are known clones of the same grape variety. Also, Catarratto grapes make up about 60% of Sicily's total vineyard area.
Etna wine region
Sicily, well known for its consistently-warm, Mediterranean climate with only moderate rainfall, is one of the oldest viticultural areas in Italy. This warmth, coupled with its dry heat and steady ocean breezes, makes Sicily an ideal place for grapes to grow and thrive. More specifically, the mineral-rich, dark, and volcanic soils cultivate an even more dynamic terroir, which provides a flavor profile so unmistakably mineral-rich and specific to the wines of the Etna region. Also, it is significant to mention that the wines of the Etna region are mostly dry red and white wines, but they also consist of some rosato wines.
Once the government started to notice the quality of the wines being produced in Sicily and the ease by which winemakers could push the limits on their vines, Sicilian wines took an overall plunge in quality. The government began to offer subsidies to those who sacrificed the quality of their grapes by converting their vines into more high-yielding ones. The higher the yield of the vines, the lower the quality of the wines produced. Subsequently, Sicilian faith and interest in their own wines declined drastically.
With time, wineries began going back to the basics and rediscovering their roots of high quality wines. Most importantly, wineries perfected these methods and their wines are more popular than ever before. More vines have been planted on the slopes of Mount Etna, with some wineries even testing their limits as to how high up the volcano they can plant their vines and see the different terroir it produces. Even now, there are vineyards on Etna's slopes that rank as some of the highest elevations in all of Italy!
In fact, some of the grapes grown in the Etna wine region are unable to be grown anywhere else, including the following: Nerello Mascalese, Nerello Cappuccio, Carricante, Catarratto, and Minnella. These grapes characterize the vast differences between the wines grown in Sicily or the Etna wine region and anywhere else—the high minerality in these wines can make any other wines pale in comparison.
Benanti winery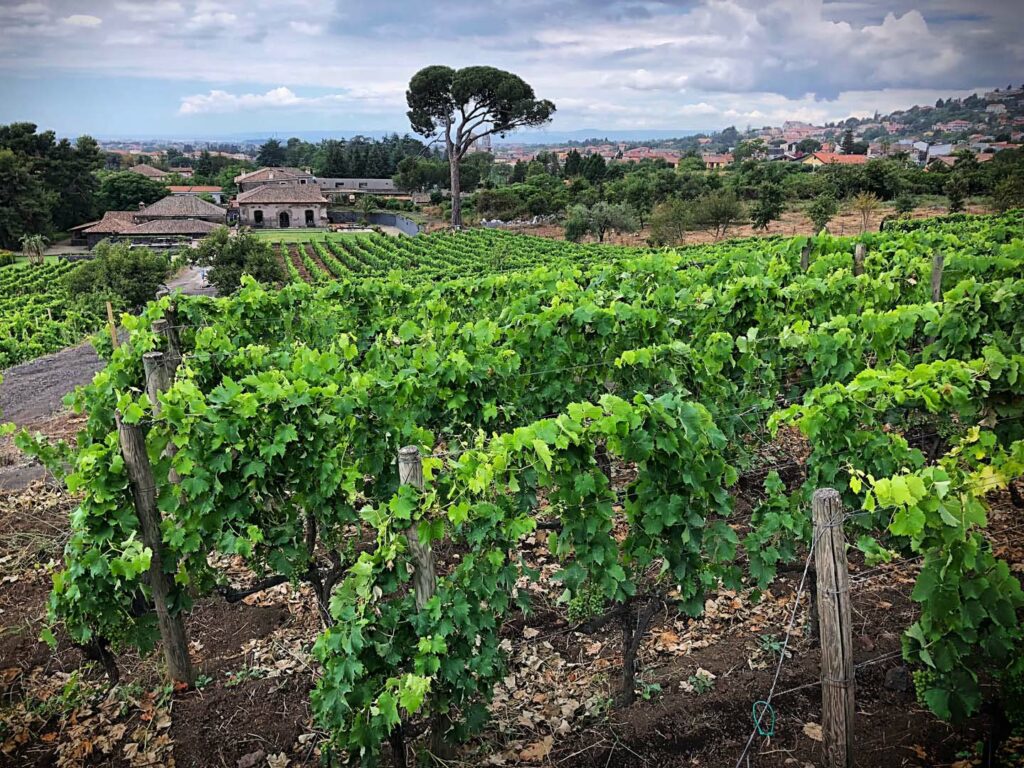 Known as the "founding fathers" of Mount Etna's wine industry, the Benanti family sets the precedent for quality, traditional wines made from grapes grown on the lower slopes of Mount Etna, one of the longest-active volcanoes in history.
Since they first began making wines in 1734, the Benanti winery has grown to be a significant presence in the realm of Sicilian wines.
In the late '80s, Giuseppe Benanti undertook the process of reviving their under-utilised vineyards and ensuring their wines reflected the true terroir of Mount Etna. Once he passed the tradition onto his twin sons, Antonio and Salvino, their main focus shifted more toward investing in those distinctive grapes that make their winery special and authentically Sicilian. The Benanti winery, successful in its endeavors to honor the viticultural history of the region, has fostered the growth of those Etna grape varieties unable to be grown anywhere else.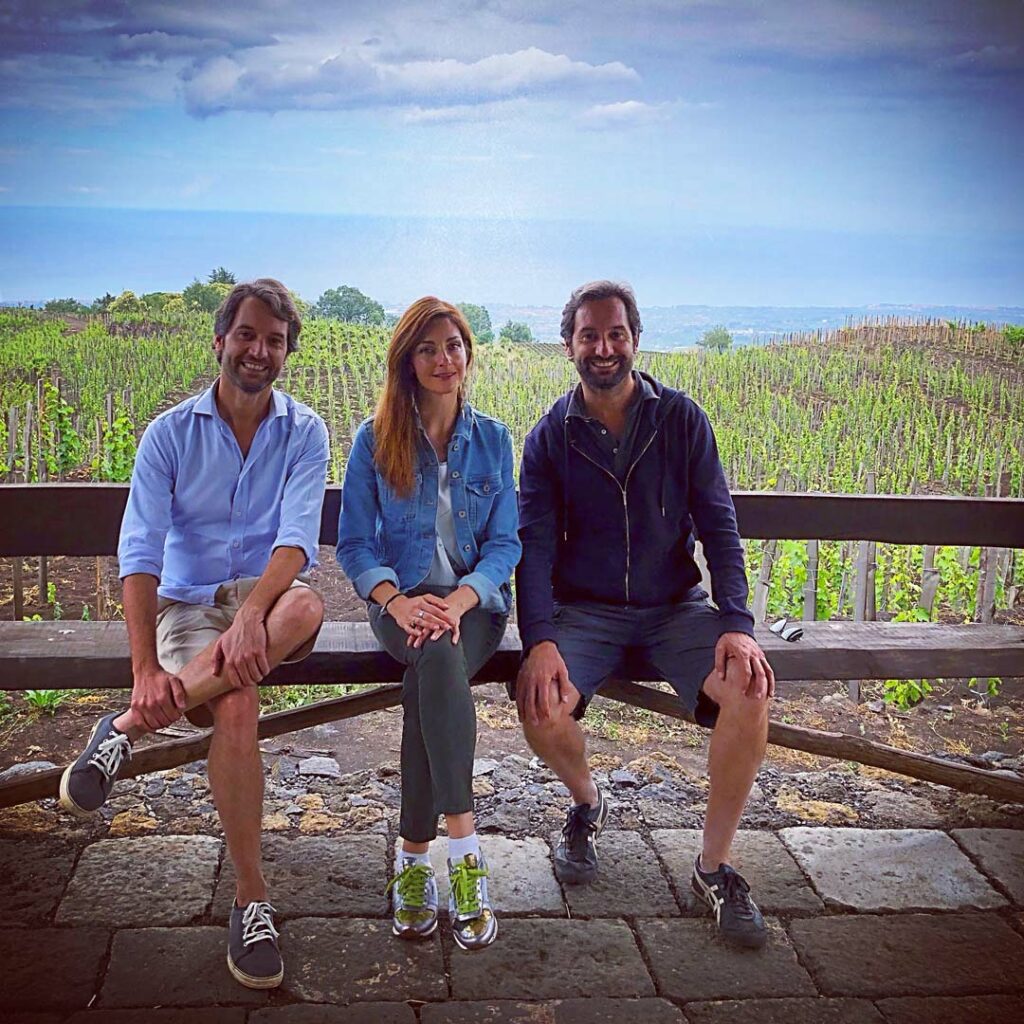 I had the honour and pleasure to be on a special private tour of the vineyards with Antonio and Salvino Benanti, followed by a memorable wine tasting in their beautiful estate together with Roberto Camuto, Wine Spectators' contributor from Italy.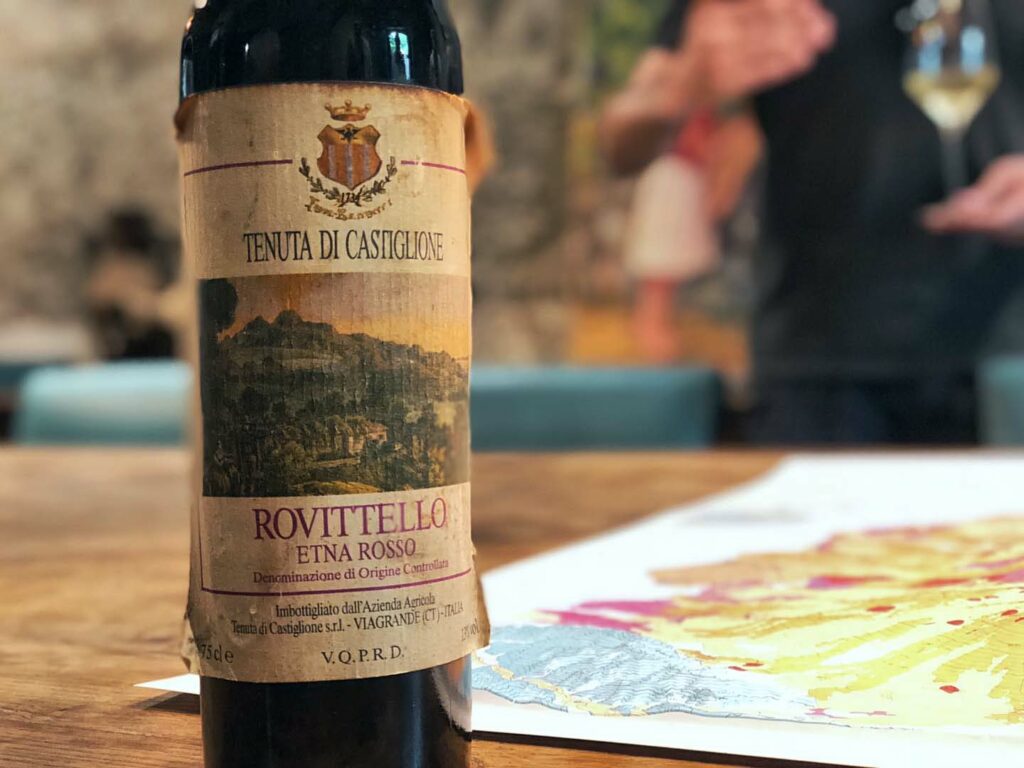 Etna is a terroir within a terroir, it offers a unique combination of mountain altitude at a Mediterranean latitude and lavic soil on an active volcano. I visited the Pietramarina vineyards (Carricante grapes), in Milo: a slice of heaven about 950 meters above sea level, the vines benefit from a high diurnal temperature variation, with the difference between day and night temperature varying by up to 20 degrees in some months.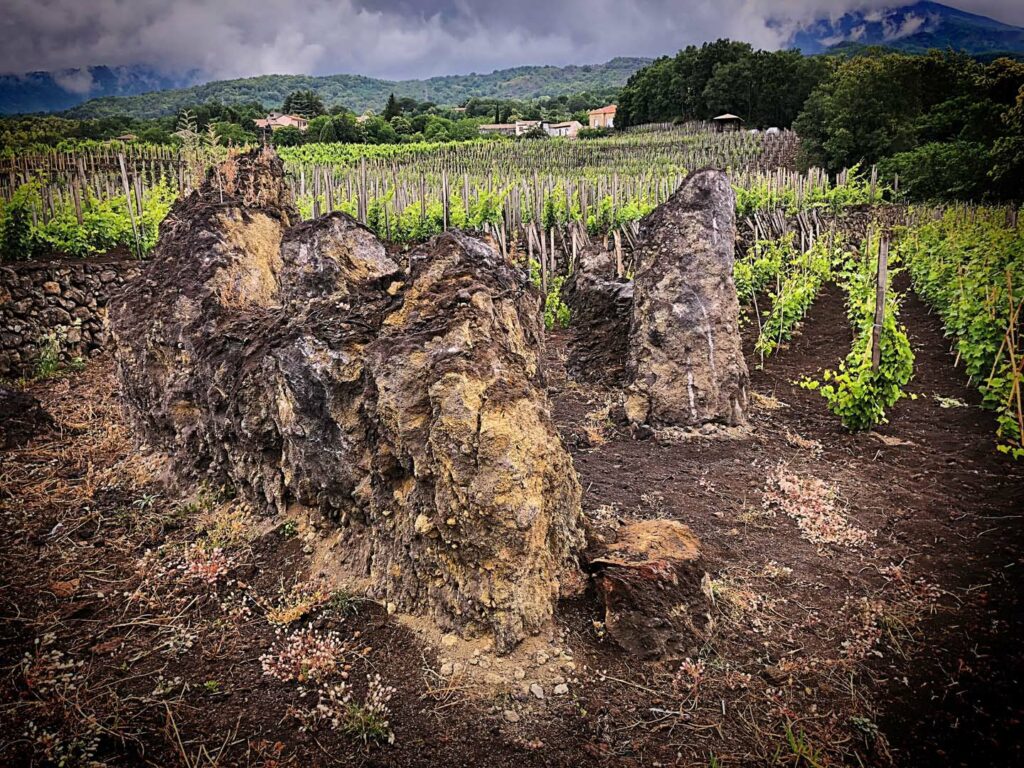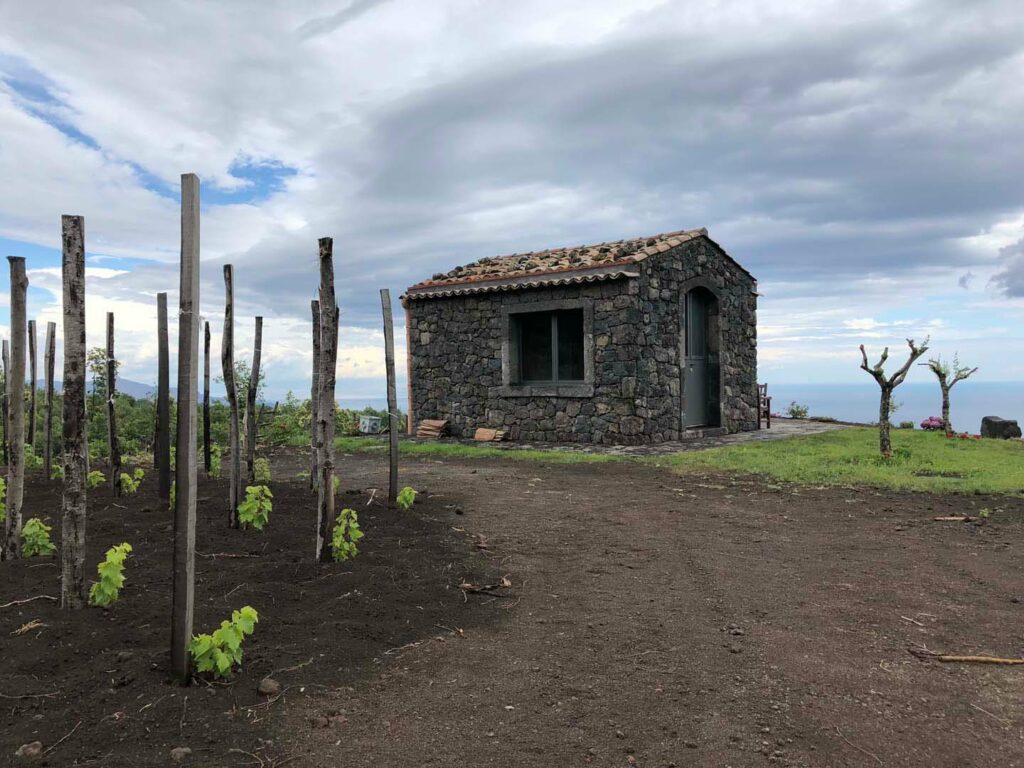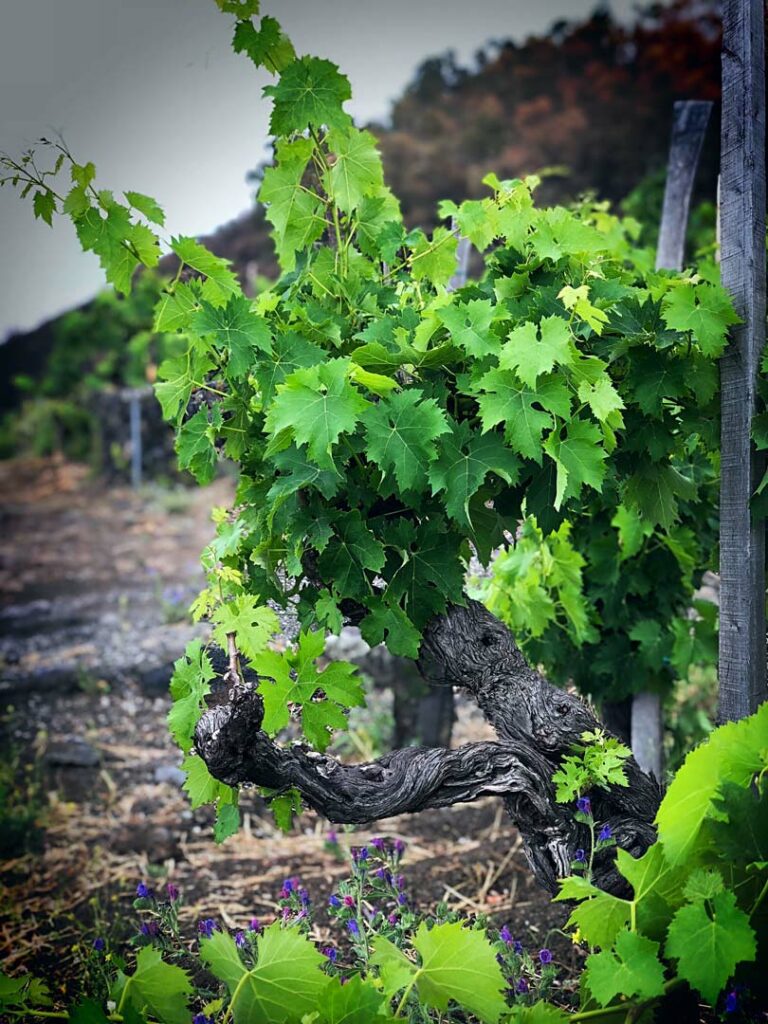 It was incredible to see and touch the old vines which are among the few in Europe to pre-date phylloxera. This pest loves to feed on vine roots and ravished vineyards in Europe in the late 19th century but never reached the volcanic soils of Mount Etna. The majority of his vines were never grafted on resistant American rootstock, which took place over all Europe as the only method of preventing the disease.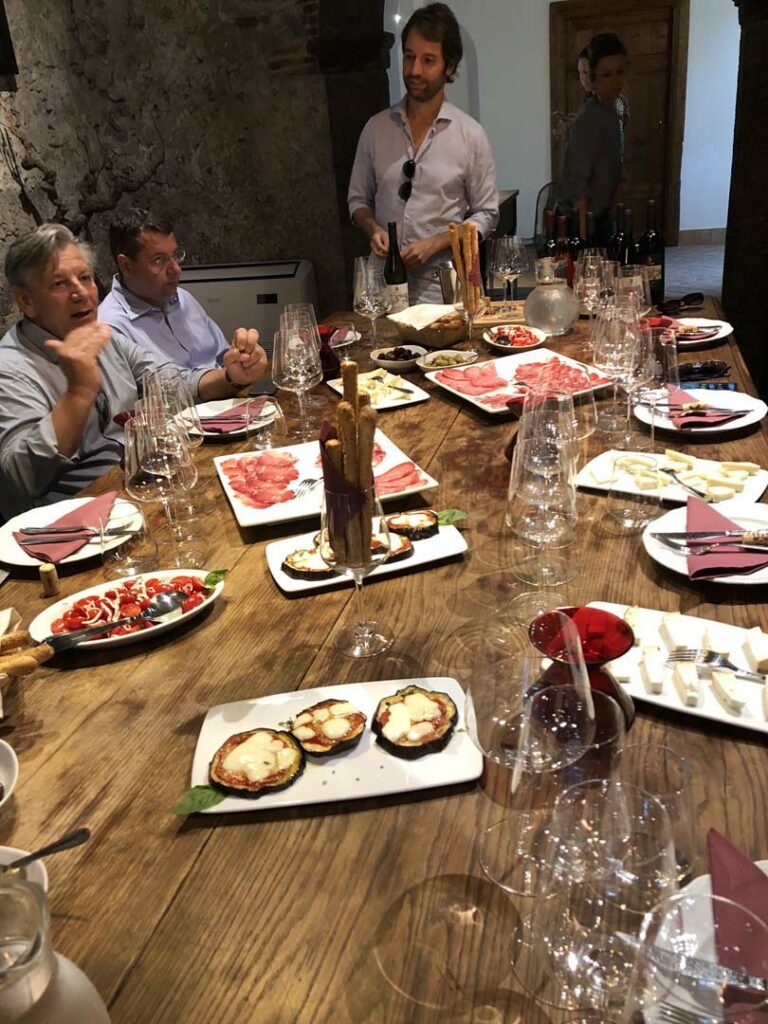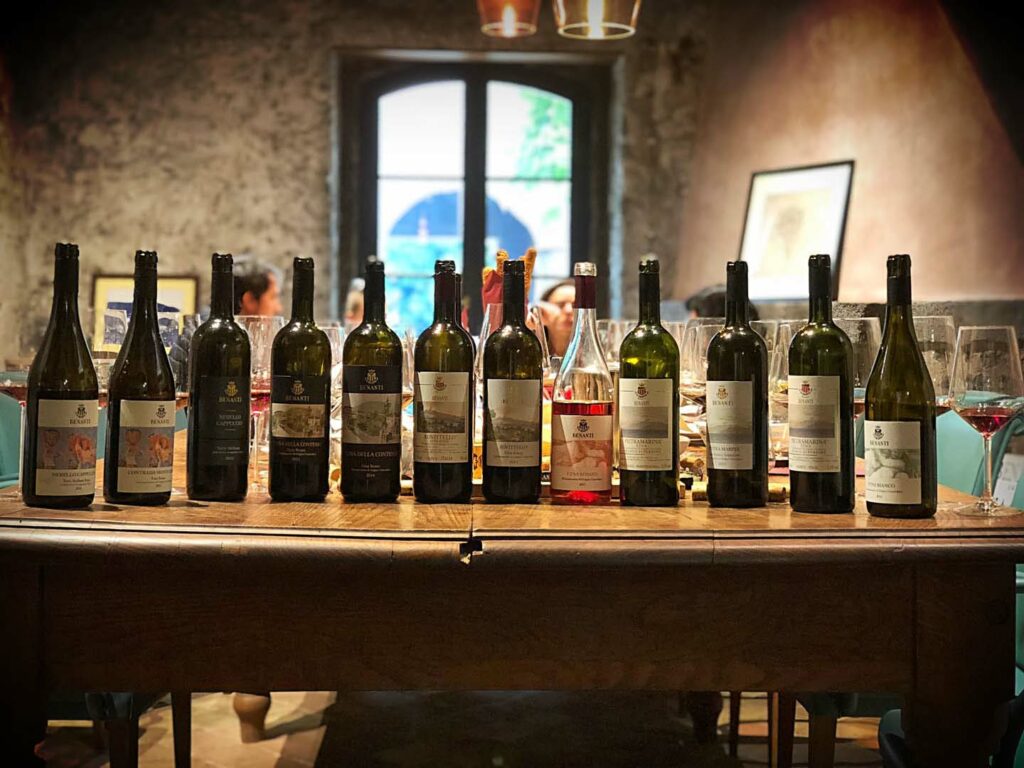 Benanti's portfolio includes the Pietramarina, from Carricante grapes, intense, structured and pure. It is a white that is worthy to age: I tasted the 2007 vintage and it was incredibly lively, vibrant, still showing a lot of primary aromas but with the complexity of the mineral evolution. A treat!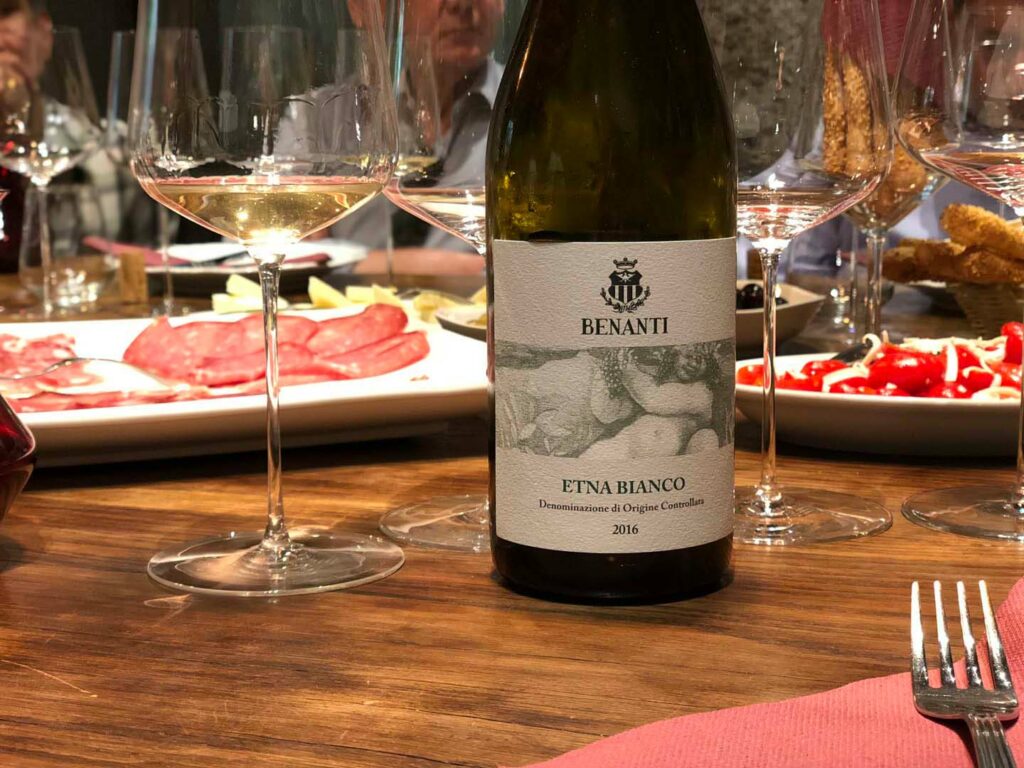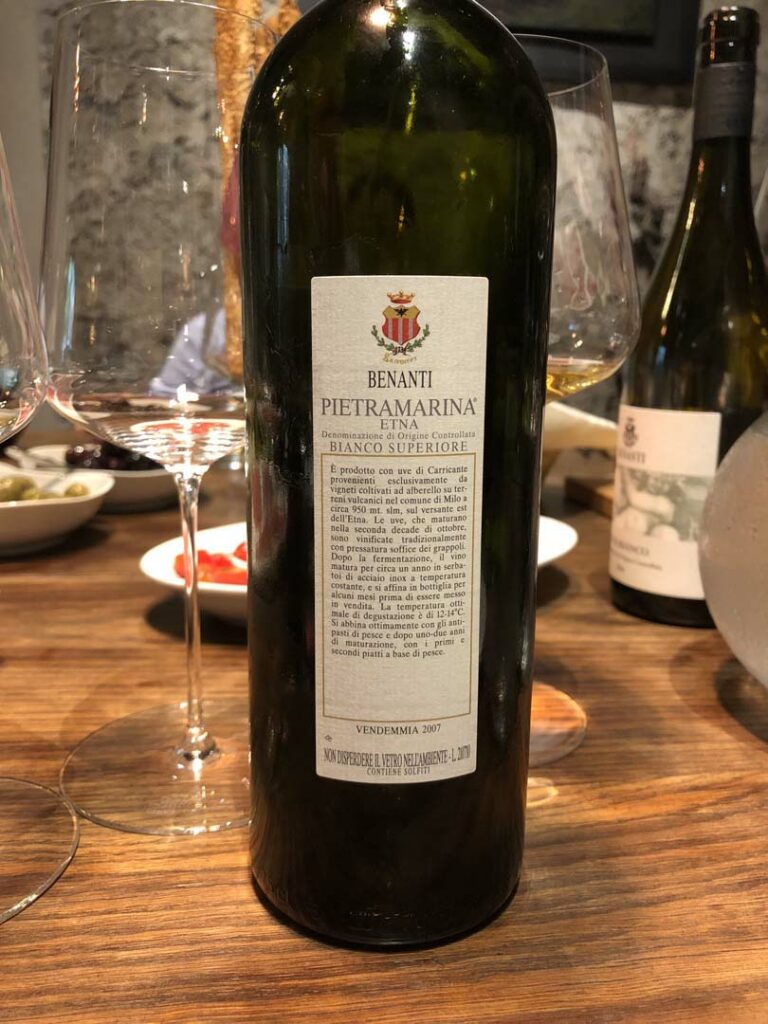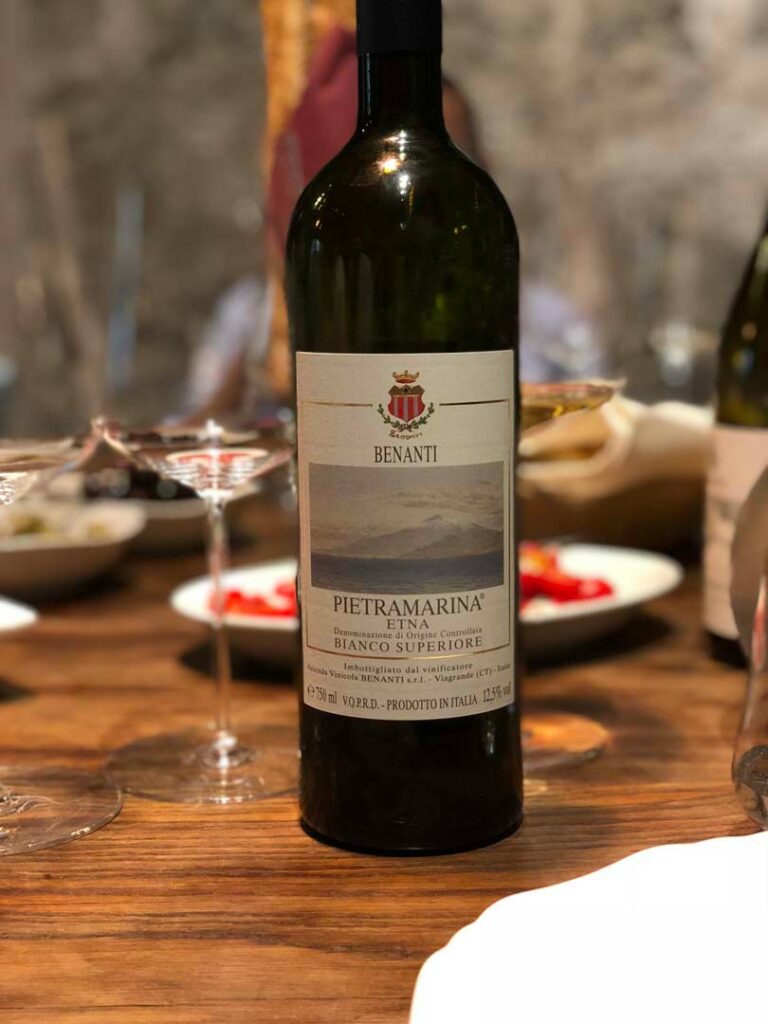 The Etna Rosso and Rovittello both combine Nerello Mascalese and Nerello Cappuccio but come from quite different locations and latitudes. I find the Rovittello having perhaps a finest, delicate profile and a better ageing potential. I had the 1999 vintage: a rarity and a real jewel, with balsamic notes, red fruits, pink pepper and a delicate undertone of talc. After 19 years this wine was in the perfect pic of maturity, but with some space left for further ageing.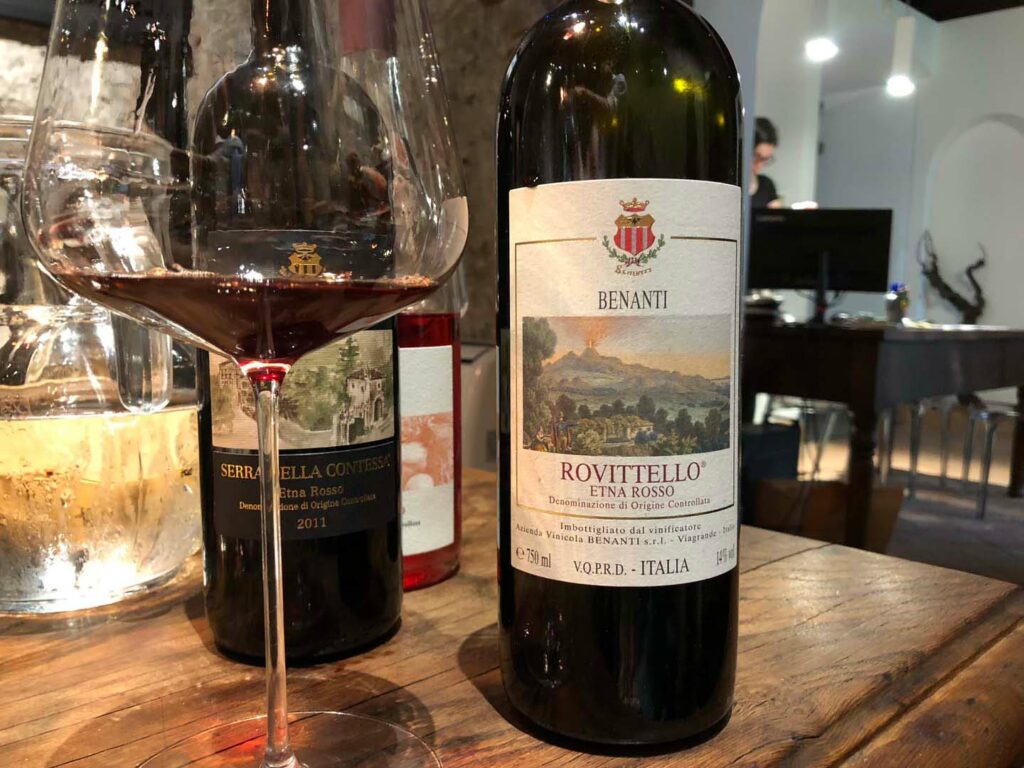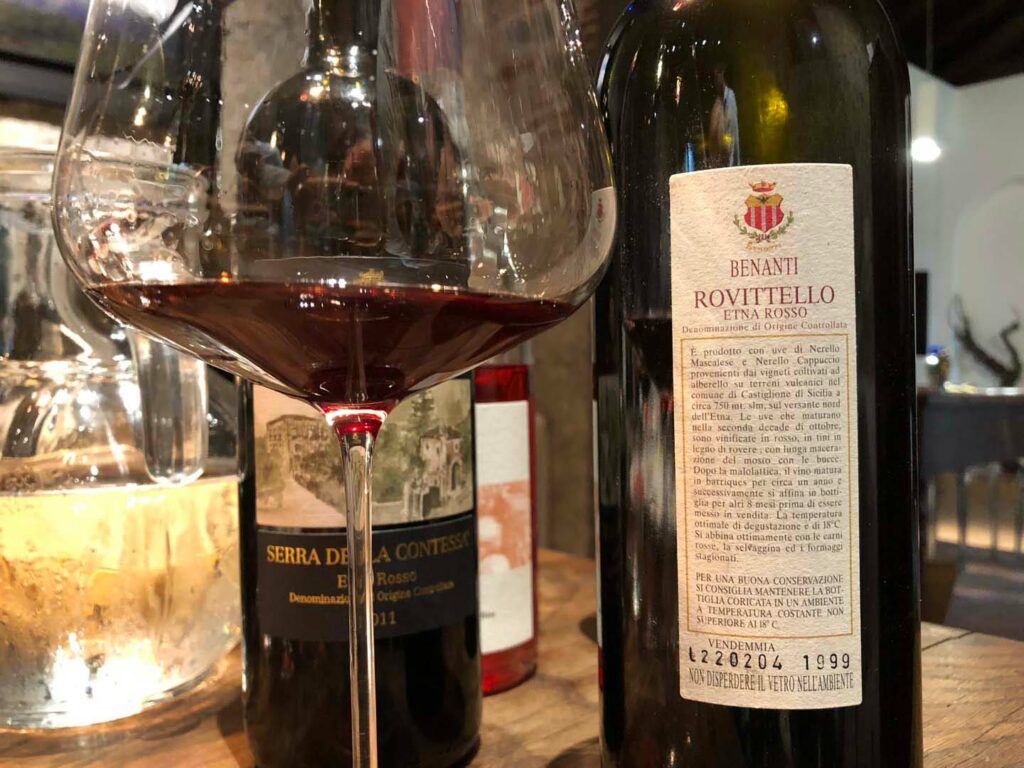 Their signature wine is Serra della Contessa, dominated by Nerello Mascalese and aged for 12-15 months in old oak.
It is a graceful and elegant wine with an incredible ageing potential (I would say 20-30 years). We tasted the 2011 vintage: fine tannins, medium acidity, mineral smoky notes, purple flowers, thyme, dill, red fruits, a complicated intriguing lady.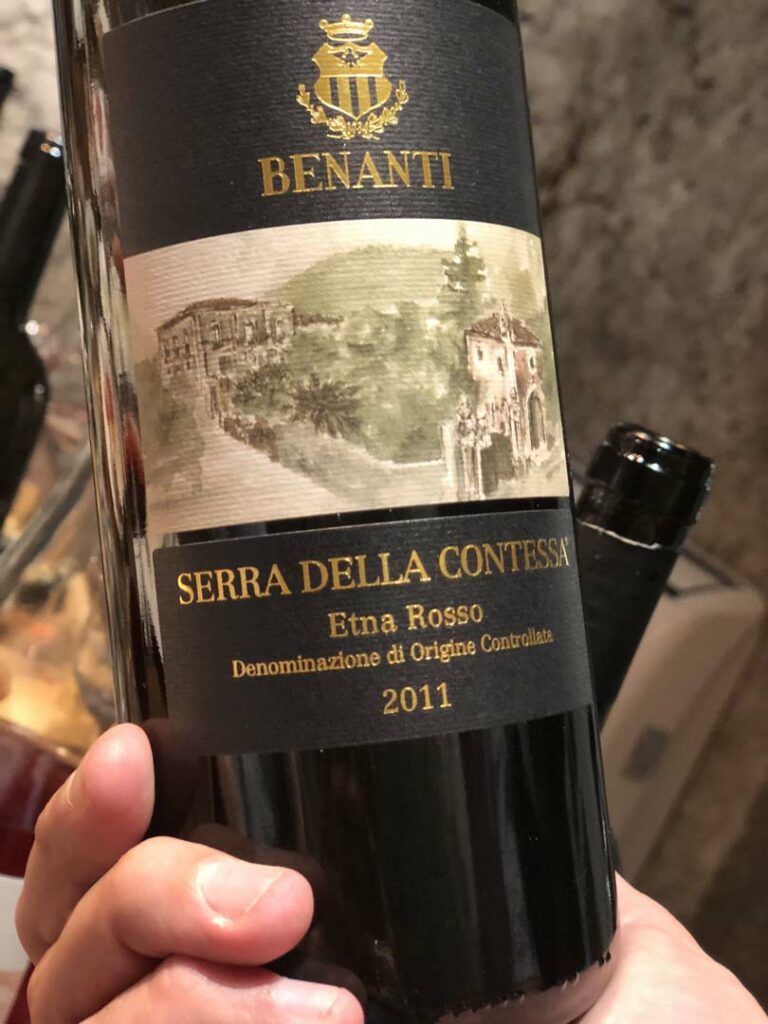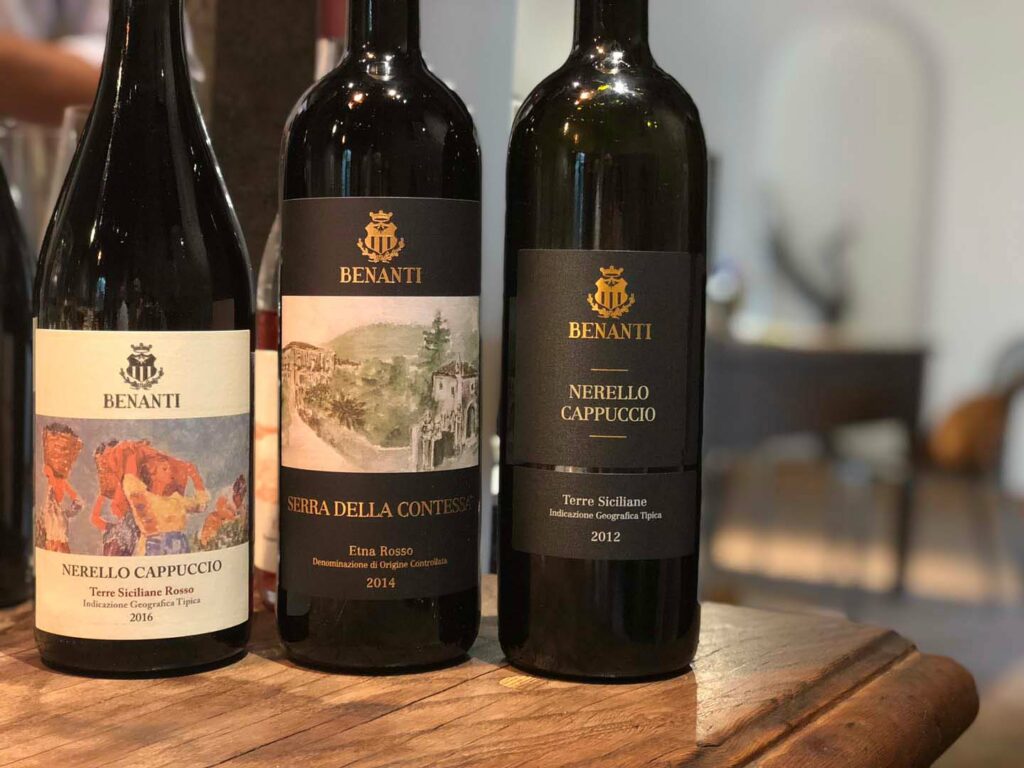 COLORS AND FLAVORS OF SICILY
Here a photographic gallery of wines, flavours and colours of Sicily. Descriptions and useful links in the captions below.
FOOD AND RESTAURANTS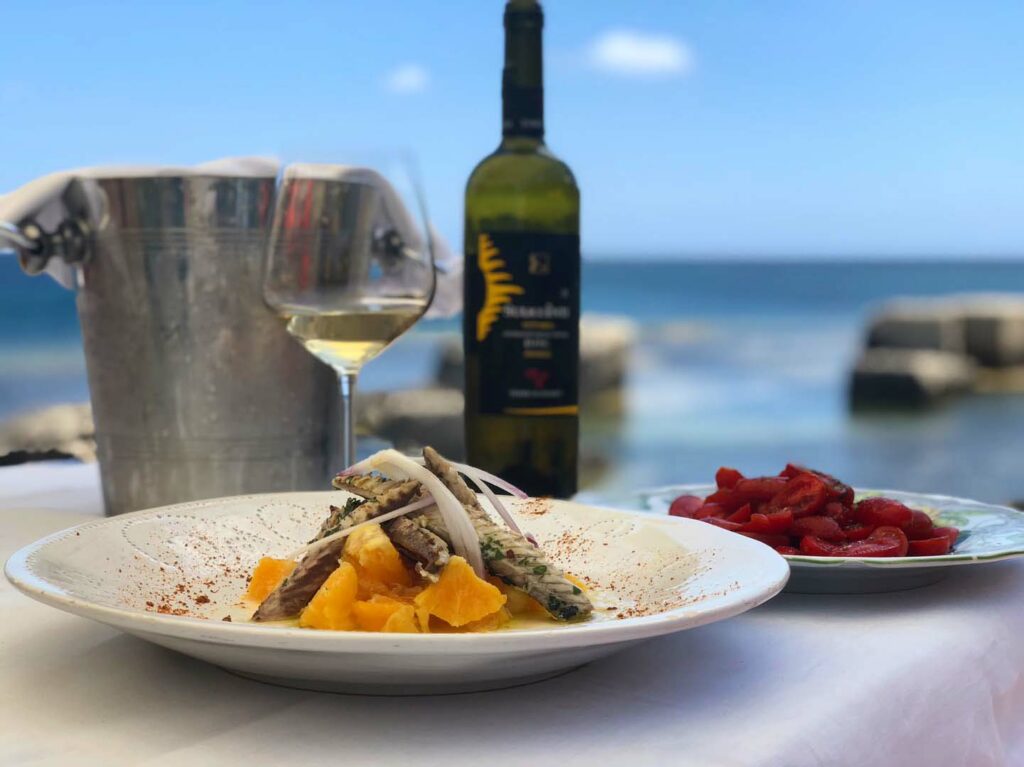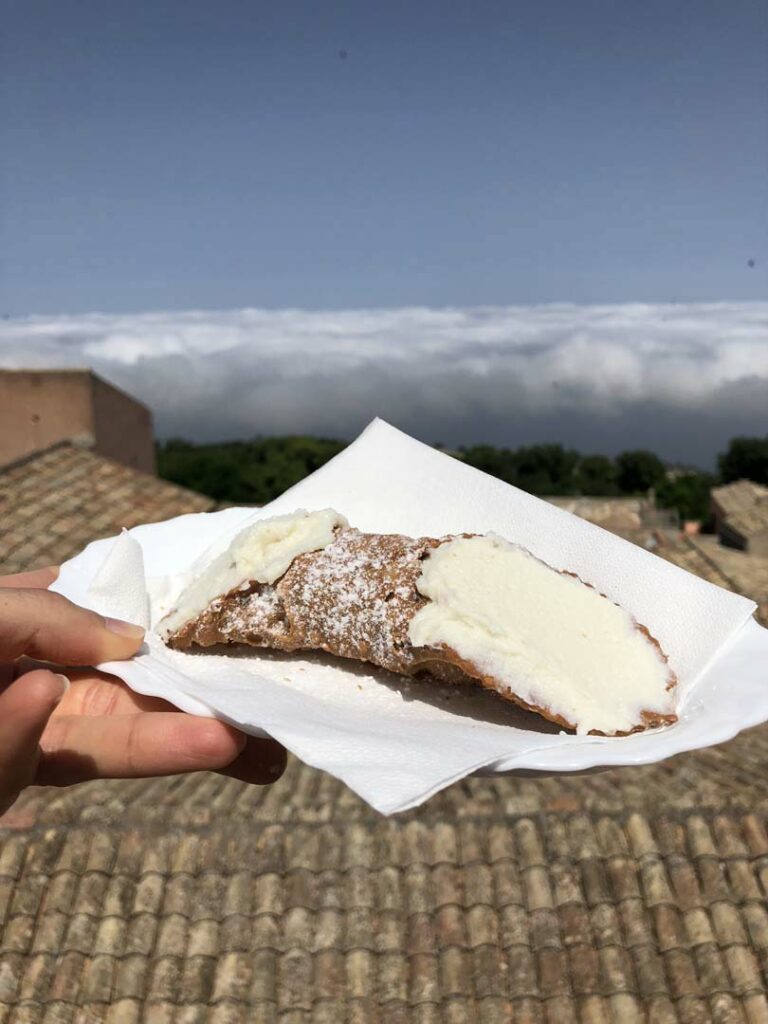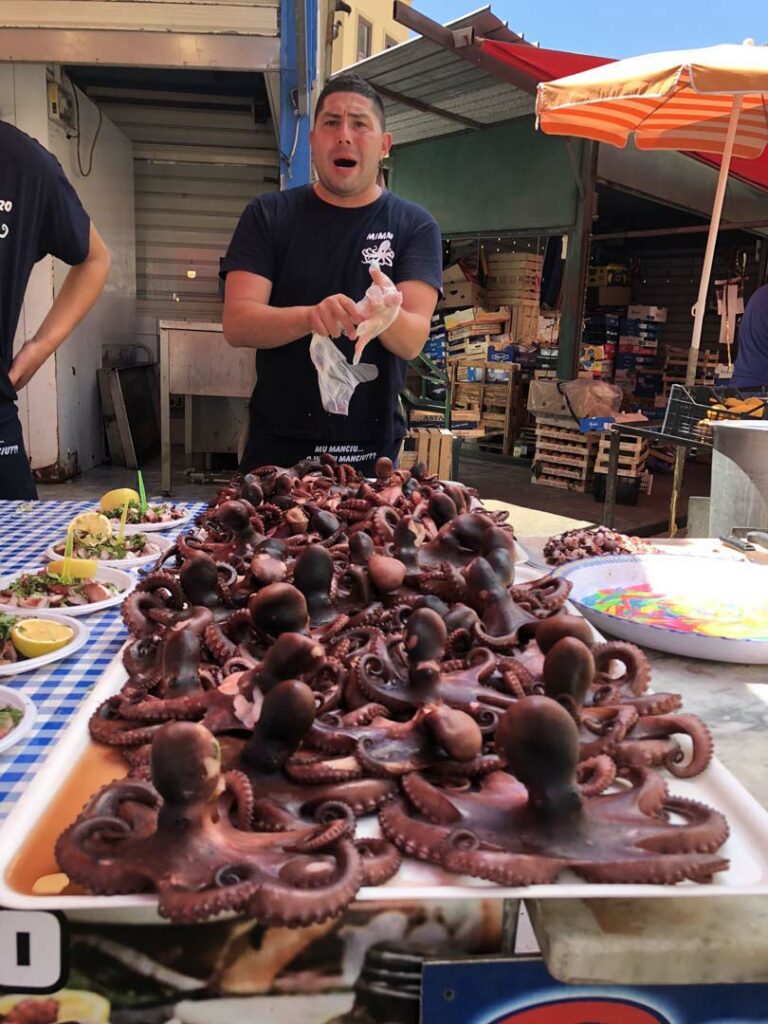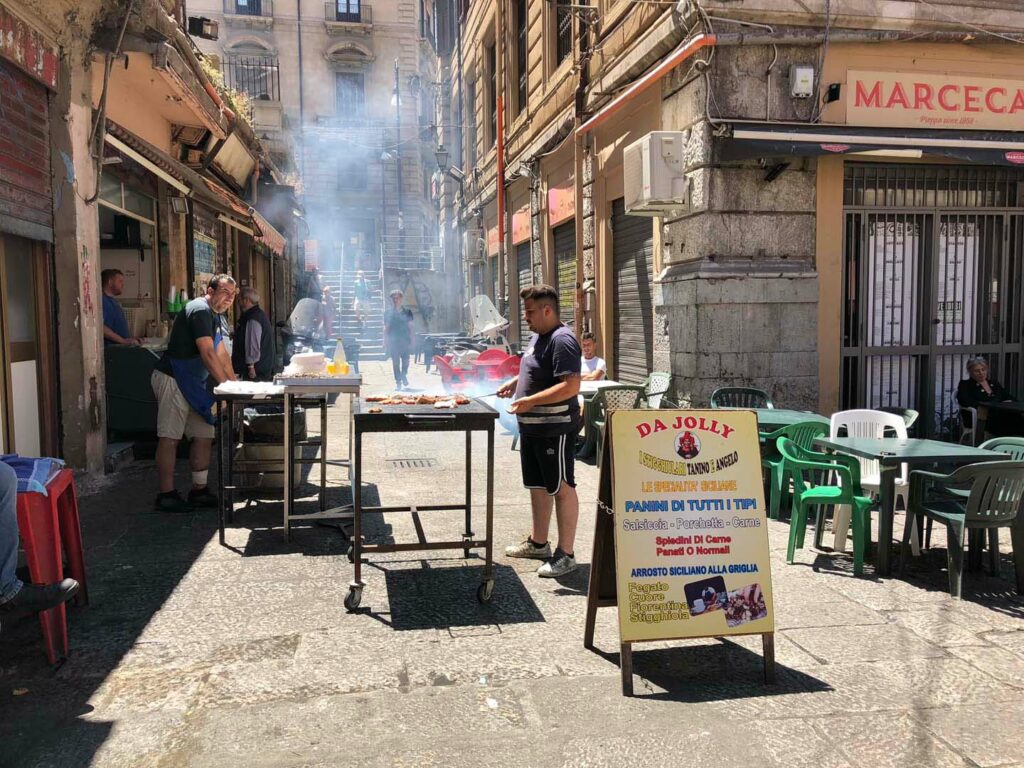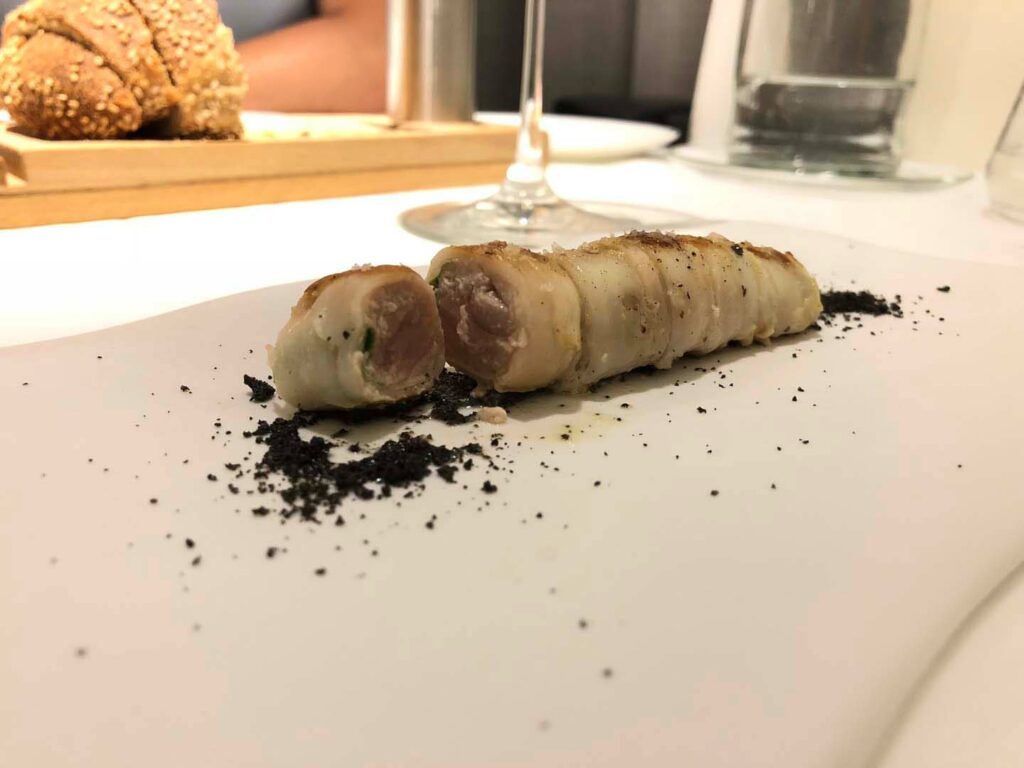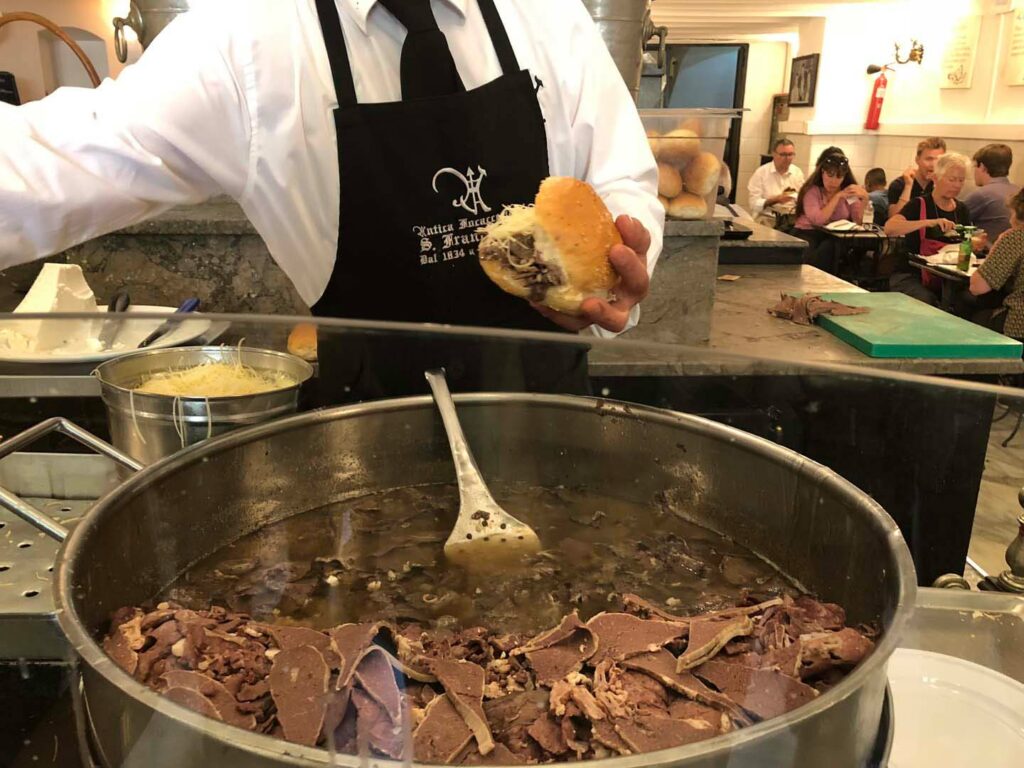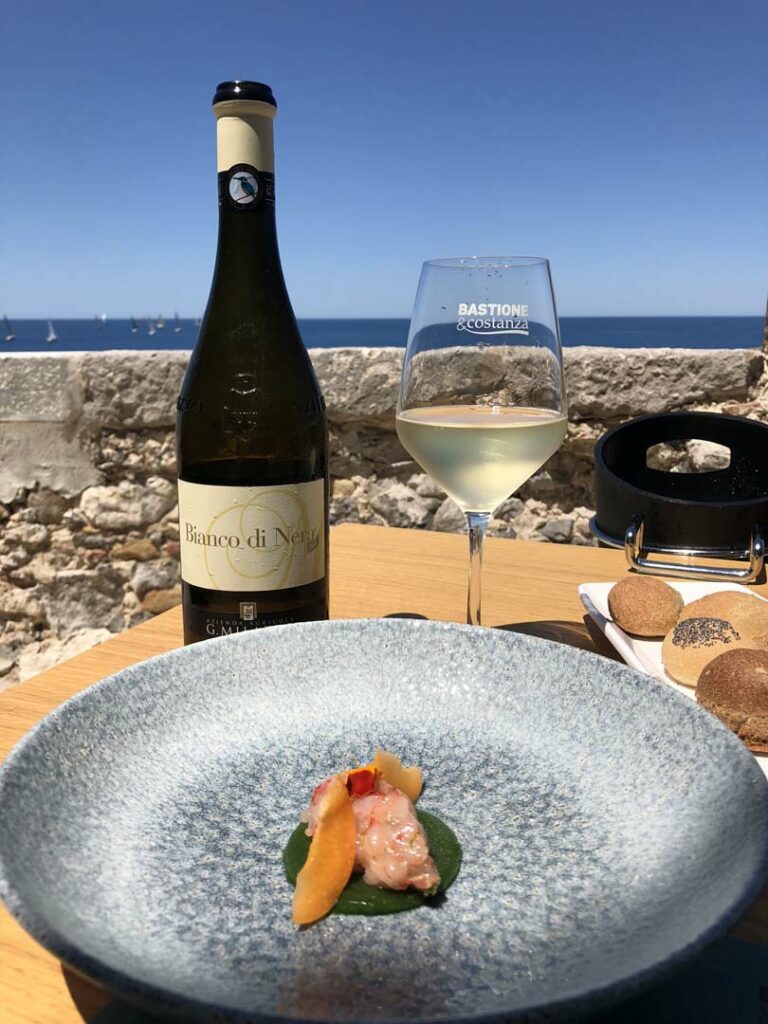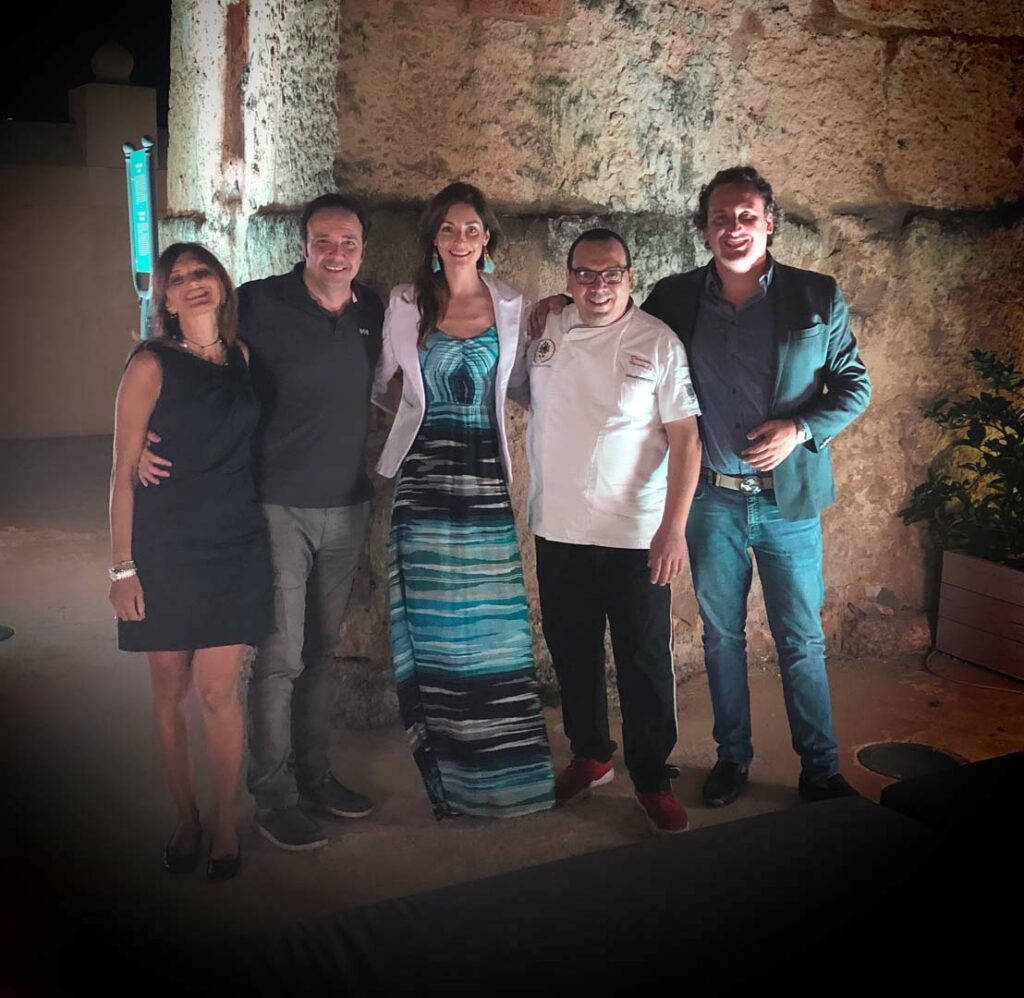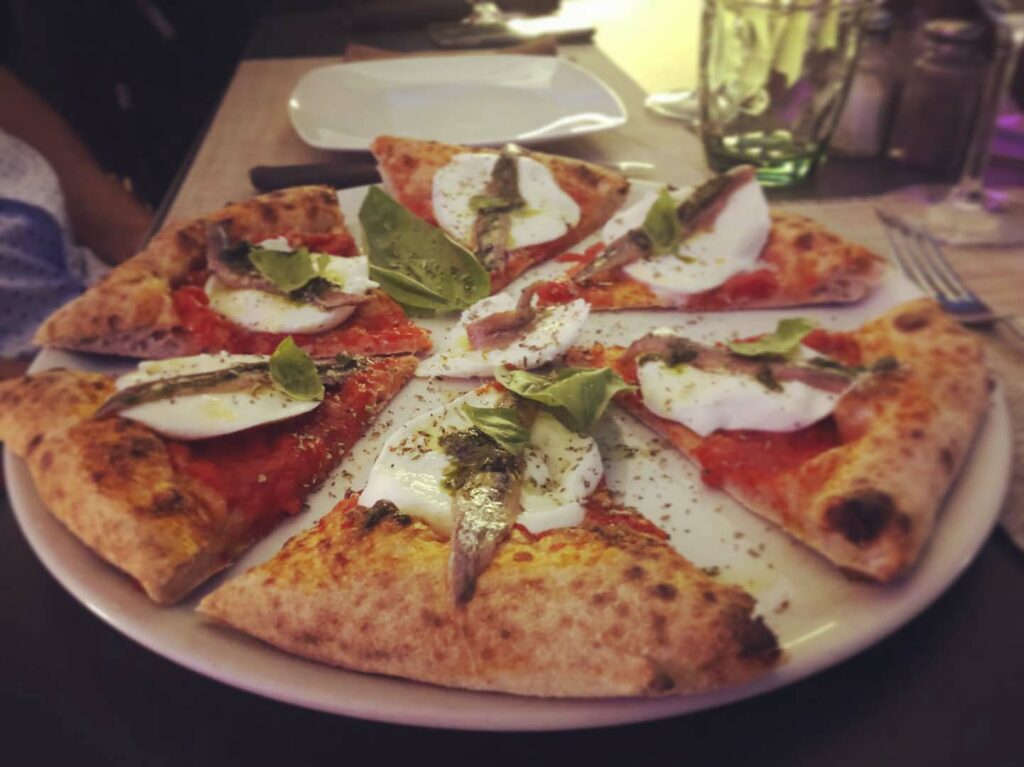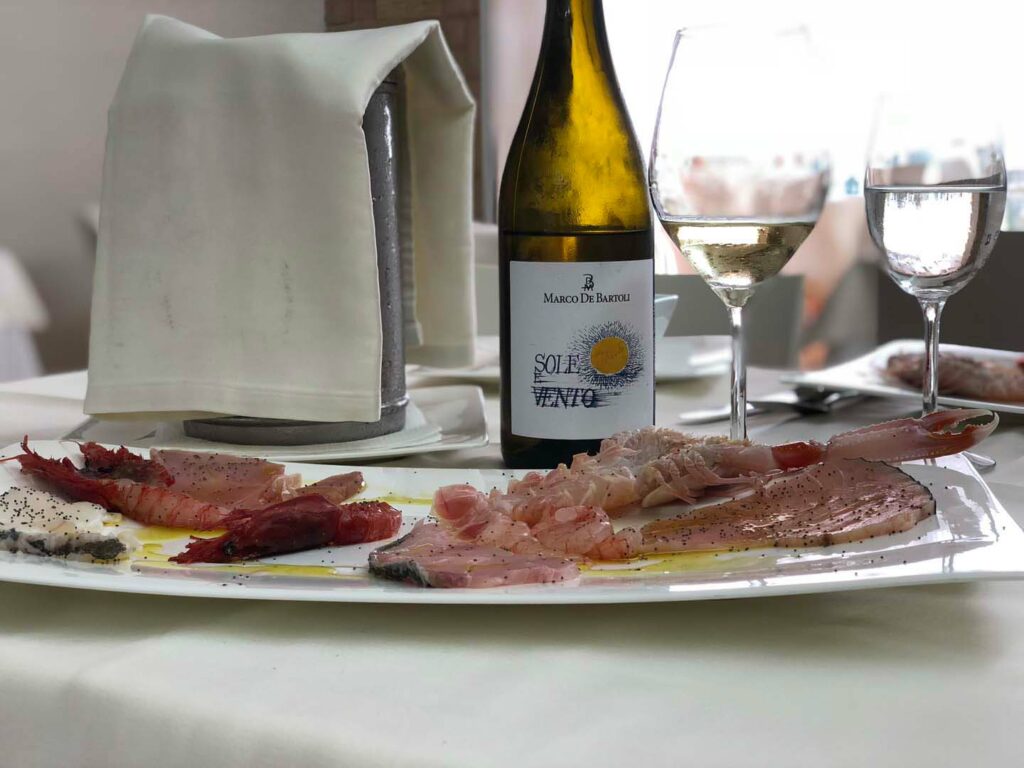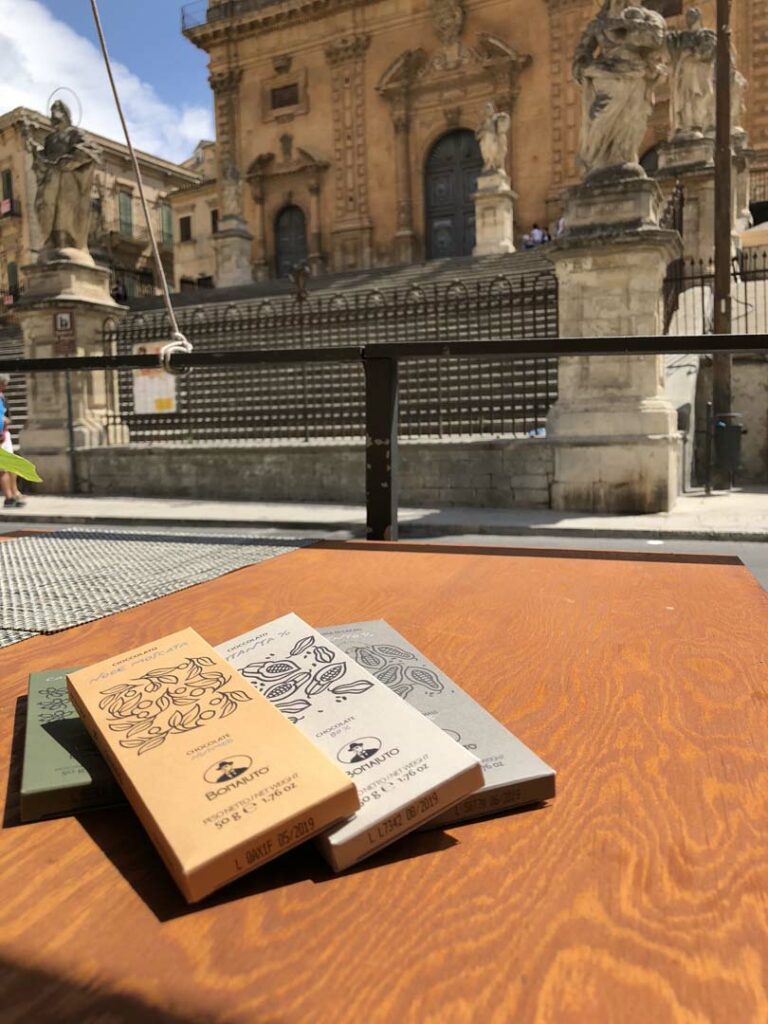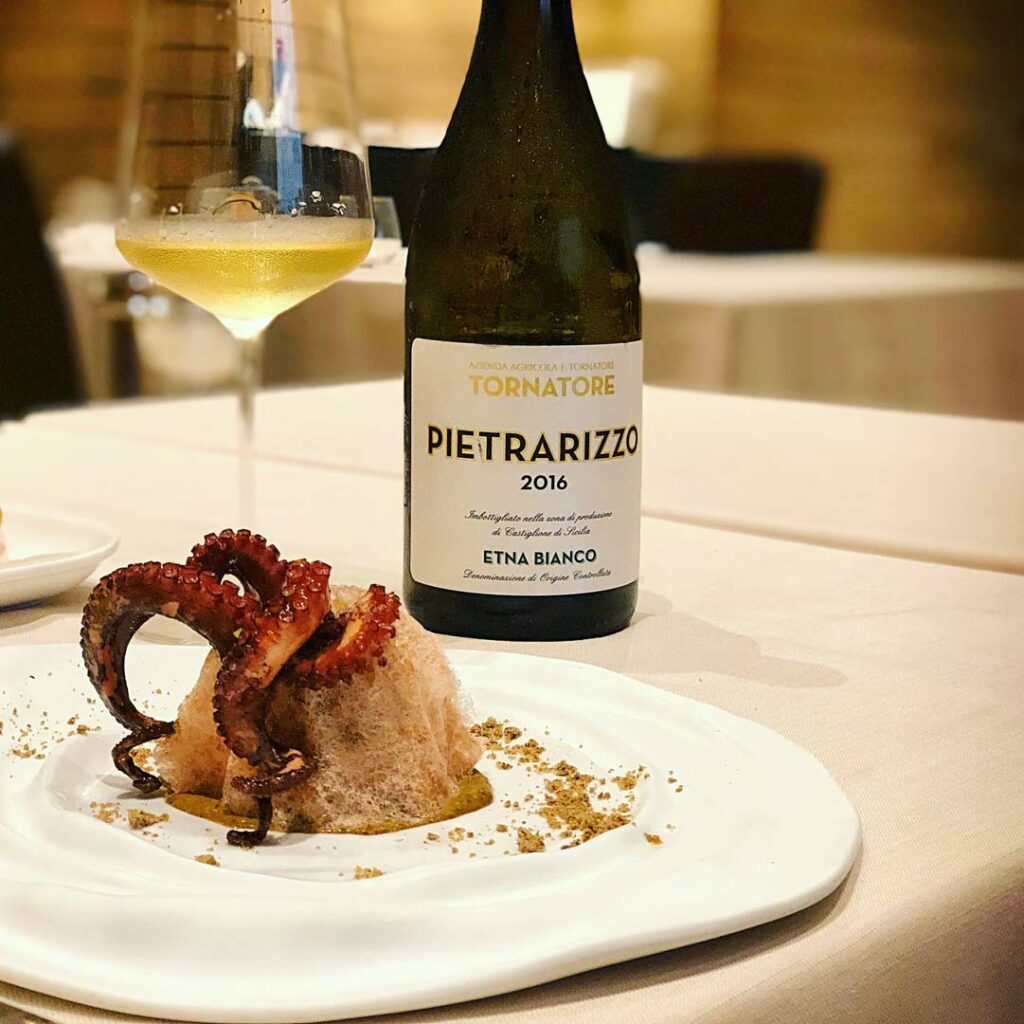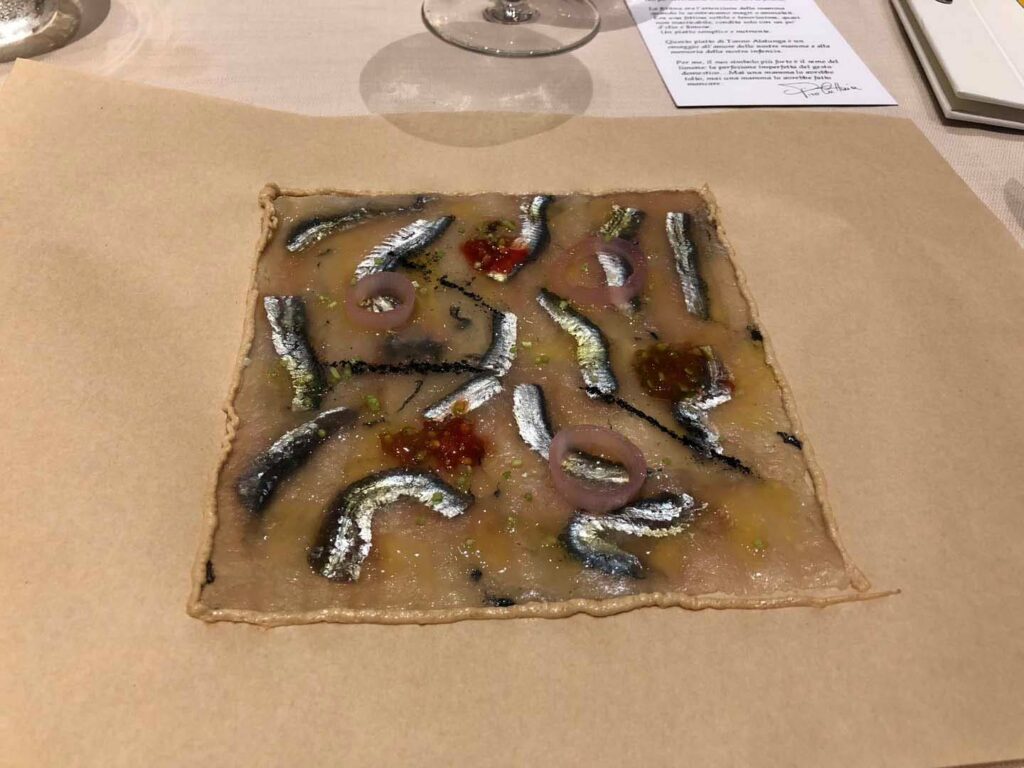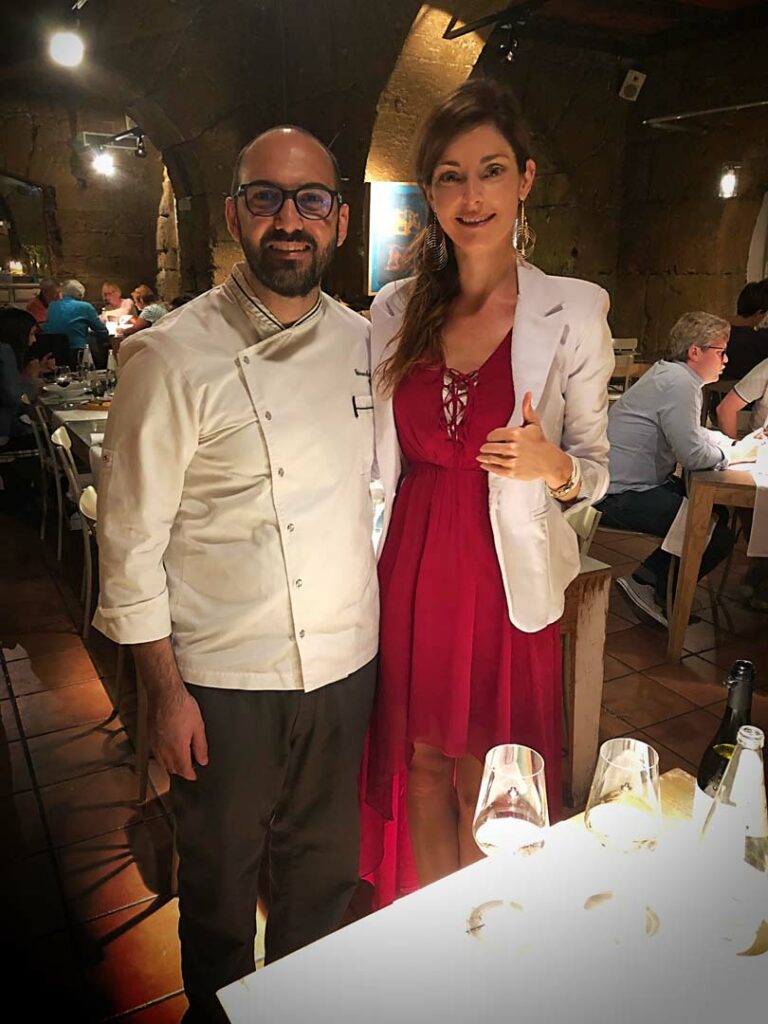 WINES
LINKS
BENANTI
Pino Cuttaia, 2 Michelin Stars Restaurant in Licata
I Pupi, 1 Michelin Star, Bagaria, Palermo
https://www.ipupiristorante.it
Gagini Ristorante, Palermo
http://www.gaginirestaurant.com
La Braciera, Pizzeria Gourmet, Palermo
http://labraciera.it/villa-lampedusa/
I Bastioni Innovazione e Cibo, Cefalu
La Bettola ristorante, Mazara del Vallo
http://www.ristorantelabettola.it
Ibla Resort, Ragusa
Bonajuto cioccolato di Modica,