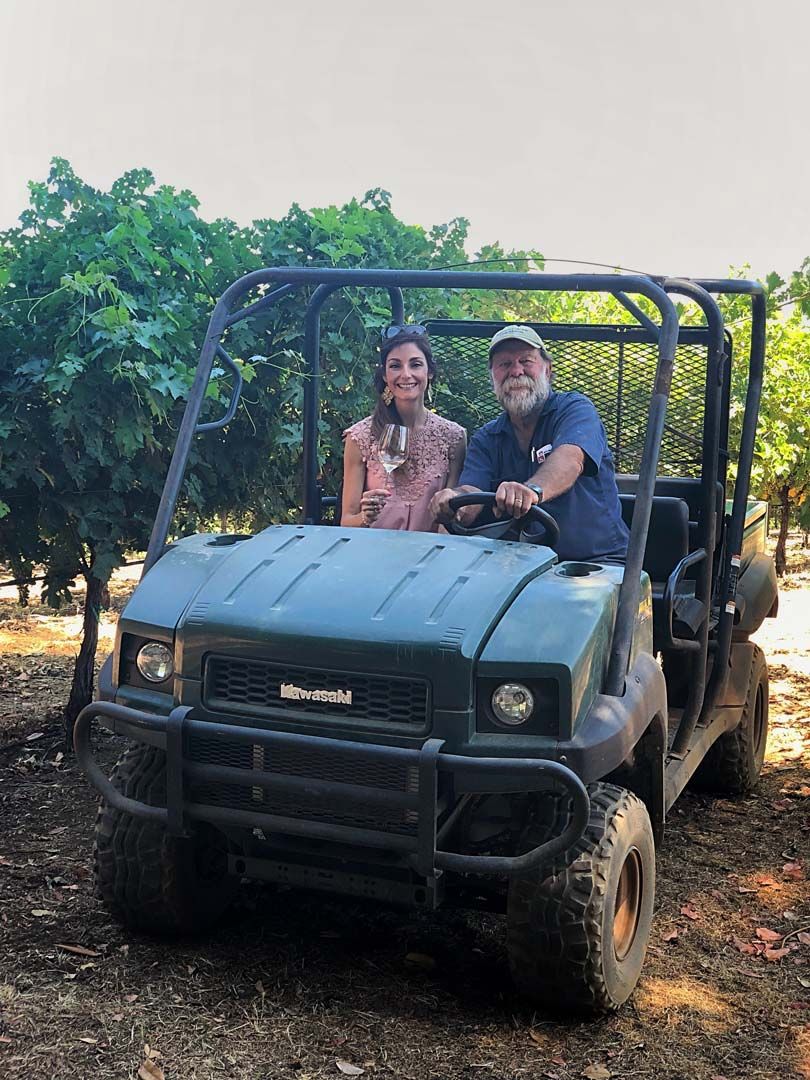 Bored by fancy wine tasting rooms? Pour yourself a glass of truth at Smith-Madrone's winery
Reaching Smith-Madrone winery after two days of fancy tastings in the Napa Valley floor has been like seeing an oasi in the middle of the desert. For an Italian wine girl, grew up in Grandpa's vineyards, running around him in the cellar, among the wine barrels, a winery is not a winery if it doesn't smell like must, and squeezed grapes, and damp wood, and fermentation… ah, the unique smell of all the above together! It is addictive.
You understand how hard it is for me defining "winery visit" seating in a pretentious tasting room that smells of incense and looks like a fashion showroom. You don't get the wine vibe, you don't get the dirt, the sweat, the real, human side of the wine making. They usually escort you along immaculate barrels' rooms, monumental, like museums. Beautiful, stunning, artistic cellars, but no trace of the real wine making. Do you produce wines for real? I wish to ask, but I bite my tongue and I shut up. The wine is probably produced miles away and if you ask, the nice marketing guy who is guiding you on a "tour" of the "winery" will answer mumbling something useless like "yes, the production is elsewhere, but here is the historic winery, the best part to visit". Historic? Design armchairs and empty barrels? Right. Great.
In this wine marketing circus, suddenly a relief for sore eyes: Smith-Madrone.
Charles Smith, with his white beard and lively look, is waiting for us in the cellar. Which is also the tasting room. Which is also the shop. Which is also the conference room and the operating room. And lunch room and CEO office. And it smells like wine! Finally! I breath deeply and I feel the pungent smell of fermented grapes running down till my guts. Goose bumps. I feel home.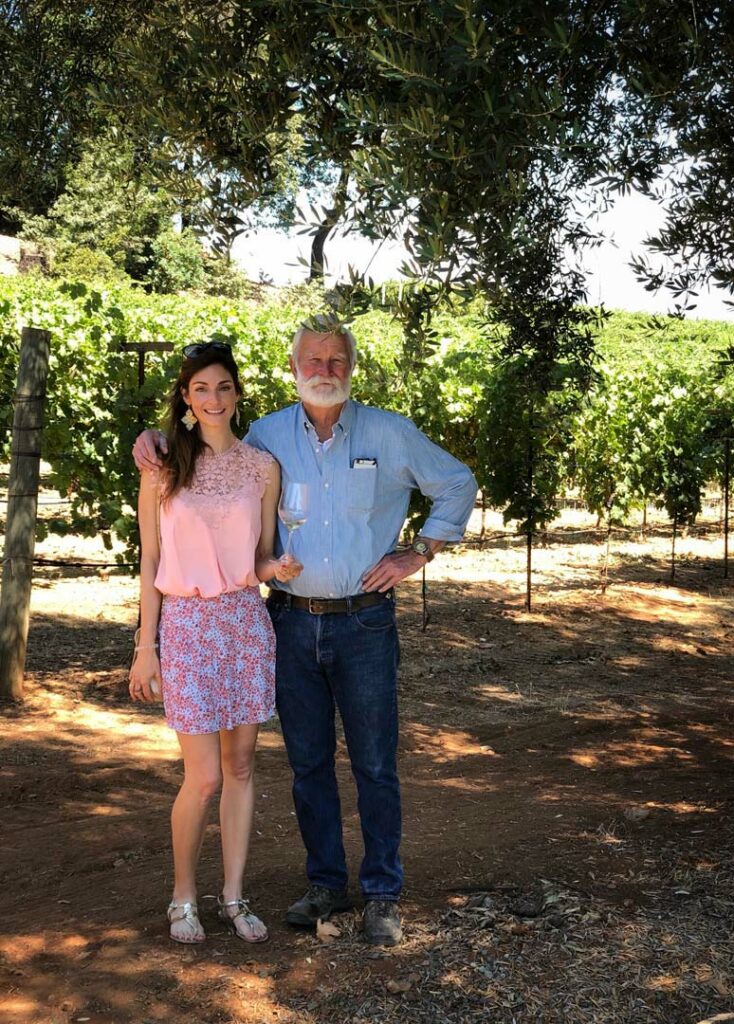 That day I had my best time in Napa Valley. I talked with Charles about how certain wine critics (guess who?) drove to the wrong direction many Napa valley producers: "They like alcoholic and powerful wines, they award dull, boring wines and the result is that we have lost finesse, elegance and balance in Napa… We make wines for our palates, not to please the critics or for good scores. You don't like them, don't buy them!" . Simple and straightforward as that. I love it.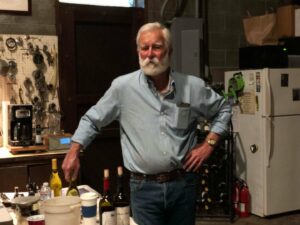 Stuart Smith, the other soul of Smith – Madrone, took us on a tour of the vineyards. He is really one of the most expert viticulturist and wine maker of Napa. "Our real job, as winemakers, – he says – is to get the vintage into the glass. To make the best wine you need the best grapes. The process of making wine is 8000 years old, no need of stupid huge investments on super fancy and technological machinery or tasting rooms or whatsoever. You need to keep it real and to grow the best fruit you can". I have already said that I love them?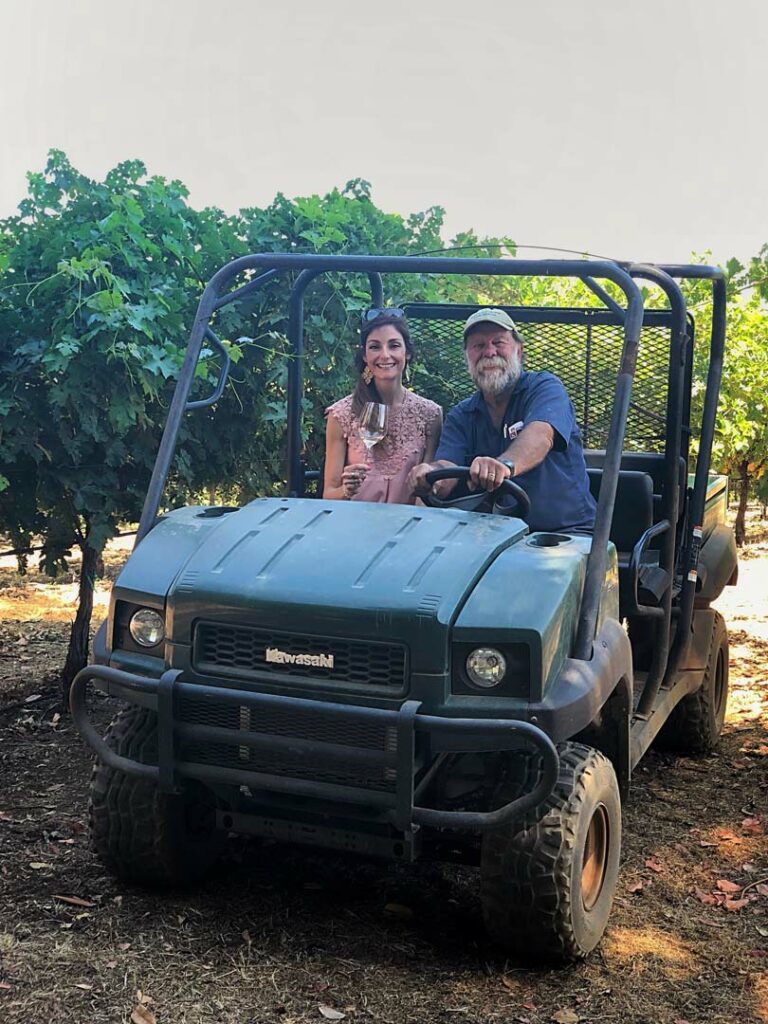 What they say, their approach to wine making is perfectly reflected by their wines: fine, elegant, neat, clean wines. True expression of that little slice of heaven which Spring Mountain is.
Dear readers, if you are not tired yet by all my poetic nonsense and opinions, I leave you now to the informative part of my article, where you can learn more about this gem in Napa Valley.
But, remember: nothing is like seeing with your eyes, smelling with your nose, tasting with your buds, experience in person. Especially with wine.
If you are looking for a real taste of Napa Valley terroir and a real winery tour, if you need a break from the fake, fancy, snobby tasting rooms, drive up to Spring Mountain, stop by Smith-Madrone and nourish your soul with their knowledge and the unicity of their terroir driven wines. And breath! And take some bottles home for when you need a glass of truth.
Smith-Madrone winery
Founded in 1971 by Stuart Smith, Smith-Madrone winery sits atop Spring Mountain in St. Helena in the Napa Valley wine region over 200 acres of land. Named after both the Smith family and the ever-abundant madrone trees, the Smith-Madrone winery pays homage to its surrounding volcanic, mineral-rich soils with its cascading vineyards down the steep slopes of the mountain. The vineyards sit at a higher elevation, ranging from 1300 to 2000 feet, which further diversifies the types of soil and the sun exposure that comprise the terroir of their wines.
History of the winery
Today, brothers Charles and Stuart Smith own and operate the Smith-Madrone winery—what began as somewhat of a hobby for them—and their family-run winery has consistently been known for its down-to-earth, intimate feel. They have committed to their vineyards and wines in such a way that enables them to produce distinctive wines that set them apart from wineries in the area, with a specific focus on upholding their traditional methods of winemaking.
Stuart, the enologist and a vineyard manager, and Charles, the winemaker and a vineyard manager, are both the heartbeat of the winery—along with Stuart's son, Sam, who joined the winery in more recent years and works as an assistant winemaker. Stuart, Charles, and Sam all aim to ensure that their wines are as much a reflection of the terroir and the grapes as they are a reflection of their own nuances as the winemakers. The family's distinctive attention to detail is demonstrated most through the complexities of their artisanal wines.
With their minimalist approach to wine production, the Smith brothers preserve the integrity of the grapes they grow—all while meticulously making certain their wines are made with solely grapes that their estate has produced. Smith-Madrone winery is also one of the prominent developers of dry farming, which means they do not add supplemental irrigation to the vines—the grapes rely completely on natural rainfall for their water source. This is in an effort to allow the prominent flavors of each grape to stand on their own and develop their flavors naturally.
Types of wines produced
According to Stuart and Charles, the best grapes come from the mountains, and the higher the quality of the grapes used in wines, the less you have to do as a winemaker. Upon slightly changing the direction their vines were facing from east/west to northeast/southwest, they believe to have also enhanced the quality of the wines they produce.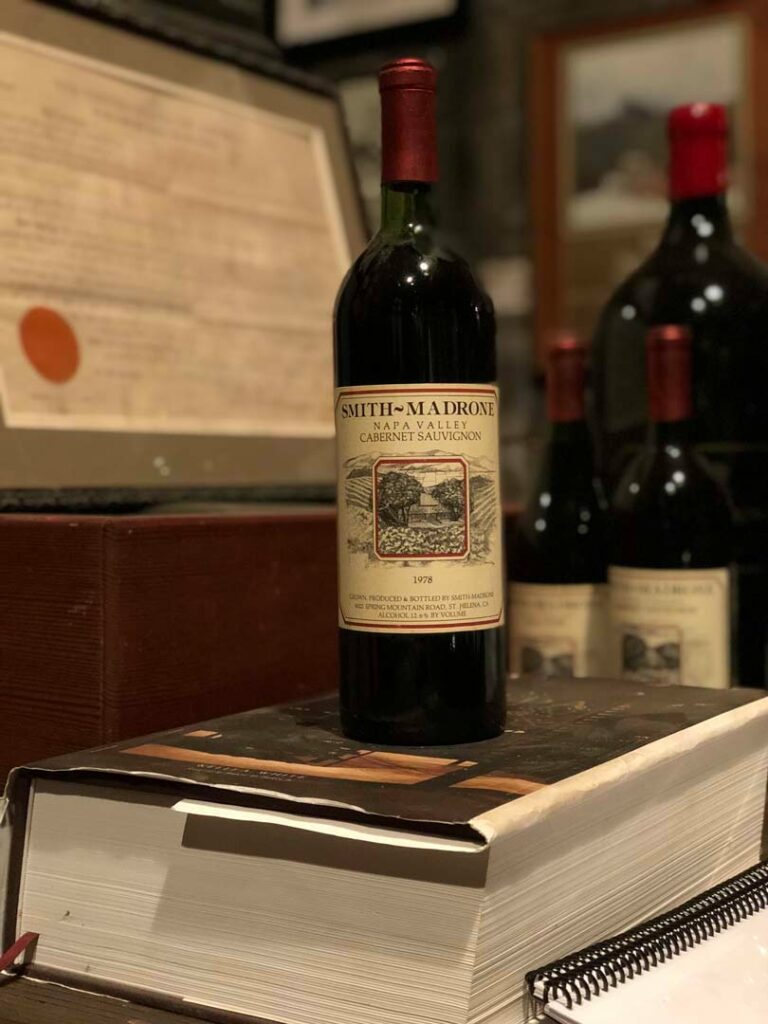 That being said, Smith-Madrone winery produces Cabernet Sauvignon, Chardonnay, and Riesling wines that each possess distinctive qualities that differ from typical wines produced with these same varietals. Also, they produce their own Cook's Flat Reserve—named after the first owner of the property, George Cook—with a limited production of each vintage. This Reserve is a blend of 58 percent Cabernet Sauvignon, 25 percent Cabernet Franc and 17 percent Merlot.
Their Cabernet Sauvignon is made up of 85 percent Cabernet Sauvignon, 8 percent Cabernet Franc, and 7 percent Merlot. The unique red Aiken soil of this winery further develops the acidity and the tannins; thus, producing a Cabernet Sauvignon set apart from the other wineries in Napa Valley.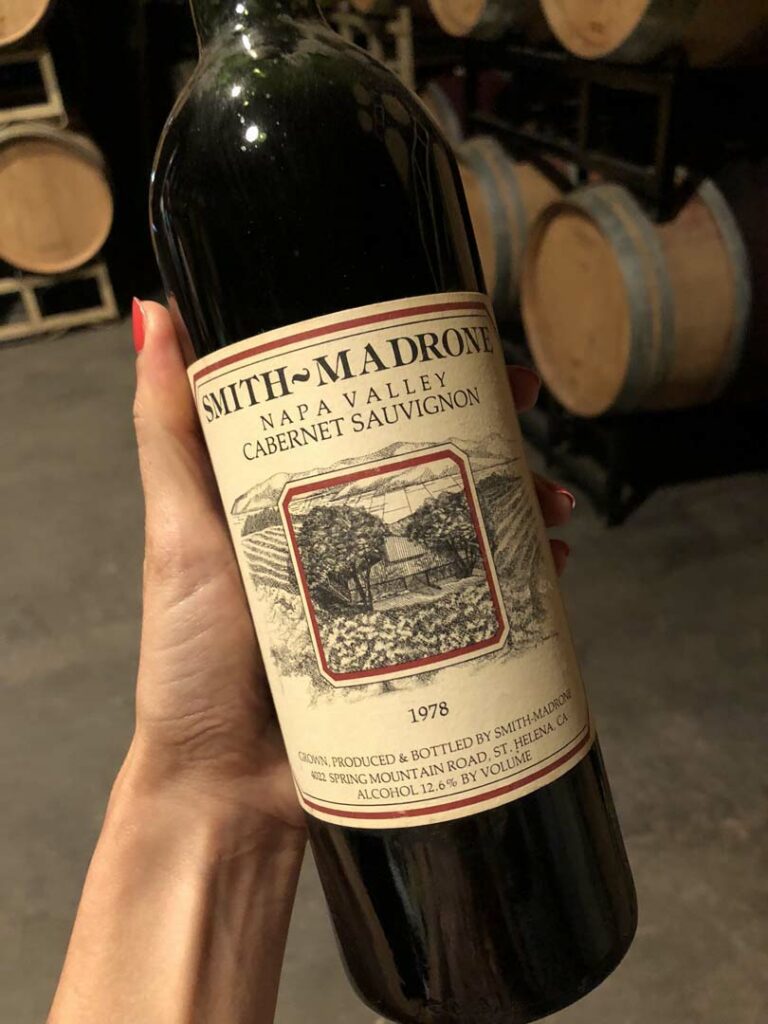 The Smith-Madrone Chardonnay is comprised of 100 percent Chardonnay grapes, and, according to the Smith family, is an "especially delicious expression of the complexities of mountain fruit."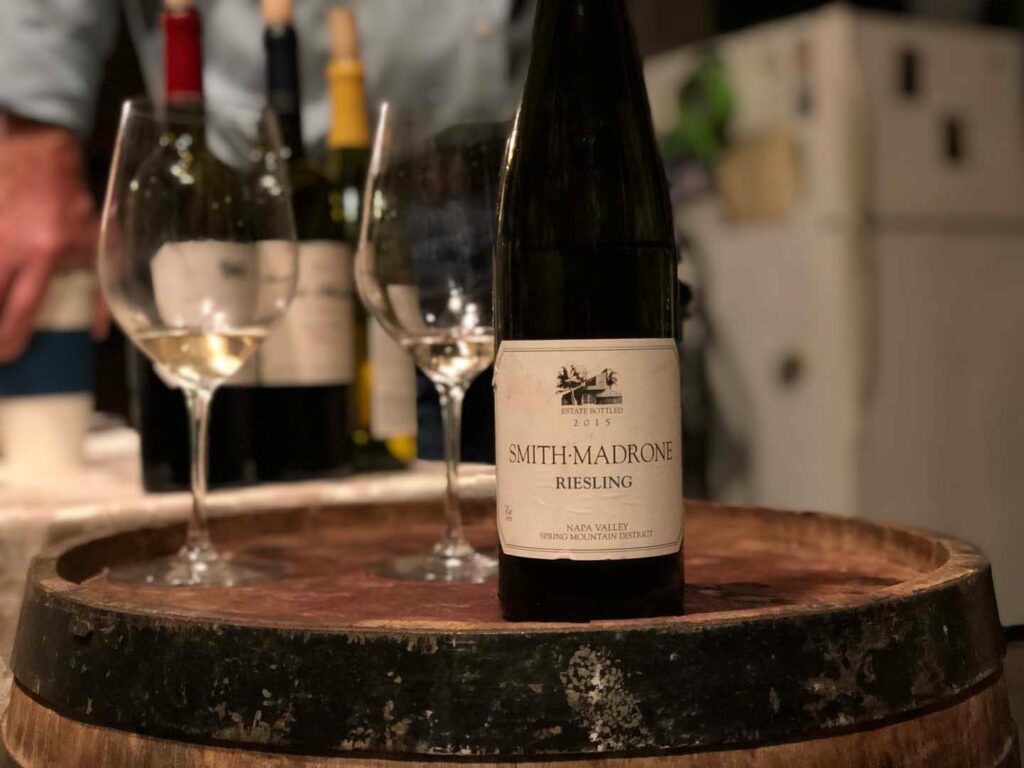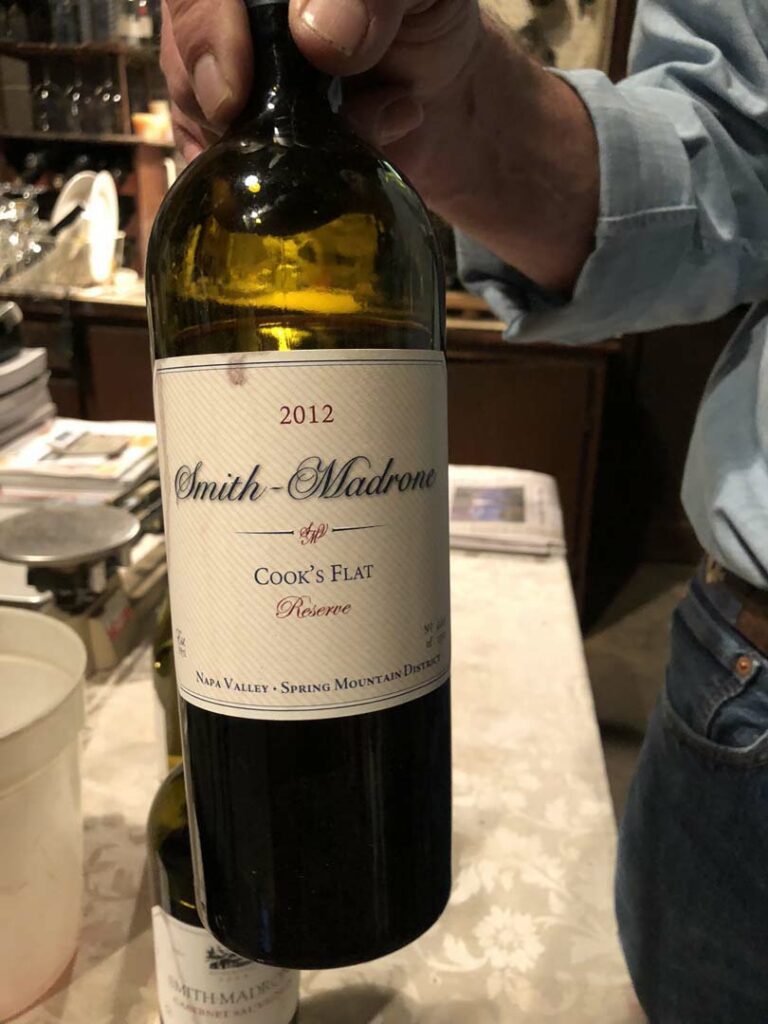 The Smith-Madrone winery is one of the few wineries in Napa to produce a Riesling of any kind, and they are fortunate enough to have had their first Riesling win a competition in Paris in the '70s. Their Riesling is made up of 100 percent Riesling grapes, and it has become the wine for which the Smith-Madrone winery is most known.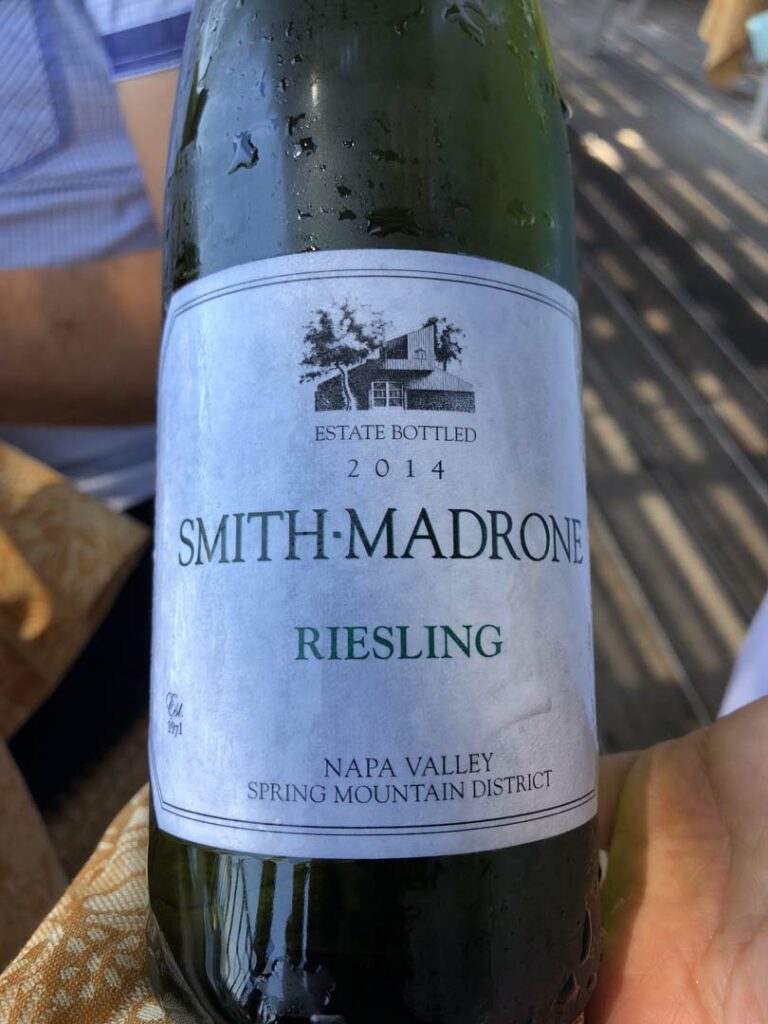 Here a short video clip with highlights of my visit. On my Instagram Tv channel:
https://www.instagram.com/tv/BoAn8iOlS98/?utm_source=ig_share_sheet&igshid=13fwye18jrhfq