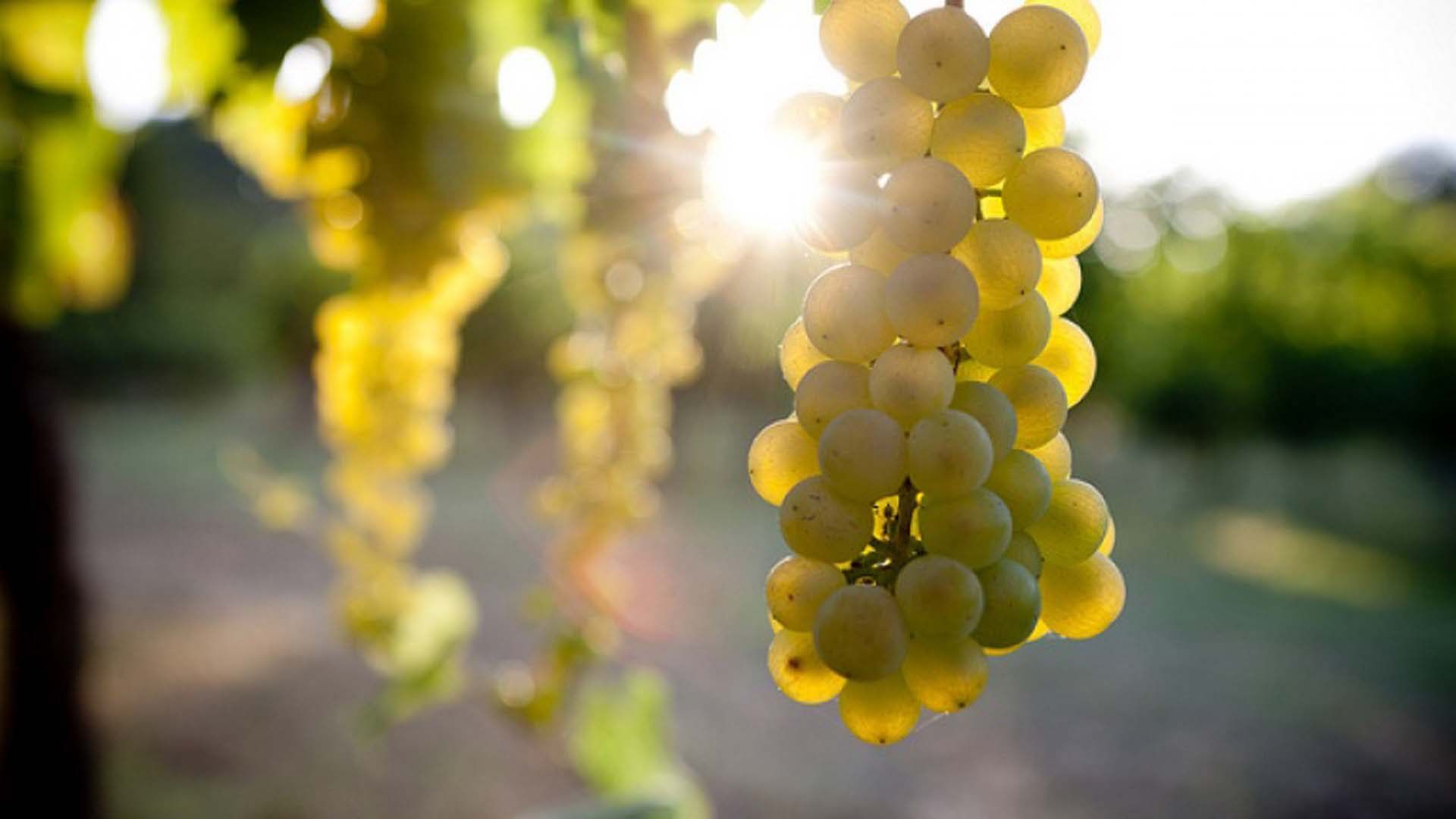 Further (wine) reasons why you should pack and move to Lazio
They have Rome, the Eternal City, one of the seven universal world beauties, and this should be enough to consider Lazio people lucky enough. But there is more. They have one of the most flavory, tasty and exciting local cuisine in Italy: Lazio is the home of amatriciana, carbonara, coda alla vaccinara, cacio e pepe, should I go on?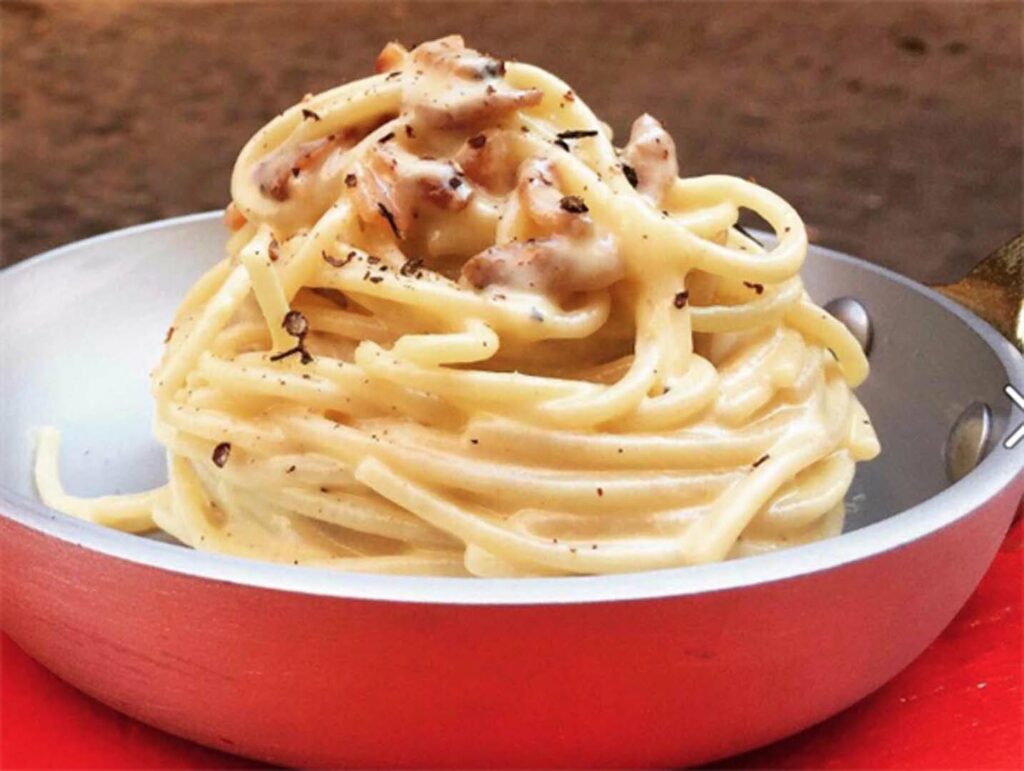 And if you think this is already enough to pack and move there, there is more. They also produce great wines, even if not renewed like the ones from Tuscany, Umbria or Marche (the neighbour central regions of Italy). Perfumed Cesanese reds, age worthy Frascati or the up and coming mono varietal Malvasia puntinata del Lazio are just some examples.
They have been producing wines since longtime… they know their stuff.
History and terroir
Lazio's roots can be traced as far back as the Roman empire—one of the cradles of ancient civilization. The Etruscans were the first inhabitants of the region, and they were responsible for some of the earliest influences on wine production in Italy and in the world. Then, when the Roman Empire came to its height of power, the focus shifted from wine to trade and territorial expansion. However, it was not until the late 1800s that wine production was truly revived in Lazio.
Lazio may not hold the same reputation for its production of wines as do other regions in Italy, as we said above. But where Lazio lacks in reputation, it makes up in longevity and uniqueness of wines  for its regional favorite, Frascati. The Lazio region most notably produces a substantial amount of white wines, although it is likely that the Cesanese grape used in red wines was also around during ancient Roman times.
For almost 2000 years, Frascati has been produced in the countryside around Rome. The hills in Lazio, comprised of two dormant volcano craters, yield a volcanic soil that is both fertile and porous. This contributes to the overall acidity and minerality in the wine, and it produces a suitable balance that is most especially vital in white grapes—another reason white wines are so ubiquitous in Lazio.
The two dominant white grapes that make up most wines produced in Lazio are Trebbiano del Lazio and Malvasia del Lazio (known as Puntinata). These grapes are considered to be one of the classic blends used in the wines of this region, and they can be found in both red and white wines. Other grapes that comprise the red wines of the region include Cesanese, Sangiovese, and Montepulciano.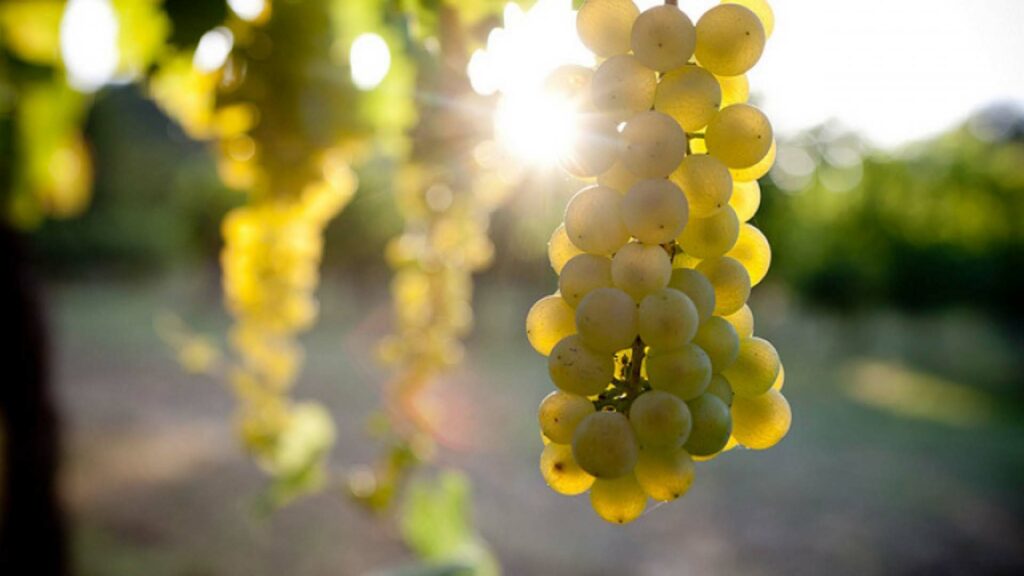 MALVASIA PUNTINATA
Malvasia del Lazio, also known as Puntinata, expresses at its best on hilltops sides and well drained soils. It has been often blended with other varieties to increase its acidity but with the new waive of quality focused producers in the region replanting this variety and releasing mono varietal wines. Malvasia del Lazio is mainly grown in the Castelli Romani area and more precisely in Frascati but it's part of many DOC of the region, including the light and refreshing Capena Bianco Secco produced in the vineyards around our houses.
The wine tends to have a golden deep colour with aromatic notes and a light musky pungency. Stone fruits, a light acidity and a soft medium body. The dry versions goes perfectly with the typical Roman primi piatti; pasta alla Gricia, pasta cacio e pepe or carbonara, but it also pairs extremely well with carciofi alla romana and, if chilled, it can be a lovely aperitif on its own. It also produces extremely delicate sweet wines.
CESANESE
Cesanese exists in 2 different sub-varieties: Di Affile and Del Piglio, the latter being the highest quality. Cesanese Del Piglio is cultivated in the whole province of Frosinone and more specifically in the towns of Piglio and Serrone and partially in the communes of  Acuto, Paliano and Anagni on hilly soils of volcanic origins. This variety started to get a new lease in life  in the last decade, attracting more attentions and obtaining the first DOCG of the region in 2008.
The resulting wine has intense ruby colour. Its nose is full of forest herbs aromas, red forest fruits. A good combination of freshness, depth and structure, soft round tannins: it is meant to be drunk relatively young but can live a few years and develop complexity with tobacco and leather notes.
It's the pride of Lazio and it matches brilliantly the local cuisine: lamb and bucatini all'amatriciana.
The most orgasmic gastronomic experience I had in Lazio recently was at Osteria del Borgo in Cesano di Roma (pictures below).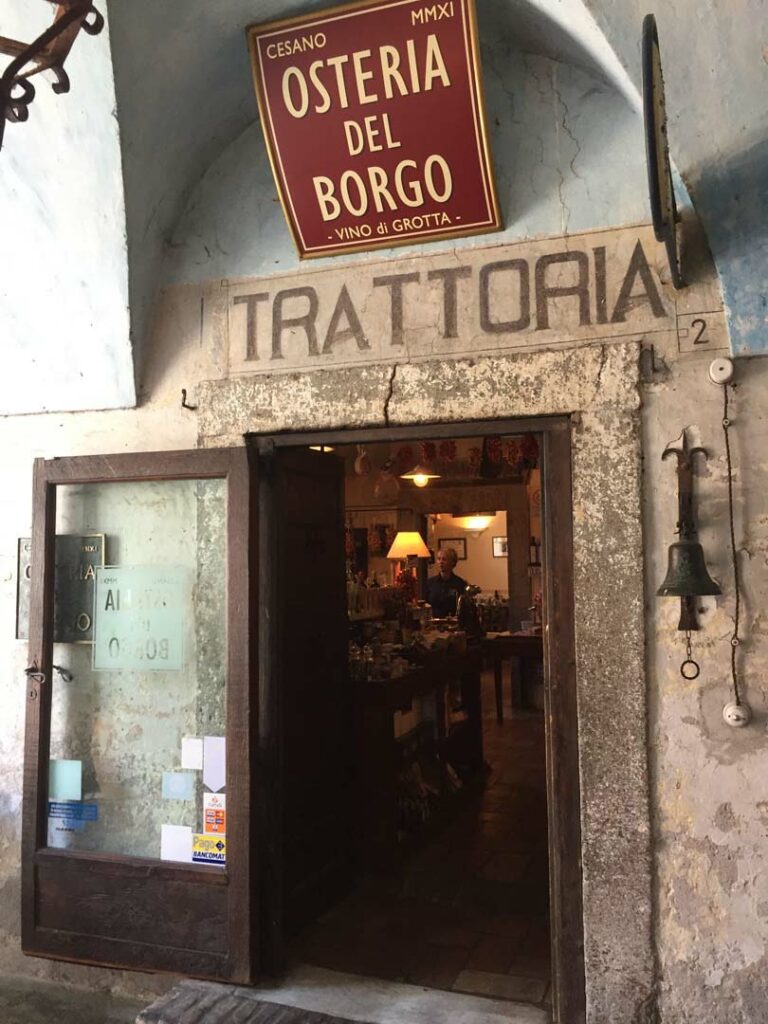 Ladies and gentlemen, the best amatriciana ever: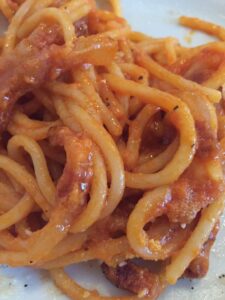 Ladies and gentleman, la Coratella!!! Google it!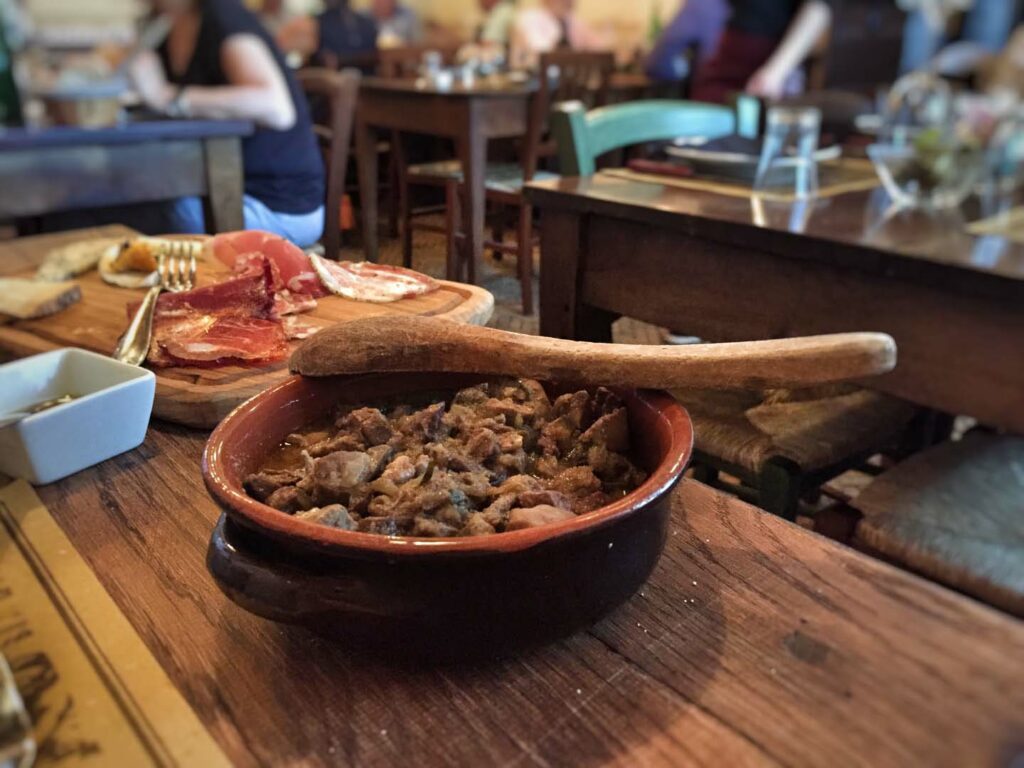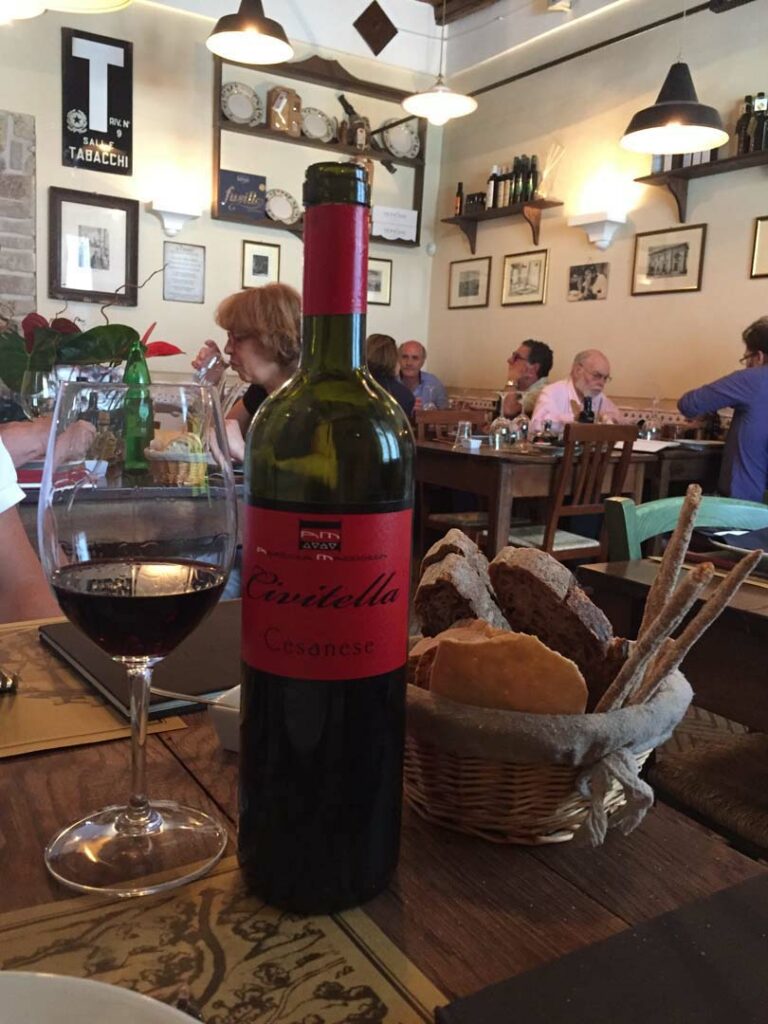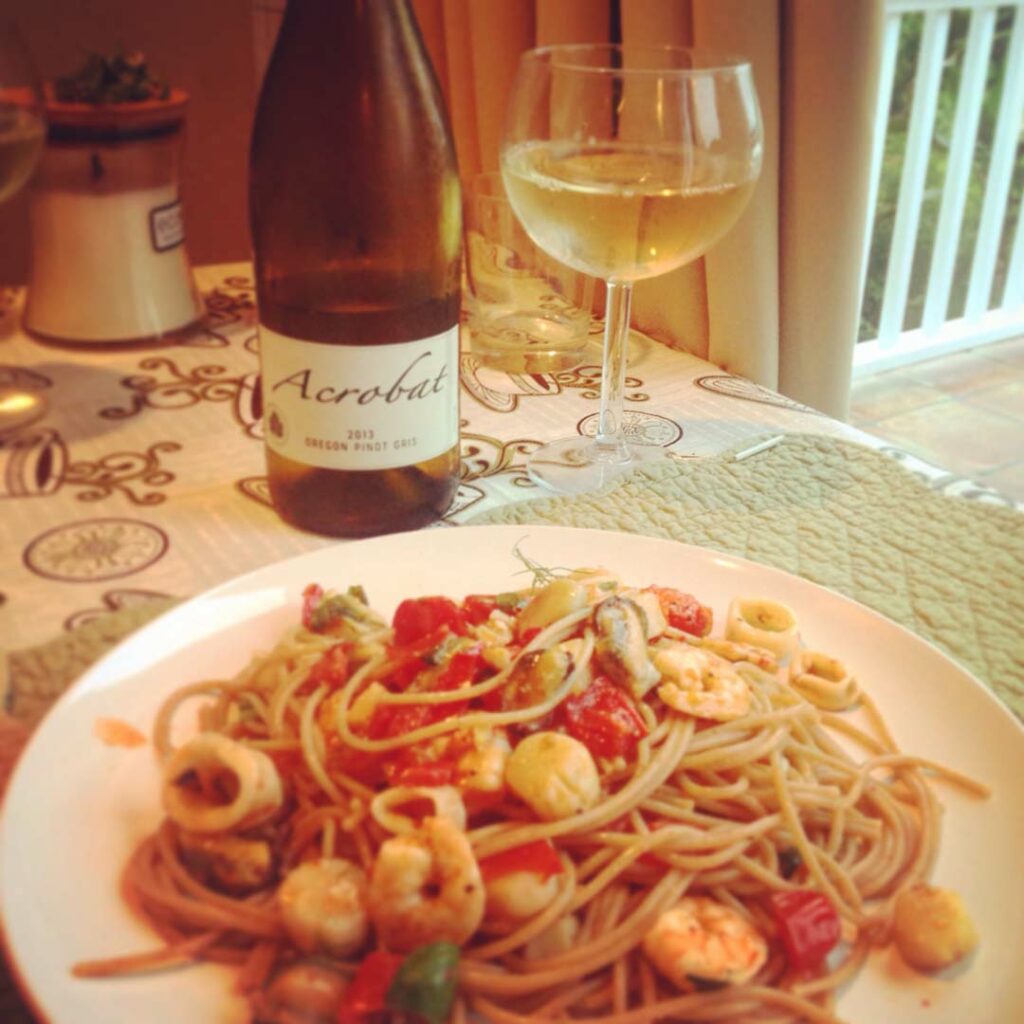 ROMA DOC:
Roma DOC wine was only established as a DOC wine in 2011, and it can be made as a red, white, or rosé. The main grapes permitted are those native to Lazio including the following:
For whites: Bellone, Bombino Bianco, Malvasia, and Trebbiano
For reds: Cesanese, Montepulciano, and Sangiovese
Amazing example of Roma DOC: Poggio Le Volpi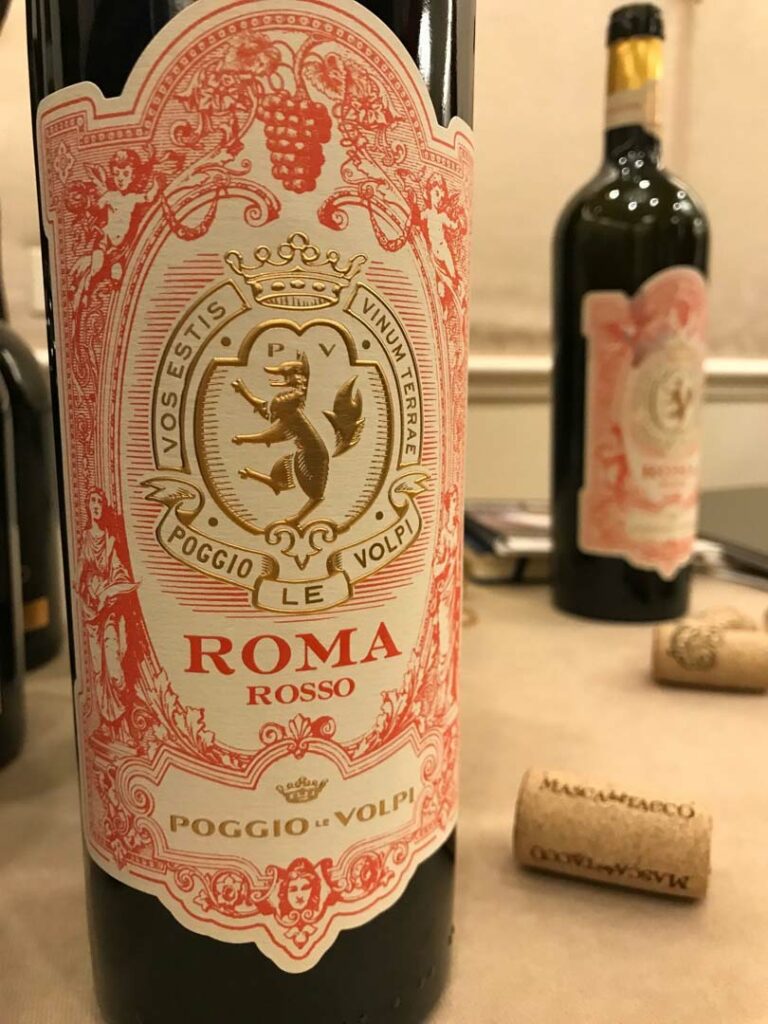 Indigenous wines of Lazio
in a glance
1. Frascati:

• Known as the "golden wine" for its color and importance, Frascati DOC is made from a minimum of 70 percent Malvasia (Bianca di Candia or del Lazio) and a maximum of 30 percent Bellone, Bombino Bianco, Greco and/or Trebbiano. Frascati is DOCG if superiore, since 2011 a dessert wine, Cannellino di Frascati Docg has been introduced, with the same varieties allowed in the blend, but it must have a minimum of 35 grams of residual sugar and up to 12.5 % ALC.

Eremo Tuscolano, Frascati superiore Docg, has recently been awarded with Tre Bicchieri Gambero Rosso.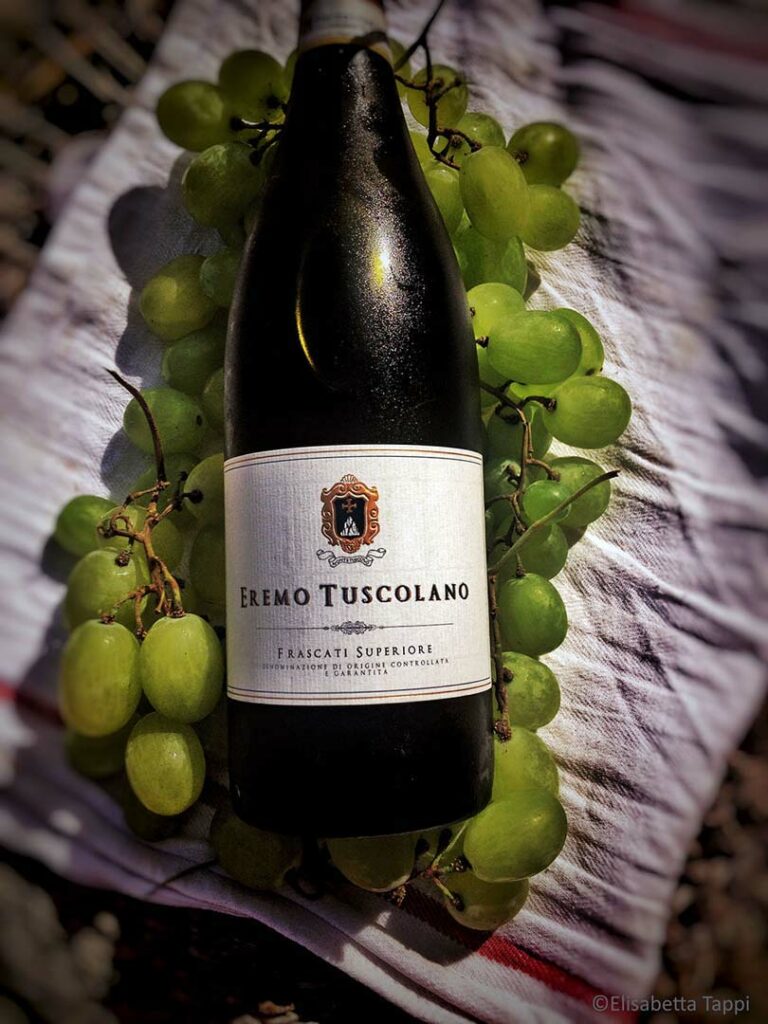 2. Roma DOC:

• Red Roma DOC wines are made from a minimum of 50 percent of Montepulciano and a minimum of 35 percent Cabernet Sauvignon, Cesanese, Sangiovese, and/or Syrah.

• Both White and Rosé Roma DOC wines are made from a minimum of 50 percent Malvasia and a minimum of 35 percent Bellone, Bombino Bianco, and/or Trebbiano

3. Est! Est!! Est!!! di Montefiascone:

• Est! Est!! Est!!! wines are made predominantly with Trebbiano grapes and are approximately comprised of 50 to 60 percent Trebbiano Toscano and 25 to 40 percent Trebbiano Giallo, with an additional 10 to 20 percent Malvasia.

4. Cesanese del Piglio:

• Cesanese del Piglio became a DOCG in 2008, and it is composed almost entirely—minimum of 90 percent—of Cesanese grapes.

These wines and indigenous varietals provide the perfect complement to many of the region's favorite foods, including cacio e pepe, carbonara, amatriciana, supplì, and carciofi alla Giudea, to name a few. They add acidity and a certain subtlety that cut through the oiliness and greasiness of most of these regional dishes.