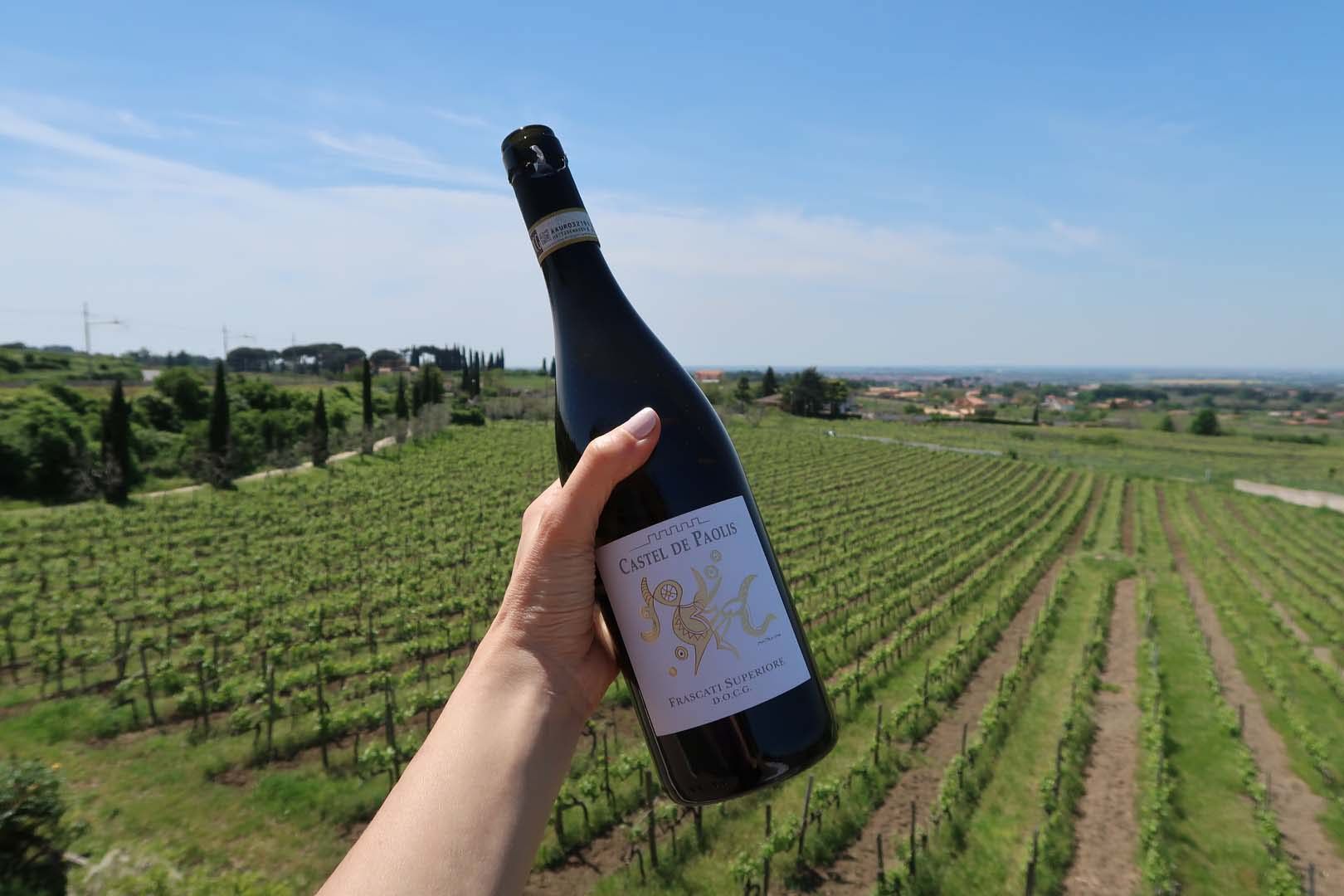 Castel de Paolis winery, where Frascati becomes aristocratic
The Santarelli family strongly believe in their territory, they invested money and time to find out which are the best grapes to plant on the volcanic, iper- mineral soil of Frascati area and now they produce outstanding local wines. I was lucky enough to run into Castel de Paolis winery to film a wine documentary – (the setting is amazing! You can watch the backstage and the location on my Youtube channel, link to the video at the end of the article, too) – and I was fascinated by the efforts they put into preserving indigenous varietis as Malvasia del Lazio and into elevate Frascati wines to the highest level of quality and elegance… here's their history.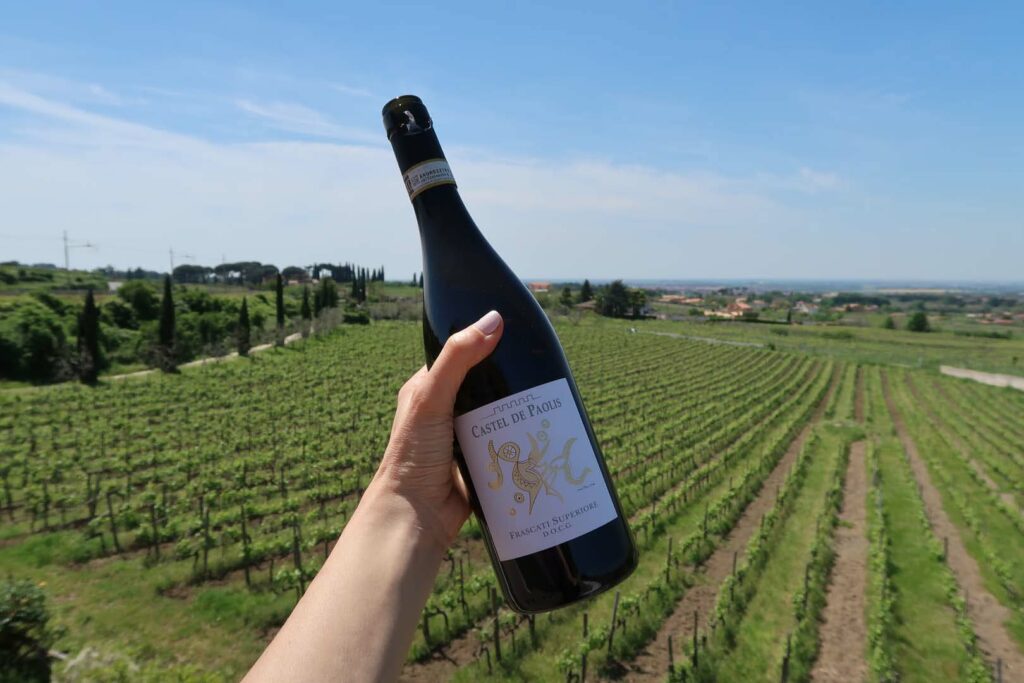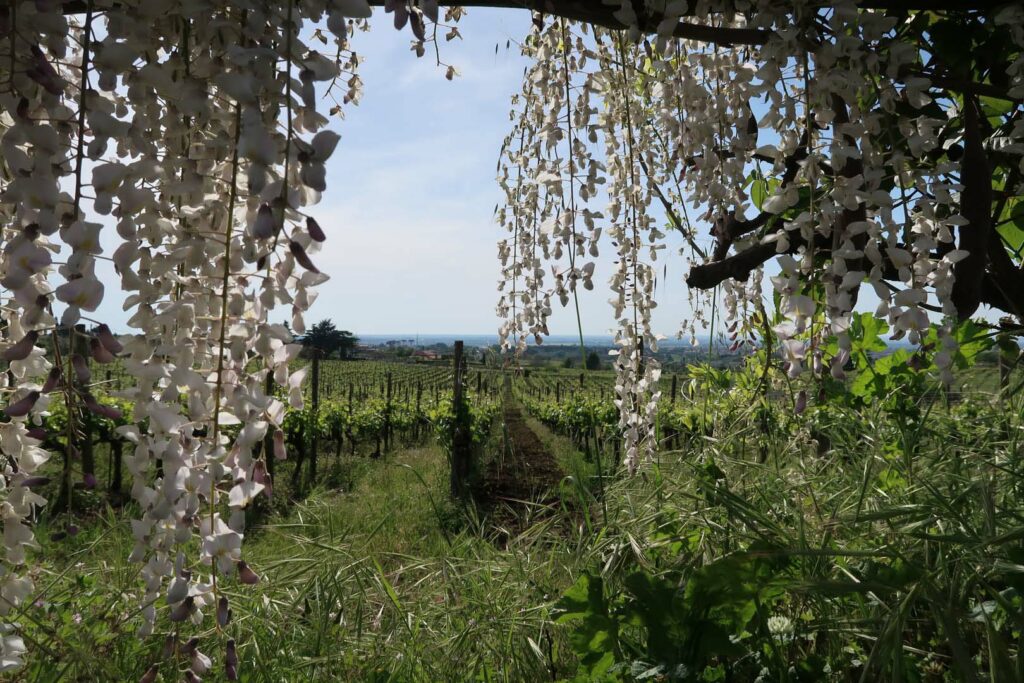 Castel de Paolis winery
Tucked away in Lazio, one of Italy's most treasured regions, lies one of the region's foremost producers of wine. Castel de Paolis winery, located in Grottaferrata and only a few kilometers from Frascati, has been producing high quality wines since 1974 when the first five acres of the Santarelli family estate were acquired by Giulio Santarelli. The family has a longstanding adoration of wine production and grape growing, with several of their most distinguished wines achieving the DOC and DOCG status.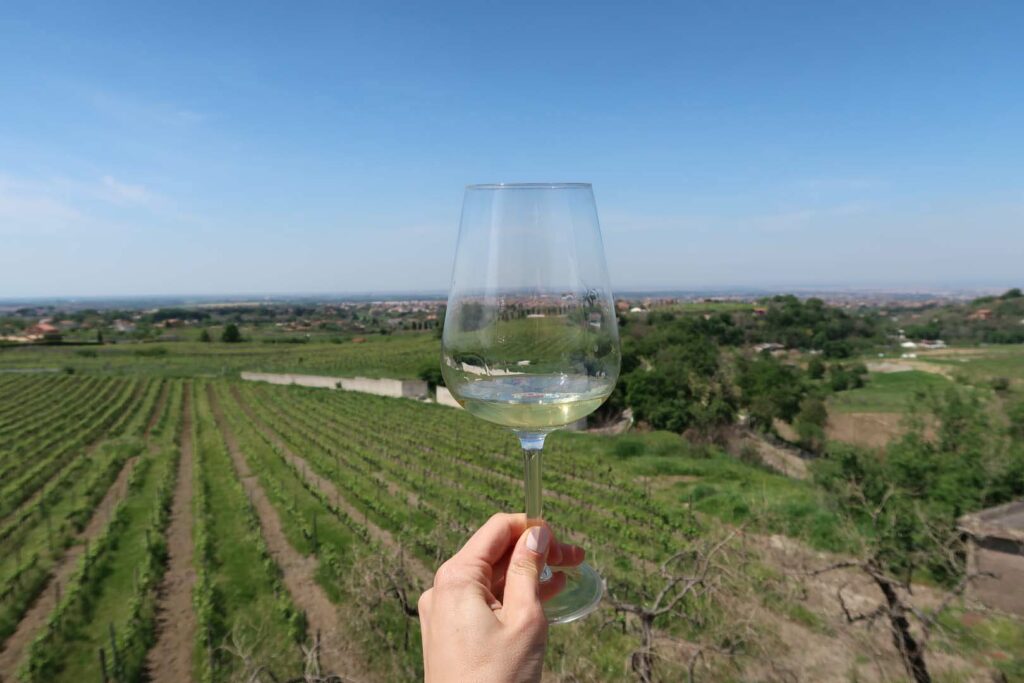 Currently, their land has increased to an outstanding 35 acres since obtaining pieces of land surrounding their existing vineyards. Mr. Santarelli, who at the time was the Italian Agriculture Undersecretary of State, struck a friendship with Professor Attilio Scienza, Professor at the School of Agriculture at the University of Milan, and they undertook an eight year process of further researching and developing the ancient indigenous grapes. Their partnership strengthened the winery's production and quality of wines—which has continued to grow steadily over the years—and it reinforced the rising wine reputation of the region.
The story of a wine
Santarelli's and Scienza's goal was to advance the Castel de Paolis winery's grape production in such a way that took them from their canopy vineyards to row vineyards. This was in order to produce a greater density of grapes per acre—thus maximizing the incredible space they already had. They recognized that they could have a higher quality of wine with this higher density of vines, and this is only enhanced by the minerality and volcanic qualities of the soil.
From 1985 to 1993, the winery experimented with planting several different grape varieties, with such notable ones including Malvasia del Lazio, Grechetto, Bellone, Cesanese, Montepulciano, and Sangiovese, to name a few. Their innovation in the wine production methods of the region is best displayed through their introduction of the green harvest for their red grapes, in which they cut away 25 percent of the bunches two months before the harvest. This allows for the remaining bunches to reach a richer flavor and develop an intensified aroma—yet another distinguishing characteristic of the winery.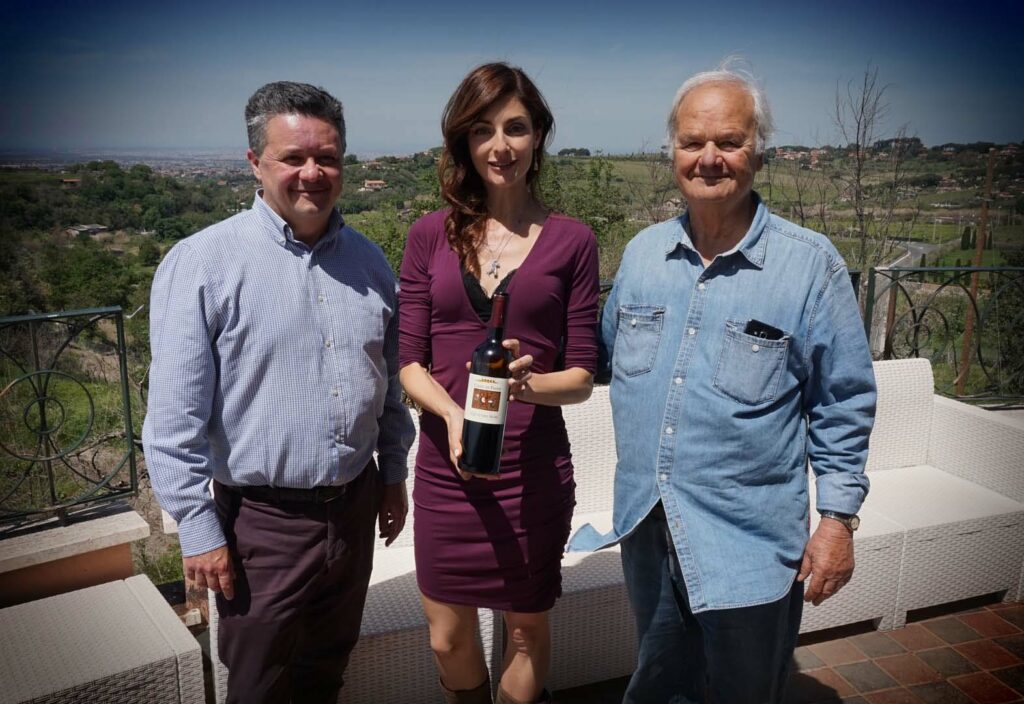 Modernization has played a huge role, as well, in the continued successes of the Castel de Paolis winery, and in 1992, they built a new winery. It was at this time that they discovered ancient Roman water cisterns under the floor of part of the cellar, and today they make use of these cisterns to age their barrique barrels—a place you can see at the end of your tour of the winery. Today, Castel de Paolis winery is not only one of the most preeminent high-quality wine producers in all of central Italy, but it is also a rising name in the wine tourism industry.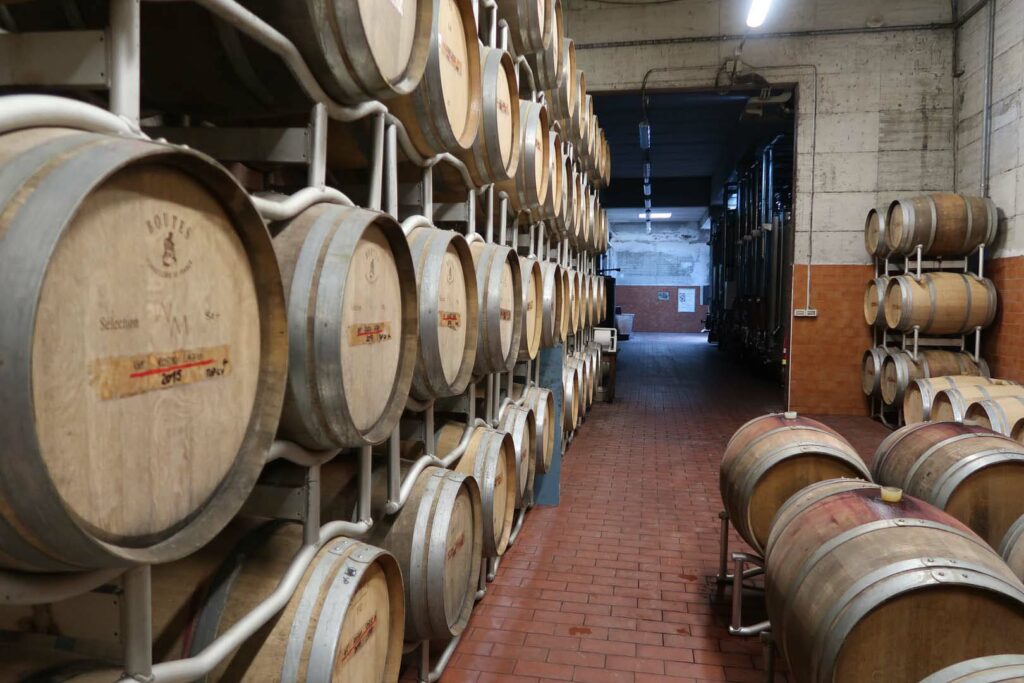 Most renowned wines produced
Today, the Castel de Paolis winery is still producing seven of its original exquisite wines that it began with in 1993. The two red wines, Campovecchio Rosso and I Quattro Mori, are both dry wines with 13% and 14.5% ALC, respectively. Campovecchio Rosso is made from 50 percent Shiraz, 30 percent Cesanese, 20 percent Sangiovese, and a small percentage of Montepulciano grapes. I Quattro Mori is made from 40 percent Shiraz, 30 percent Cabernet Sauvignon, 20 percent Merlot, and 10 percent Petit Verdot.
The three white wines, Frascati DOC Campovecchio, Frascati Superiore DOCG, and Donna
Adriana, are all dry white wines with 13.5%, 13.5%, and 14.5% ALC, respectively. Frascati DOC Campovecchio is made from 70 percent Malvasia di Candia and 30 percent Trebbiano Toscano and Bombino. Frascati Superiore DOCG is made from 70 percent Malvasia del Lazio and 30 percent Trebbiano Giallo, Bombino, and Bellone. Donna Adriana is made from 80 percent Viognier and 20 percent Malvasia del Lazio.
Castel de Paolis also produces delectable sweet wines, including Muffa Nobile and Rosathea, and Muffa Nobile is a sweet white wine while Rosathea is a sweet red wine. Muffa Nobile wine is made from 70 percent Sémillon, 20 percent Sauvignon Blanc, and 10 percent Moscato Giallo. Rosathea wine is produced with 100 percent Moscato Rosa grapes.
Frascati, the golden wine of Italy
One of the most esteemed wines of the Castel de Paolis winery is its Frascati DOC wine, known in Italy as the "golden wine" for both its color and importance. It has been produced in Lazio for almost 2000 years, and is known for its minerality and acidity, which is heavily influenced by the volcanic soil the grapes grow in. Frascati DOC is made from a minimum of 70 percent Malvasia (Bianca di Candia or del Lazio) and a maximum of 30 percent Bellone, Bombino Bianco, Greco and/or Trebbiano (Giallo or Toscano).
You cannot forget about Frascati Superiore DOCG that only obtained the honorable DOCG status in recent years… This wine is considered Superiore for a reason! The DOCG wines are under higher scrutiny for tighter yield restrictions, and the minimum potential alcohol level is also slightly higher. This subsequently results in a richer, more well-rounded wine—I definitely recommend trying the Castel de Paolis Frascati Superiore DOCG!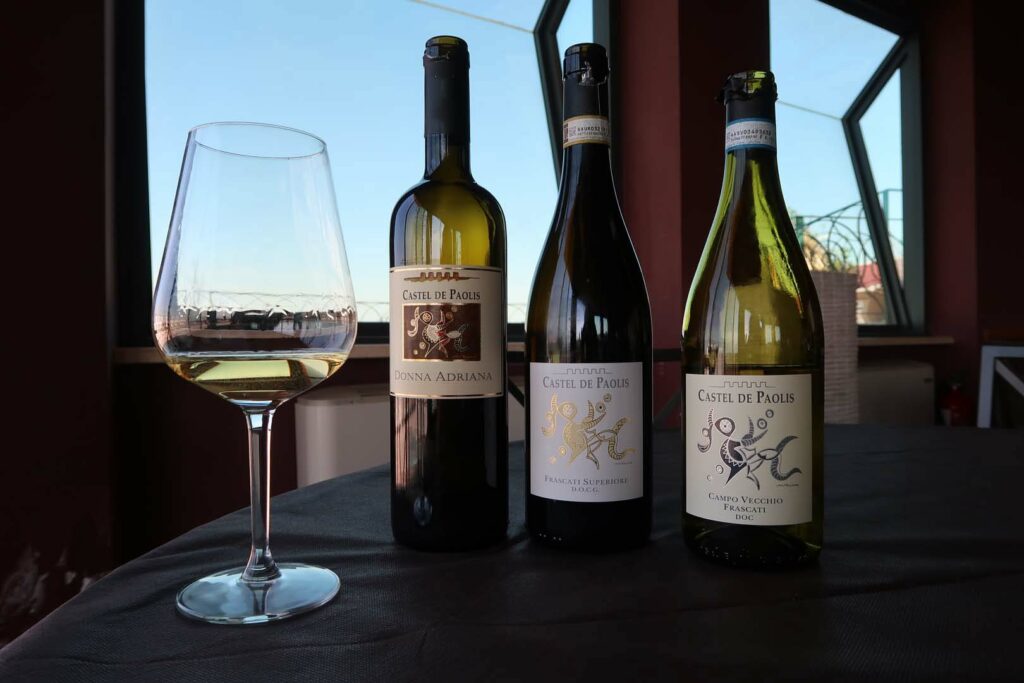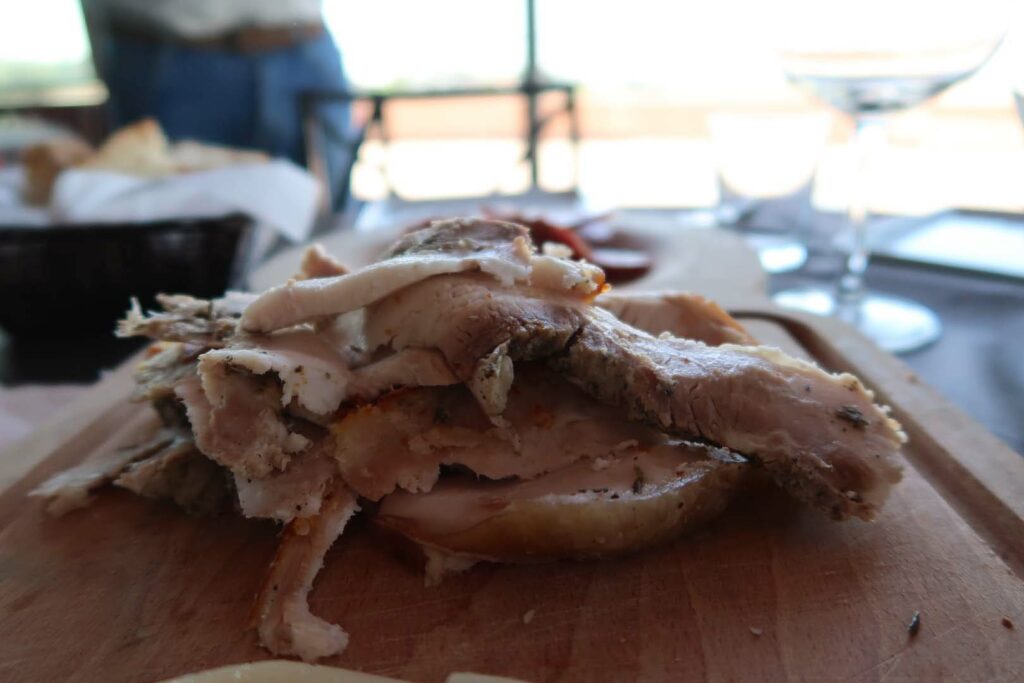 CASTEL DE PAOLIS WEBSITE http://www.casteldepaolis.com/home/