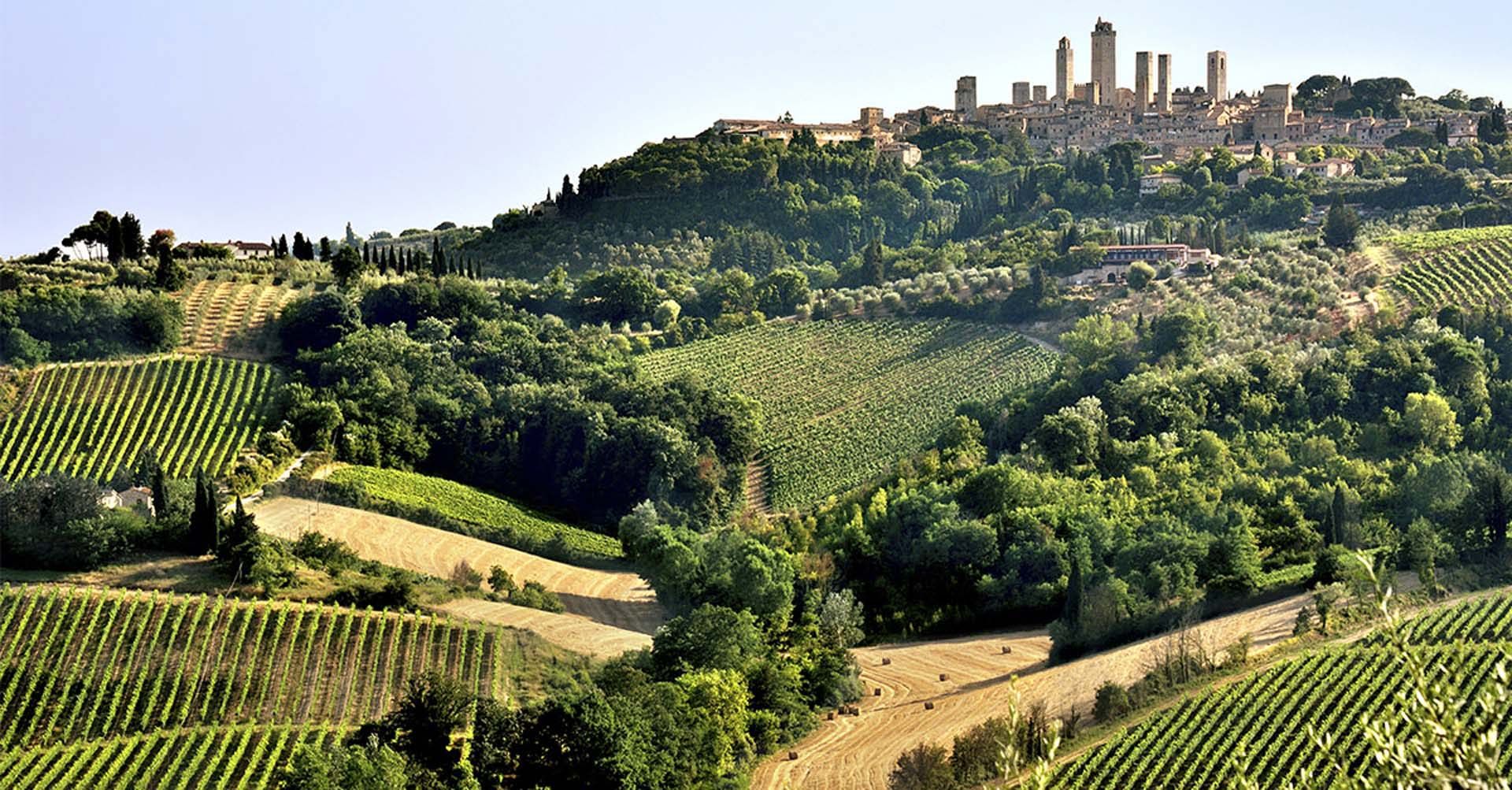 The Cal-Ital Sangiovese
The California wine industry owes a great deal of its present-day success to the hopeful Italian immigrants of the 19th century who brought with them their beloved native vines, true pieces of their homeland.  Sangiovese grapes, quite possibly Italy's most ubiquitous grape, became a staple of the "Cal-Ital" wine movement during the 1980s. This movement, however short-lived, created an increased desire for Californians to produce wines with Italian grapes in an American style. It was not entirely successful in its efforts, but these American wines produced with Sangiovese grapes have only continued to improve and develop their own characteristic flavors with time. 
The history of a grape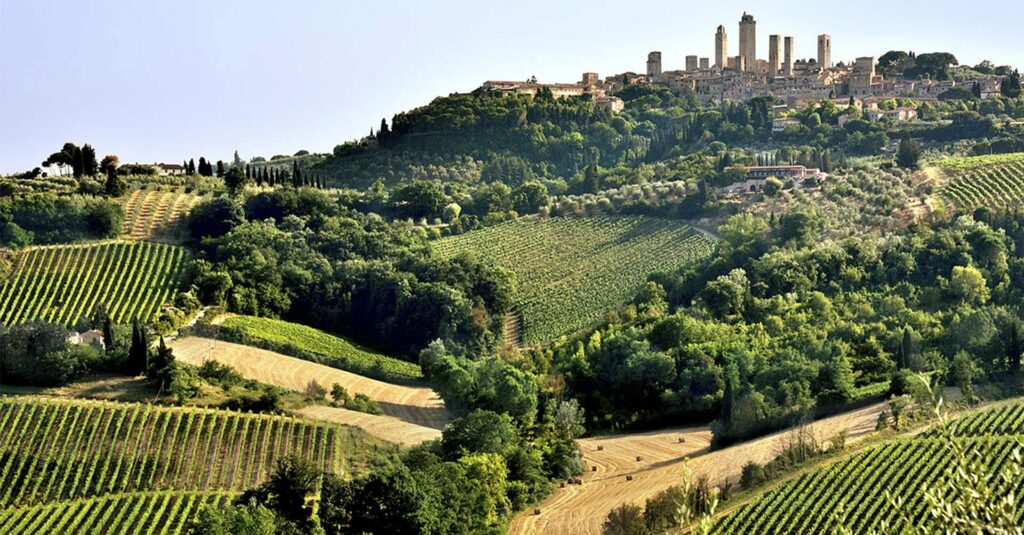 When immigrants first came to the US, they brought Sangiovese grapes to the San Francisco area and the surrounding Napa Valley area. The vines were planted in optimal sun exposure on higher slopes of hills, conditions which did not allow the grapes to reflect the true spirit of the Italian style Sangiovese. Producers then spent years trying to figure out the right combination of sunlight and soil that would prove to be successful in California. After years of trial and error, the wine growers found the ideal climate, south-facing slopes, and limestone-rich soil ratio to grow grapes capable of producing wines characteristically Californian in nature, with an immense reverence for their Italian counterparts.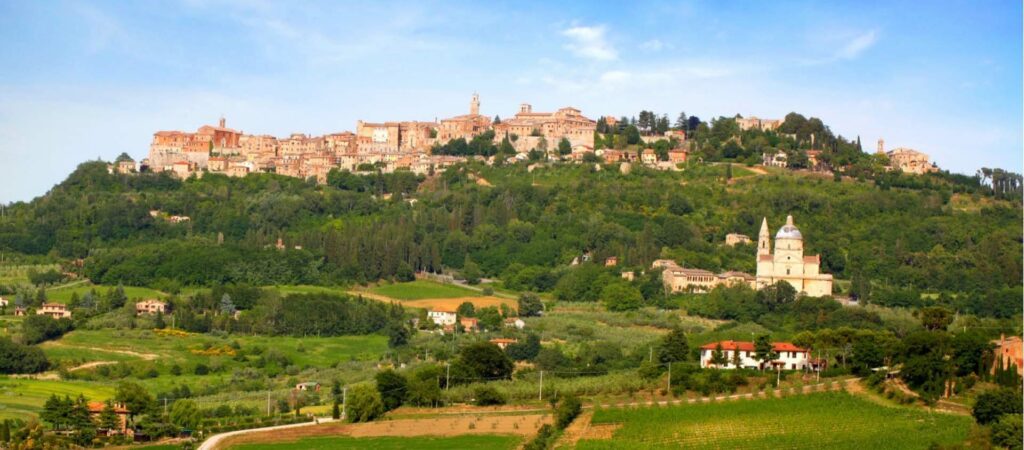 When winemakers in California realized how difficult this Italian grape is to cultivate, they took a step back from their production and reworked their vineyards to be more conducive to growing Sangiovese grapes successfully. They noticed how the flavors of the wines were nothing out of the ordinary—and that they beared little resemblance to the wines produced with pure Sangiovese grapes in Italy—so they opted to allow their unique natural flavor shine through. Producers in the US started to understand the deep bond between grapes and terroirs and they surrounded just to make the best versions of wines they could make instead of trying to emulate and imitate something that just could not be obtained.
This is the right approach you must have also while tasting these American Sangioveses: do not look for the Italian typicality, expect something different, reset your expectation about the old world Sangiovese you usually drink.
Characteristics of the grape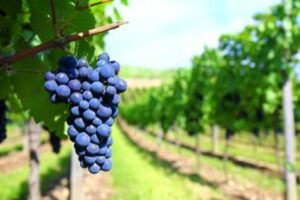 It is certainly important to note that Sangiovese grapes require a long growing season, as they need more time to ripen, so the climate and the location ion the vineyards are crucial. Generally speaking, Sangiovese grapes tend to give wines high in acidity and quite tannic in nature. This varies slightly when considering grapes grown in the US, most especially California, where the climate and the soil do not consent the same distinct Italian Sangiovese's aromatic profile. Because the grapes have this amazing ability to soak up the characteristics of the soil, climate, and region in which they are grown, what we call in a word "terroir".
The wines produced in the American style with the Sangiovese grapes seem to differ greatly in overall flavor. They tend to be more fruit-forward with some lighter floral notes as well; whereas Sangiovese wines produced in Italy, generally speaking, tend to have more earthy and complex flavor profiles. Furthermore, it is a rarity to find wines produced in the US that are 100% composed of Sangiovese grapes, like, for instance, Brunello di Montalcino wines of Italy. In actuality, wines in the US can have up to 25 percent of other grape blends in them without being required to list it on the label: that's the reason why it is always useful to check the technical sheets of the wine to understand the composition of the blend.
In order to properly be able to decipher the true distinctions of Sangiovese grapes grown in Italy versus the US, you must look to those wines produced with only Sangiovese grapes.
Seghesio Family Vineyards and Antica Napa Valley
made the history of Californian Sangiovese
Seghesio Family Vineyards, the first Sangiovese vine in California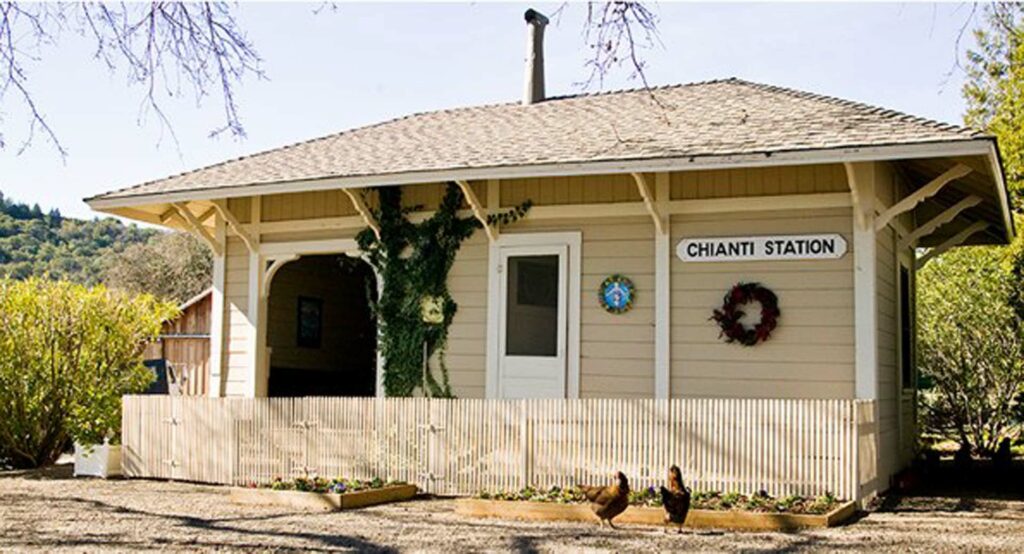 Though known for their zinfandel, they're the largest Sangiovese producer in Sonoma and own the oldest extant Sangiovese vineyard in the country. Edoardo Seghesio—part of a wave of immigrants from northern Italy—bought his first 10 acres in 1895 in . If people were coming to Sonoma to buy wine, he reasoned, they'd see his vineyard first. The strategy worked, and in 1910 Seghesio expanded, purchasing the southern edge of Italian Swiss Colony's vast property, where they'd planted a Chianti field blend: Canaiolo, Trebbiano, Malvasia, and, presumably, the first Sangiovese in the state. Only one acre of that legacy vineyard remains. But that acre is a precious archive of historic clones, brought from the Old Country by viticulturist and brandy maker A.R. Morrow. Seghesio makes two sangiovese bottlings from these propagated vines. The basic orange label ($30) comes from three clones planted on porous flatland, bench-land, and hillside. The more intense, oak-aged Venom ($54) comes from the fourth clone—with the smallest berries and loosest clusters—planted on the formidable Rattlesnake Hill.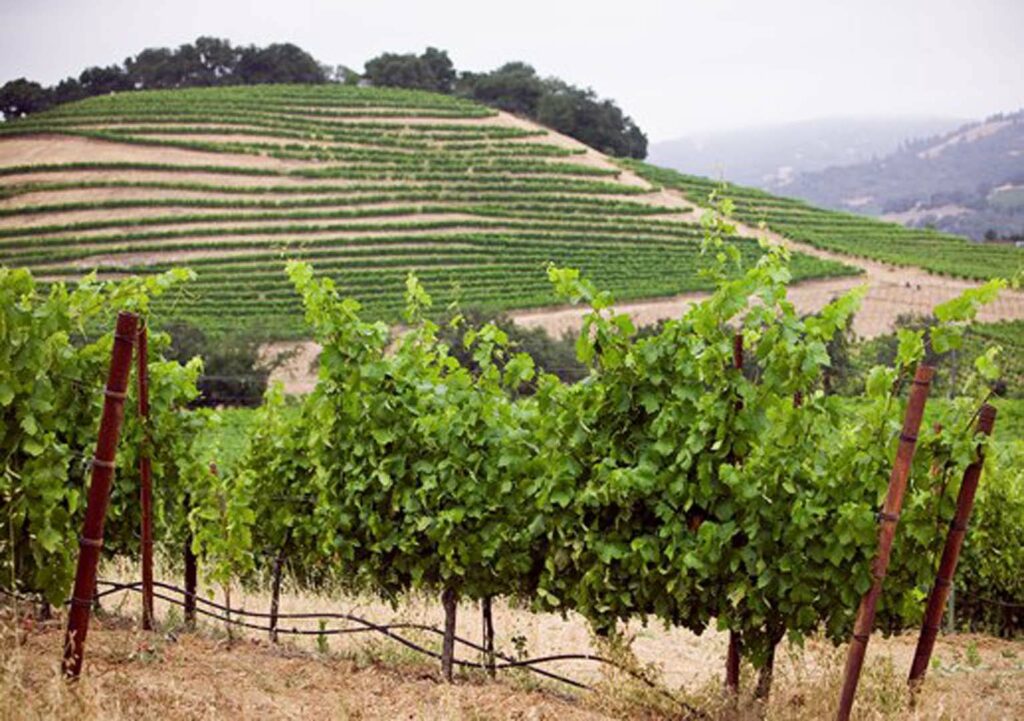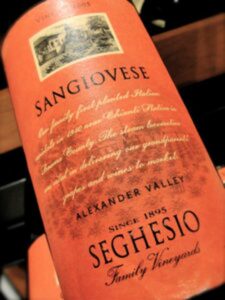 Antica Napa Valley and the 90's Sangiovese boom
If there's one name associated with the sangiovese boom, it's Antinori. By most accounts, their Atlas Peak Vineyard (now called Antica Napa Valley) launched the 1990s juggernaut. Piero Antinori led the search for a vineyard site. Like a true Tuscan, he sought a high-elevation mountainside location (the exception to the rule in Napa at that time), settling on a remote, undeveloped property on Atlas Peak. They planted Cabernet, Chardonnay, and in 1987, enologist Renzo Cotarella and viticulturist Andrea Paoletti brought in Sangiovese buds from Il Poggione winery in Montalcino and T-budded two acres of vineyard as an experiment.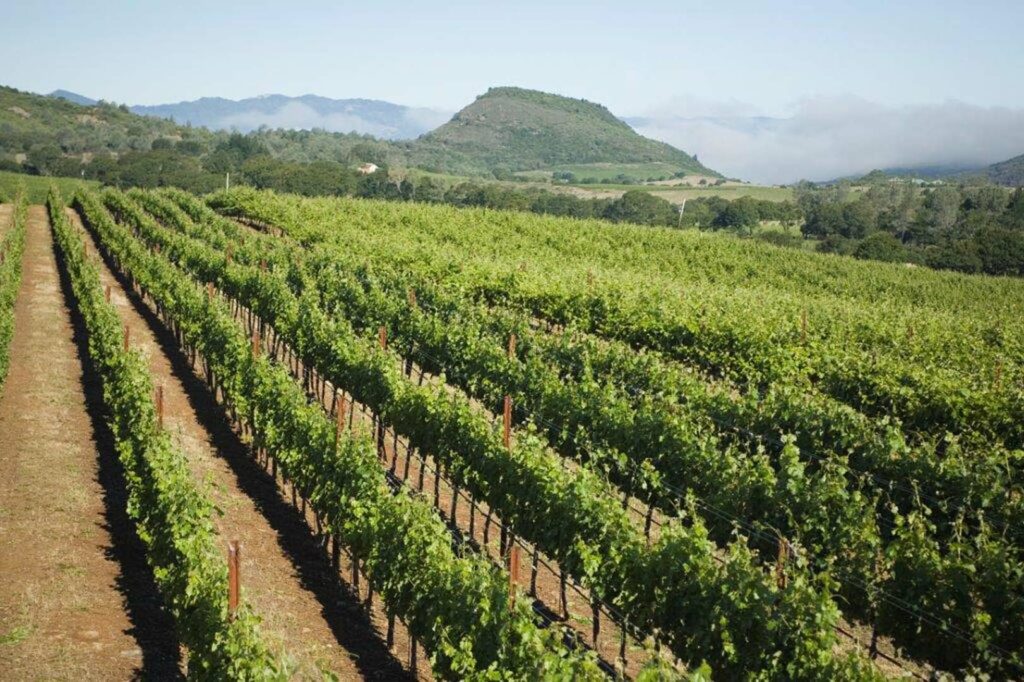 Then the majority investors partners of the winery decided to try a market move and to launch Sangiovese as a new trend for the wine market.
In 1990 the Allied-Domecq group invested in 120 acres of Sangiovese vineyards for the Antinori estate and started producing massive amount of cheap Sangiovese wines. Piero Antinori didn't really have any input. They started to make more and more Sangiovese, and it just got to be the worst push. At the end they had the price down to $9 a bottle. Three years later they leased and then sold the property back entirely to the Antinori family. When the lease expired, Antinori rechristened the winery Antica and shifted its emphasis to Cabernet. That now comprises half the plantings, while Sangiovese has been reduced to five percent. But its two remaining plots are the winery's best, at the top of gravelly, well-drained slopes.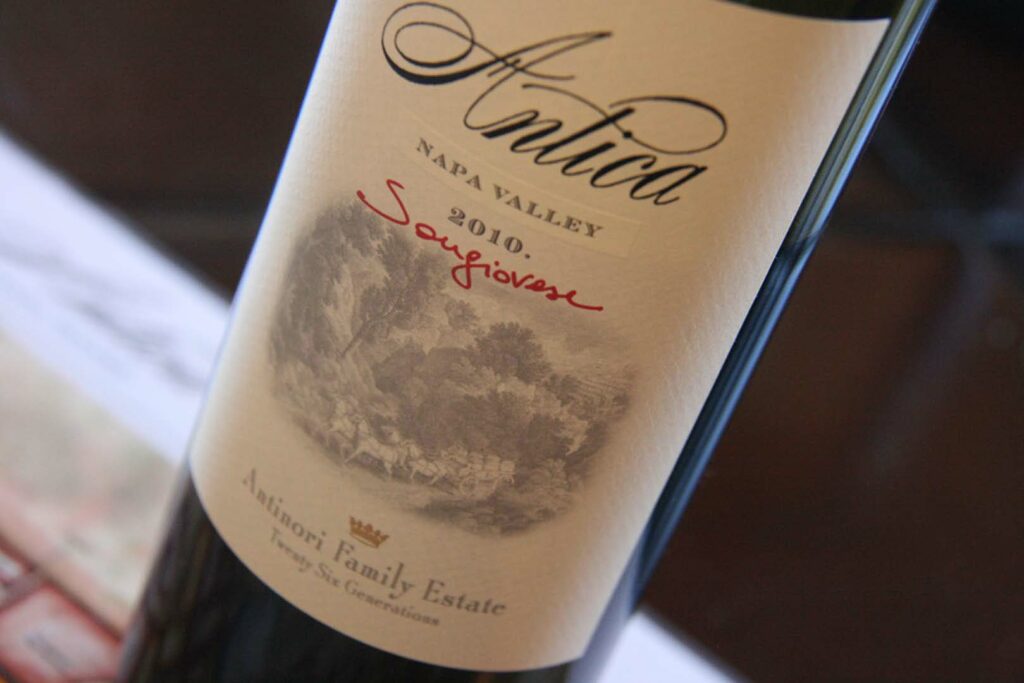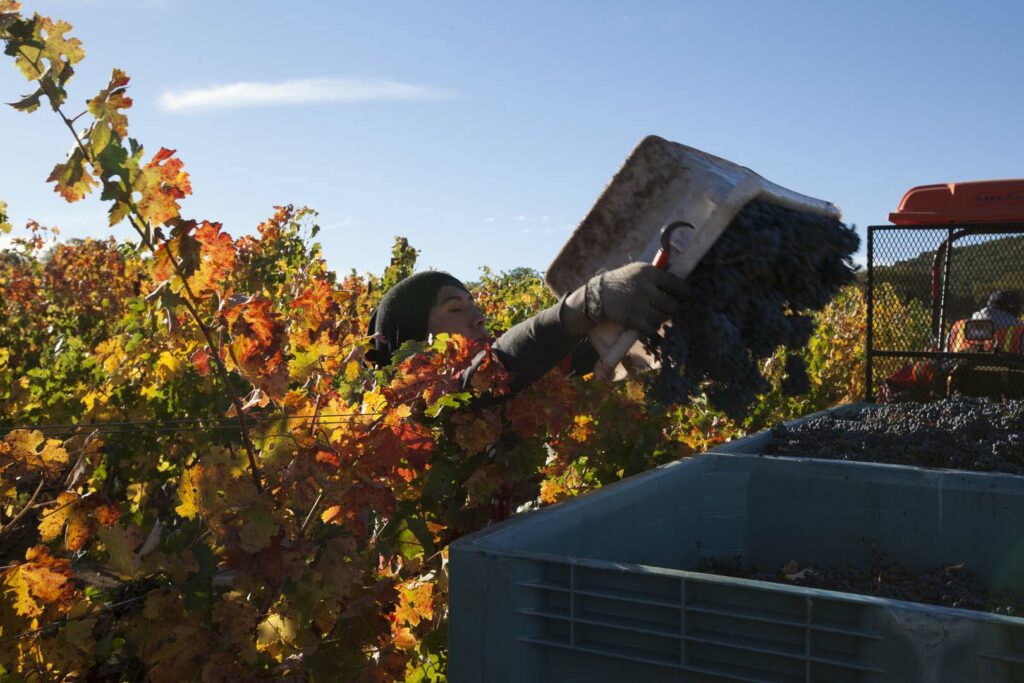 Today, there are nearly 2,000 acres of Sangiovese vines in the US, with a high concentration on the West Coast. A vast majority of the wineries producing wines with Sangiovese grapes are located in California in areas such as Napa Valley, Sonoma County, San Luis Obispo, Santa Barbara and the Sierra Foothills. However, there are also approximately 300 acres of land in Washington that are dedicated to producing Sangiovese grapes.
Within these areas, the most notable wineries that successfully grow Sangiovese grapes—and have done so for several decades—include Antica Winery in Napa Valley and Seghesio in Sonoma (see above), Palmina Winery in Santa Barbara, Atlas Peak Vineyards and Benesse Vineyards in Napa Valley, to name a few. Each of these wineries release wines that are inherently Italian in inspiration but with flavors rooted in their respective terroirs. It just took the right amount of patience and determination for these wineries to translate their Sangiovese grapes into something characteristic of its beautiful, iconic Italian relative.

– Poggio Leano Sangiovese 2016, Temecula Valley
– Rivalita Syndacate Sangiovese 2015, Dry Creek Valley, Sonoma
– Pedroncelli, Sangiovese 2015, Dry Creek Valley, Sonoma
– Acorn, Sangiovese 2014, Russian River Valley, Sonoma
Here a video with some Californian Sangiovese suggestions
based on my personal taste. Not a sponsored video.