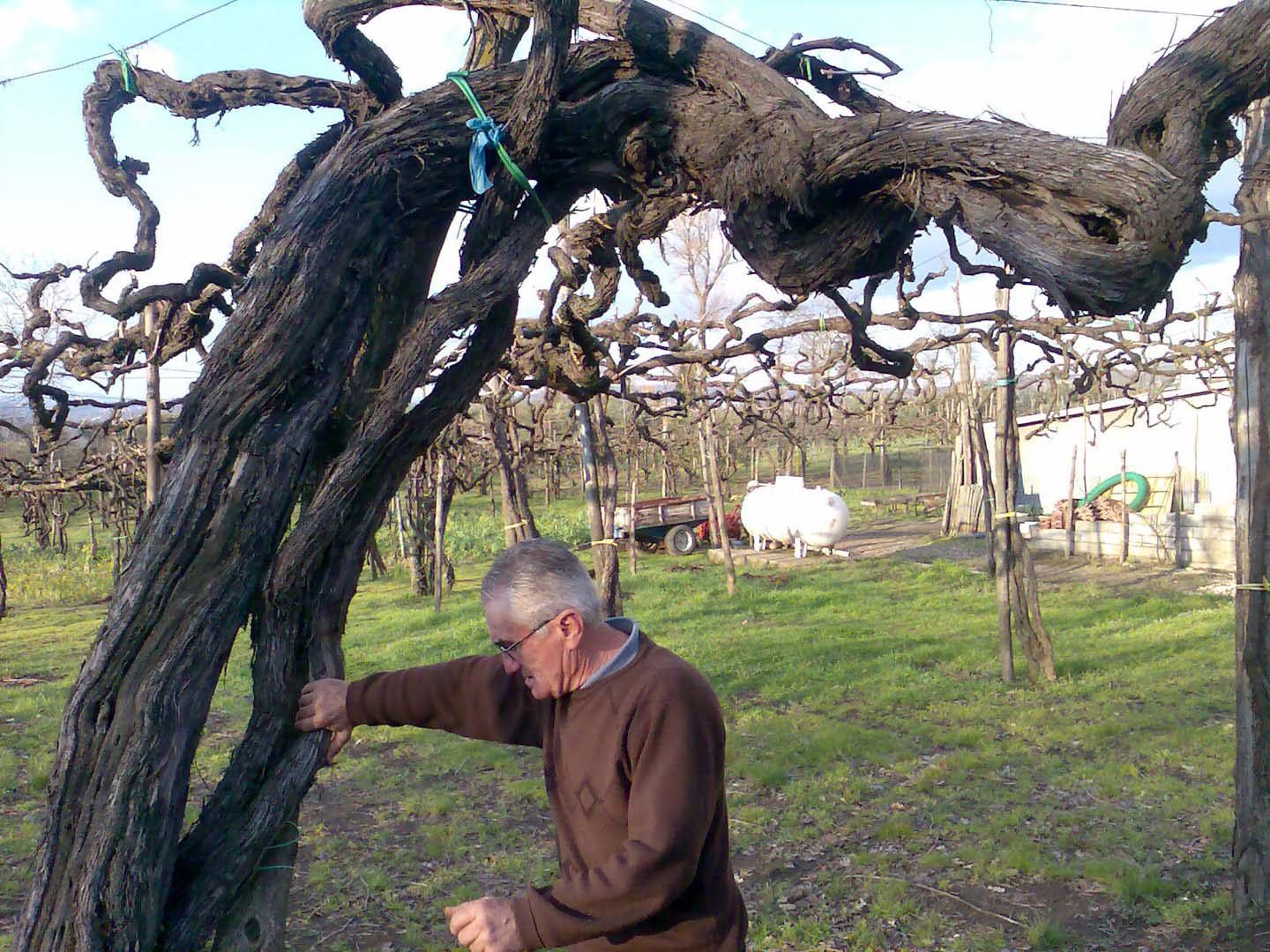 Aglianico, the "global warming" up and coming wine grape?
Known as "the grape with the longest consumer history," Aglianico holds a significant and ancient account of a grape cultivated by the Phoenicians, exported by the Greeks, adored by the Romans, and almost decimated by phylloxera. Indigenous to regions of southern Italy, Campania and Basilicata, Aglianico is a dark-skinned red wine grape variety that produces highly tannic wines with great levels of acidity.
These red wines are full-bodied and vary in their flavor profiles depending on the diversity of the terroir and the ageing length and techniques.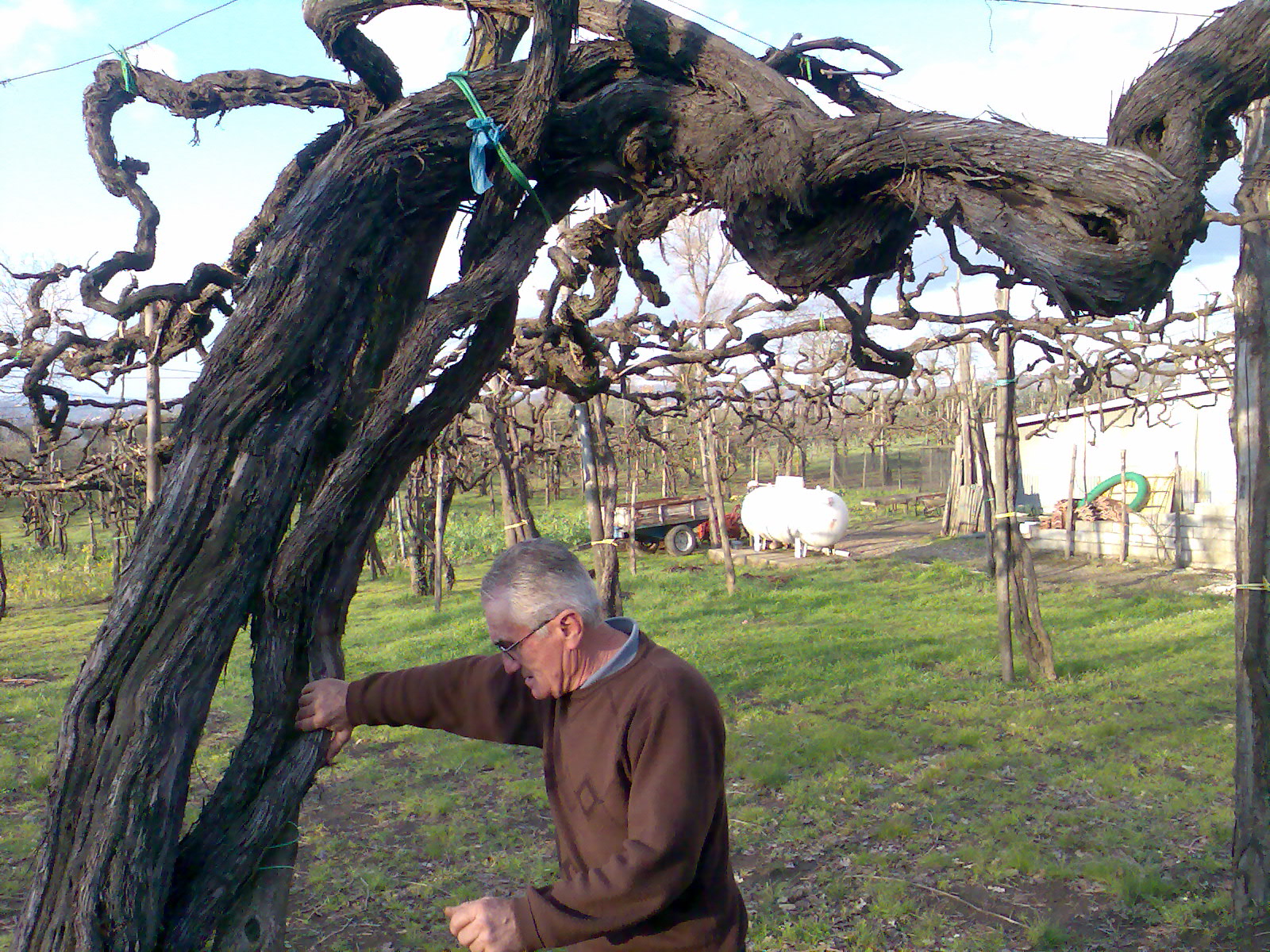 Many winemakers across the world have started to grow Aglianico grapes and experiment in varied agricultural conditions to further test the adaptability of this grapes. For instance, winemakers have been planting Aglianico in such diverse places as California and Australia achieving positive results in these "New World" climates and terroir. First and foremost because Aglianico adapts better to warmer climate than the other great tannic and long ageing wine producer grape of Italy, which is Nebbiolo.
In these times of "global warming", will Aglianico be the "warmer climate" up and coming varietal? Maybe…
Characteristics of the Aglianico grape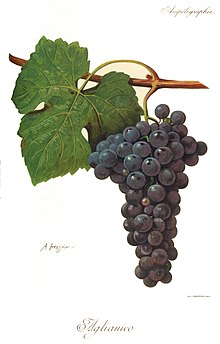 Because the Aglianico grape tends to excel in warm, dry climates, it favors the Mediterranean location; however, it is conformable to diverse conditions and has also been known to prosper in areas with volcanic soils and heavy rainfall. Though Aglianico grapes thrive on volcanic soil, they are able to adjust quite seamlessly to other soils as long as they are planted at high altitudes.
While it buds early, it ripens rather leisurely, with harvest often taking place as late as November. This long, slow process ensures that the tannins ripen along with the sugars, ensuring a balanced wine with the potential to age well.
Often referred to as "the Barolo of the South," Aglianico-based wines are recognized for their elegance and similar aging potential as the world-class Nebbiolo based wines of Piedmont. As wines made predominantly with Aglianico grapes age, even upwards of 20 years, they are more likely to soften their tannins and lessen their overall acidity.
How it behaves in different terroir
As mentioned previously, Aglianico grapes are beginning to be tested out in various new terroir settings, including California, and Australia, to name a few. However, arguably so, Taurasi and Taburno (Campania) and Vulture (Basilicata) are the Italian wine regions where the most renowned styles can be found.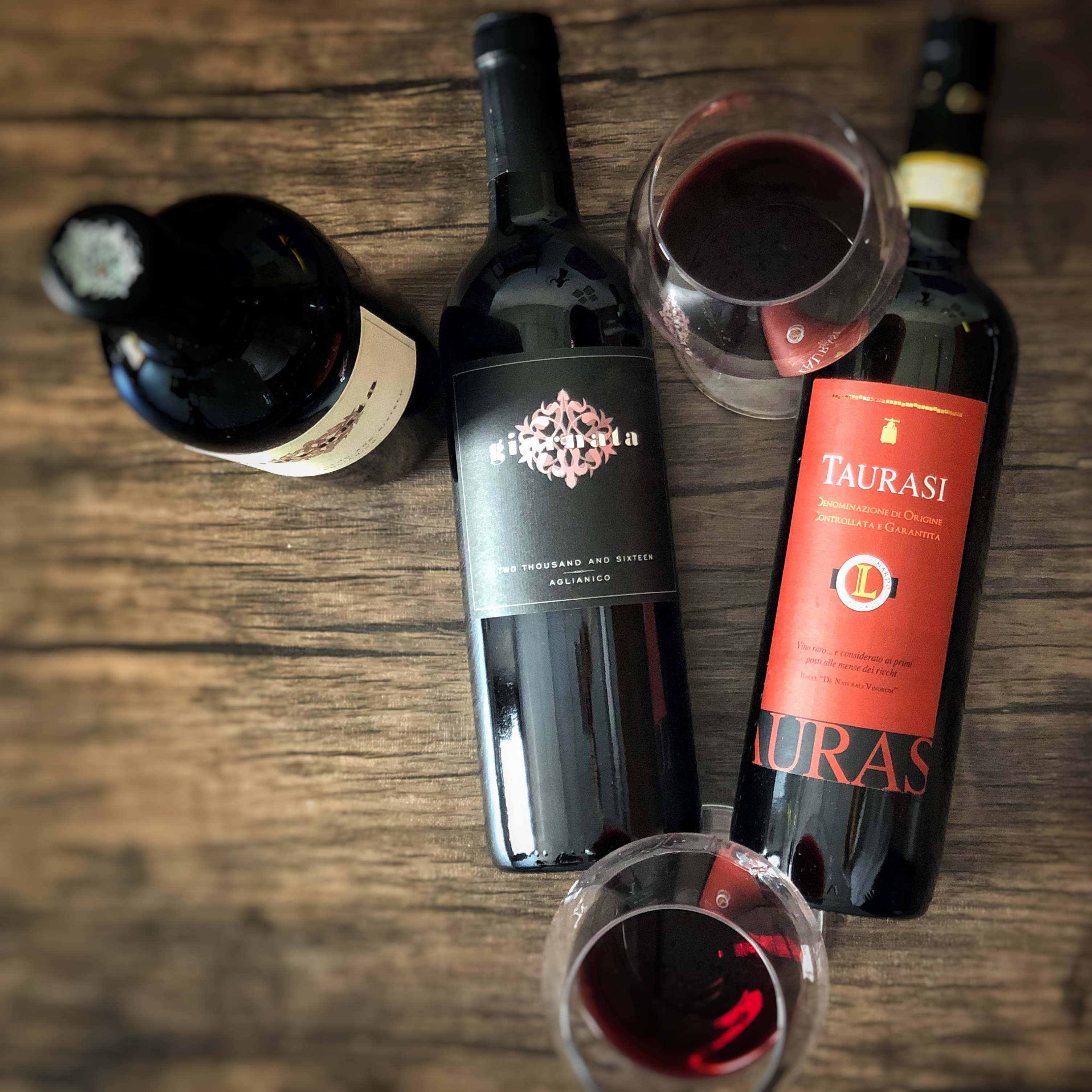 Taurasi
Aglianico grapes from the Taurasi area of Campania are influenced primarily by the amount of rainfall that is further facilitated by the well-drained volcanic soils. Campania's proximity to the surrounding Tirrenic sea and the Apennine Mountains are also important geographical factors that contribute to the flavor profile in Aglianico-based Taurasi wines, which are ripe, structured, rich in depth, and ample in length.
Taurasi wines must be produced with at least 85% Aglianico grapes, and they must be aged for three years— one year of which in barrels. Furthermore, it is important to mention that the "most critically rated Aglianico wines" come from Taurasi. It is one of only four DOCG wines in Campania. Watch this video for the Taurasi's tasting.
Vulture
The Aglianico grapes produced here are planted and cultivated on the mineral-rich slopes of the extinct volcano Monte Vulture. Because the vines are planted at a slightly higher altitude, the terroir is also affected by the slightly cooler climate. The hot, dry climate of Basilicata makes it a notable region for Aglianico grapes to reach their maturity, maintaining at the same time the designated levels of acidity. Here, Aglianico grapes will ripen late and spend a bit extra time on the vines to expand their complexities and nuances of flavor.
These wines require extra time aging in order to reveal their most distinguishing, robust flavor profiles. Read more about Vulture Aglianico in this article about Elena Fucci winery.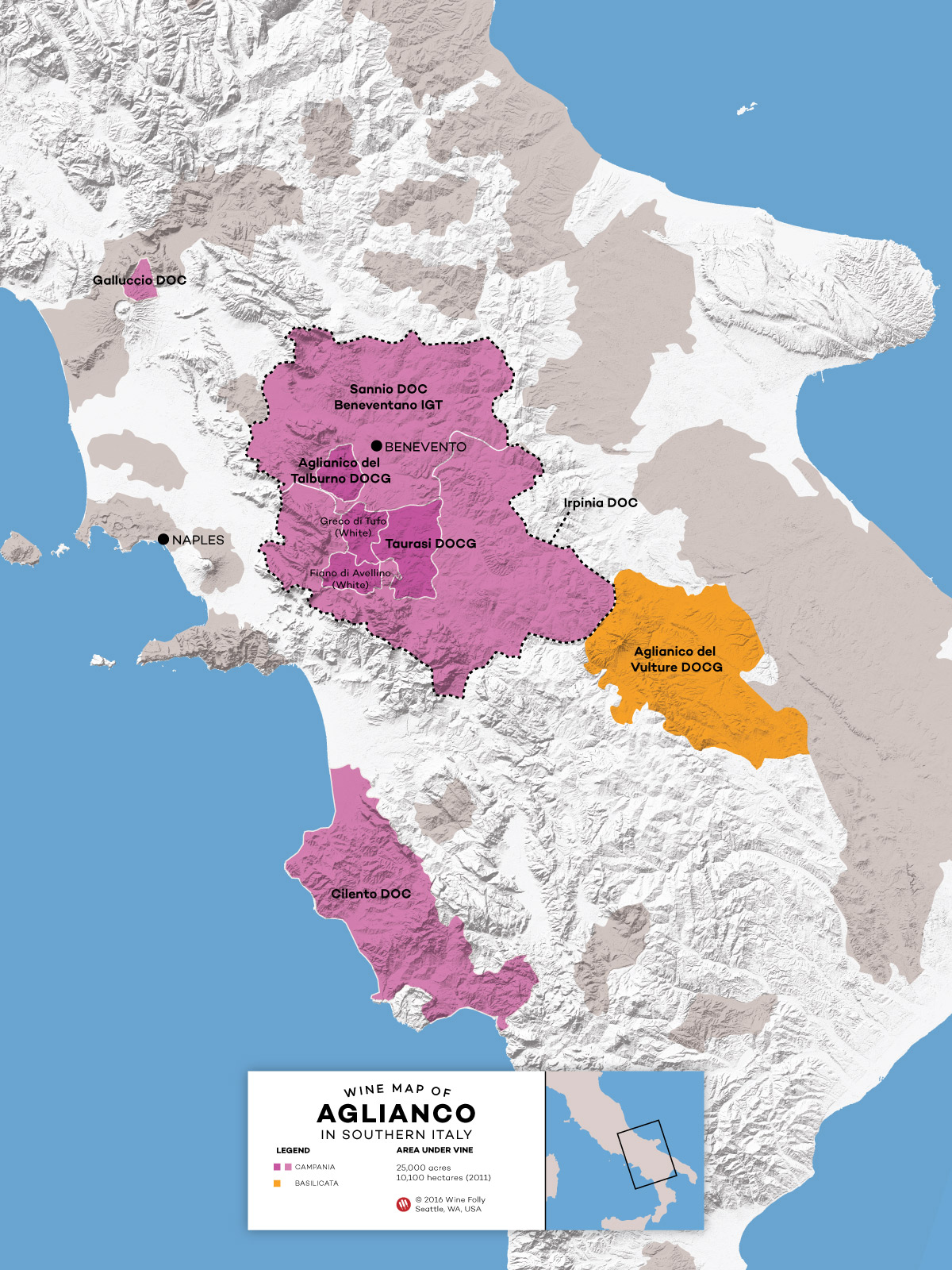 California
According to the California Grape Acreage Report, there are approximately 70 acres of Aglianico vineyards in California—spread throughout Paso Robles, Alexander Valley, San Luis Obispo, San Joaquin, and Napa Counties, to name a few. That being said, the limited acreage of Aglianico in California is ever-changing and expanding. In many areas of California, the climate is fairly similar to southern Italy and the soils are vastly mineral-rich, thus providing conditions in which Aglianico vines could flourish. Watch the video for Paso Robles' Aglianico's tasting and read this article about Giornata Winery for more details.
Australia
Today, there are now more than two dozen producers of Aglianico in Australia; Australian winemakers have been hesitant to adopt this grape variety. Because Aglianico is most significantly improved by its production in warmer, dry climates, Australia proves to be a region with substantial potential for cultivation of Aglianico grapes. The variety is currently being grown in the Murray Darling Region, Adelaide hills, Barossa Valley, McLaren Vale and Riverina, with encouraging results.
My YOUTUBE VIDEO Aglianico live wine tasting: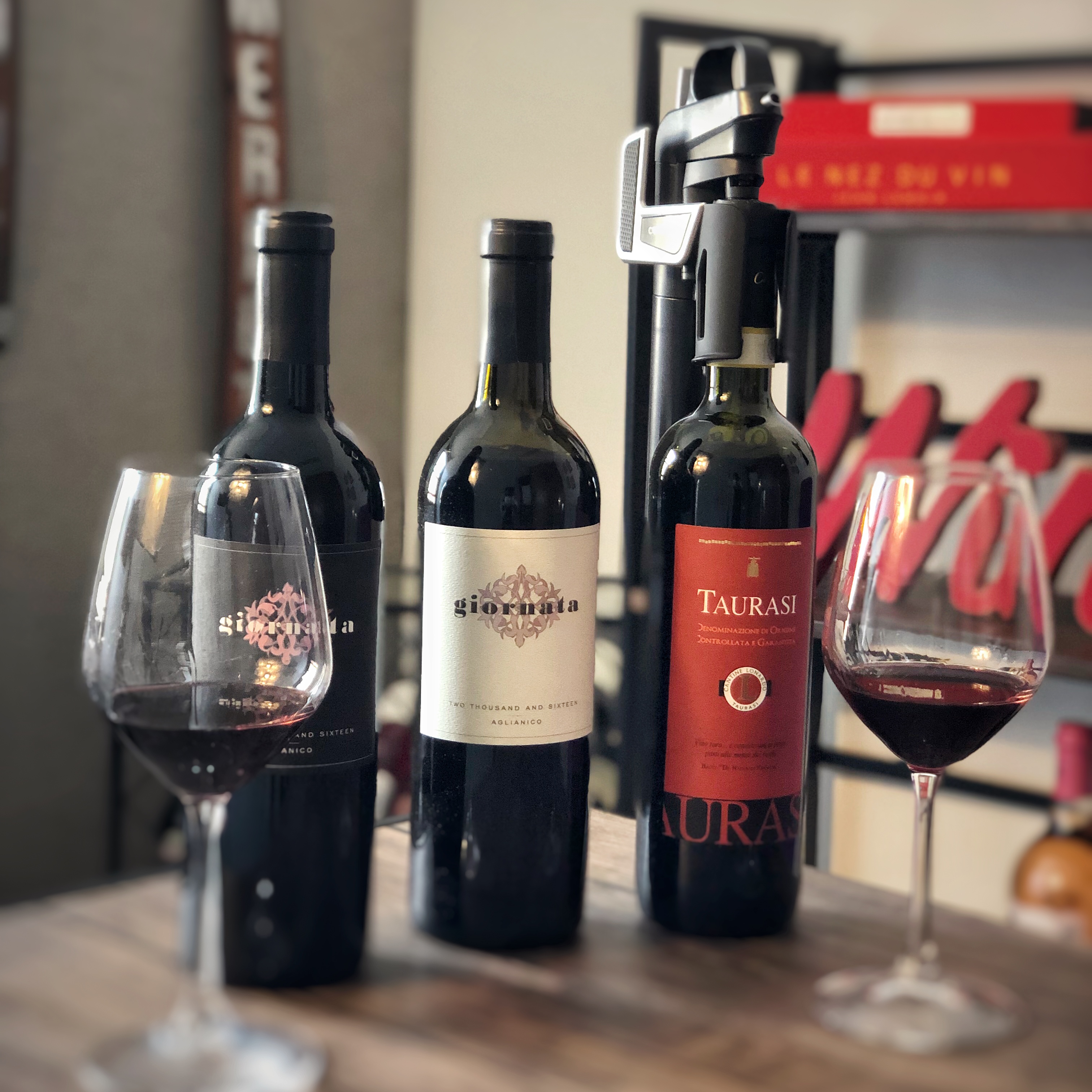 The wines mentioned in the video are available on Wine Splurge: