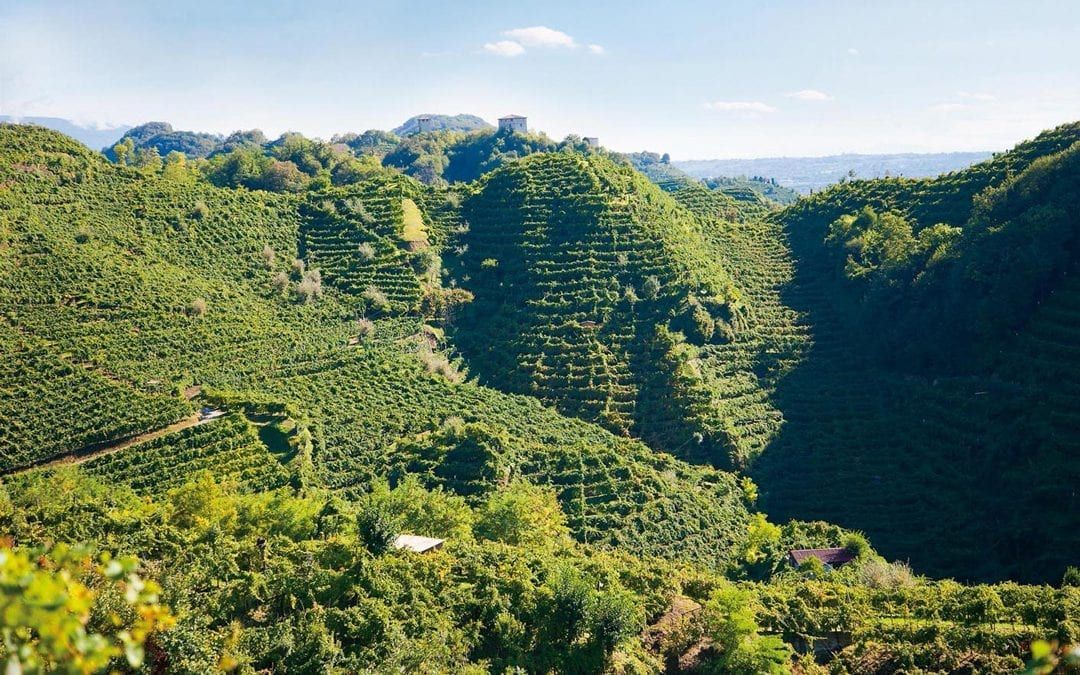 Prosecco? Yes, but Cartizze…
Prosecco is the most sold wine in U.S.: with its fresh, crisp, pleasant bubbles it has conquered America's consumers heart. Among wine lovers it has the reputation of being a simple, easy drinking, aperitivo wine… And it is what it's meant to be! But… If you are looking for something more complex you should try Cartizze. Cartizze is a subzone of Prosecco di Valdobbiadene and Conegliano DOCG, in the hills north of Treviso, Veneto. Cartizze is a 1000 feet high vineyard of 260 acres, owned by 140 growers. It is considered the Gran Cru of Prosecco. I recommend two wonderful Prosecco Cartizze Docg, each with a strong unique personality. Two example of wines that confirm how terroir and technique can make the difference between a simple, easy wine and a WOW experience!
– Villa Sandi Valdobbiadene Superiore di Cartizze  DOCG Brut,  'Vigna la Rivetta' received the important award Tre Bicchieri from Gambero Rosso magazine. Ripe golden apple, tropical fruit salad are the mainly aromas, layered with the floral acacia and fresia flowers, but the complexity is given by the yeasty and bready flavors and by the slightly minerality (wet rocks and clay). The foamy and velvety taste is perfectly balanced by the pleasant acidity and fruitiness of this wine. Eccellent with seafood hors d'oeuvre.
– Bisol, Valdobbiadene Superiore di Cartizze DOCG Dry is produced from grapes of Glera (or Prosecco) that ripen very slowly on a gravelly clay soil. This results in a Cartizze very different from Villa Sandi's one, less fruity, more grassy and floral: daisies, fresh cut grass, peaches, pears and apples. No tropical fruit here and less complexity at the nose. I would expect some sweetness at the taste, since the wine is labeled as Dry (17-32 g/l sugar content), but the perlage (fine and persistent) and the acidity play their role very well to give a medium dry pleasant taste and to make this wine balanced.