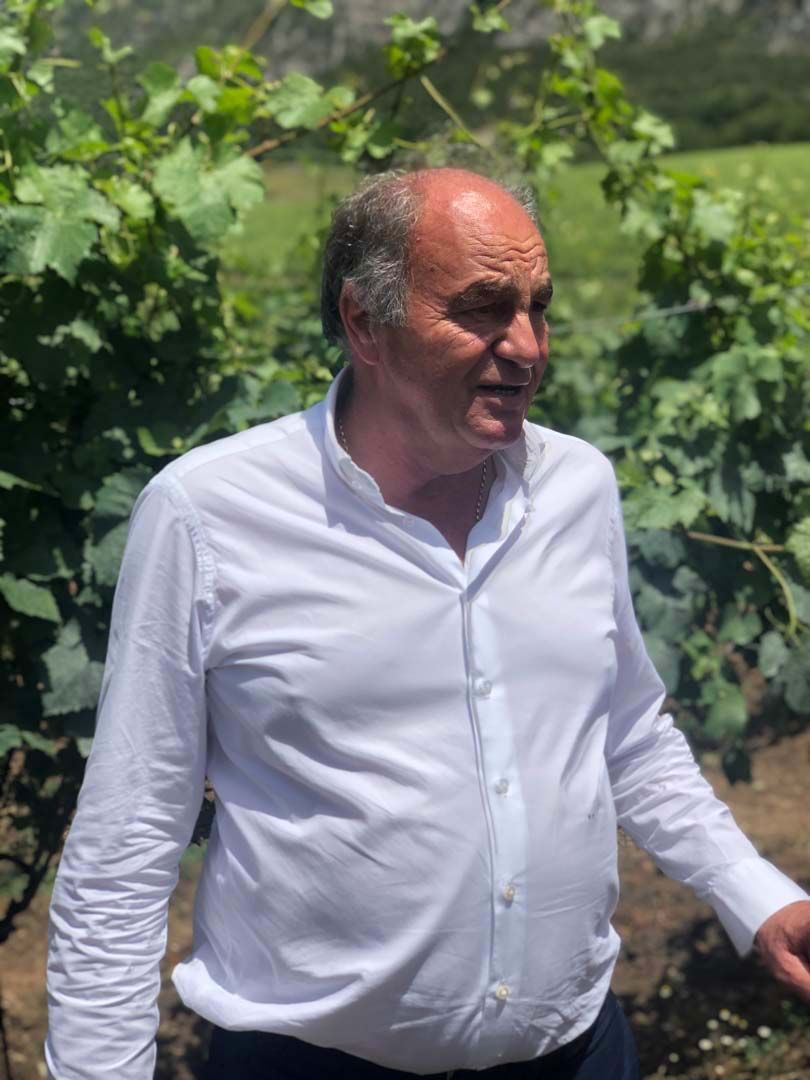 Cilento's renaissance starts with wine and buffalos
Giuseppe Pagano is a man devoted to his land and its products: I had one of the most emotional visits during my Southern Italy tour last June, in his winery. We immediately connected, through the love for our beautiful Italy and the anger, the deep anger we feel every time Italians don't give the right value to our country and its diversity, each and every time we don't protect and promote our immense culturale heritage.
We discussed passionately about the past and the future: my foreigner colleagues on the press tour looked at us gesticulating and talking loud, I almost cried for the contrasting emotions during that long chat. "Let it out. Anger is good – he said – because from anger can come action and with action we can change things. The frustration, the delusion, the rage you feel when you see young people leaving beautiful places like Cilento – because there are no opportunities for them to work – is energy: take that energy and build something with it". That's exactly what Giuseppe Pagano did.
His wine company, San Salvatore 1988 today is an up to date winery, 100% powered by solar panels, constantly decreasing the CO2 emissions, using wine boxes made from recycled paper. San Salvatore is an example, a guide for the other producers in the area: they could lead Cilento out of the economical crisis and create job opportunities.
Pagano's vineyard is the only commercial winery in the national park of Cilento, producing 12 wines from five grape varieties. His buffalo farm produces mozzarella, plus ice-cream, yoghurt and cheese, all sold in nearby La Dispensa, a deli and restaurant that opened in 2017. Showing us around the deli, he joked that his buffalos are the happiest in the land. "We play them classical music and they have a view of Capri,". And it's true, we visited the buffalo farm, closed to the Cannito's vineyard, situated at the foot of Mount Calpazio which also protects the vines from the elements with a southwestern exposure towards the Tyrrhenian Sea. The view is breathtaking, and the comment of Pagano left me speechless, because it encloses in a few words his philosophy and the true Italian essence: "things have to be beautiful and good". He surely wanted to do things properly and be as good and as beautiful as possible.
He started San Salvatore in 1988 but did not have the first harvest for his vineyards until 2009. From the very beginning he practised organic farming for his 110 hectares of land. The vineyards take up around 23.5 hectares and the remaining is for olive trees, orchards, vegetable gardens and woodland. The winery is focused on the native old varieties that are firmly rooted in the history of winemaking in Cilento such as Fiano, Greco, Falanghina, Piedirosso and Aglianico.
The Wines
2013 San Salvatore 1988, Joi (labeled "Gioì" in Italy), Spumante Brut Rosé (Rosato) ($56): 100% Aglianico and certified organic.Traditional method sparkling rosé made from Aglianico that ages 24 months on the lees in bottle. After disgorgement, the wine ages for an additional three months. This sparkling wine had stone fruit (apricot) notes with vibrant pomegranate and hibiscus flavors. Fine perlage and elegant, long persistency. Only 8,000 bottles produced.
2017 San Salvatore 1988 VETERE Aglianico Rosato, Paestum IGP (28$)
Organic Aglianico grapes are gently pressed, fermented with indigenous yeasts in stainless steel tanks.
Pale coral in colour with aromas of wild strawberry and slate mineral taste. Strawberry, candied lemon, peach, honeydew melon, limestone and a floral trace are accented by fresh acidity. Pink grapefruit glosses the dry, fruity finish. Zesty and refreshing.
2018 San Salvatore 1988, 'Pian di Stio" Paestum Fiano IGP ($26.99): 100% Fiano and certified organic. Fair representation of the local Fiano, packaged in a distinctive 500ml bottle. Sapid with hints of wet sand, honeysuckle, kiwi, underripe pineapple and sweet almonds finish.
2016 San Salvatore 1988, "Jungano", Paestum IGP Aglianico ($29): 100% Aglianico. Jungano is a local name for the town of Giungano, a town near the San Salvatore vineyards. It ages 12 months in 40% second year Tonneau, 40% third year Tonneau and 20% stainless steel. A complex, refined wine with dark cherries and blueberries hints, flint, tobacco, elegant minerality and silky tannins.
Watch the YouTube video below about my Southern Italy wine tour, there are some highlights of San Salvatore winery in the Cilento part of the tour
Cilento wine region
The Cilento wine region, a sub-region located in Campania, is predominantly known for its luscious coastal hills, mineral-rich soil, abundant sunshine, proximity to the Tyrrhenian Sea, and heavy emphasis on agriculture. Without the same influence on its tourism like its neighbour to the North, the Amalfi Coast, Cilento must instead rely on its production of olives, orchard fruits, and wine grapes. Thanks to the ancient Greeks who originally brought wine to this region, Cilento's wine varietals are all direct descendants. Despite being one of Italy's poorest areas, Cilento boasts an ideal microclimate that yields some of the most interesting wines of Italy.
Main grapes of Cilento
Campania's most widely recognized grapes, Fiano and Aglianico, are featured prominently in the wines of Cilento, along with Piedirosso and various blending grapes, including Greco, Falanghina, and Primitivo grapes—to name a few. The terroir of the Cilento wine region proves to add a certain minerality and acidity to the distinctive wines produced here—all due to the volcanic soils, coastal influence, and hot, dry climate.
Fiano: Fiano is a white wine grape used across southern Italy, most especially in Campania, and it has been grown in southern Italy since most likely the 13th century. Phylloxera devastated its vines, but they were revived in the 70s and 80s when farmers rediscovered Fiano grapes. Though it is typically made into a single-varietal wine, Fiano can also be used as a blending grape in various Cilento wines.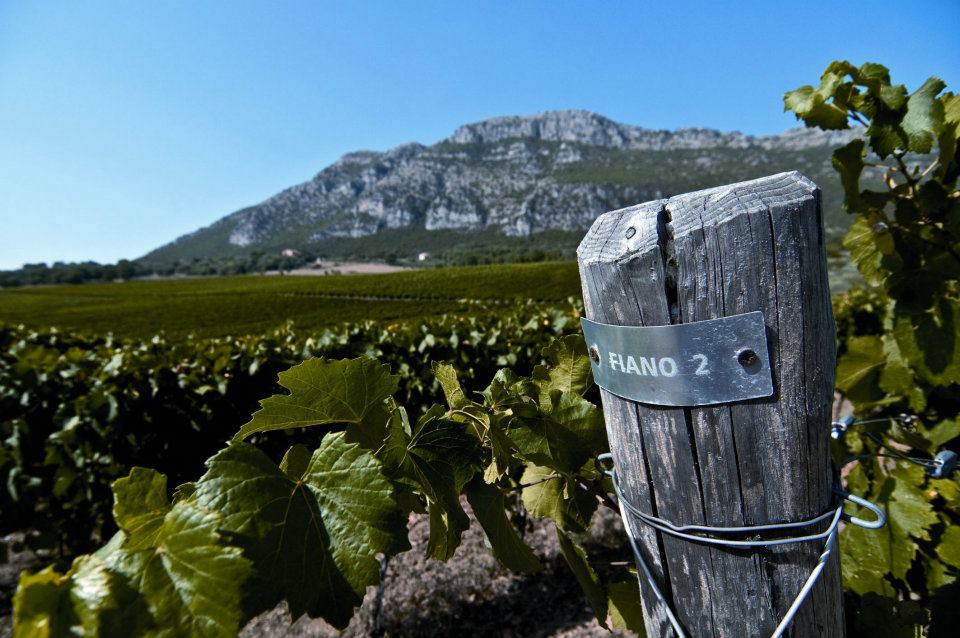 Aglianico: Aglianico, a red wine grape variety, produces robust, highly acidic, and tannic red wines with the potential to age well. As Aglianico-based wines age, the tannins prove to become softer and more complex. This grape tends to excel in the warm, dry climates; therefore, the Mediterranean location proves to be favorable toward its growth.
Discover more about Aglianico from Southern Italy here.
Piedirosso: Piedirosso is an ancient black-skinned grape that is grown throughout Campania, although it has only seen a resurgence in its cultivation in recent years because of its integral nature as a blending grape. Piedirosso grapes provide a certain minerality to wines crafted with them, and this is due to the volcanic soils found in the Cilento region.
Cilento's wines
Cilento's methods of cultivation of Fiano, Aglianico, and Piedirosso grapes are integral to the production of its native wines, including Cilento DOC, Paestum IGT, and Aglianico-based wines.
Cilento DOC can be made into rosso, bianco, or rosato styles. Cilento Rosso is comprised of 60 to 75 percent Aglianico grapes, with upwards of an additional 20 percent of Piedirosso grapes. Cilento DOC standards also allow for the Cilento Rosso wines to contain Primitivo and Barbera grapes—though they are restricted to contain only up to 20 percent. Cilento Bianco wines consist of 60 to 65 percent Fiano grapes (also known as Santa Sofia), with Trebbiano, Greco, and Malvasia Bianca constituting the remainder of the grapes. Cilento Rosato wines have a similar composition as Cilento Rosso wines, with the only difference being Aglianico grapes are replaced by Sangiovese grapes.
Depending on the composition of the grape varieties, the wines can be labeled as completely distinct from the traditional rosso wines. For instance, any Cilento wine made from a minimum of 85 percent Aglianico grapes can be labeled distinctively as Cilento Aglianico, which separates it from the Cilento Rosso wines. The rest of the blend of grapes closely resembles the Cilento Rosso style.