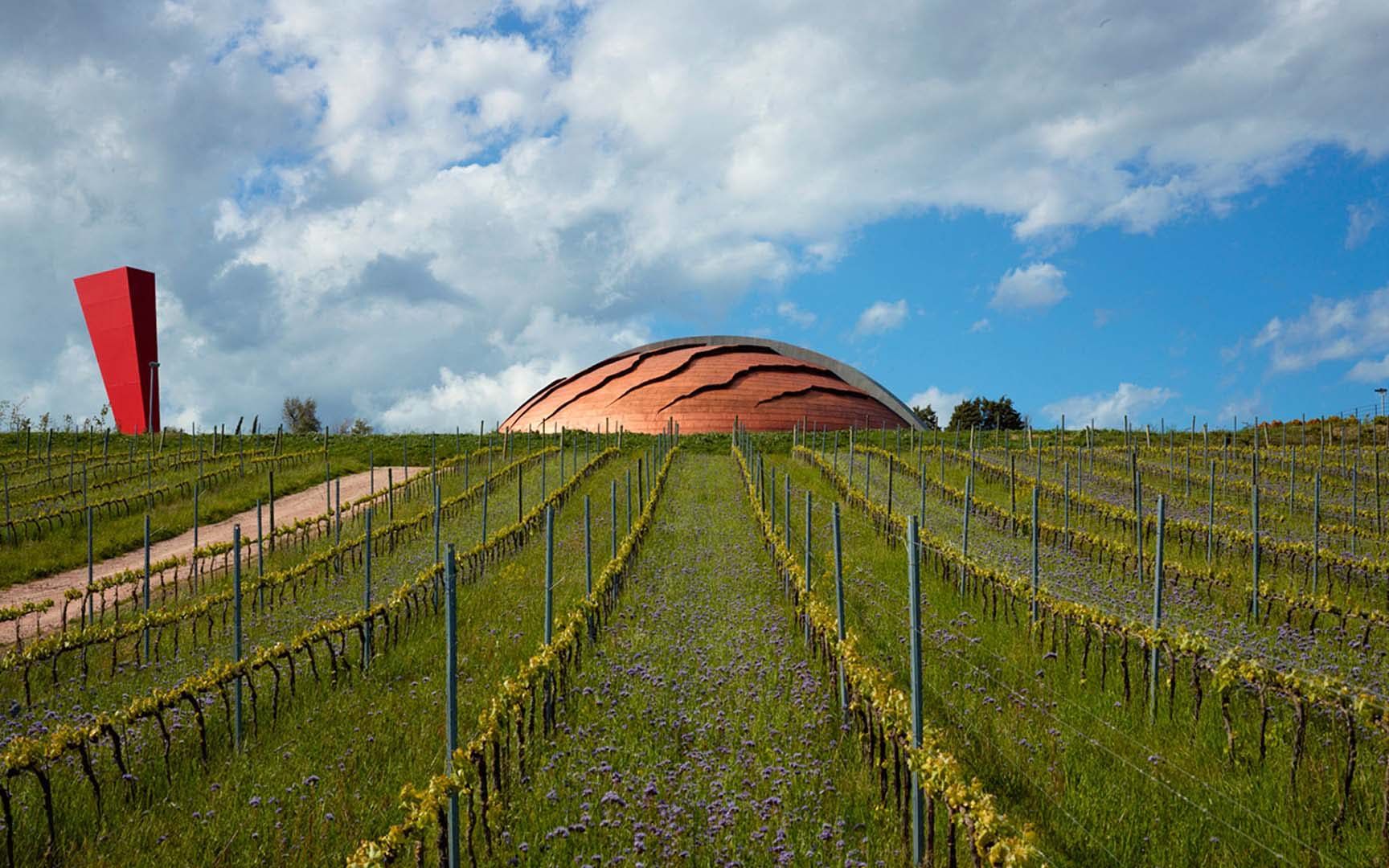 Carapace, the living fusion of art and wine
What if there is a place where time, space and wine generate art? Well, I have good news: there is. And I have been there last April.
Tenuta Castelbuono, better known as Carapace, in Bevagna, Umbria is one of a kind winery. Calling it winery actually is underestimating. It is a living masterpiece, designed by one of the most famous contemporary Italian sculpture. I have visited many wineries in my life, as you may know, since you follow this blog and my travels, chasing good taste around the world. But il Carapace has been by far one of the most fascinating and transcendental wine experience I ever had: just being there you feel part of something bigger, you feel like in a majestic life metaphor. The Carapace, the turtle, is connected to the earth, but the wines produced in its viscera aim to the sky, elevate the terrain to the divine. To better understand what I mean you can watch my Youtube video linked below which contains the tour and some unedited insights about experimental fermentation methods that the estate is carrying on.
To truly embrace the meaning of what I am trying to describe there is only one way: go there and experience the place where time, space and wine create art.
Tenuta Castelbuono
In 2001, the Lunelli family—intrigued by the elusive Sagrantino grape—acquired the Tenuta Castelbuono estate, which includes 30 hectares of vineyards located in Montefalco and Bevagna. When they first purchased the estate, the Lunelli family converted the vineyards to organic farming methods, enhanced the current vines, and planted additional new vines through an extensive massal selection. Since the vineyards were certified organic in 2014, the winery has been expanding upon its commitment to organic farming and maintaining tradition.
The Lunelli family winemaking reputation began in Trentino with Ferrari sparkling wines, and it has only grown year by year since they bought this property in Montefalco and made it into the work of art it is today. Because the Lunelli family focuses on the quality of their wines, they also updated the underground part of the estate, the production area; their attention to detail has proven to reflect in the elegance of the Sagrantino-based wines produced here. You can watch my video linked below and see how nothing is left to chance at Tenuta Castelbuono.
Carapace by Arnaldo Pomodoro, a living masterpiece
The Lunelli family felt the need for something more than new winery, and they resolved to ask their friend and famous sculpture Arnaldo Pomodoro, to help them undertake this next project. Pomodoro chose to call his masterpiece—and the Lunelli family's "treasure chest for wine"—the Carapace. This work of art took six years to construct to completion and is known as the first sculpture in the world in which one can both live and work. It's living art. When it opened to the public in June 2012, Carapace became a "a place in which art and nature, sculpture and wine intermingle," which highlighted the extraordinary nature of the cellar itself and its wines.
In Pomodoro's own words, he "had the idea of a shape that was reminiscent of a tortoise, a symbol of stability and longevity which, with its shell, represents the union between the land and the sky." Additionally, Pomodoro wanted to emphasize the landscape surrounding the estate because it reminded him of the Montefeltro region in which he grew up, so he utilized this tortoise shell shape to accomplish this goal. By pushing the boundaries of both architecture and sculpture, Arnaldo Pomodoro constructed Carapace into a renowned winery for the Lunelli family that is as functional as it is fascinating. It's not just a tasting room, the wines are actually produced there, "in the belly of the turtle", watch my video below, it is fascinating.
Wines produced
Tenuta di Castelbuono, especially concerned with the production of only red wines containing Sagrantino grapes, first introduced its Sagrantino di Montefalco in 2003, and it subsequently launched its Montefalco Rosso the following year. The winery produces four distinctively Umbrian wines: Sagrantino di Montefalco DOCG, Montefalco Rosso DOC, Montefalco Rosso Riserva DOC, and Sagrantino di Montefalco DOCG Passito. Each of these wines benefit immensely from the soil of the estate, which contains a clay mixture that is well-structured and drought-resistant. Tenuta Castelbuono is certified organic since 2014. Nowadays the winery is experimenting new vessels' fermentation for the Sagrantino grapes, such as big barrels (conic trunks) and old traditional amphoras, watch the video below to learn more.
The winery's Sagrantino di Montefalco DOCG wine, named Carapace, maintains a 100% Sagrantino grape composition, and is aged for 24 months in large oak barrels before it is further aged in the bottle for a minimum of 12 months.
The Montefalco Rosso DOC, named Ziggurat, contains 70% Sangiovese grapes, 15% Sagrantino grapes, and 15% Cabernet and Merlot grapes. This wine is aged for 12 months in 225 liter barriques and 500 liter tonneaux before it is bottle aged for a minimum of 6 months. The winery's Montefalco Rosso Riserva DOC, named Lampante, also contains the same breakdown of grapes; however, it is aged for 18 months in large barrels and is subsequently bottle aged for 12 months.
Sagrantino di Montefalco DOCG Passito, which maintains the same composition of grapes as its other DOCG style, is considered a "wine for meditation." It is made by semi-drying Sagrantino grapes on racks, and it is distinguished by the traditional flavors of cherries and juniper berries that are native to this variety.
More infos about the wines here:
My live tasting and unedited news about the experimental fermentation methods of Tenuta Castelbuono in this video:
If you are not familiar with Sagrantino and Umbria's typical wines, here is a useful recap.
Main red grapes and wines of Umbria
Sagrantino grape
The Sagrantino grape, which is responsible for producing one of central Italy's most tannic wines, is predominantly grown by a handful of producers in Montefalco; however, in more recent years, it has increased in popularity. This elusive red wine grape is mostly grown in Italy with an even greater limited availability outside Italy, and because of its newfound success, it has drawn attention from the international wine community.
Sagrantino grapes, grown in the clay soils of Montefalco, greatly benefit from the exposure to both sand and limestone pockets of the Umbria wine region. As Umbria has no access to the coastline, the terroir of the wines produced with Sagrantino grapes is vastly influenced by the porosity and minerality of the clay and mineral-rich soils.
Sagrantino di Montefalco DOCG:
This dynamic red wine is commonly recognized as the world's most tannic wine. Sagrantino di Montefalco DOCG can be produced as either Sagrantino di Montefalco DOCG or Sagrantino di Montefalco Passito DOCG, both of which must be produced with a minimum of 95% Sagrantino grapes. That being said, most Sagrantino di Montefalco wines are comprised of 100% Sagrantino grapes to ensure the purity of the robust, distinctive Sagrantino flavor.
This wine can be produced in two styles: dry (secco) and sweet. The wines must be aged for 30 months, while the secco style spends a minimum of 12 of those months in oak barrels. The sweet wine is developed in a passito style from dried grapes, and it is considered to be one of central Italy's finest dessert wines.
Sagrantino di Montefalco earned its DOCG status in 1992, and it is one of only two wines in Umbria to have been given this distinction. Before it earned its DOCG status, a group of local farmers were responsible for bringing the Sagrantino di Montefalco DOCG wine out of a near extinction.
Montefalco Rosso DOC:
Montefalco Rosso DOC, established as a DOC wine in 1979, is a deep red wine—primarily a blend between Sangiovese and Sagrantino grapes. This DOC wine consists overwhelmingly of Sangiovese grapes, about 60-70%, with an additional 10-15% Sagrantino grapes, and 15-30% of other red grapes, most commonly Merlot and Cabernet Sauvignon. Montefalco Rosso DOC can also be produced in a Riserva style.
Although Montefalco Rosso DOC is comprised most significantly of Sangiovese grapes, even the minimal inclusion of Sagrantino grapes adds a richer color, more tannins, and an overall diversity of flavor from other wines comprised predominantly of Sangiovese. By allowing other red grapes like Merlot and Cabernet Sauvignon, the Montefalco Rosso DOC also enjoys an added fruitier flavor profile.