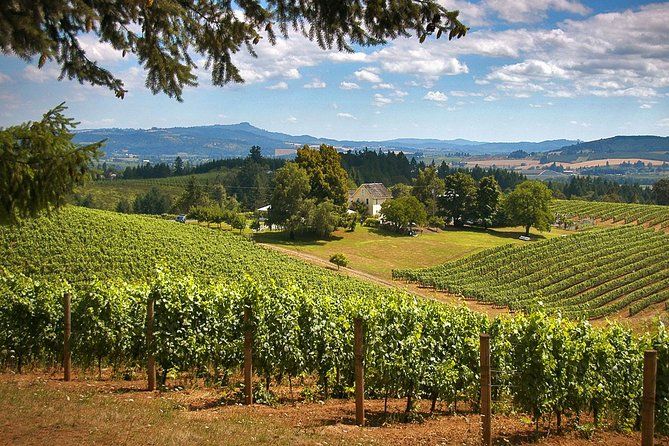 Willamette Valley: the international epicenter of New World's Pinot Noir
I visited Willamette Valley last August during the 2019 edition of the Wine Writers Educational Tour and I am once again grateful to have been taking part to this yearly trip with my fellow American wine writers colleagues. The schedule is tight and demanding, but it's incredible how much you can learn and experience in just three intense days of focused wine education.
We met the legends of Oregon viticulture, men and women who more than 50 years ago first planted Pinot Noir and Pinot Gris grapes, without even imagining how that decision would have made an impact on the local economy and community. All the data, details and infos are following, but I would like to share some personal considerations before the more "informative" part of the article.
Community is key to sustainable growth and improved quality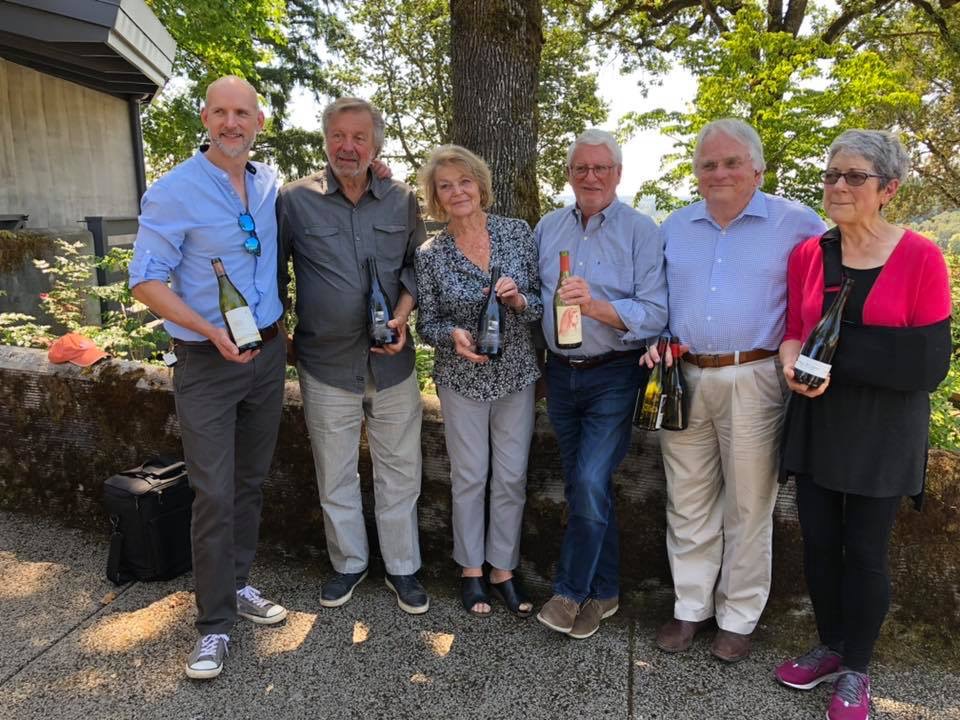 Talking to the producers and to the Willamette wine growers association I perceived a deep sense of community and solidarity. I visit many wine regions thorough the year, in Europe, but also in the U.S. and I have never seen such a united and bonded group of wine producers, who are really trying to make an effort to grow together. Since 1980 every year they meet in the famous Steam Boat Pinot Conference, when each producer tastes blindly the others' wines and underlines what can be improved, giving and receiving feedbacks. This results in an honest and technical opinion with the solely aim to elevate the standard quality of the region's wines. The Steam Boat Pinot Conference goals are to bring Pinot noir producers together to blind taste in multiple formats, exposing participants to the wide diversity of styles and terroirs of today and to openly exchange information and share experiences regarding the growing of Pinot noir and the styles and techniques of Pinot noir winemaking, including lab analysis.
It's no surprise that in the last decade Oregon has become the benchmark for New World's Pinot Noirs. I tasted several very very good wines, nothing less than the French over famous (and sometimes over priced) Burgundy's. Is Willamette Valley going to be the future of high end world class Pinots? Well, for sure they are working on becoming the epicentre of world wide Pinot's producers, at least once a year with the International Pinot Noir Celebration. Since 1987, the IPNC has hosted 183 winemakers from France, 41 winemakers from New Zealand, 27 from Australia, 15 from Italy, 15 from Canada, 12 from Germany, seven from Switzerland, seven from Austria, four from Chile, three from South Africa, and one each from Argentina, England, Israel, and Spain for a total of 318 foreign wineries.
Climate change: new challenges can become opportunities
Another important aspect that can really put Willamette Valley on the spotlight as ideal location for the best world's Pinots is the shift in temperatures due to climate changes.
During one of the many interesting conferences I attended during the Wine Writers Educational Tour, professor Gregory Jones of Linfield College and Director of Evenstad Center for Wine Education showed the results of his extended research about viticulture and climate change. I am not making justice simplifying it in a few lines, but you can reach out to me if you are interested in knowing more and I am planning a dedicated article about it. What is important for this post to know is that the average temperature during vines growing season (April – October for the Norther Hemisphere) has increased by 2 degrees F in the last 50 years, but it is projected to increase of another 2-3 degrees in the next years and this can shift the geography of the "ideal ripening places" for many important wines and grapes. Take a look of the slides below.
Burgundy is destined to become too hot for Pinot? What can this mean for Willamette? An opportunity of course. But this is true also for many other "cool" wine regions. Think about Great Britain producing sparkling wines in the last 3-4 years. This was impossible to imagine just 10 years ago.
Now it's time to dive in and better understand what Oregon and Willamette Valley have to offer now to us, wine lovers. You can find a list of the wineries and the wines I appreciated at the end of the article, together with a Youtube video about the tour (in Italian).
Oregon viticulture and New World Pinot Noir
As Oregon is known for its inclement weather in the fall and spring, the wines produced here are also highly variable and depend on the weather for their levels of acidity. Additionally, because of the morning fog cover in the Willamette Valley, the vineyards with south facing slopes are more conducive to yielding favorable expressions of Pinot Noir grapes. Furthermore, in the Willamette Valley Pinot Noir, French oak is used to add a level of complexity and various notes of flavor, including cinnamon, clove, and vanilla.
Pinot Noir, the world's 10th most-planted grape variety, has been experiencing a renaissance since trained winemakers in the United States have begun experimenting to enhance the flavor profiles. These Willamette Valley vintners have continued to elevate their Pinot Noirs through proven decades of research into soils, clones, site selection, and non-intrusive winemaking. That being said, as Wine Spectator mentions in their article The State of Oregon Pinot Noir, today there are more than a dozen French-born and trained winemakers who have immediate ties to Oregon wine projects. This further expounds upon the allure of winemaking in Willamette Valley, and it demonstrates the desires of winemakers from other "Old World" countries to uncover why Oregon is the true benchmark of New World Pinot Noir.
Though Pinot Noir is the focal grape produced here—with nearly three-fourths of all vines dedicated to its production—the Willamette Valley is also renowned for its unique interpretation of both Pinot Gris and Chardonnay.
Oregon's Willamette Valley
The Willamette Valley of western Oregon, one of the United States' most distinguished non-Californian American Viticultural Areas (AVA), is a fertile wine region that is widely known for its production of New World Pinot Noir. As the highest-performing varietal in this region, the Willamette Valley interpretation of Pinot Noir has even come to rival that of its Burgundy, France, counterpart. That being said, this AVA is the realization of a dream—one that was achieved by an instrumental risk taken by some folks who began planting the valley's first grapes just 50 years ago. Today, the second generation of these families have continued to carry on with the winemaking traditions of Oregon's Willamette Valley—so much so that the region has since dramatically grown to now include almost 800 wineries.
This wine region, established as an AVA in 1984, is defined loosely by the path of the Willamette River to the north, the Cascade mountain range to the east, and the Oregon Coast Range to the west—which runs between both the Willamette Valley and the Pacific Ocean. Throughout this entire landscape, wine is abundantly produced; however, it is the hills southwest of Portland in which there is the highest presence of vineyards.
Characteristics and terroir of the Willamette Valley
Because of its proximity to the Pacific Ocean, the Willamette Valley boasts a maritime climate; it is also characterized by rainy winters and long, arid summers with mostly cool evenings. This makes it an ideal growing condition for the early-ripening Pinot Noir grapes and not ideal for grape varietals like Sauvignon Blanc, which take longer to ripen.
However, because much of the vineyards in the Willamette Valley are dispersed throughout the hills, the soil is a bit less fertile and the risk of frost is less prevalent. It is also worth noting that these hills are the product of tectonic plate activity and lava flow, so the soils here are predominantly comprised of Jory—a red soil rich in iron—so characteristic of the Willamette Valley that it has become recognized as the state's official soil.
In 2002, after being recognized as an AVA in 1984, a group of winemakers decided to petition for the establishment of six new sub-AVAs in the Willamette Valley to truly distinguish between the diversity of the terroirs here. The following six sub-AVAs were created between 2004 and 2006: Dundee Hills, McMinnville, Eola-Amity Hills, Yamhill-Carlton District, Chehalem Mountains, and Ribbon Ridge. Most recently, in 2018, another area was designated as a sub-AVA in Willamette Valley—Van Duzer Corridor—due to the fact that its climatic conditions and topography are distinctive to the vineyards predominantly owned by Van Duzer Vineyards.
It is also important to note that the Pinot Noir expressions can vary distinctly from year to year or from one sub-AVA to the next, based on the overall weather patterns each year or the location of the vineyards.
Suggested wineries to visit:
For more usefule tips to visit the wine country visit Willamette Valley Wines website: you can also find resources such as maps and more wineries infos.
Favourites wines, in order of my personal preference:
Domaine Drouhin "Laurene" Pinot Noir 2015
Ponzi Vineyards "Madrona" Pinot Noir 2016 (Chehalem Mountains)
Flaneur "La Belle Promenade" Pinot Noir 2017 (Chehalem Mountains)
Ponzi Vineyards Reserve Pinot Noir 2016 (Laurelwood)
Ponzi Vineyards Abetina Pinot Noir 1999 (Chehalem Mountains)
Chehalem Pinot Noir "Ridgecrest Vineyards" Ribbon Ridge 1993
Lange Winery Reserve Pinot Gris 1988 – 2018
The Eyrie Vineyards "Daphne" Pinot Noir 2015
Penner-Ash Estate Vineyard Pinot Noir, Yamhill Carlton 2007
Elk Cove Clay Court Vineyard Chehalem Mountains 2010
Eyrie Vineyards Pinot Gris "Original Vines" Dundee Hills 1997
Argyle Extended Tirage Brut 2008
The video of the 2 days tour… It's in Italian, but you can still enjoy the views