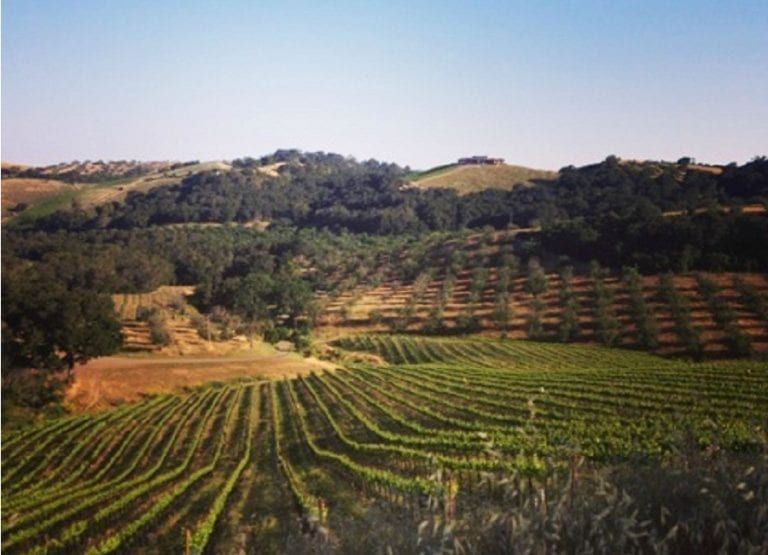 Italian style, California mood: Giornata Winery – (How to grow a happy Sangiovese in Paso Robles)
Their last name (Terrizzi) let guess some Italian origins and in fact Brian has some Sicilian ancestors, although now his family has been American for generations. Yet the little Italian part of his DNA has been so arrogant that he decided, along with his wife Stephanie, to invest in the production of Italian style wines from Italian varieties, rather than follow the most profitable and common way of international varieties, Cabernet vines, Chardonnay, Merlot which fill the shelves of the wine shops and the pockets of more or less capable Californians manufacturers.
Giornata Winery produces 24,000 bottles, only by Italian indigenous vines. An outsiders choice, since there are only two other wineries throughout California who have chosen the same path: Palmina in Santa Barbara County and Idlewild Winery whose vineyards are located in Mendocino County.
Giornata Winery adventure began 11 years ago; Brian knew Stephy at Fresno State University, where she was graduating in Oenology , the second degree to add to the one already achieved in Viticulture. He, Brian, had always been in love with Italy (the famous bully gene in the DNA, in fact), he had just come back  from several training trips to Tuscan wineries (to name the most famous one, Isole e Olena). They met in Fresno, they fell in love, got married and spent their honeymoon working in the vines in Italy (…if this is anything but love!). They went back to California in the summer of 2005, with all good intentions and ready to build their winery on the bases of what they learned in Italy, but they met the first resistances:
"I remember when we bought the land here in Templeton (a few kilometers south of Paso Robles , Central California, ed) – Brian says – the local winemakers tried to make us desist from the idea of planting Italian vines here. One of them said to me: ' if you want to grow Nebbiolo, move to Italy, here it's impossible and not  profitable ' . But we went ahead with our project".
He says this proudly, facing the samples of its wines we are about to taste with all my little Italian skepticism, while his wife, Stephanie, looks at him with the complicity that only years of effort and sacrifice can build. Because yes, this couple, knows what sacrifice is: if it's not easy to be a vine grower and producer in Italy, you can imagine being an outsider producer here in California, starting from zero (no vineyard inherited, no tradition to follow, no path that somebody took successfully before you), choosing to produce something that the 80 percent of the American public will probably struggle to understand and appreciate. "So we started – continues Brian – we planted Fiano, Pinot Grigio, Vermentino, Friulano, Sangiovese, Barbera, Nebbiolo, Aglianico, we imported from Italy all equipment for winemaking, from stainless steel silos to the tonneau, the terracotta vases where we ferment Pinot Grigio".
Their choice is to respect the vines, to manipulate the wine as little as possible, in sharp contrast with the commercial California trend, unfortunately too often characterized by a disproportionate use of wood and a selection exuberant – to say the least – of yeast: "We have in mind the Italian palate, not the American one – explains Brian – so our winemaking choices lead us more toward elegant wines, less mature, less structured. We harvest very early compared to other wineries in the area, we want to maintain a certain acidity. "
But what happens in the vineyard is above all Stephy's business, she is the vine artist, recently named among the 10 most promising winemakers of California. She has all the information on the soil, the density, the method of cultivation I need to know: I am about to ask everything and in a blink of an eye I find myself on a dusty jeep she is driving at full speed through hills, vineyards, landscape a bit' scorched (California in May is not exactly as green as Scotland), farms with oak and walnut trees. Stephy is a wine woman: to words, she prefers facts. We're headed in the vineyard, where you can smell, walk on and touch what the French call terroir. The region of Paso Robles is located at few kilometers from the Pacific coast, practically on the San Andreas Fault, the climate is maritime, with warm days, cool nights and sea morning fog that goes up to the hills.
"There 's a very diverse soil – says Stephy after driving the Jeep on what seemed to me more a mountain path than a road, and after I lost count of the wild quails all around – given by a succession of different geological movements. It has generally a limestone base, mixed with clay but there are fossils and marine debris almost everywhere. And then, it's crumbly – she breaks a sandstone rock with her hands – the roots can easily sink and go deep".The fog, the sea fog, is decisive for the temperature range, it's the key that allows Terrizzi's to play with the aromas and acidity.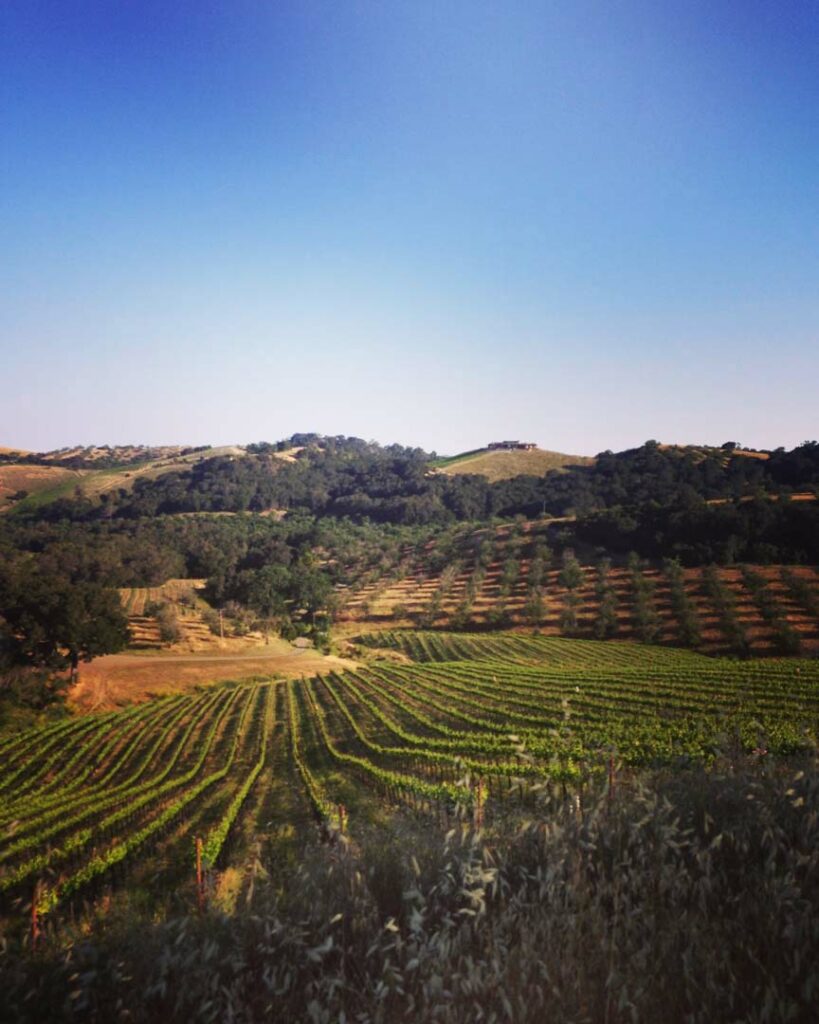 The tour of the vineyards continues, Stephy controls the first fruits that are popping up on the Sangiovese vines, her eyes sparkle, she jokes: "Talk a little bit Italian to them, maybe it helps". So, yes, it happened: I spoke to Sangiovese baby grapes to let them know they are in good hands (!) and everything's gonna be alright. 
The vineyards are certified organic, no pesticides, no herbicides, the natural vegetation is encouraged. On the hills, the vineyards are 600 meters above sea level, in the distance you can see the ocean, all around intense smell of wild herbs: mustard, sage, thyme.
The same scents are found in the Giornata Sangiovese, Luna Matta vineyard: the variety is clearly recognizable, with its red fruits, cherries and potpourri, but there is a mineral note of graphite and a hint of shell that make it unusual. The acidity is good, the alcohol (14.5%) surprisingly well integrated, the tannins are soft, not overpowering. It's a California mood Sangiovese, without all those centuries of history on his shoulders, it's laid back, unconscious.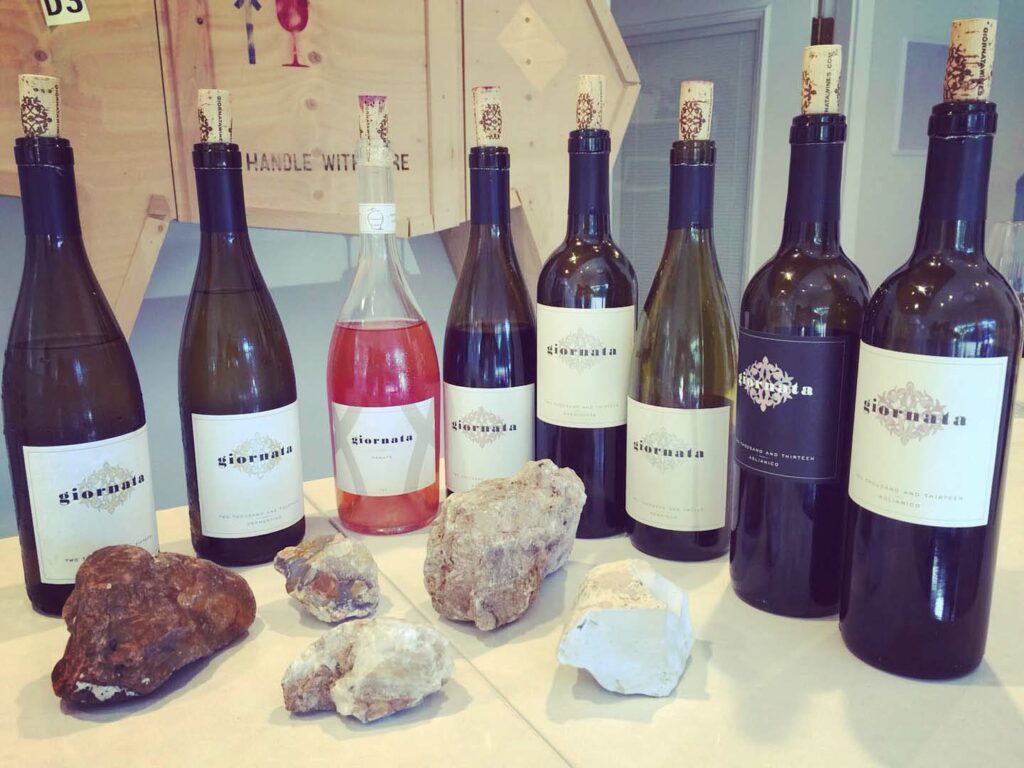 Also notable is the Aglianico, vinified in two styles: a cleaner (new French barriques only at 10 percent, in 2012 received 92 points Wine Enthusiast and Vinous) and a more complex (with a third of new barrels, the vintage 2012 had 94 points Wine Enthusiast). At the nose it has notes of earth, rosemary, wild game, it's intense, even here the variety and the soil have more to tell than the fermentation method.
Also interesting is the Barbera that shows off all its floral bouquet, pleasant at the nose the Nebbiolo with hints of licorice and red fruits, but a little lacking in depth on the palate. Among whites Fiano is definitely worth mentioning, very mineral and fresh. It's clear that the Terrizzi have in mind to please more an Italian palate than a Californian one, which underlines the sound of madness in this choice, having to compete on the US market: the imported wines in the US are Italian (Prosecco imperat) but in local wines Americans do not expect some of these features, they basically go with robust Cabernet and creamy Chardonnay. "I do not expect to be understood now – says Brian – I see that the American palate is evolving and the efforts we are doing today will give fruit in decades, my daughters will harvest this inherits ". The small Aida (the 9 years old daughter) listens to us, then looks at him intently and says: "Dad, I want to become a tennis player."